Tesla reported better than expected Q2 earnings after the market close Monday. $TSLA covered what the analysts focus was on, from Bitcoin, battery, supply chain shortages to CEO Elon Musk's strategy. To be prepared we go into depth in the key areas to watch for.
Tesla reported better than expected Q2 earnings after the market close Monday. $TSLA covered what the analysts focus was on, from Bitcoin, battery, supply chain shortages to CEO Elon Musk's strategy. To be prepared we go into depth in the key areas to watch for.
Tesla is much more than an electric car company these days. Tesla earnings releases and Elon Musk's conference calls leave much up to conjecture and we have seen violent stock price swings off them.
Tesla Inc NASDAQ: TSLA· Report Earnings After Close Monday
$0.93 EPS Forecast AND $11.47 Billion Forecast in Revenue
Conference call: 5:30 p.m.
Updated After Earnings Report
Earnings

Tesla Q2 Earnings Adj. EPS $1.45 (est $0.97) Revenue $11.96B (est $11.36B)
Capex $1.51B (est $1.19B)
Sees 50% Average Annual Growth In Deliveries
Have Sufficient Liquidity To Fund Product Roadmap
Noted a $23 million impairment related to bitcoin.
Tesla market share is growing in all markets
Europe to catch up in 2022 with Giga Berlin ramp up
Tesla plans to grow faster than 50% in 2021 planning production start for Giga Berlin & Texas 2021
Average sales price to grow again when Model S and X are in full delivery in Q3 after semiconductor shortage adjustment in Q2 with Model S and X largely stopped production due to equipment retrofit
Records for Tesla Q2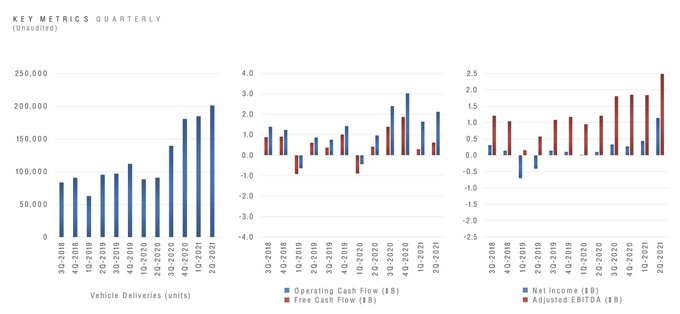 12 months trailing results show the exponentiality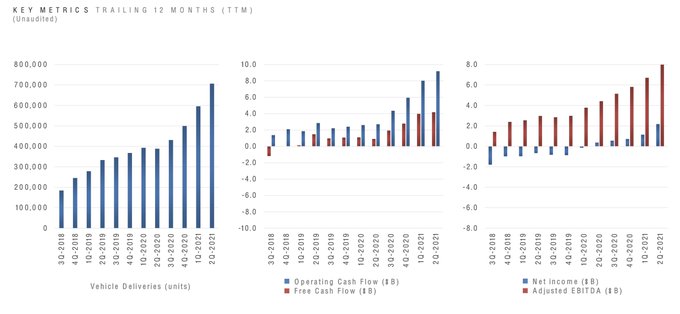 Growth across the globe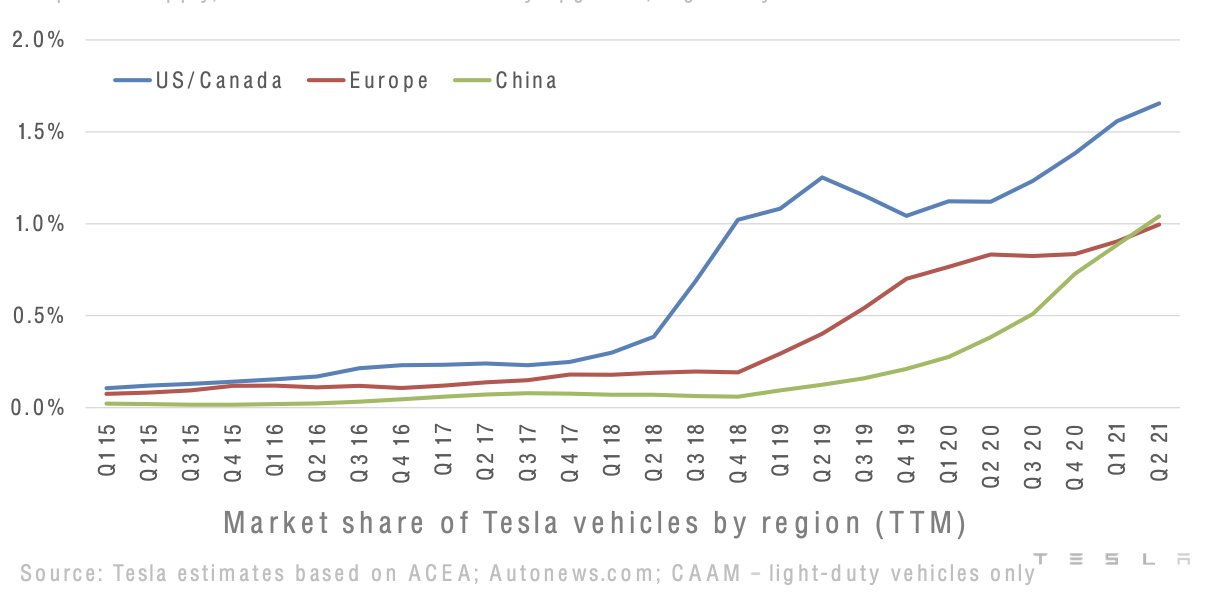 Tesla Inc NASDAQ: TSLA
Market Reaction: After hours $664.16 +6.54 (+0.99%)
Earnings Preview
To be prepared we go into depth in these key 7 areas.
Earnings
Grid Batteries
Commodity Supply Chain Contracts
Raising Cash
Autopilot Updates
Regulatory Credits
Solar and Powerwall
New plant and production update
Bitcoin
Charging Network
Global Chip Shortage
1. Earnings
The consensus from 39 analysts polled by FactSet points is for Tesla adjusted earnings of $0.93 per share, up from Q2 2020 adjusted earnings of $0.44 per share. FactSet consensus is for GAAP earnings standing at $0.53 per share. Estimize, which aggregates estimates from Wall St. analysts, fund managers, company executives sees an an adjusted profit estimate of $1.02 per share. Q2 2021 earnings release: after market; conference call: 5:30 p.m. Projected EPS: 94 cents Projected revenue: $11.53 billion
FactSet consensus estimates sales of $11.47 billion for Q2, more than double the $5.18 billion that Tesla posted in the same quarter last year. Estimize is expecting revenue of $11.68 billion from the EV maker.
2. Grid Batteries
Gigafactories are facilities that produce batteries for electric vehicles on a large scale. Tesla is currently involved in multiple projects that are pertinent to its growth in the coming years including Gigafactory Texas and Gigafactory Berlin, both of which are expected to start Model Y production soon. The company is also ramping its operations in China, where it recently launched the Model Y Standard Range from Gigafactory Shanghai. These, together with the rollout of Full Self-Driving subscriptions, would likely be discussed in the upcoming Q2 2021 earnings call as well.
Tesla was early in its plans to manufacture its own batteries, joining with Panasonic to build what it called a Gigafactory in Nevada back in 2015. "The Gigafactory will be the largest footprint building in the world when it is done," CEO Elon Musk said on the company's fourth-quarter 2015 earnings conference call.
Tesla Gigafactory Berlin
3. Commodity Supply Chain Contracts
Tesla signed a deal with U.S. based lithium miner Piedmont Lithium (PLL) to help secure Tesla's supply of lithium.
BHP Group ( BHP) disclosed an agreement with Tesla July 22 for nickel. "Demand for nickel in batteries is estimated to grow by over 500 per cent over the next decade, in large part to support the world's rising demand for electric vehicles," said BHP Chief Commercial Officer Vandita Pant in the company's news release. "We are delighted to sign this agreement …and to collaborate with them on ways to make the battery supply chain more sustainable through our shared focus on technology and innovation."
4. Raising Cash
One thing Tesla does better than most is burn through cash to try to deliver on increasingly aggressive goals. The question is will Tesla take to the public markets and raise even more money while the stock market is still near ATH.
5. Autopilot Updates
With Google amongs other now in this space and Tesla's past issues with the world's first known fatality in an autonomous car in May 2017 when a Tesla Model S Autopilot software engaged. There have been a number of deaths since. Analysts will watch Musk on developments on this segment.
Tesla is moving ahead with the rollout of Full Self-Driving subscriptions and levels would likely be discussed in the upcoming Q2 2021 earnings call as well. Expect questions about advances in Tesla's driver-assistance functions and it's driver-assistance software as a subscription.
6. Regulatory Credits

Tesla generates sales by selling regulatory credits earned by producing electric vehicles. The company generated $518 million in first-quarter credit sales, which helped Tesla beat earnings estimates. Each earnings report there is a debate about credit sales longevity and quality . Eventually it is expected other auto makers sell their own EVs, cutting off that source of revenue for Tesla.
7. Solar and Powerwall Segment
Tesla's Solar Roof and Powerwall products are likely to have aided growth for solar and energy storage deployments in the second quarter. Analysts will be watching Solar guidance for their annual solar installations and expected bookings of home rooftop solar panels.
Tesla CEO Elon Musk revealed that demand for the company's Powerwall is as high as 80,000 units but that Tesla will not be able to produce even half of that this quarter. Musk said Tesla will only be able to make 30,000 to 35,000 of its home batteries in a best case scenario for the period ending in September 2021, blaming the expected shortfall on chip shortages.
The company reported $494 million in energy revenue in the first quarter of 2021, an improvement from $293 million during the first quarter of the pandemic year, but its first-quarter cost of revenue reached $595 million. Tesla does not disclose the breakdown between its solar and energy storage products, or its solar and energy products for homes and larger scale projects like its Megapack in Australia.
South Australia Powerwall
8. New Plant and Production Updates

The big question is when Tesla's new Germany plant and Austin, Texas facility will start delivering cars. The Austin plant will build Tesla's Cybertruck. Despite seasonality, unstable supply chain, and the company's transition to the new Model S and Model X, Tesla recorded its highest ever vehicle production and deliveries last quarter.
In the Q1 press release, Tesla said, "We are currently building Model Y capacity at Gigafactory Berlin and Gigafactory Texas and remain on track to start production and deliveries from each location in 2021. Gigafactory Shanghai will continue to expand further over time. Tesla Semi deliveries will also begin in 2021."
Consider all the risks and misses with carmakers with the supply chain constraints from Covid and the chip shortage with Tesla production goals. Tesla delivered 201,250 units in the second quarter, which rose from the 90,650 deliveries in the same quarter last year and the 184,800 vehicles delivered in the prior quarter.
Markedly, in the second quarter, the Model 3/Y unit vehicle deliveries of 199,360 more than doubled on a year-over-year basis, while increased 9% sequentially. Over the coming years, management expects to achieve 50% average annual growth in vehicle deliveries.
9. Bitcoin
There is the issue of Bitcoin. Tesla recognized a small gain on its Bitcoin holdings in the first quarter, but the cryptocurrency's prices have fallen by roughly half since their April peak. (Much to do with Musk saying TSLA will hold off accepting bitcoin until it becomes less carbon heavy in mining it.) That means there is a chance of a loss here. Don't expect Tesla to sell out of its Bitcoin position. Musk continues to indicate his company will transact in the cryptocurrency when Bitcoin mining uses more sustainable power.
10. Charging Network
Tesla's is set to make much money from its charging network. Elon Musk tweeted this week Tesla would open its charging network to other EVs down the road, he wrote: "We're making our Supercharger network open to other EVs later this year." Electric vehicle charging companies that compete with Tesla in the US include ChargePoint, Electrify America, Volta, eVgo, Sema and others.
11. Chip Shortage
Tesla appears to be one step ahead compared to OEMs regarding chips, given that the EV producer designed its own chip to accommodate the needs of its autonomous software. TSLA CEO Elon Musk however has warned of continued challenges in securing microcontrollers and raw materials.
Analyst Recommendations
Bank of America
On July 16, Bank of America Securities analyst John Murphy maintained a Hold rating but increased the stock's price target to $750 (13.6% upside potential) from $700. Murphy anticipates "beats across the board versus low expectations and outlooks" for the automotive industry in Q2. In a note to investors, the analyst said that the impact on sales due to the current semiconductor shortage is generating additional pent-up demand "to be more rationally released over a multi-year recovery."
Goldman Sachs
Recently, Goldman Sachs analyst Mark Delaney reiterated a Buy rating and a price target of $860 (30.2% upside potential) on the stock. Delaney increased its earnings expectations to $0.94 per share from $0.84, prior to Tesla's second-quarter earnings report, considering updates to the Model Y to drive earnings higher. Nevertheless, the analyst believes that his price target is exposed to risks based on chip shortages, elevated freight expenses, and a rise in input prices.
Canaccord Genuity
"Tesla's successful transition to mass-market EVs and strong investments in battery manufacturing expertise and production capacity give us confidence they will attack and conquer another trillion-dollar market in energy generation and storage," said Canaccord Genuity analyst Jed Dorsheimer, who carries a $1,071 price target with a 'buy" rating on the stock. "Tesla is rapidly creating an Apple-esque ecosystem of energy products, harmonized in electrification, to become The Brand in energy storage."
About Tesla
Tesla, Inc. designs, develops, manufactures, sells and lease electric vehicles and energy generation and storage systems, and offer services related to its sustainable energy products. The Company's segments include automotive, and energy generation and storage. The automotive segment includes the design, development, manufacturing, sales and leasing of electric vehicles as well as sales of automotive regulatory credits.
The energy generation and storage segment include the design, manufacture, installation, sales and leasing of solar energy systems and energy storage products, services related to its products, and sales of solar energy system incentives. Its automotive products include Model 3, Model Y, Model S and Model X. Model 3 is a four-door sedan. Model Y is a sport utility vehicle (SUV) built on the Model 3 platform. Model S is a four-door sedan. Model X is an SUV. Its energy storage products include Powerwall, Powerpack and Megapack
From The Pit
From The TradersCommunity Research Desk