Retail monster Amazon.com reported much weaker September quarter earnings Thursday. $AMZN stock tumbled 4.5% after they guided much lower than expected. Amazon was already projected to grow at the slowest in the past decade but issued an even bleaker picture blaming labor and supply issues.
This is the last quarter under which the e-commerce and technology giant's founder Jeff Bezos was CEO, as longtime company exec Andy Jassy took over the top spot on July 5.
Could this be the end of the pandemic-related spending boom?
Amazon.com Inc. (NASDAQ: $AMZN) Reported After Close Thursday
$6.12 Missed $8.92 EPS Forecast and $110.81 Missed $111.60 Billion Forecast in Revenue
Earnings release: 4:01 p.m.; conference call: 5:30 p.m.
Amazon Q3 Earnings
Earnings: $6.12 vs $8.92 per share expected, according to analysts surveyed by Refinitiv Net income decreased to $3.2 billion compared to $6.3 billion, or $12.37 per share, in the year-ago quarter.
Revenue: $110.81 billion vs $111.6 billion expected, according to analysts surveyed by Refinitiv
3Q21 segments
Total rev +15%
Online stores +3%
3p sales +18%
Subscriptions +23%
AWS +39%
Ads +49%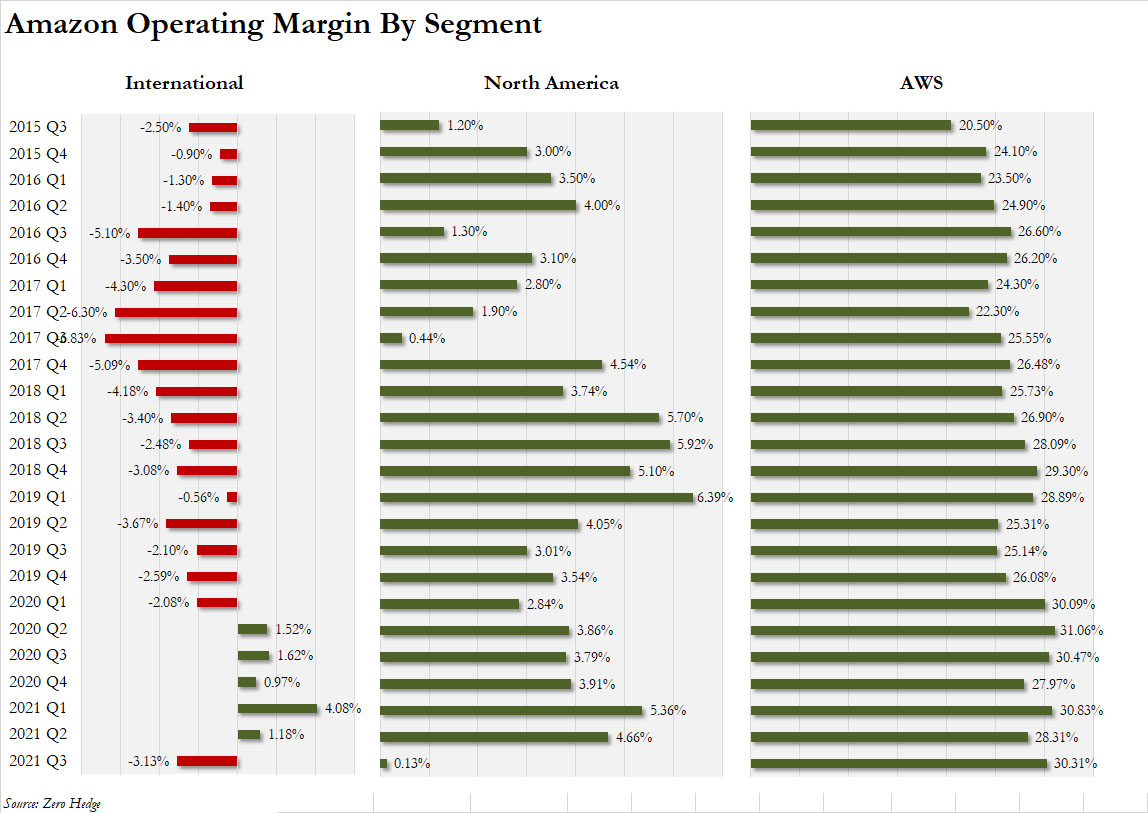 "AMZN profit margin collapse everywhere but AWS. Intl margins turned negative after 5 quarter in the green. If it wasn't for AWS, Amazon's total profit would be negative!"
Amazon CEO Andy Jassy said the company expects to take on "several billion dollars" of extra costs in its consumer business in the fourth quarter as a result of labor shortages, higher employee costs, global supply chain constraints and increased freight and shipping costs. Amazon is navigating these challenges as it enters the peak holiday season, he said. "It'll be expensive for us in the short term, but it's the right prioritization for our customers and partners," Jassy said in a statement.
Outlook
For the fourth quarter, Amazon forecast sales between $130 billion and $140 billion, representing growth between 4% and 12%. Analysts surveyed by FactSet were expecting revenue to rise 13.2% year-over-year to $142.1 billion.
Amazon said its operating profit in the fourth quarter will be in the range of $0 and $3 billion. That's a significant step down from the $6.9 billion of costs it incurred from things like coronavirus safety measures in the fourth quarter of 2020.
Amazon.com Inc NASDAQ: AMZN
Market Reaction: $3,275.03 ▼$171.54 (▼4.98%) After hours

What Analysts Watch On Amazon

Amazon Web Services (AWS)
The biggie is cloud behemoth Amazon Web Services (AWS) cloud. Microsoft and SAP both reported robust Cloud numbers. The big question is that from AWS or new customers?
In cloud-computing infrastructure, Amazon has a substantial market share lead over Microsoft Azure, Google's Cloud platform and IBM, as well as other players like Alibaba and Oracle. While AWS has maintained growth above 40 percent, Microsoft and Google are currently expanding much faster and picking up share. AWS accounts for around 73 percent of Amazon's operating income in Q1 and continues to grow.
AWS is the envy of Apple, Oracle, Google, IBM and every other niche cloud provider. AWS is the leading platform in this growth market. Amazon Web Services., Amazon's cloud business in just ten years has become the fifth-largest business software provider in the world.
Amazon has proven that it can diversify beyond e-commerce whilst at the same time Microsoft, Google, IBM and others are all chasing AWS in the cloud.
AWS is almost twice as big as Salesforce
Brick and Mortar Acquisitions and Partnerships
Over the past few years Amazon has been on a buying spree with Wholefoods, talk of Amazon Moving Into Real Estate and last year the deal with Sears where Kenmore appliances will be sold through Amazon. Investors will be looking for updates on these and others and a clarification of just what is their strategy going forward. One I would like to hear about is the Whole Foods locations and the $400 billion plus pharmacy market.
Kohl's Corporation $KSS Amazon has started selling smart-home products in Kohl's stores and cater for product returns. With Whole Foods, Sears and now Kohls Amazon is stealthily building brick-and-mortar retail for it's digital base.
Live From The Pit
From The TradersCommunity News Desk