Of the FANG group Amazon.com $AMZN is the last to report this week on Thursday. The eCommerce beast follows Alphabet $GOOGL on Monday, then Facebook $FB on Wednesday. What is Jeff Bezos up to?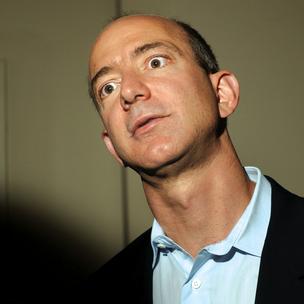 Amazon.com $AMZN is the last to report this week on Thursday. The other internet monsters Alphabet $GOOGL, formerly known as Google started off on Monday, then Facebook $FB on Wednesday. With the Nasdaq on a tear, and Friday seeing it's first down day in 10 sessions, $AMZN second-quarter earnings report is being watched eagerly.
Consensus Estimates: Adjusted earnings per share falling 20% to $1.42. Revenue is seen up 22% to $37.2 billion.
Amazon Prime
Amazon has said that its most recent Prime Day was the best on record.  We will like to see more commentary here and the conversion factor from trial to long term Prime customers. 
Before the latest Prime Day Consumer Intelligence Research Partners estimated $AMZN added 22 million U.S. members to Amazon Prime in the past year. This takes the total to 85 million. The analysis shows Amazon Prime members spend around $1,300 per year on the site. Non member customers spend aroun $700 per year they show.
CIRP estimates 63% of Amazon shoppers are Prime members. Josh Lowitz, co-founder of Consumer Intelligence Research Partners says "Amazon Prime membership basically doubled in the U.S. in the past two years." 
On average, U.S. Amazon Prime members shop at Amazon 25 times per year. In contrast, customers without Amazon Prime shop at Amazon an average of 14 times per year, CIRP said.
What Analysts Think
MKM Partners analyst Rob Sanderson 
Client Research Note Published May 7, 2017
Reiterates buy ratings on GOOGL and AMZN, Amazon target to $1,095 from $995 raises Alphabet to $1,170 from $1,000.
He notes that "heavy investment continues"  and his lowering of earnings estimates reflexts this and believe investors are "supportive" of this investment. 
Cuts estimate to $166.8 billion in revenue from $167.3 billion previously, based on the foreign exchange translation on Amazon'sinternational revenue.
Cuts estimate for Amazon cloud computing service (AWS) by several hundred million, and sees margins are under pressure at AWS. (see  Microsoft Cloud Powered Earnings, $MSFT Hits All Time Highs )
AWS operating margin dropped for the second consecutive quarter, a total of 234bps over the two quarters combined. Bears may point out that AWS margin has never declined since becoming a reporting segment and argue this is because of a more competitive environment with Google pushing into the space. Bears may say that AWS will not achieve the high margin profile implied in valuation.
Like all of the stock market traders it seems what matters is the love of Amazon or as Sanderson puts it:
 "investors continue to give AMZN a very long investment leash." That's because of three things: 
the major opportunities are large and tangible,
AMZN is in a strong market position and 
management's track record is very good."
UBS analyst Eric Sheridan
Client Research Note Published July 16, 2017
Raised price target on Amazon to 1,200 from 1,100 and maintained a buy rating. 
Sheridan said Prime "has consistently driven increased shopping velocity among members" and on advertising revenue "still early days but ramping quickly." and on AWS  leadership "will remain as such."
"We feel comfortable recommending Amazon as a buy despite its strong year-to-date stock performance …With many avenues of growth ahead, we think that investors are much more likely to remain focused on top-line opportunities vs. the quarterly cadence of profit margins." 
Acquisitions
Amazon has been on a buying spree with WholeFoods, talk of Amazon Moving Into Real Estate and just this week the deal with Sears where Kenmore appliances will soon be sold through Amazon. Investors will be looking for updates on these and others and a clarification of just what is their strategy going forward
Amazon.com, Inc. NASDAQ:AMZN
Jul 21 Close 
1,025.67

–
3.03 (-0.29%)
| | |
| --- | --- |
| 52 Week Range |   710.10 – 1,034.97 |
| | |
| --- | --- |
| Market Cap | 490.245B |
| Beta | 1.42 |
| PE Ratio (TTM) | 193.16 |
| EPS (TTM) | 5.31 |
| Earnings Date | Jul 27, 2017 |