Pipeline Gas exports to Mexico have been rising on rising Mexican demand with insufficient domestic production capability. Costa Azul LNG import terminal conversion has seen even more US gas imported by Mexico.
On the demand side, in addition to domestic weather, liquefied natural gas (LNG) export levels hung near the robust 11 Bcf level, boosted by persistent demand from Asia and Europe, while While not as influential overall as LNG
Pipeline exports to Mexico is hovering near 7 Bcf daily. Pipeline exports to Mexico surpassed 7.0 Bcf multiple days during June, EIA said, citing data from Wood Mackenzie. The highest amount of pipeline exports, 7.4 Bcf/d, was sent out on June 17. Indeed Mexican demand is providing substantial support for natural gas prices this year, the U.S. Energy Information Administration (EIA) said in a research note Friday.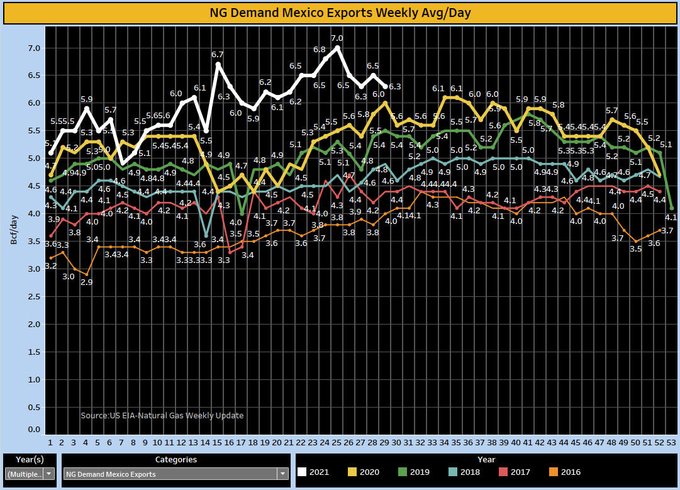 "Over the past few years, Mexico has expanded its natural gas pipeline infrastructure and has relied increasingly on imported natural gas from U.S. pipelines," EIA researchers said.
Pipeline imports accounted for 76% of Mexico's total natural gas supply last month, compared with 40% in June 2015. U.S. natural gas pipeline exports to Mexico averaged 6.8 Bcf/d in June 2021, up 25% from June 2020 and 44% more than the previous five-year (2016–2020) monthly average, EIA said.
"We expect these record-high flows, which were driven by increased power demand, high temperatures and greater industrial demand in June, to continue through the summer," researchers said.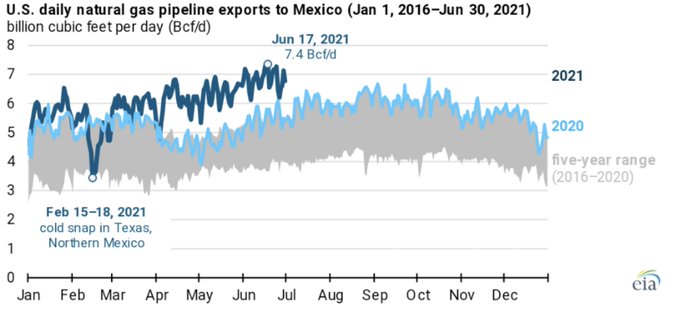 EBW Analytics Group said Friday "With intense heat expected early" in the coming week, "nationally as well as in Texas, and strong LNG feed gas flows and exports to Mexico, Henry Hub is likely to set new highs for the summer, supporting Nymex futures,"
The combination of demand strength and modest production could leave storage light at the end of the summer analysts at The Schork Report said midway through the traditional injection season we are 12% below the five-year average and 24% below last year's refilling.
Source: EIA
From The Traders Community Research Desk