The CPI increased 0.4% in October as it did in September, and increased 7.7% in October from a year ago, the smallest 12-month increase since January 2022. CPI y/y was down from 8.2% in September. June's 9.1% inflation rate was the highest in four decades. CPI has moderated after resurging in August with aggressive Fed interest rate rises. Monthly core decelerated sharply, from a month earlier, the core CPI climbed 0.3% easing from 0.6% last month. The market reaction to dovishly, plunging Treasury yields a weakening dollar and big gains in mega cap stocks with the Russell 3000 Growth Index up 5.4% is bolstering extreme index level gains
Core consumer prices rose 6.3% in October from a year earlier, down from 6.6% in September, which was the highest level since 1982. The promised pull back in consumer prices may be happening but is all early days.
US October 2022 Highlights
CPI
US CPI (M/M) Oct: 0.4% (est 0.6%; prev 0.4%)
US CPI (Y/Y) Oct: 7.7% (est 7.9%; prev 8.2%)
US CPI Index NSA Oct: 298.012 (est 298.488; prev 296.808)
Energy cost increased 17.6%, below 19.8% in September, due to gasoline (17.5% vs 18.2%) and electricity (14.1% vs 15.5%).
Slowdown in food (10.9% vs 11.2%) and used cars and trucks (2% vs 7.2%).
Prices rose faster for shelter (6.9% vs 6.6%) and fuel oil (68.5% vs 58.1%) increased faster.
Monthly shelter contributed over half of the increase (0.8%) and gasoline rose 4%, after falling in the previous 3 months.
Cost of medical care services (-0.6%) and commodities (0%)
Core inflation:
US CPI Core (M/M) Oct: 0.3% (est 0.5%; prev 0.6%)
US CPI Core (Y/Y) Oct: 6.3% (est 6.5%; prev 6.6%)
US CPI Core Index SA Oct: 299.471 (est 300.094; prev 298.660)
Real Earnings
US Real Avg Hourly Earnings (Y/Y) Oct: -2.8% (prev -3.0%)
US Real Avg Weekly Earnings (Y/Y) Oct: -3.7% (prev -3.8%)
Real weekly earnings are down for a record 18th consecutive month. Inflation-adjusted earnings have declined for 89% (16 of 18 months).
The Fed is likely to want evidence of an inflation slowdown, another 0.50-point rate rise could be on the table at the next meeting as rises "depend on the data we get between now and then."
Market Reaction (updated)
The report as stock markets surge, the US dollar sank, and bonds rallied strongly.
US 10 year yield fell to a new low of 3.826%, Lowest level since October 6
US 10 year yield is trading down -24.5 basis points at 3.852%. The low yield just reached 3.826%. The high yield before the CPI data was at 4.117%
The cycle high yield for the 10 year reached 4.335% on October 21.
USD/JPY down 447 pips or 3% to 141.79. Lowest since Japan's Ministry of Finance first intervened.
Dow 33467.59 +950.62 (2.92%)
Nasdaq 10902.03 +609.00 (5.92%)
SP 500 3911.14 +162.50 (4.33%)
NYSE Adv 2784 Dec 234 Vol 321 mln
Nasdaq Adv 3606 Dec 691 Vol 2.3 bln
Russell 2000 (+5.1%)
S&P Mid Cap 400 (+4.8%)
Russell 3000 Growth Index up 5.4%
Russell 3000 Value Index up 3.4%
S&P 500 consumer discretionary sector +6.7% boosted by mazon (AMZN 94.71, +8.60, +9.9%).
SPDR S&P Homebuilder ETF (XHB) 10.1%. Homebuilders like D.R. Horton (DHI 84.16, +8.72, +11.5%).
U.S. Treasuries on their highs after rallying strongly in the wake of the cooler than expected CPI report, which raises the likelihood of the Fed slowing down its rate hike pace. The rally has been led by the 2-yr note, though longer tenors also trade firmly higher with the long bond up nearly three points while the 10-yr note is up more than a point and a half.
2-yr: -29 bps to 4.35%
3-yr: -28 bps to 4.24%
5-yr: -29 bps to 4.00%
10-yr: -27 bps to 3.88%
30-yr: -20 bps to 4.12%
Monthly Price Increases
Used cars -2.4% m/m
Food +0.6% m/m
Energy +1.8% m/m
Fuel oil +19.8% m/m
New vehicles +0.4%
Apparel -0.7%
Medical care 0.0%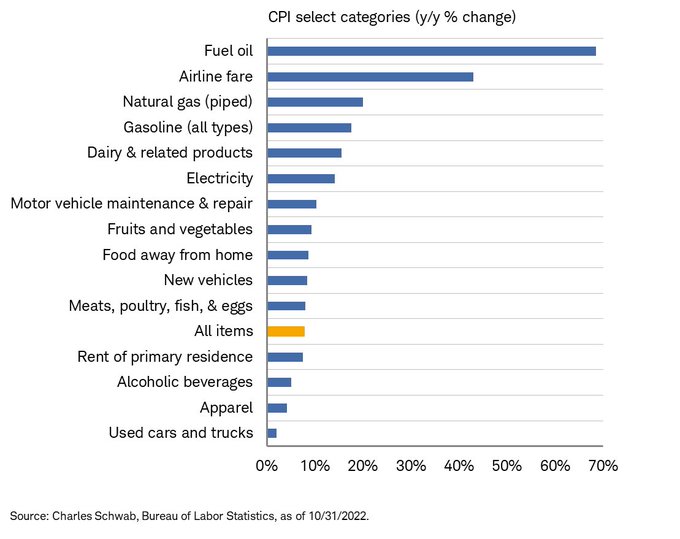 Yearly Price Increases
Fuel oil: +68.5%
Gas utilities: +20%
Gasoline: +17.5%
Transportation: +15.2%
Electricity: +14.1%
Food at home: +12.4%
Food away from home: 8.6%
New cars: +8.4%
Shelter: +6.9%
Used cars: +2.0%9
Shelter Costs Adding to Homeless
Shelter component of CPI had largest m/m increase since August 1990
Shelter costs, the biggest services' component and make up about a third of the overall CPI index. Rent of shelter was up the most on record on an annual basis last month, as was owners' equivalent rent. Rent Inflation in the United States increased to 6.59 percent in September from 6.24 percent in August of 2022
What is unnerving the housing components of the report have a lag between real-time changes in rents and home prices and when those are reflected in Labor Department data.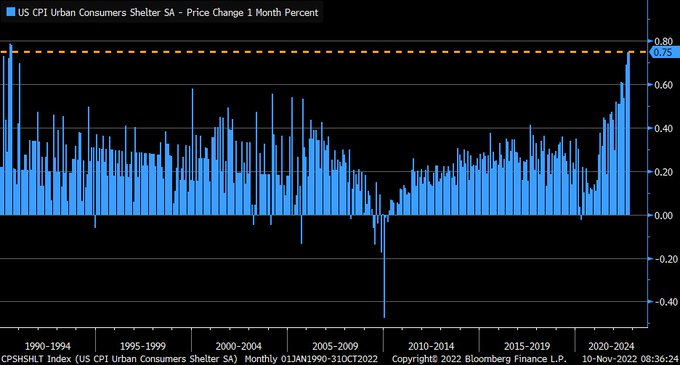 Housing Utilities
Many analysts had expected back in March, clearly, they have been mistaken to mark the inflation peak although the war in Ukraine is far from over, supply chain bottlenecks persist, and consumer demand remains elevated which is likely to weigh on the CPI.
The hope was the slowdown back in April was a sign that inflation had probably peaked, the inflation is unlikely to fall to pre-pandemic levels any time soon and will remain above the Fed's 2% target for a long time as supply disruptions persist and energy and food prices remain elevated.
Food Inflation Persistently High
Cost of food in the United States increased at a slower 10.9% over a year ago in October of 2022, easing further from an 11.2% rise in the previous month.
Prices slowed down for food at home (12.4% vs 13% in September), including cereals and bakery products (15.9% vs 16.2%); dairy and related products (15.5% vs 15.9%) and meats, poultry, fish, and eggs (8% vs 9.8%) and fruits & vegetables (9.3% vs 10.4%).
Food away from home was more expensive (8.6% vs 8.5%)
Transportation Inflation Persists
The effects of the coronavirus pandemic, then the supply crisis and throw in the Russian invasion of Ukraine on top have been weighing on prices. Since last year many businesses closed and lockdowns were imposed, denting economic activity leaving the world vulnerable. A jump in commodities and material costs, coupled with supply constraints pushed producer prices up and some companies are passing those costs to clients
"I'm making more money…But I don't see it because I'm paying more money for stuff now." Low-wage workers are getting sharp raises. Inflation is eating them up. via Greg Ip WSJ
From the Traders Community News Desk