The US manufacturing sector via the regional Chicago ISM Manufacturing PMI contracted under 50 to the lowest since January 2016 in August. Employment index lowest since March 2016. New orders lowest since June 2012
The US manufacturing sector via the regional Chicago ISM Manufacturing PMI contracted under 50 to the lowest since January 2016 in August. Employment index lowest since March 2016. New orders lowest since June 2012
Chicago ISM PMI – August US Manufacturing Index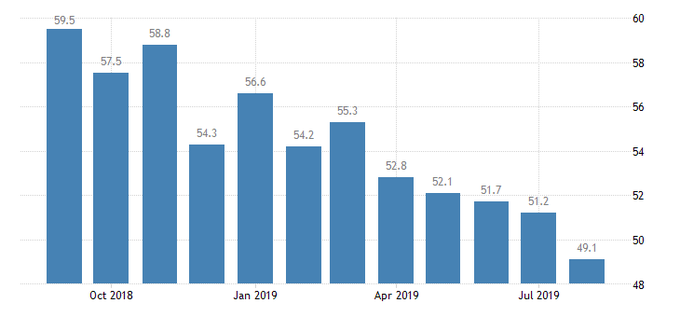 Highlights August v July
Manufacturing 49.1 v 51.2 in July
Prices paid 46.0 v 45.1
New orders 47.2 v 50.8
Employment 47.4 v 51.7
Backlog of orders 46.3 v 43.1
Supplier deliveries 51.4 v 53.3
Inventories 49.9 v 9.5
Customer inventories 44.9 v 45.7
New export orders 43.3 v 48.1
Imports 46.0 v 47.0
PMI lowest since January 2016,
Bbelow 50 for the 1st time since August 2016
Employment index at lowest since March 2016
New orders at lowest since June 2012
Chicago PMI in the United States averaged 54.81 Index Points from 1967 until 2019, reaching an all time high of 78.60 Index Points in January of 1973 and a record low of 21.20 Index Points in June of 1980.
The Chicago PMI (ISM-Chicago Business Barometer) measures the performance of the manufacturing and non-manufacturing sector in the Chicago region. The Index is computed from five weighted raw indexes: Production (0.25), New Orders (0.35), Order Backlog (0.15), Employment (0.10), and Supplier Deliveries (0.15) and then seasonally adjusted to support month-to-month comparisons.
A reading above 50 indicates an expansion; below 50 represents a contraction; while 50 indicates no change. Chicago PMI is released one day before the ISM Manufacturing Index. This page provides the latest reported value for – United States Chicago PMI – plus previous releases, historical high and low, short-term forecast and long-term prediction, economic calendar, survey consensus and news. United States Chicago PMI – actual data, historical chart and calendar of releases – was last updated on July of 2019.
IHS Markit US Manufacturing PMI
Earlier in the day the IHS Markit US Manufacturing PMI was revised higher to 50.3 in August 2019 from a preliminary estimate of 49.9 and compared to July's final 50.4. This out the manufacturing PMI lowest for almost a decade as export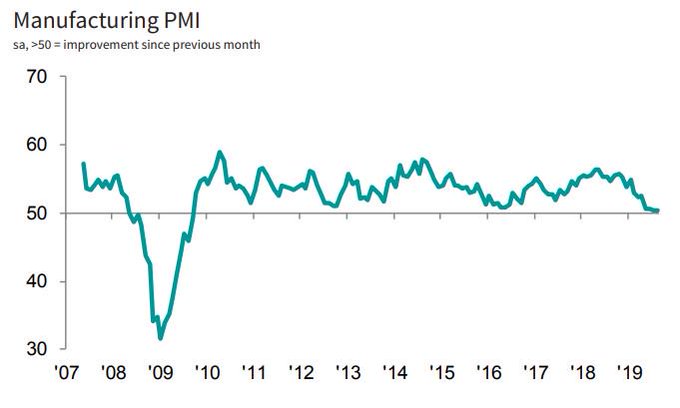 The headline figure was weighed on by a subdued rise in production and lacklustre client demand.
Falling orders among foreign clients dragged on overall new business growth and producer confidence.
The degree of optimism about the year ahead hit a fresh seven-year series low amid growing business uncertainty.
Employment was broadly unchanged and spare capacity was used to clear backlogs of work.
Inflationary pressures eased further, with rates of input price and output charge inflation among the slowest for almost three years.
The seasonally adjusted IHS Markit final U.S. Manufacturing Purchasing Managers' Index™ (PMI™) posted 50.3 in August, up from the flash reading of 49.9 but still down slightly from 50.4 in July.
The latest reading signalled the least marked improvement in the health of the U.S manufacturing sector since the depths of the financial crisis in September 2009.
The rate of production growth was among the slowest seen for over three years in August, as lacklustre client demand led increasing numbers of firms to curb output. Although the pace of increase picked up slightly, some firms attributed the rise to efforts to clear backlogs of work rather than reflecting any new inflows of orders.
This reading pointed to the weakest pace of expansion in the manufacturing sector since September 2009, as new export orders fell at the quickest pace since August 2009, linked by many firms to trade wars and tariffs.
Business confidence dropped to a new series low. Manufacturing PMI in the United States is reported by Markit Economics.
Source: Trading Economics IHS Markit
From the TradersCommunity News Desk