US consumer inflation continues to rise, prices for energy jumped 34.6% from a year earlier, the cost of groceries rose 11.9% on the year. Shelter costs also accelerated higher. Real Earnings are declining at a rapid rate. CPI in May rose+1.0% vs +0.7% expected m/m. Core CPI rose 0.6% (consensus +0.5%). The dollar rose to a three-week high after the inflation data release. The bond and stock markets began selling off on inflation fears yesterday. 10-year yields rising over 3%.
On a year-over-year basis, total CPI is up 8.6% (versus 8.3% expected) and core CPI is up 6.0% (versus 5.9% Expected). The surge in energy and grains costs due to war in Ukraine has inflamed price pressures. The Fed began moving aggressively last month.
Increases in the cost of food, electricity and shelter were the largest contributors again to the monthly rise, the Labor Department said
"Economists like to strip food and energy out of their inflation calculations. They're too volatile to be meaningful, they say. But for everyday Americans coping with exploding prices, those items are pretty much all they care about right now. For two straight months, the primary consumer expenses — fuel, power, and grocery-store food — have all been rising at double-digit annual rates for the first time since 1981." June 9 – Bloomberg (Olivia Rockeman, Will Wade and Michael Hirtzer):
US May 2022 Highlights
CPI
US CPI (Y/Y) SA May: 8.6% (est 8.3%, prev 8.3%)
US CPI (M/M) SA May: 1% (est 0.7%, prev 0.3%)
Real Earnings
US Real Average Hourly Earnings (M/M) May: -0.6%
US Real Average Hourly Earnings (Y/Y) May: -3%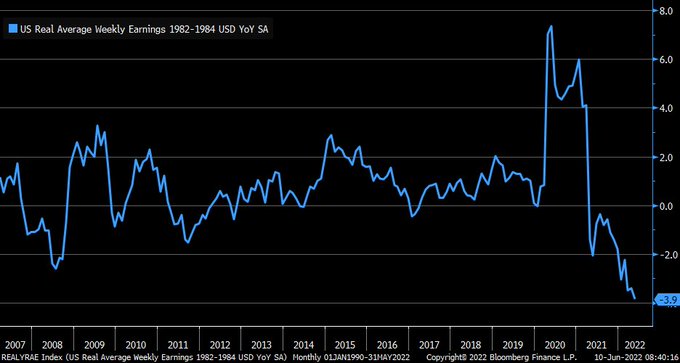 Many analysts had expected March, clearly, they have been mistaken to mark the inflation peak although the war in Ukraine is far from over, supply chain bottlenecks persist, and consumer demand remains elevated which is likely to weigh on the CPI.
Core inflation:
CPI Ex Food And Energy (Y/Y) May: 6% (est 5.9%, prev 6.2%)
CPI Ex Food And Energy (M/M) May: 0.6% (est 0.5%, prev 0.6%)
Energy prices rose 34.6%, the most since September of 2005 and food costs surged 10.1%, the first increase of 10 percent or more since the period ending March 1981. Core inflation, however, slowed for a second month to 6%, compared to expectations of 5.9%. Compared to the previous month, consumer prices jumped 1%, much higher than forecasts of 0.7%, amid a broad-based increase in cost, although the indexes for shelter, gasoline, and food made the largest contributions
"Spot commodity prices surged to a fresh record high as energy and food supplies continue to be roiled by the war in Ukraine, while China rolls back demand-curbing Covid-19 lockdowns. The Bloomberg Commodity Spot Index, which tracks prices for 23 raw materials, rose 1.9% Monday to its highest-ever level. The move was mostly driven by a jump in futures contracts for natural gas and wheat amid renewed supply fears. The gauge has climbed 36% this year, heading for the biggest annual advance in more than a decade." June 6 – Bloomberg (Gerson Freitas Jr.)
Yearly Price Increases
Energy prices rose 34.6%, the most since September of 2005
Gas: +48.7%
Fuel Oil: +106.7%
Food costs surged 10.1%, the first increase of 10 percent or more since the period ending March 1981.
Meat, Poultry, & Fish: +13.1%
Milk: +15.9% Eggs: +32.2%
Coffee: +15.3%
Used Cars: +16.1%
Airline Fares: +37.8%
The hope was the slowdown in April was a sign that inflation had probably peaked, the inflation is unlikely to fall to pre-pandemic levels any time soon and will remain above the Fed's 2% target for a long time as supply disruptions persist and energy and food prices remain elevated.
US CPI
May 2022
Core Inflation y/y
Food
Food inflation in the United States accelerated for a 12th straight month to 10.1% in May of 2022, the first increase of 10% or more since March 1981. Big price hikes were seen for meats, poultry, fish, and eggs (14.2%).
Housing Utilities
Transportation
US Core CPI November 2021
The effects of the coronavirus pandemic, then the supply crisis and throw in the Russian invasion of Ukraine on top have been weighing on prices. Since last year many businesses closed and lockdowns were imposed, denting economic activity leaving the world vulnerable. A jump in commodities and material costs, coupled with supply constraints, are pushing producer prices up and some companies are passing those costs to clients
June 6 – CNBC (Lorie Konish): "Social Security beneficiaries saw the biggest cost-of-living adjustment in about 40 years in 2022, when they received a 5.9% boost to their monthly checks. Next year, that annual adjustment may even go as high as 8%, according to early estimates… An 8% COLA would be the highest increase in years, according to Social Security Administration data. The last time the federal agency announced a bigger annual bump was in 1981, when there was an 11.2% increase."
"I'm making more money…But I don't see it because I'm paying more money for stuff now." Low-wage workers are getting sharp raises. Inflation is eating them up. via Greg Ip WSJ
Source: BLS
From the Traders Community News Desk