With the average Americans pushed further to the brink with soaring costs in mortgages, food and energy there has been some respite with U.S. gasoline prices having fallen for 13 weeks in a row. This has been the longest consecutive weekly slide in over three years. Longer term we have to ask at what cost? The move lower comes from record sales of crude oil out of the SPR and rising interest rates and inflation hurting global demand. Oil and products storage is at critical lows should the energy crisis deepen, and the economy recover ahead of energy balances.
Energy-data and analytics provider OPIS reported the average price of regular unleaded gasoline fell to $3.70 a gallon, the lowest since early March, an energy-data and analytics provider, and is approaching the average price that predated Russia's invasion of Ukraine.
Average gas prices have fallen 26% from the record $5.02 a gallon set in June. The last time gas prices fell for this many consecutive weeks was when they fell for 14 weeks in a row starting in October 2018.
US avg retail price for gasoline was $3.746 last week. That is +0.570 YoY.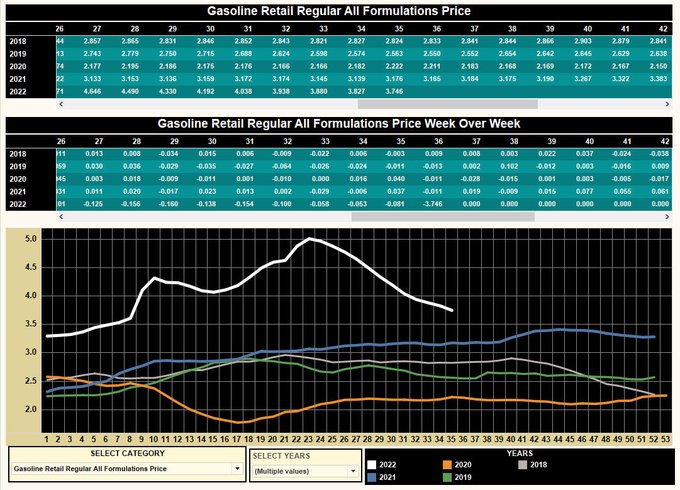 Demand for fuel in the U.S. also declined for the first week of September by 7% compared with the first week of July, according to the latest data from the EIA. The invasion came at the same time as warmer weather came to America and demand for gasoline among U.S. drivers rose.
US consumers spent $1,373.0 million dollars per day for gasoline last week. That is $+91.4 mil YoY
Across the nation the fall has been different between states. About 6% of gas stations in the U.S. now have gas under $3 a gallon and are mainly located in the South, according to OPIS.
In California the average price of gas is $5.41 a gallon, which is 46% higher than the national average, according to OPIS. Other West Coast states including Oregon, Washington and Nevada, all have average gasoline prices over $4 a gallon. In the south Arkansas, Louisiana and Mississippi are approaching $3 a gallon. Texas now has the lowest priced gas in the U.S., on average, at $3.14 a gallon, according to OPIS.
US consumers bought +366.5 million gallons of gasoline per day last week. That is -37.0 mil YoY
Where to from here?
Tom Kloza, global head of energy analysis for OPIS, also said declines in oil and gas prices likely would be winding down. "I think most of the drops have occurred," Mr. Kloza said. Maintenace season was postponed with pressure from the US Administration, given that U.S. refineries need to begin maintenance of their facilities that they put off during the summer. That will take some of their production temporarily offline, leading to tighter fuel supplies. That means slightly higher prices at the gas pump, Mr. Kloza said
"I think the next big gasoline move—a 50 cent move—is probably higher, not lower," Mr. Kloza said. "But I don't think we will see a big move in the rest of 2022."
There is the matter of the SPR reaching lows not seen since 1984. What happens if demand picks up, the Russian war drags on more, sanctions don't work, world distillate supplies continue to dwindle? So many what ifs? The reality the sales helped crude prices lower, but that is not an eternal well to drain from.
From The TradersCommunity Research Desk