March 25-31, 2023
FEAR NOT Brave Investors
Where have we been and where are we going? Join our weekly market thread on Traders Community…
The Week That Was – What Lies Ahead?
Contents
Click on the links below to navigate to the relevant section.
Editorial
In looking back at the week we pondered what changed, what really changed? We finished in many ways how we started with unresolved bank fears as regulators and bankers tried to neutralize contagion.
Contagion is a difficult beast to cage when it is released. Bank runs are historically one of those contagions that evokes fear. In a time where social media has taken over, where lies and fake news can create havoc, and partisan purposes it can be very hard to neutralize. People are scared, their families is scared. This feeds on itself, uncertain reigns. We don't feel in control and negative tones take over leading to unhappiness. Everything is shifting, and quickly. We don't know what the rules are, our leaders don't know. So what do you do?
Before we get into it a nod to reality:
Federal Reserve Credit surged $211 billion the past week, with a two-week jump of $353 billion. Total Fed Assets inflated $392 billion in two weeks (to $8.734 TN), the largest increase since Covid crisis April 2020. $304 billion in one week, after expanding $524 billion (72%) last year.
We are So Unhappy & Despair for Our Children
One survey really spoke to us given our penchant for crowd psychology and that was the latest Wall Street Journal-NORC Poll. Given the misinformation and distraction by so called leaders in the world who ride on manufactured partisan hate we take notice of this poll.
Why? Because it is a nonpartisan research organization that measures social attitudes. What did it tell us? An overwhelming share of Americans aren't confident their children's lives will be better than their own. A sobering thought this poll was taken largely before the collapse of Silicon Valley Bank. Roughly 4 in 10 cited healthcare and housing costs as big fears, and nearly two-thirds said inflation is a major concern.
Powell, Biden, Yellen, Bullard and the rest of them all keep telling us how strong the job market is but in reality, it is not as it seems.
The findings showed fresh anxiety about the strength of the job market, which was a rare point of economic optimism as recently as last year. More than half of respondents said it wouldn't be easy to find another job with comparable pay and benefits. That was the highest level since 2010, according to NORC's General Social Survey.
The disconnect between main street and the PTB is striking. Only 12% of respondents described themselves as "very happy," the lowest share on record since NORC began asking the question every few years starting in 1972 as part of the General Social Survey. Three in 10 respondents called themselves "not too happy," the highest share on record.
From here we thought we would simply reprise much of last week, why because what has changed, and have 'they' neutralized contagion."
It's been a week of feverish work behind the scenes by bankers and regulators, doing what they do best, protecting the rich, famous and politically attached. While we jest, or do we? Cognitive dissonance live in your bedrooms. In a game of whack a mole, banking problems keep bubbling to the surface. Don't put down your glasses just yet, a new study published on the Social Science Research Network concluded there are 186 banks across the US that could fail if half of their depositors were to withdraw their funds quickly.
We analyze U.S. banks' asset exposure to a recent rise in the interest rates with implications for financial stability. The U.S. banking system's market value of assets is $2 trillion lower than suggested by their book value of assets accounting for loan portfolios held to maturity. Marked-to-market bank assets have declined by an average of 10% across all the banks, with the bottom 5th percentile experiencing a decline of 20%. We illustrate that uninsured leverage (i.e., Uninsured Debt/Assets) is the key to understanding whether these losses would lead to some banks in the U.S. becoming insolvent. Monetary Tightening and U.S. Bank Fragility in 2023: SSRN
OK so you get why it's critical for the Fed, Yellen and all those with the power to pull levers keep dispositors where they are. Contagion would be like putting your fingers in a crumbling dyke. We learned Sunday through a joint statement from the Federal Reserve, Treasury, and FDIC that all depositors at Silicon Valley Bank and Signature Bank of New York would be fully protected even though both banks had been taken over by regulators. In turn, the Fed also introduced a Bank Term Funding Program (BTFP) that will help banks avert selling Treasury and other government securities at a loss by allowing them to offer those securities to the Fed, which will value them at par, as collateral.
Those actions were designed to shore up confidence in the banking industry. Back to this week:
Through the gloom it is worth noting through it all the week started, and then ended with stock market resilience, almost despite itself. Duetsche Bank, still down on Friday but well off it's lows the guidepost du jour.
Over the weekend we learned that the Swiss National Bank brokered a UBS acquisition of Credit Suisse (CS) for a "takeunder" price of $3.2 billion. The Federal Reserve also announced a coordinated central bank action with the Bank of Canada, the Bank of England, the Bank of Japan, the European Central Bank, and the Swiss National Bank to enhance the provision of U.S. dollar liquidity while offering assurances that "the capital and liquidity positions of the U.S. banking system are strong, and the U.S. financial system is resilient."
Treasury Secretary Yellen's remark in prepared comments for the American Bankers Association that the government is prepared to intervene again "if smaller institutions suffer deposit runs that pose the risk of contagion."
We had a flurry of central bank hubris Wednesday and Thursday, hiking as the fiancial sector burned, largely because of high rates. In Rugby it would be called selling the dummy, with the illusion that by raising they are showing the system is resolute. Mmmm ok, so who took the dummy? They also didn't cater for Yellen having no clue and her comment, at the same time as Powell was trying to sell said dummy wrecked the stockmarket and ultimately started off the latest DB rout.
One just wonders how Ms Yellen was wheeled out as Treasury Secretary by this US Administration given her time at the head of the Fed can probably best be illustrated as the SVB collapse given as that was under her banking alma Matar, the San Francisco Fed. What however they have done brilliantly in America is any questioning of the ineptness is considered partisan so to use a cricketing term, it all flies through to the keeper.
Back to the Bankers, the FOMC voted unanimously to raise the target range for the fed funds rate by 25 basis points to 4.75-5.00% and the updated Summary of Economic Projections showed the Fed's median terminal rate of 5.10% unchanged from December. Stocks initially rallied on this news before taking a sharp turn lower as Fed Chair Powell gave his press conference (See Yellen's comment). Powell acknowledged his belief that the events in the banking system do not help the possibility of a soft landing for the economy.
More central banks followed suit later in the week. The Bank of England announced a 25-bps rate hike, Switzerland, Norway, Hong Kong, and Philippines also hiked their policy rates.
By the end of Friday, the main indices closed the session higher shaking off sharp declines in Europe's major indices on the news that Deutsche Bank's (DB) cost of default insurance jumped to a four-year high. German Chancellor Scholz and European Central Bank President Lagarde both attempted to calm markets.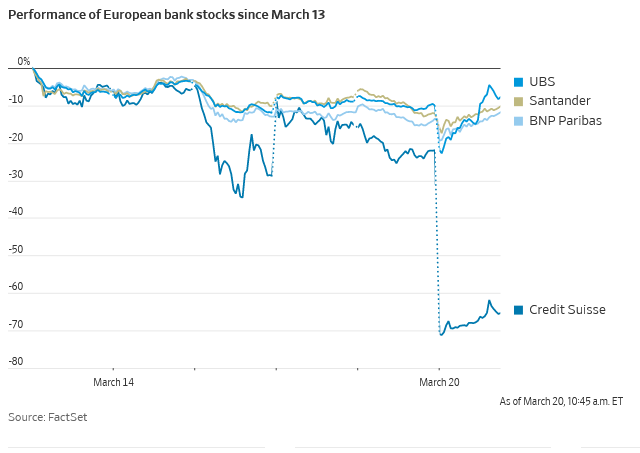 Only two S&P 500 sectors finished the week with declines, real estate (-1.4%) and utilities (-1.2%). Communication services (+3.4%), energy (+2.3%), and information technology (+2.0%) sectors saw the biggest gains.
The Treasury and currency markets also exhibited volatility this week. The 2-yr note yield fell five basis points this week to 3.77% and the 10-yr note yield fell two basis points to 3.38%.
So how Screwed are We?
CDS Surge
Deutsche Bank CDS surged 50 bps Thursday and Friday to multi-year highs, as the stock was smashed almost 9%.
A 6% late-week selloff more than reversed the post-Credit Suisse bailout European bank stock rally (STOXX 600).
CDS for the big Japanese global banks (trailing only Deutsche Bank this week). Nomura CDS surged 25 (to 119bps), Sumitomo Mitsui Bank 17 (89bps) and Mizuho Bank 15 (93bps).
U.S. money center banks were also hit. Bank America CDS rose another five to 125 bps; Citigroup three to 124 bps; Wells Fargo three to 110 bps; Goldman Sachs three to 123 bps; JPMorgan three to 102 bps; and Morgan Stanley one to 122 bps.
The range is more telling than the closes; after ending last week at 114, Goldman Sachs CDS traded up to 123 in (post Credit Suisse bailout) Monday trading. Goldman CDS was down to 102 in late-Wednesday trading, only to surge to 123 early in Friday's session. JPMorgan jumped to 99 Monday, to then drop as low as 84 intraday Thursday, only to spike to 102 bps early Friday – the first time above 100 bps since unstable October.
For those taking notes we did feature the following DB chart and reminder:
DB CDS This week: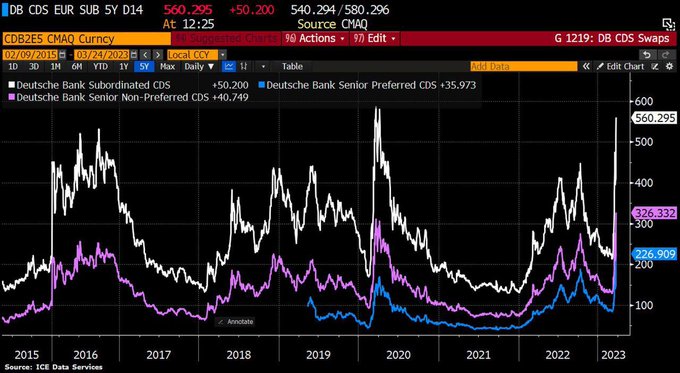 That said markets did not seize up and got nowhere near the previous 2008 levels, Scotia Bank prepared a number of key elements of the financial market we watch that help us review and visualize the cracks. It is important to tune out the noise, particular from the talking heads and dribblers that poison social media and blogs with their inane ignorance.
The wider the bid-ask spread the more illiquid markets have become amid uncertainty around market conditions. Chart 4 shows that bid-ask spreads around trading in US 10-year Treasuries had widened toward levels that were close to the early stages of the pandemic, but they have quickly tightened again in the wake of policy measures and after a multi-year period of remarkable stability when buckets of liquidity were being thrown at markets. Corporate investment grade bid-ask spreads (chart 5) and high yield bid-ask spreads (chart 6) have performed similarly.
The Credit cycle downturn is coming to the surface.
We have the reflective destabilizing Monetary Disorder. Take a peek at China and the markets collective cognitive dissonance to the property market there, the shadow banking as just one example. Have a look around the world. The hope is the collective mass continues to evolve and survive, while each time the destruction is evident in massive disproportion shifts of wealth and attempts of mind, if not physical control of the masses. Dial that back and try and get in the minds of those trying to right the ship and the market components that matter, not what the dribblers think matter.
Here's a thought, knowing about the power of cognitive dissonance does not necessarily protect you from its effects. Traders are only too aware of this eureka moment when you grasp it. Why some of the best trades you ever do, are the ones you don't. In option parlance, being delta neutral sometimes is the best trade.
Key this coming week will be the commencement of the next round of such indicators that will test whether these gains were one-offs or something that is sustainable. The key will be the extent to which downside risks to the US economy have been reduced enough to influence global central banks, and how markets react.
Ahead is Fed's Favorite, PCE Inflation
Eyes will be on top macroeconomic reports that will emphasize the health of the US and global economies. Eyes and ears will be on central bankers given the market turmoil and the hiking of rates.
We also get important Treasury auctions this week:
Monday: $42 bln 2-yr Treasury note auction results at 13:00 ET
Tuesday: $43 bln 5-yr Treasury note auction results at 13:00 ET
Wednesday: $35 bln 7-yr Treasury note auction results at 13:00 ET
Measuring U.S. Hotness
Key macroeconomic reports features' the Fed's favorite inflation barometer, February's Personal Income (consensus 0.3%; prior 0.6%), Personal Spending (consensus 0.3%; prior 1.8%), PCE Prices (consensus 0.4%; prior 0.6%), and Core PCE Prices (consensus 0.4%; prior 0.6%) on Friday.
Other data points include On Tuesday January FHFA Housing Price Index and January S&P Case-Shiller Home Price Index followed by March Consumer Confidence. On Wednesday February Pending Home Sales, Thursday we get Q4 GDP third estimate and Friday also March Chicago PMI and final March University of Michigan Consumer Sentiment
On the event calendar, The Senate Banking Committee will hold a hearing on bank failures. Witnesses will include FDIC Chairman Martin Gruenberg, Federal Reserve Vice Chairman Michael Barr, and Treasury Undersecretary Nellie Liang.
Earnings reports include Carnival (CCL), Lululemon (LULU) and BlackBerry (BB) as the most prominent companies to report.
Multiple central Bankers are out to test their resolve, and the markets resolve.
Click here to see the Full Week Ahead List Below
Some things never change, when you think Greed is Good
Where is the fear?
Annualizing the New York Fed's Q4 household borrowing data, Credit card debt expanded at a 26% pace and total debt at a 9.5% rate during the quarter. The Fed's aggressive tightening cycle has had little affect on loose financial conditions.
"The United States is on track to add nearly $19 trillion to its national debt over the next decade, $3 trillion more than previously forecast, as a result of rising costs for interest payments, veterans' health care, retiree benefits and the military, the Congressional Budget Office said"
We saw the debt ceiling reached on January 19, prompting the Treasury to begin employing extraordinary measures that should prevent a technical default until early June. The expectation this is all political showboating, but what if it more than that?
Swirling greed and know it all came home to roost. FOMO (fear of missing out) and TINA (there is no alternative) ended how they always do.
Where to from here? It's also okay to acknowledge and process any difficult emotions or experiences that you may have had during the past year. Looking back on the past year with perspective can help you to gain a greater understanding of what you have been through and how you have coped. I hope that you are able to find ways to manage any challenges that come your way and that you continue to feel fine moving forward. Embrace the chaos that is headed your way in 2023!
China; Behind the Iron Curtain
A big shift in 2022, China's population is now falling and below that of India. China's population fell for the first time since 1961 as births have steadily fallen in recent years despite the removal of the "one child policy". The stalling working age population and its likely decline ahead means that potential growth in China is down from around 10% or so in the 2000s to around 4-5% now.
"China's ruling Communist Party unveiled its biggest revamp in years, placing the nation's finance and technology sectors at the heart of its control as part of President Xi Jinping's drive to tighten his grip over the organization that dominates politics in the world's No. 2 economy. The country is setting up a central financial committee to enhance the party's centralized oversight over the $60 trillion sector… The new body, which will absorb the financial stability and development committee under the State Council, will be responsible for top-level design of the sector's stability and development as well as major policies." March 16 – Bloomberg
"China's central bank said on Friday it would cut the amount of cash that banks must hold as reserves for the first time this year to help keep liquidity ample and support a nascent economic recovery. Chinese leaders have pledged to step up support for the world's second-largest economy, which is gradually rebounding from a pandemic-induced slump after coronavirus-related curbs were abruptly lifted in December." March 17 – Reuters (Ellen Zhang and Kevin Yao)
The Market Tripod of Destruction.
Firstly, financial asset overvaluation has swung way past any sound underlying economic wealth structure.
Secondly over-leverage in crowded bets.
Thirdly we have greed enthused, as always in these cycles, risk engineering, transfer and management that ignores or understands bifurcation and contagion outcomes.
Leverage has become toxic, a development that if not addressed will have deep and with far-reaching sequels. It's not too farfetched to suggest that the markets are on the verge of a rupture that would be difficult to contain. Should the crisis of confidence dynamics that hit Britain feed into other markets a powerful global contagion could be unleashed. The markets are dislocated, and financial stability is at risk. A sobering thought is the UK is just the initial first world pension system in this cycle facing the harsh reality of a steep devaluation of assets and the prospect of widespread insolvencies and debilitating negative sentiment.
Inflation Matters
Inflation with Henry Kaufman
Kaufman is the legendary chief economist and head of bond market research at Salomon Brothers is someone who knows Inflation. Henry Kaufman in an interview with Bloomberg's Erik Schatzker Jan 14, 2022:
"I don't think this Federal Reserve and this leadership has the stamina to act decisively. They'll act incrementally. In order to turn the market around to a more non-inflationary attitude, you have to shock the market. You can't raise interest rates bit-by-bit."

"The longer the Fed takes to tackle a high rate of inflation, the more inflationary psychology is embedded in the private sector — and the more it will have to shock the system."

"'It's dangerous to use the word transitory,' Kaufman said. 'The minute you say transitory, it means you're willing to tolerate some inflation.' That, he said, undermines the Fed's role of maintaining economic and financial stability to achieve 'reasonable non-inflationary growth.'"
---
Independence – Never Take It for Granted Traders
"In aggregate, the market goes from order to disorder, and on that journey little pockets of order can form, including in commodities, bonds, stocks, currencies that circle back and reorder disorder. Then there is us the market player that reflects through order and disorder in an ever-evolving loop towards independence. It all starts with gravity and ends with equilibrium and back we go." KnovaWave "The rules of market flux"
The Fed has kicked off its first real tightening campaign since 1994, with securities markets already at the brink of illiquidity and dislocation. Markets could soon be screaming for assurances of the Fed's "buyer of last resort" liquidity backstop, while the Fed is prepared to begin withdrawing liquidity by selling Treasuries and MBS.
Another important aspect is the Fed doesn't Control corporate pricing or wage decisions. Let us be clear geopolitical, climate change developments and what an out of depth, politically motivated administration are outside the Fed's sphere of influence. There has been over $5.1 Trillion new "money" in 126 weeks, it's a reasonable conclusion the Fed has lost control of Inflation.
Volatility
The VOLX`s underlying instrument is the Mini VIX™ Future. The CBOE Volatility Index (VIX) is an up-to-the-minute market estimate of expected volatility. The VIX is calculated using a formula to derive expected volatility by averaging the weighted prices of out-of-the-money puts and calls (options) on the S&P 500.
When the VIX is highly reactive, VIX related products can serve as potentially effective hedging tools, when the VIX is not very reactive, traditional hedging techniques may be a better choice.
Cboe Volatility Index call options volume on average day in February more than at any time since March 2020C Cboe data shows. Had three consecutive weeks of declines in SPX, up 3.4% in 2023, down 5% from Feb. 2.
We need to grasp all the risks to be wary off and received plenty of flak from it. We always talk here about expect the unexpected and now that is front and center, gage the market's reaction, the market is always right and that's why we focused on the crowd psychology aspect over the past few weeks.
"We have a market trying to interpret the Fed who is trying to find out how they can interpret their long-only portfolio at a risk parity where rates cannot rise."

– MoneyNeverSleeps
Cboe Daily Market Statistics
Our weekly reminder for risk. The downside is clear with the absence of moral hazard from repeated Federal Reserve market bailouts in an environment of some would say obscene liquidity pumps. Pure greed is the other part, not wanting to miss out on fees. The obvious question is, how deeply ingrained is this attitude through the markets? How do we ween the markets off this continuous dip feed? At this point the Central Banks have kicked that answer down the road.
---
Part A – Stock Markets
Weekly Highlights – USA
Indices
S&P500 gained 1.4% (up 3.4% y-t-d),
Dow rallied 1.2% (down 2.7%).
S&P 400 Midcaps rallied 1.3% (down 1.1%),
Small cap Russell 2000 increased 0.5% (down 1.5%).
Nasdaq100 advanced 2.0% (up 16.7%).
Sectors
Utilities declined 1.0% (down 7.2%).
Banks slipped 0.5% (down 22.3%)
Broker/Dealers declined 0.6% (down 1.9%).
Transports dipped 0.5% (up 2.3%).
Semiconductors rose 1.2% (up 23.3%).
Biotechs gained 0.5% (down 2.8%).
While bullion slipped $11, the HUI gold equities index rose 2.5% (up 8.0%).
Biggest SPX Stock Winners and Losers Last Week
---
Global Stock Market Highlights
Highlights – Europe Stocks
U.K.'s FTSE equities index gained 1.0% (down 0.6% y-t-d).
France's CAC40 rallied 1.3% (up 8.4%).
German DAX equities index gained 1.3% (up 7.4%).
Spain's IBEX 35 equities index recovered 0.8% (up 6.8%).
Italy's FTSE MIB index rallied 1.6% (up 9.2%).
Germany's benchmark Blue Chip DAX 30 index (Deutscher Aktienindex) expanded to 40 companies on 20 September, 2021 adding 10 new members to the German stock index from the MDAX which will be reduced from 60 to 50 members.
Highlights – Asia Stocks
Japan's Nikkei Equities Index added 0.2% (up 4.9% y-t-d).
South Korea's Kospi index increased 0.8% (up 8.0%).
India's Sensex equities index declined 0.8% (down 5.4%).
China's Shanghai Exchange Index added 0.5% (up 5.7%).
Highlights – Australian Stocks
Australia's S&P/ASX 200: -0.2% Friday (-0.6% for the week)
Longest weekly losing streak since global financial crisis in 2008 as the US banking crisis spread to Europe. Seventh consecutive weekly fall, bounced off a four-month low of 6895 points on Monday.
The banks index is down 12 per cent in seven weeks.
Iron ore futures traded lower Friday on the Singapore exchange, down 0.2 per cent to $US125.90 ($188.46) per tonne.
Highlights – Emerging Markets Stocks
EM equities mixed.
Brazil's Bovespa index dropped 3.1% (down 9.9%),
Mexico's Bolsa index rallied 1.6% (up 8.9%).
Turkey's Borsa Istanbul National 100 index fell 2.0% (down 8.7%).
Russia's MICEX equities index jumped 3.0% (up 11.0%).
---
Technical Analysis
S&P 500
Daily: The daily SPX on Friday closed out the year right in the sphere of interest at the cloud twist. The market after spitting the 4100 and 38.2% retracement broke through all near support., though managing to capture the Tenkan on the last day of the year. This underscores the power from the SPX spat of June & October lows with impulse through the tenkan and Kijun energized by the daily cloud twist that fueled this rally. The completive wave came off extreme fear and bear that ended with relief. Now we have sated much of the greed phase and short fear phase. We have completed that cycle and from here we measure the alternatives.
Tracing back from highs the fuel from the top of the channel after completing 3 waves off ATH, accelerated after broke the Tenkan through to the 4600 OI where it reversed with impulse back to Tenkan. Bulls, this is likely a (ii) of a 5. Bears this is 1-2 of (i) completive V of degree. We watch if this low was a (iii), (a) or C. We have to respect the number of alternatives of degree of 5. With such trends keep it simple resistance is Tenkan and Kijun and watch for ABC. From no fear to panic is the driving element.
On the downside the Kijun and those June lows now critical and is our trading Bear/Bull pivot in a high vol scenario. Watch each measured 3 wave move on the 240 & Murrey Math highlighted in the podcast. The prices pulled through the downward cloud pulled by the twist 'helium contusion' on the completive.
For fractal purposes, SPX completed 5 waves up where it reversed with impulse. Energy fueled from the power impulse down from +1/8 ATH spit of a spit fail. On the way down (just like up) it accelerated after it broke the Tenkan through the rejected Kijun and then through the median after tapping 8/8.
Weekly: In the last week of 2022 we again closed under the Tenkan and 8/8 after the failed rally was rejected at the 50wma and +1/8. Key support is the 38% correction and the previous low. Power came from rejecting the cloud as one would expect in a 3 or C. We have Kijun. the Tenkan and 50wma all above i.e impulse right to the weekly cloud is needed for cycle switching. For that you would have to break the Kijun and 50wma.
We are playing out S&P 500 energy after it held the sphere of influence from Nov 2020 reversed higher after spitting the 38% and key lows. At the time we opined "We do have a weekly cloud twist; however, the energy is waning without sharp impulse." We got the sharp impulse right to weekly Kijun. For major cycles we watch the S&P 500 over 4,231, the 50% retracement of losses from the Jan. 3 & June 16 close. Since 1950 there has never been a bear market rally that exceeded the 50% retracement then gone on to make new cycle lows. Is this time different, as we tested and spat those June lows?
On the way up each new high evolved after testing Tenkan key support on the way and we are now getting a retest as resistance. We reiterate this needs to be recovered for a resumption of the uptrend meanwhile the bear market plays out. Watch Tenkan this week and watch for Kijun reaction. Extensions are difficult to time, keep it simple.
THE KEY: Key for the impulse higher was the spit or retest of MM 8/8 and Tenkan San, which held with the previous highs and Tenkan. To repeat "We look for 3 waves down and reactions to keep it simple with the alternatives in the daily." Keep an eye on the put/call ratio with recognition to the sheer size of contracts AND keep in mind the stimulus distortion. The spit per channel fractal and Adams rule launched back over the cloud where we were encased AND we are back testing it. Watch if a spit or clear break support as Chikou rebalances
A reminder that Apple Inc $AAPL, Microsoft Corp $MSFT, Amazon.com Inc $AMZN, Facebook Inc $FB, and Google-parent Alphabet Inc $GOOGL make up approximately 23% of the total weight of the S&P 500. With that comes gyrations that are an outsized impact on broader markets
NASDAQ 100
The down move saw Nasdaq spit the weekly Kijun and a 1-2 off tenkan we spat MM 5/8 after holding the key 61.8% Fib. We watch the Tenkan & Kijun confluence above, the breakup level and between the 38/50 Fibs. The Nasdaq is well behind the S&P pace with the weekly cloud and 50wma well above. Support the 61.8% retest.
Recall ATH was after it broke and held the weekly Tenkan to see a spit of a spit fail which is completive of 5 of some degree with Chikou rebalancing. Watch Chikou for divergence for continuation or failure. Divergence with Russell also a clue.
Dow Jones
The Dow led the indices and closed above the weekly Tenkan after closing and testing last week. Prior test after the reaction off the June lows and sphere of influence. Support is the channel and Fibs. Tenkan and Kijun after the reaction empowered. Support is the channel and Fibs.
Russell 2000
The small cap Russell RUT bounced in double bottom off 1600 5/8 confluence which was the Nov 2020 breakup. Russell 2000 Resistance Tenkan and Kijun, note previous rejections. This is the index showing more of the fast money crowd and is trading like it. Needs to get traction in here for bulls. 7/8 & 8/8 support collapsed on the way down and is now major resistance.
Semiconductors SMH
Semiconductors SMH clean with reaction from above reverted with retest & break of the triple top patterning in a pennant. From there been a fractal on each exhaustion. Pull from Chip players $ON $TSM $NVDA $ASML $AMD $QCOM $AVGO $TXN $INTC $AMAT $LRCX
NVidia $NVDA
NVidia's latest slide was off earnings, back to lows at 4/8 after a failed breakup retest from May 2021. NVidia is a clear leader of #SOX #SMH look for cues there and ABC failures for changes. Above is the Key Break (mauve) and Tenkan to a flat cloud. Support the recent low at the 61.8% extension.
Apple $AAPL
Heading into another Earnings Apple held the sphere of influence after retesting 7/8 & break up. Kijun and Tenkan are about to touch, with earnings we watch for a kiss of death at the cloud as the story. Apple & other mega-cap names dominant the major indices, and a plethora of funds that hold it as a core position. The Vanguard Mega-Cap Growth ETF (MGK) delta is important to watch.
A firm rejection at $175 at +2/8 triggered a waterfall down for Apple. On the way up Apple gently motored up to new ATH over the massive $160 then $170 thru to $180 gamma level on the way down these levels became key energy levels all the way to $132. Support held at the May break (just like NVDA) where from there it spat the cloud pulled by a flat Tenkan and Kijun as it rebalanced Chikou. The old channel break and MM 8/8 is now key. Remember the impact $AAPL has, at least short term on all the major indices.
ARKK ETF
The ARK Innovation ETF (ARKK) finally found some support at -1/8, 78% off highs and the 423.6% extension! The fund is filled with growth stocks and was the top-performing U.S. equity fund tracked by Morningstar in 2020, it has not been a pretty slide.
The ARKK ETF trading clinically, tested triangle breakdown and failed off 50 WMA. Some work at support at 61.8% of whole move and then wrecked again. Clear crowd behavior, we saw ATH in NASDAQ & SPX, yet this couldn't raise a bid – very telling negative divergence. $ARKK rebalanced Chikou at week's end
ExxonMobil XOM
---
Part B: Bond Markets
Bond Watch
Treasuries
U.S. Treasuries continued in the same vein as the previous week with safe haven flows from the continued fallout from the banking crisis. An intense squeeze engulfed the Treasury market. U.S. Treasuries ended the week toward their highest levels of the week. European and U.S. equities faced pressure from banks. First Republic Bank announced a suspension of its dividend and confirmed that it borrowed funds from the Fed's discount window over the past week. This week's action expanded the 2s10s spread by 47 bps to -42 bps and the MOVE index sailed past its pandemic high to a level not seen since 2008.
Treasury Yield Watch
2-yr: -32 bps to 3.82% (-77 bps for the week)
3-yr: -28 bps to 3.68% (-60 bps for the week)
5-yr: -28 bps to 3.47% (-48 bps for the week)
10-yr: -19 bps to 3.40% (-30 bps for the week)
30-yr: -12 bps to 3.60% (-10 bps for the week)
For our complete Weekly Fixed Interest Analysis and Outlook visit our Bond Traders Weekly Outlook:
Mortgage Market
Freddie Mac 30-year fixed mortgage rates fell 12 bps to 6.39% (up 197bps y-o-y).
Fifteen-year rates dropped 23 bps to 5.62% (up 199bps).
Five-year hybrid ARM rates sank 60 bps to 5.55% (up 219bps).
Bankrate's survey of jumbo mortgage borrowing costs had 30-year fixed rates down eight bps to 6.88% (up 236bps).
---
Part C: Commodities
Highlights
Bloomberg Commodities Index increased 0.4% (down 9.1% y-t-d).
Spot Gold dipped 0.6% to $1,978 (up 8.7%).
Silver jumped 2.8% to $23.23 (down 3.0%).
WTI crude recovered $2.52 to $69.26 (down 14%).
Gasoline rallied 3.5% (up 5%),
Natural Gas sank 5.2% to $2.22 (down 51%).
Copper jumped 2.8% (down 3%).
Wheat fell 3.1% (down 13%),
Corn rallied 1.4% (down 5%).
Bitcoin increased $70, or 0.2%, this week to $27,420 (up 65%).
Key Long Term Commodity Charts
Copper
Gold
WTI Oil
Energy
Natural Gas
For complete Oil and Natural Gas Coverage please visit our dedicated publications 'Around the Barrel' and 'Into the Vortex.' – Weekly Analysis and Outlook for Energy Traders and Investors
BDI Freight Index
For our complete Weekly Commodity Analysis and Outlook visit our Commodity Traders Weekly Outlook:
Charts and commentary via KnovaWave on:
Grains: Wheat, Corn, Soybeans
Metals: Copper, Aluminum
Precious Metals: Gold Silver
Lumber
Oil and Natural gas are covered separately (see below)
---
Part D: Forex Markets
John Maynard Keynes, 1920: "There is no subtler, no surer means of overturning the existing basis of society than to debauch the currency. The process engages all the hidden forces of economic law on the side of destruction and does it in a manner which not one man in a million is able to diagnose."
Highlights
For the week, the U.S. Dollar Index l declined 0.6% to 103.12 (down 0.4% y-t-d). 2022 gains were 8.2%
For the week on the upside, the Mexican peso increased 2.5%, the Norwegian krone 2.0%, the South African rand 1.8%, the Japanese yen 0.9%, the euro 0.8%, the Singapore dollar 0.8%, the Swiss franc 0.7%, the South Korean won 0.7%, the Brazilian real 0.6%, the Swedish krona 0.6%, and the British pound 0.5%. The Chinese (onshore) renminbi increased 0.28% versus the dollar (up 0.46%).
On the downside, the New Zealand dollar declined 1.1%, the Australian dollar 0.8% and the Canadian dollar 0.1%.
For our complete Forex Weekly Analysis and Outlook visit our Forex Traders Weekly Outlook:
Charts and commentary via KnovaWave on the US Dollar, Euro, Japanese Yen, British Pound, Euro Pound, Swiss Franc, Canadian Dollar, Australian Dollar, New Zealand Dollar, Turkish Lira, Mexican Peso. Currency dynamics are complex. There are myriad facets to analyze and contemplate that influence all markets.
Cryptocurrencies
Bitcoin
Bitcoin continues to be plaything of levered speculators, this week we saw the markets turn against those short. An incredibly intense squeeze engulfed the Treasury market which flowed through to crypto. Intense squeeze dynamics also spurred a huge rally in crypto, with bitcoin surging a crazy 34%.
Where did this come from? Forced coverage from yield curve punts blowing up. Yen shorts and levered "carry trades" were at risk. JGB and European yields sank. Corporate spreads were blowing out, inflicting losses on levered corporate bond portfolios. Energy prices tanked. The favored (so called safe) financial stocks were collapsing, while the heavily shorted technology stocks rallied. For the week, the KBW Bank Index sank 14.6%, while the Nasdaq100 (NDX) jumped 5.8%.
It had been a churn following the FTX collapse. BTC had been stuck in the sphere of influence in continuation awaiting a catalyst, and it came. Continues to perform technically to perfection. Impulse begets impulse. To understand panic, understand greed. $BTC tested the top of a rising channel after the preceding sharp downturn which was the downside breakout of an earlier bearish flag, after breaking downside a H&S top and then down it went….
Recall Bitcoin exploded higher following it's correction impulsively upon completing 5 waves up at +2/8. Each Tenkan and Kijun tap saw an explosive kiss of death until we completed 3 waves to around 28,000. From there we have seen extreme volatility.
Looking back Bitcoin put in a high of $63,000 around Coinbase, the largest US crypto exchange successfully went public which signaled profit-taking. The high over $68,000 came after the launch over the Bitcoin ETF. From that high we have 2 main alternatives a V of a 1 of a V. For bears it a completive five with impulse right to the 50wma – an incredible 26% fall in a Friday night session. That's impulse!
Ethereum
On the Risk Radar
Fed Warnings on Possible Medium To Long Term Risks
Geopolitical Tinderbox Radar
Economic and Geopolitical Watch
Banks
So that went quick….. its all about the crisis that just kept holding off until it didn't
"Just hours after Wall Street opened for trading on Friday morning, US regulators had seized control of Silicon Valley Bank, which had imploded under the strain of depositors pulling out their money en masse. What at first seemed like the failure of a one-of-its-kind lender with deep ties to the technology industry quickly appeared as though it might spiral out of control. Within 48 hours, regulators were preparing a package of emergency measures to quell panic among depositors and prevent contagion in the rest of the banking system. For some working on the effort, it evoked memories of the response to the coronavirus pandemic in 2020 and the great financial crisis of 2008. By Sunday evening, the US government announced it would guarantee all deposits held at SVB and crypto lender Signature Bank, which was also shut down by regulators at the weekend. The Federal Reserve, meanwhile, launched a lending facility that would be available to lots of other banks in order to ensure depositors' demands could be met."

March 13 – Financial Times (Colby Smith, James Politi, Ortenca Aliaj and James Fontanella-Khan)
"The Federal Reserve on Sunday unveiled a new program to ensure banks can meet the needs of all their depositors amid escalating chances of bank runs following the abrupt collapse of two major banks in the space of 72 hours. The Bank Term Funding Program (BTFP) will offer loans with maturities of up to a year to banks, savings associations, credit unions and other eligible depository institutions. Here are some key elements of the Fed's program: A key element of the program is acceptable loan collateral – including U.S. Treasuries and mortgage-backed securities among others – will be valued at 'par'… Loans of up to a year in length will be available under the new facility… Interest rates will be the one-year overnight index swap (OIS) rate plus 10 bps and will be fixed for the term of the advance on the day the advance is made… The loan commitments made by the Fed's 12 regional banks will be backstopped with $25 billion from the U.S. Treasury's Exchange Stabilization Fund."

March 13 – Reuters (Dan Burns)
"The biggest banks in the U.S. swooped in to rescue First Republic Bank with a flood of cash totaling $30 billion, in an effort to stop a spreading panic following a pair of recent bank failures. JPMorgan…, Citigroup Inc., Bank of America Corp. and Wells Fargo are each making a $5 billion uninsured deposit into First Republic, the banks said… Morgan Stanley and Goldman Sachs… are kicking in $2.5 billion apiece, while five other banks are contributing $1 billion each. The bank's executives came together in recent days to formulate the plan, discussing it with Treasury Secretary Janet Yellen and other officials and regulators in Washington, D.C…"

March 16 – Wall Street Journal (David Benoit, Dana Cimilluca, Ben Eisen, Rachel Louise Ensign and AnnaMaria Andriotis):
"Credit Suisse shares rebounded sharply on Thursday after the lender revealed plans to borrow up to SFr50bn ($54bn) from the Swiss central bank and buy back about SFr3bn of its debt in an attempt to boost liquidity and calm investors. The Swiss National Bank had said on Wednesday it was willing to provide a liquidity backstop following a plunge of as much as 30% in the troubled lender's stock… In a statement on Thursday, Credit Suisse said it had taken the decision 'to pre-emptively strengthen its liquidity' by borrowing the funds from the Swiss central bank under a loan facility and short-term liquidity facility."

March 16 – Financial Times (Joshua Frankli, Owen Walker and Laura Noonan)
Major banks kicking off earnings this quarter, including BlackRock (BLK), Citigroup (C), First Republic Bank (FRC), JPMorgan Chase (JPM) and Wells Fargo (WFC).
Major US Banks Deliver Mixed Results in Q4, 2022
The major money cents banks released earnings with many strong results for Q4. Mainly from the interest rate spreads on the positive side. We see a reversal of loss reserve releases from the pandemic kitty as the economy slides into recession.
The Week Ahead – Have a Trading Plan
What Macro and Micro Risks and Opportunities Lie Ahead this week
Global Watch
Next Week's Risk Dashboard via Scotiabank
Central bank Watch
We have key monetary policy meetings from Thailand, South Africa, Columbia and Mexico.
Federal Reserve Vice Chair for Supervision Michael Barr testifies on "Bank Oversight" before the Senate Committee on Banking, Housing and Urban Affairs and on "Bank Supervision" before the House Financial Services Committee
Eyes and ears will be on central bankers. We have the backdrop of a more hawkish Fed Chair in the face of escalating systemic risk. How will this affect Fed policy given the massive treasury positions out there and the risk of uninsured funds? In this environment we get pivots daily. How much damage is the Federal Reserve willing to do in the guise of controlling inflation?
This Week's Interest Rate Announcements (Time E.T.)
Wednesday, March 29, 2023
03:00 Thailand Interest Rate Decision
Thursday, March 30, 2023
09:00 SARB Interest Rate Decision
14:00 Columbia Interest Rate Decision
15:00 Mexico Interest Rate Decision
For our complete Central Bank Analysis and Outlook visit our Central bank Watch:
Economic Data Watch
US Data Focus
Monday: $42 bln 2-yr Treasury note auction results at 13:00 ET
Tuesday: February advance goods trade deficit (prior -$91.50 bln), advance Retail Inventories (prior 0.3%), and advance Wholesale Inventories (prior -0.4%) at 8:30 ET; January FHFA Housing Price Index (prior -0.1%) and January S&P Case-Shiller Home Price Index (consensus 2.5%; prior 4.6%) at 9:00 ET; March Consumer Confidence (consensus 101.5; prior 102.9) at 10:00 ET; and $43 bln 5-yr Treasury note auction results at 13:00 ET
Wednesday: Weekly MBA Mortgage Index (prior 3.0%) at 7:00 ET; February Pending Home Sales (consensus -2.3%; prior 8.1%) at 10:00 ET; weekly crude oil inventories (prior +1.12 mln) at 10:30 ET; and $35 bln 7-yr Treasury note auction results at 13:00 ET
Thursday: Weekly Initial Claims (consensus 196,000; prior 191,000), Continuing Claims (prior 1.694 mln), Q4 GDP — third estimate (consensus 2.7%; prior 2.7%), and GDP Deflator — third estimate (consensus 3.9%; prior 3.9%) at 8:30 ET; and weekly natural gas inventories (prior -72 bcf) at 10:30 ET
Friday: February Personal Income (consensus 0.3%; prior 0.6%), Personal Spending (consensus 0.3%; prior 1.8%), PCE Prices (consensus 0.4%; prior 0.6%), and Core PCE Prices (consensus 0.4%; prior 0.6%) at 8:30 ET; March Chicago PMI (consensus 42.5; prior 43.6) at 9:45 ET; and final March University of Michigan Consumer Sentiment (consensus 63.4; prior 63.4) at 10:00 ET
Global Data Focus
OPEC:
Canada: GDP
Brazil: PPI
Mexico: Interest rate decision from Banxico
Europe: Inflation and unemployment reports for the Eurozone, including Germany, France, Italy, and Spain. Germany's business outlook set to deteriorate due to concerns over the banking sector. Euro Area's monetary indicators and business survey; Germany's retail sales and Gfk consumer confidence; Switzerland's KOF leading indicators and retail trade; and Turkey's business morale.
UK: ONS final fourth-quarter GDP numbers, Bank of England's monetary indicators and the CBI gauge of distributive trades.
China: Chinese March NBS PMI
Japan: Retail sales; industrial production; the unemployment rate; and housing starts for February.
India: Fourth-quarter current account balance following historical-high deficit
South Korea: Consumer and business confidence for March
Australia: Retail sales data and the monthly inflation print for February.
New Zealand: Business confidence for March.
US Stocks Watch Earnings and Event Watch
Earnings Highlights This Week:
Monday includes Carnival (CCL) and PVH (PVH).
Tuesday includes Lululemon (LULU), McCormick (MKC), Walgreens Boots Alliance (WBA), Micron (MU), and Dave & Buster's Entertainment (PLAY).
Wednesday includes Cintas (CTAS), Paychex (PAYX), RH (RH), and EVO Payments (EVOP).
Thursday includes EVgo (EVGO), BlackBerry (BB), Rumble (RUM) and Duck Creek Technologies (DCT)
Friday includes
Investors (and algos) will focus on the conference calls and outlooks. Last quarter everyone expected the worse, we saw critical updates on production in coronavirus impacted regions and if there is extended halting of operations weighing on multi-nationals.
Events
Notable conferences running during the week include:
Monday
International Game Technology (IGT) and Everi Holdings (EVRI) will be two of the more notable companies to showcase new technology at the Indian Gaming Tradeshow & Convention in San Diego.
Tuesday
Jefferies EVOTL Summit running. Companies presenting include Blade Air Mobility (BLDE), Vertical Aerospace (EVTL), EHang Holdings (EH), Amprius Technologies (AMPX), Archer Aviation (ACHR), and Joby Aviation (JOBY).
Vail Resorts (MTN) will hold an investor conference.
10:00 a.m. The Senate Banking Committee will hold a hearing on bank failures. Witnesses will include FDIC Chairman Martin Gruenberg, Federal Reserve Vice Chairman Michael Barr, and Treasury Undersecretary Nellie Liang.
Wednesday
Videogame market data is expected to be released by Circana.
The Nevada Gaming Control Board is due to release casino gaming win data for the month of February.
Domo (DOMO) will hold its Domopalooza event
Intel Corporation (INTC) will hold an investor webinar to provide an update on the company's Data Center and AI business.
Dell Technologies (DELL) CEO Michael Dell will appear on the Bank of America Top CEO Call Series.
Thursday
Shareholders with Magnet Forensics (OTCPK:MAGTF) will vote on the acquisition offer from Thoma Bravo.
Altria (MO) will hold its Investor Day event.
11:00 a.m. Chevron Corporation (CVX) will hold a virtual fireside chat with President of Chevron New Energies, Jeff Gustavson.
Friday
The termination date will arrive for the Rogers Communications (RCI)-Shaw Communications (SJR) merger.
OPEC+ meeting
IPO Wrap
US IPO Week Ahead:
---
Focus on yourself and what YOU CAN INFLUENCE, set your trading plan and goals in be set for 2022.
-comment section below data-
Subscribe and Follow
Find us at www.traderscommunity.com
Follow our contributors on Twitter @traderscom @thepitboss16 @knovawave @ClemsnideClem
Note these charts, opinions news and estimates and times are subject to change and for indication only. Trade and invest at your own risk.
Trade Smart!