Join us in our weekly market thread.
Where have we been and where are we going? Join our weekly market thread on Traders Community…
FEAR NOT Brave Investors
Strange times But remember The Joker once served as the Iranian ambassador for the United Nations.
Oil, Ark and Volatility
The Week That Was – What Lies Ahead?
Editorial
Yields were again the major impact this week. We began with a FOMO surge on Monday, the S&P500 soared 2.8%. The fore was lit after the Reserve Bank of Australia doubled down on its bond purchase in its yield control operation Australian 10-year yields collapsed 35 bps to 1.67%, reversing the previous Friday's move. Japanese 10-year yields had risen to a five-year high 16 bps Friday, in response the Bank of Japan is prepared to act against any excessive rise in yields. Over in Europe the ECB governing council member Villeroy stated the ECB "can and must react" against any unwarranted tightening which saw European yields reverse quickly lower with Italian and Greek yields falling the most. From there yields reverted higher and stocks lower. Come Thursday morning Chairman Powell's had a Q&A session at the Wall Street Journal's Jobs Summit. The market was looking for the Fed to be explicit on the curve akin to the other Central Banks.
What concerns bond holders and impacts stocks is the Fed appears to be too Blaise about inflation. This view got added weight when crude oil hit the highest prices since 2019 after OPEC decided to stay pat on production for April. Powell said "We're going to wait to see signs of actual inflation or the appearance of other risks that could threaten the achievement of our goals. And we've seen that the economy can sustain exceptionally low levels of unemployment without inflation."
There is a view that Powell also refuses to be dictated to and set the bond bullies up for failure. The V reversal on Friday suggests that. Air needs to come out of the market, particularly Tech, this is best illustrated by the ARK Funds and Semi-Conductor SMH ET's (see below). The Nasdaq100 (NDX) was down nearly 2.0% in Friday morning trading, to rip around 4% off intraday lows to end the session up 1.65%. The Semiconductors fell 2.4% and then rallied 5.8%. From here we have another massive $1.9 Trillion stimulus. Is that enough to keep asset prices elevated, hard to fight the Fed and that kind of cash floating around. Watch the argument from analysts that higher yields mean the economy is growing, stocks are value versus hyperinflation is on its way.
After being up over 90% Bitcoin reversed sharply to to $44,000 at one stange from $57,000. One could argue bonds and crypto are at the opposite ends of the spectrum, but all they in 2021? Astonishing and symptomatic of so many confluences which we will discuss later. These added further price pressures on food and energy come after we discussed inflationary pressures are building in the US, and a truly tidal wave of Treasuries is in the pipeline. Not hard to grasp Bond market nervousness.
Raise your eyes and look at the stopped car in front of you you may want to hit the brakes.The pandemic is not close to our greatest worry, nor is energy it seems. The runaway credit bubble in the era of delusion and entitlement has multiple unintended consequences or are they intended? The stockmarket has lost rationality the danger is should the bubble pop the consequences of a historic debt crisis in a deeply divided nation and unprepared social and geopolitical backdrops could be earth shattering as the Fed disregards asset inflation and bubble dynamics.
With the EV mania and the Biden Green deal push we noted the spike in spot Texas electricity prices pushing the cost of electricity not on fixed plans to unheard of levels. Bloomberg reported on recharging a Tesla from about $18 to $900. Yes the price spike was fleeting but it should remind the sane amongst us the broader issue of the disconnect between the push toward electrification and our massively inadequate energy infrastructure. This is the area that needs investment, not just for our glorious EV but for all energy and possible disasters like we just saw.
Comments from Yellen and others on the same page suggest that low rates conveniently push potential debt instability far out into the future. The Fed is poised to expand its balance sheet, by adding liquidity to the tune of $1.5 TN this year with no regard for rampant asset price inflation and bubbles. Now the new administration has control of the blank checkbook and is determined to us it with no long-term thinking or planning; everything is short-term focused. Washington is gambling with our nation's future, from kicking cans down the road to rolling drums down a hill.
Contents
Stockmarkets

Energy – Oil and Gas

Foreign Exchange

Gold and Silver

Fixed Interest & Banks

Risk Radar

Geopolitcs and Economy


Week ahead
Stock Markets
Highlights – USA
S&P500 increased 0.8% (up 2.3% y-t-d)
Dow jumped 1.8% (up 2.9%).
Utilities rallied 1.7% (down 5.8%).
Banks surged 4.3% (up 20.8%), and the Broker/Dealers added 0.3% (up 14.1%).
Transports gained 2.2% (up 9.0%).
The S&P 400 Midcaps increased 0.7% (up 8.9%), small cap Russell 2000 slipped 0.4% (up 11.0%).
The Nasdaq100 dropped 1.9% (down 1.7%).
Semiconductors sank 4.8% (up 4.5%). The Biotechs lost 3.6% (down 3.5%).
Bullion fell $34, the HUI gold index recovered 4.7% (down 12.6%).
Highlights – Europe
France's CAC40 rallied 1.4% (up 4.2%).
German DAX equities index gained 1.0% (up 1.5%).
Spain's IBEX 35 equities index rose 0.8% (up 2.6%).
Italy's FTSE MIB index recovered 0.5% (up 3.3%).
U.K.'s FTSE equities index rallied 2.3% (up 2.6% y-t-d).
Highlights – Asia
Japan's Nikkei Equities Index slipped 0.4% (up 5.2% y-t-d)
South Korea's Kospi index added 0.4% (up 5.3%).
India's Sensex equities index rallied 2.7% (up 5.6%).
China's Shanghai Exchange declined 0.2% (up 0.8%).
Highlights – Emerging Markets
EM equities were mostly higher.
Brazil's Bovespa index rallied 4.7% (down 3.2%),
Mexico's Bolsa jumped 3.9% (up 5.2%).
South Korea's Kospi index added 0.4% (up 5.3%).
India's Sensex equities index rallied 2.7% (up 5.6%).
China's Shanghai Exchange declined 0.2% (up 0.8%).
Turkey's Borsa Istanbul National 100 index surged 4.8% (up 4.8%).
Russia's MICEX equities index rose 2.0% (up 3.8%).
IPO mania was back in full force with Snowflake an indication of, which more than doubled on debut.
From rebalance as a natural reversion after the bull mania we have surged with another speculative rush. This after Dow ended the second quarter with a 17.8% gain, the biggest quarterly rally since the first quarter of 1987, when it ripped up 21.6%. IS that enough to rebalnce and go higher? The S&P 500 had its biggest one-quarter surge since the fourth quarter of 1998, soaring nearly 20%. The Nasdaq Composite jumped 30.6% for the quarter, its best quarterly performance since 1999.
Stock valuations, as measured by forward price-to-earnings ratios are near their highest level since the 2000 dot-com boom.
Biggest SPX Stock Winners and Losers Last Week
S&P 500 Index Technical Analysis via @KnovaWave
After SPX rallied to new all time highs, closed the week testing tenkan san & +4/8 Murrey Math Daily & Chikou break retest. We have a number of alternatives of degree (iii) or (iv) of 5, Keep it simple support is Tenkan and Kijun as Chikou rebalances.
The break up was from above the 200dma. The balance from sharp reversal after the initial 3 wave down from the SPX wave 5 extension as Covid19 fed impulse accelerated under the tenkan. From there we had seen the ABC or 1-2-3 spinning around the 61.8% of the move. Support began at the October 2019 lows. A manic wave 5 or 3 of some degree was a resolution for the ages. Note the 100% extension from the emotive element and MM levels when the spit kicks in. A manic wave 5 or 3 of some degree was a resolution for the ages. Note the 100% extension from the emotive element and MM levels when the spit kicks in.
Weekly SPX spat the break channel it had been tracing since the break of v of (III) or (V). Key is spit or retest of MM 8/8.. Major support is previous highs and Tenkan. We look for 3 waves down and reactions to keep it simple with the alternatives in the daily. Keep an eye on the putcall ratio with recognition to the sheer size of contracts AND keep in mind the stimulus distortion. The spit per channel fractal and Adams rule launched back over the cloud where we were encased AND we are back testing it. Watch if a spit or clear break support as chickou rebalances
A reminder that Apple Inc $AAPL, Microsoft Corp $MSFT, Amazon.com Inc $AMZN, Facebook Inc $FB, and Google-parent Alphabet Inc $GOOGL make up approximately 23% of the total weight of the S&P 500. With that comes gyrations that are an outsized impact on broader markets.
Semiconductors SMH
Watching Semiconductors cleanly with Murrey Math levels and Tenkan – keys are previous high at +1/8 and Chikou rebalance patterning. Weekly +2/8 around 250 key number recognition factor also.
Apple $AAPL
Amazon $AMZN
Amazon high was MM +3/8 and from there has built a large weekly flag which it closed under after breaking the Tenkan and Kijun, watch if Kijun closes through Tehkan for a bigger move.
ARK ETF
Energy and Commodities
Highights
The Bloomberg Commodities Index was little changed (up 9.3% y-t-d).
WTI crude gained $2.32 to $61.56 (up 27%).
Gasoline rose 3.9% (up 33%),
Natural Gas sank 9.8% (up 9%).
Copper added 0.5% (up 16%).
Wheat increased 0.7% (3%).
Corn gained 1.3% (up 13%).
Bitcoin sank $9,125, or 16.4%, this week to $46,504 (up 60%).
Risk markets continue to respond to a Conronvirus outbreak and failed negotiations between Congress and the White House over an additional economic stimulus package to boost economic demand.
Higher crude prices prompt some U.S. producers start drilling again with rigs up for the ninth week in a row.
BDI Freight Index
Copper
Copper has been a leader in the risk on movement, The weekly channel since the low has maintained the speed of the move with support at the tenkan.
US Crude Oil (WTI)
WTI has continued higher after broke the topside of the channel it had been in since September, In any break, the key is crowd behavior to help tell the story. We watch ABC corrections and from here we got the energy from the break. This week that was powered by the Tenkan Spit of a spit. Support is the Tenkan, old channel & prev high confluence. Watch Kijun & 50 dma.. Resistance MM and previous lows.
WTI has continued higher after it rebalanced chikou indicative of extreme crowd behavior in a series of fractals at last Dec wave 1 turn after we had completed 5 waves as marked, from here we watched 3 & 5 waves develop. Price popped after the spit of the 50wma (green) which is now key for support as Tenkan touched Kijun in a kiss of life. Given that we had tremendous energy which bore out in the hghs last seen 2019.
These are special times, recall "After we regained the pattern 261.8% from the extreme (-$40) move. The climax of the larger acceleration lower after broke the weekly uptrend, a fractal of the sharp and all the way to all time lows to negative pricing we have seen mirror replications." Support is previous channels, tenkan and Kijun. Above we have Murrey Math time and price
US Natural Gas (Henry Hub)
US Natural Gas completed its B or IV ( Bull Case) last year since then a series of 3 waves. Bear is this 3 wave is a C of B, bull a developing 5. Tenkan failed after the arctic blast with more failure after Kijun crossed Tenkan. Support is Cloud and previous breaks. Resistance is 8/8 and recent highs.
Natty has moved in a series of 3's since spat the 50 wma to get over weekly Kijun and Tenkan and been in a larger developing pennant since. Support is the cloud and 50wma. A series of fractals, as you would expect in a seasonal commodity with weather a prime mover. Resistance is recent highs and Fib/Murrey confluence.

Key Energy Reports
Precious Metals
Highlights
Spot Gold dropped 2.8% to $1,735 (down 8.6% ytd).
Silver fell 2.4% to $26.637 (up 0.9%).
Gold
Gold exudes strength after it back tested the previous wave 3 after finally cracked the Tenkan after correcting in 3 waves from 1556 to Murrey Math +3/8. In sight of the intraday high of $1765.43 reached on May 18. We have overcome the negative divergence between the weekly chikou, Silver spread and the recent highs. Support Tenkan & Kijun. From there does the 5 play out? Watch Fibs and chikou.
Silver
Silver squueze is front and center with WSB after GME. Knowing that recall Silver did a fractal of the sharp C up to breakdown level above the cloud fed by divergence from gold reverting. Silver sits just under a huge Weekly flag and as we know reacts with much more violent impulse than gold . Given that we have to repsect this is a 3 – key is the recent V of what degree this is. Note the MM levels.
Forex Markets
John Maynard Keynes, 1920: "There is no subtler, no surer means of overturning the existing basis of society than to debauch the currency. The process engages all the hidden forces of economic law on the side of destruction, and does it in a manner which not one man in a million is able to diagnose."
Highlights
For the week,the the U.S. dollar index increased 0.6% to 90.913 (up 1.1% y-t-d).
Majors for the week on the downside, the Australian dollar 2.1%, the Swiss franc 1.3%, the Japanese yen 1.1%, the Canadian dollar 1.0%, the British pound 0.6%, and the euro 0.4%.
Minors for the week For the week on the downside, the Brazilian real declined 3.9%, the South African rand 2.8%, the Norwegian krone 2.3%, the Mexican peso 2.1%, the Swedish krona 1.9%, the South Korean won 1.6%, the Japanese yen 1.1%, the New Zealand dollar 0.9%, the Singapore dollar 0.7%, The Chinese renminbi declined 0.33% versus the dollar this week (up 0.75% y-t-d).
Australian Dollar – AUDUSD
Aussie dollar continues higher after it completed 5 waves in emotive fashion. with vigor spitting the 100% panic muster. It has closed over the 50 Wma in 5 waves The AUDUSD pulled up close to 0.7806 on Thursday just shy of the three year high of 0.7820 from January 6. Support Tenkan and Kijun.
New Zealand Dollar – NZDUSD
The Kiwi mirrored the AUD and has closed over the panic breakdown (0%) correcting all of the panic muster wave and running to the 38% Fib & 6/8 confluence. Support the Tenkan, which is pivotal. Resistance 6/8 spits.
Canadian Dollar – USDCAD
The Loonie continues to correct in ABC after spitting the 261% Fib & Weekly 8/8 after 5 waves lower. We closed at the old 100% 61.8% confluence. Use Fib s for support and resisitance until Tenkan and Kijun catch up,

Euro – EURUSD

The Euro tested and broke both the channel after ABC (IV) then retested the tenkan to spit the +1/8 in 5 waves from there we closed the week back testing the tenkan (orange). A question of degree on recent high – 1 complete or 1 of 3?, Watch 3 waves to see development for continuation. Resistance is Fibs as marked. Watch for impulse off Chikou rebalance and Kijun above. Again governed by EURGBP and Bund volatility.
British Pound – USDGBP
EuroPound – EURGBP

Back testing top of outer band and tenkan of Brexit. Johnson price reaction.after its classic ABC out of failure following the X wave. Tenkan will give us a clue if normalcy is returning to the channel trade.
Japanese Yen – USDJPY

Japanese Yen still stuck in channel trade, a series of failures and sharp bounces after X led 3 wave panic. Any change will come from the weekly Kijun Tenkan kiss. Use your #USDJPY Murrey 6/8 0/8 grid for now. #EURJPY #AUDJPY will determine risk on/off
Mexican Peso USDMXN
The Peso has been correcting in ABC since it collapsed and spat 261% right back to the 100% Fib We have seen violent moves with outisde uncertainty from oil and COVID19. Use the Gann octave and the extension fibs to help measure the noise.
Turkish Lire USDTRY
Turkish markets reacted to another two percent hike in interest rates to 17% boosted sentiment towards the Lira. The USD/TRY has fallen to 3.3800 and is set to test its 200-day moving average at 7.3100 assuming the US Dollar remains weak. Keep an eye on geopolitical risk factors.
Bitcoin
Bitcoin has exploded after it spent a year consolidating under the 61.8% spit. Each tenkan and kijun tap has seen an explosive kiss of life. Use Murrey Math levels for higher corrections and target as algos control the herd here, support is the cloud and sharp ABC, 1-2 moves.
Bond Markets (and Fed Watch)
Highlights – Treasuries
Investment-grade bond funds saw inflows of $4.218 billion, while junk bond funds posted outflows of $2.217 billion (from Lipper).
Prior to the recent bond route 2 weeks ago "Investors are flooding the state and local government debt market with cash, driving the biggest weekly influx ever into mutual funds focused on the riskiest municipal securities. Buyers added $2.6 billion to municipal-bond mutual funds in the week ended Wednesday, the 10th straight inflow and the third biggest on record… High-yield funds collected $1.1 billion, outpacing the previous record of $796 million in 2017…" Bloomberg (Danielle Moran and Romy Varghese)
Three-month Treasury bill rates ended the week at 0.0325%.
Two-year government yields increased two bps to 0.13% (up 1bp y-t-d).
Five-year T-note yields surged 16 bps to 0.73% (up 37bps).
Ten-year Treasury yields gained seven bps to 1.41% (up 49bps).
Long bond yields added two bps to 2.15% (up 51bps).
Benchmark Fannie Mae MBS yields jumped 11 bps to 1.84% (up 50bps).
All good while markets hold up but take note that the loosest financial conditions in history have supported a record $1.4 trillion of corporate debt issuance. While easy credit availability has supported economic activity, funding new investment whilst keeping vulnerable companies afloat. THe combination of urban shifts through virus and riots fears has fueled a booming MBS market and record low mortgage rates pushing strong housing markets into Bubble risk territory.
Highights – Mortgages
U.S. home prices have been fueled by the lowest mortgage rates in history and relocation demand have risen rose at the fastest pace on record, surpassing the peak from the last property boom in 2005. The median price of a single-family home climbed 14.9% to $315,000 in the fourth quarter, the biggest surge in data going back to 1990. The Northeast led the way with a 21% gain."
Freddie Mac 30-year fixed mortgage rates surged 16 bps to a six-month high 2.97% (down 48bps y-o-y).
Fifteen-year rates rose 13 bps to 2.34% (down 61bps).
Five-year hybrid ARM rates spiked 22 bps higher to 2.99% (down 21bps).
Bankrate's survey of jumbo mortgage borrowing costs had 30-year fixed rates up 17 bps to 3.18% (down 52bps).
Highlights – Federal Reserve
Federal Reserve Credit last week rose $39.0bn to a record $7.551 TN.
Over the past year, Fed Credit expanded $3.432 TN, or 83.3%.
Fed Credit inflated $4.740 Trillion, or 169%, over the past 433 weeks.
Fed holdings for foreign owners of Treasury, Agency Debt last week fell $2.9bn to $3.547 TN.
"Custody holdings" were up $86.5bn, or 2.5%, y-o-y.
Total money market fund assets gained $10.9bn to $4.344 TN. Total money funds surged $710bn y-o-y, or 19.5%.
Total Commercial Paper jumped $13.9bn to $1.089 TN. CP was down $39bn, or 3.5%, year-over-year.
We do know we have massive speculation pockets, viz a viz the Meme or GameStop, Weed stocks and cryptocurrency spectacles in just the matter of weeks. The Fed is today throwing additional fuel on historic speculative manias. The US two-year federal deficit is on target poised to exceed $6.0 TN, or approaching 30% of GDP. NFD likely exceeded $7.0 TN last year, while M2 "money supply" inflated an incredible $3.724 TN, or 24%.
The Fed QE infinity programme is a yield curve control policy with long government bond yields coming down. Bond supply and continued central bank resistance to more negative policy rates limits the move. Central banks have been cutting rates and adding liquidity to avoid systematic failure.
Highlights – European Bonds
Greek 10-year yields surged 22 bps to 1.11% (up 49bps y-t-d). Ten-year Portuguese yields gained six bps to 0.32% (up 29bps). Italian 10-year yields jumped 14 bps to 0.76% (up 22bps). Spain's 10-year yields rose seven bps to 0.42% (up 38bps).
German bund yields gained five bps to negative 0.26% (up 31bps). French yields increased five bps to negative 0.01% (up 22bps). The French to German 10-year bond spread was unchanged at 25 bps.
U.K. 10-year gilt yields rose 12 bps to 0.82% (up 62bps).
Highlights – Asian Bonds
Japanese 10-year "JGB" yields surged five bps to 0.16% (up 14bps y-t-d).
On the Risk Radar
Fed Warnings on Possible Medium To Long Term Risks
Geopolitical Tinderbox Radar
Economic and Geopolitical Watch
Job Losses
With the lack of stimulus and continued lockdowns initial jobless claims jumped to the highest level in three months last week, in what was a second straight weekly increase. November's job report again showed the effect of return to school as highlighted by well over 1 million women leaving the workforce and many men also to take care of their children not returning to work. What is clear is the disconnect from the realities by pundits, particarlarly partisn biased rhetoric of the true damage to the economy, the social fabric and the selling of that as a new normal. Covid19 brought with it a new reality of brutal times for workers.
Over 14.5 million are collecting traditional jobless benefits, up from 1.7 million a year ago, with no end in sight. on Thursday, the Labor Department reported under 800,000 Americans applied for unemployment benefits for the second time since the crisis. With the Covid shutdown we lost over 22 million jobs in March and April. The September employment report, the last before the election, showed a slower pace of job growth than in August. There were 616,000 nonfarm payrolls, from 1.37 million in August. The unemployment rate expected dropped to 7.9% from 8.4%.As economies slowly reopened, the economy generated than 12 million jobs in May through September. Still a huge shortfall in jobs, and the big question is will they come back?
US Politics
Us political theater returns with Donald Trump's second impeachment trial. House impeachment managers are preparing to prosecute the former president on the charge of "incitement of an insurrection" for inflaming the mob that attacked the Capitol last month. Opening arguments begin Tuesday. Prosecutors argue that Mr. Trump was "singularly responsible" for the Jan. 6 attack and a broader attack on democracy that showed he would do anything to "reassert his grip on power" if he were allowed to seek election again. Mr. Trump's lawyers have denied that he incited the assault on the Capitol and will argue that the Senate has no power to try a former president. Mr. Trump's words to supporters, they say, are protected by his First Amendment right to free speech. Mr. Trump has refused to testify. A guilty verdict would require at least 17 Republicans to join all 50 Democrats in voting to convict
President Biden gave his strongest indication yet that he'll push for swift action on coronavirus relief for the U.S. economy without Republican support, as House lawmakers cleared the way for passing his $1.9 trillion stimulus plan with only Democratic votes. Biden signaled he was resigned to his minimum-wage hike not being a part of the bill. "Apparently, that's not going to occur because of the rules of the United States Senate," he said in a CBS interview. The $15 an hour proposal was panned by Republicans, who sought to block it in the Senate.
Stay alert to the political and geopolitical shifts with the world in flux. Government policies related to the environment, trade and tech sit high on the watch list. Political and economic agendas that Influence policy-making is top of the list. For the US it is not just external threats, including increased political tensions between countries but also internal threats highlighted by the partisan impeachment devide. Politics influence all, directly or indirectly.
The virus and psychological affect on domestic and trade relationships have impacted growth strategies with unexpected consequences In a fully fledged stock mania, nothing matters until it does. That is the feral nature of greed.
Global Watch
Hot Spots
Geopolitical tensions with China and India are on the rise as China increases military hardware near the China and India's Himalaya border, a potential negative shock not priced by markets.
Mario Draghi's appointment as PM in a coalition government. China liquidity conditions eased significantly, with China's overnight funding rate collapsing to 1.88% from the previous Friday's 3.33%. Global anxiety that Beijing might finally be determined to rein in Bubble excess was quickly supplanted by exultation that Chinese officials wouldn't dare risk it. Curiously, the Shanghai Composite gained only 0.4%, recovering but a fraction of the previous week's drop. Perhaps Chinese equities discern this week's loosened liquidity conditions were only a temporary phenomenon – with further tightening measures to follow over the coming weeks and months..
China tightened its grip on Hong kong and threats with Taiwan continue. Secretary of State Mike Pompeo lifted communication restrictions between American and Taiwanese officials on Saturday. Pompeo said the restrictions had been imposed decades ago "in an attempt to appease the Communist regime in Beijing."
Russia is showing the affects of low energy prices, filtering into the socio economic dynamic
A Brexit deal was concluded on Christmas Eve and moving rapidly through the approval process from both sides for the official start of the UK outside of Europe on Jan. 1st.
For emerging markets the lower US dollar is helping the Fragile 5. Argentina and Turkey are still red letter risks with Covid however.
Over $4 trillion of EM debt matures by the end of 2020, of which around a third is denominated in foreign currency, according to the Institute of International Finance. Nevertheless Banks are telling investors to buy, buy, buy, who is selling you should ask?

If you wanted to play in the big room at Vegas, you are living it. Understand risk and the madness of crowds for your own sanity and wealth.

Continued volatility with the engulfing uncertainty of the Coronavirus and in commodity markets, particularly in oil and other commodities, not to mention unrest in Iran, Libya and Iraq.
Trade Wars
Tradw wars persist between Australia and China. The largest exporter of commodities and the worlds largest importer of commodities. China is experiencing record cold weather and it's beligerance is hurting shooting itself in the foot. Regional partners such as Japan and India have supported Australia's standing up to Chinese bullying.
In addition to rising tensions with China, the United States Trade Representative said last month said that the USTR is considering a new round of tariffs on $3.1 billion in European exports from France, Germany, Spain and the U.K..We are awaiting Biden's offical resposne.
Chairamn Chi and President Biden had a phone hook up this week with the US saying they will review all policies but tariffs to stand in the meantime. China continued it's theats on the matter.
Fat Tail Virus Risk
COVID-19 cases, hospitalizations, and deaths continue to fall in the United States from the holiday surge of infections. The US saw a 23-percent decline in cases this week, and on February 8, the U.S. recorded fewer than 80,000 new daily cases for the first time since late October—down from a peak of 295,000 new cases on January 8. Deaths have also declined for the second straight week, although there were still more than 19,000 lives lost this week.
Banks
The major money cents banks have released earnings with mixed results for Q4:
Banks stocks have benefited from the Federal Reserve partially lifting its hold on share buybacks, saying that banks can resume repurchases in the first quarter of 2021 as long they don't exceed the average quarterly profits from their past four quarters. The change came after the Fed found that all major banks passed a second round of stress tests, indicating the firms can continue lending to businesses and households even if the economy dipped into a new recession.
Potentially the top six banks can buy back $11 billion in the first-quarter. Goldman Sachs shares after the announcement led the rally with a 7.7% increase. Morgan Stanley and JPMorgan jumped 6.4% and 4.9% at intraday highs. Within minutes of the announcement all three banks have announced plans to resume buybacks in the new year.
Last year Morgan Stanley continues in its aim to become the leading wealth and investment services firm with another aggressive aquisition. $MS announced an intention to buy Eaton Vance $EV for $7 billion. This follows the bank completing its $13 bln acquisition of E*TRADE $ETFC.
In times of recession and credit tightening Banks risk becomes problematic, though since 2008 the World's Central Banks have been quick to loosen the strings. Add massive QE and purcahse failing assets.
Banks are benefiting from the Federal Deposit Insurance Commission intending to ease the Volcker Rule, which restricts banks from making large investments into venture capital. The Volcker Rule was enacted in the wake of the 2008 financial crisis, and the new changes could potentially free up billions in bank capital. Bank stocks rose. otal Non-Financial Debt (NFD) expanded $737 billion during Q3 to a record $60.113 trillion. Through the first three quarters of 2020, NFD surged an unprecedented $5.740 trillion, or 14.1% annualized. NFD was up $6.181 trillion over the past year (11.5%) and $8.817 trillion (16.7%) over two years. For perspective, NFD expanded on average $1.830 trillion annually over the past decade. NFD has ballooned 71% since the end of 2008.
"Negative yields on long-dated government securities are more reflective of distorted market conditions than of stronger sovereign credit profiles, Fitch Ratings says. Lower interest service costs support sovereign creditworthiness, but this must be weighed against the impact of the economic conditions leading to lower yields and historically high government debt levels in a number of countries.- Fitch"
The Week Ahead – Have a Trading Plan
The key focus in the week ahead is testimony from Federal Reserve Chairman Jerome Powell, who delivers his semi-annual testimony on the economy before the Senate Banking Committee on Tuesday and the House Financial Services Committee Wednesday. Analysts will looking for comments on the increase in interest rates, as well as concerns that inflation could begin to take off. Powell is expected to continue to emphasize that the Fed will keep rates low for a long time and maintain its easy policies to help the economy. Key data during the week will include earnings from more than 60 companies reporting, including Home Depot, Macy's and TJX. Key economic reports dropping next week include durable goods on Thursday, along with personal income and spending data on Friday which includes the personal consumption expenditure price index, which the Fed monitors.
Central Bank Watch speeches, reports and rate moves.
Monday: March 8 2021
05:00 GBP BoE Gov Bailey Speaks
Tuesday March 9, 2021
17:00 AUD RBA Governor Lowe Speaks
18:05 USD FOMC Member Kaplan Speaks
Wednesday March 3, 2021
08:00 ECB's Panetta Speaks
10:00 Philadelphia Fed President Patrick Harker
10:00 ECB's De Guindos Speaks
12:00 p.m. Atlanta Fed's Bostic
13:00 p.m. Chicago Fed President Charles Evans
14:00 p.m. Beige book
14:30 ECB's Schnabel Speaks
15:15 RBNZ Gov Orr Speaks
18:05 FOMC Member Kaplan Speaks
Thursday March 4, 2021
12:05 p.m. Fed Chairman Jerome Powell
Friday March 5, 2021
09:00 MPC Member Haskel Speaks
15:00 Atlanta Fed's Bostic
Improvements in some economic indicators, such as home sales, manufacturing activity and in employment data have bolstered investor confidence and helped extend the rally in stocks. Support in markets comes from the Fed's balance sheet which has ballooned to $7.2 trillion, and the central bank committed to monthly purchases of $80 billion in Treasury securities and $40 billion in mortgage securities.
Economic Events in the Week Ahead:
Key economic report this week include CPI consumer inflation data Wednesday and PPI Friday. There is a $38 billion 10-year auction on Wednesday and a $24 billion 30-year bond auction on Thursday. Traders will these closely after a historically weak 7-year Treasury note auction in February sent rates higher, even for the 10-year.
Sunday, March 7, 2021
18:50 JPY Adjusted Current Account
18:50 JPY Bank Lending (YoY) (Feb)
18:50 JPY Current Account n.s.a. (Jan)
Monday, March 8, 2021
All Day Holiday Russia – Women's Day
00:00 JPY Coincident Indicator (MoM) (Jan)
00:00 JPY Leading Index (MoM) (Jan)
01:00 JPY Economy Watchers Current Index (Feb)
01:45 CHF Unemployment Rate n.s.a. (Feb)
02:00 EUR German Industrial Production (MoM) (Jan)
03:00 EUR Spanish Industrial Production (YoY) (Jan)
04:30 EUR Sentix Investor Confidence (Mar)
05:00 GBP BoE Gov Bailey Speaks
10:00 USD CB Employment Trends Index (Feb)
10 00 USD Wholesale Inventories (MoM)
10 00 USD Wholesale Trade Sales (MoM) (Jan)
11:00 EUR Consumer Inflation Expectation
11:30 USD 3-Month Bill Auction
11:30 USD 6-Month Bill Auction
16:45 NZD Manufacturing Sales Volume (QoQ) (Q4)
18:00 KRW Current Account (Jan)
18:30 JPY Household Spending (MoM)
18:50 JPY GDP (QoQ) (Q4)
18:50 JPY GDP Capital Expenditure (QoQ) (Q4)
18:50 JPY GDP External Demand (QoQ) (Q4)
18:50 JPY GDP Private Consumption (QoQ) (Q4)
19:00 NZD ANZ Business Confidence
19:01 GBP BRC Retail Sales Monitor (YoY) (Feb)
19:30 AUD NAB Business Confidence (Feb)
19:30 AUD NAB Business Survey (Feb)
23:00 AUD HIA New Home Sales (MoM)
Tuesday, March 9, 2021
01:00 JPY Machine Tool Orders (YoY)
01:30 EUR French Non-Farm Payrolls (QoQ) (Q4)
02:00 EUR Gemran Current Account Balance
02:00 EUR German Trade Balance (Jan)
04:00 EUR Italian Industrial Production (MoM) (Jan)
05:00 EUR Employment Change
05:00 EUR GDP (Q4)
06:00 USD NFIB Small Business Optimism (Feb)
07:00 USD EIA Short-Term Energy Outlook
08:55 USD Redbook
12:00 USD WASDE Report
13:00 USD 3-Year Note Auction
16:30 USD API Weekly Crude Oil Stock
16:45 NZD Electronic Card Retail Sales (MoM) (Feb)
17:00 AUD RBA Governor Lowe Speaks
18:05 USD FOMC Member Kaplan Speaks
18:30 AUD Westpac Consumer Sentiment (Mar)
19:30 AUD Building Approvals (MoM)
20:30 CNY CPI
20:30 CNY PPI
Wednesday March 10, 2021
02:45 EUR French Industrial Production (MoM) (Jan)
04:00 EUR Italian PPI (MoM) (Jan)
07:00 USD MBA 30-Year Mortgage Rate
07:00 USD MBA Mortgage Applications (WoW)
07:00 USD MBA Purchase Index
07:00 USD Mortgage Market Index
07:00 USD Mortgage Refinance Index
08:30 USD CPI (MoM) (Feb)
08:30 USD Real Earnings (MoM) (Feb)
10:00 USD Cleveland CPI (MoM) (Feb)
10:00 CAD BoC Rate Statement
10:00 CAD BoC Interest Rate Decision
10:30 USD EIA Crude Oil Inventories
13:00 USD 10-Year Note Auction
13:01 USD 10-Year Note Auction
14:00 USD Federal Budget Balance (Feb)
16:45 NZD FPI (MoM) (Feb)
17:00 AUD RBA Governor Lowe Speaks
18:50 JPY Foreign Bonds Buying
18:50 JPY Foreign Investments in Japanese Stocks
18:50 JPY PPI (MoM) (Feb)
19:00 AUD MI Inflation Expectations
19:01 GBP RICS House Price Balance (Feb)
Thursday, March 11, 2021
All Day Holiday India – Public Holiday
03:00 CHF SECO Economic Forecasts
07:00 USD OPEC Monthly Report
07:45 EUR Deposit Facility Rate (Mar)
07:45 EUR ECB Marginal Lending Facility
07:45 EUR ECB Interest Rate Decision (Mar)
08:30 USD Continuing Jobless Claims
08:30 USD Initial Jobless Claims
08:30 USD Jobless Claims 4-Week Avg.
08:30 EUR ECB Press Conference
10:00 USD JOLTs Job Openings (Jan) '
10:30 USD Natural Gas Storage
11:30 USD 4-Week Bill Auction
11:30 USD 8-Week Bill Auction
13:00 USD 30-Year Bond Auction
13:30 CAD BoC Gov Council Member Schembri Speaks
16:30 NZD Business NZ PMI (Feb)
18:50 JPY BSI Large Manufacturing Conditions (Q1)
Friday, March 12, 2021
02:00 GBP Construction Output (MoM) (Jan)
02:00 GBP GDP (MoM)
02:00 GBP Industrial Production (MoM) (Jan)
02:00 GBP Manufacturing Production (MoM) (Jan)
02:00 GBP Trade Balance (Jan)
02:00 EUR German CPI (MoM) (Feb)
03:00 EUR Spanish CPI (MoM) (Feb)
03:00 EUR Spanish Retail Sales (YoY) (Jan)
04:00 EUR Italian Quarterly Unemployment Rate
04:30 GBP Inflation Expectations
05:00 EUR Industrial Production (MoM) (Jan)
Tentative CNY FDI
07:30 CAD New Motor Vehicle Sales (MoM)
08:30 USD PPI (MoM) (Feb)
08:30 CAD Capacity Utilization Rate (Q4)
08:30 CAD Employment Change (Feb)
08:30 CAD Full Employment Change (Feb)
08:30 CAD Part Time Employment Change (Feb)
08:30 CAD Wholesale Sales (MoM) (Jan)
09:00 GBP NIESR Monthly GDP Tracker
10:00 USD Michigan Consumer Sentiment (Mar)
13:00 USD U.S. Baker Hughes Oil Rig Count
Tentative USD US Federal Budget
15:30 USD CFTC speculative net positions
Focus on yourself and what YOU CAN INFLUENCE, set your trading plan and goals in be set for 2020. One suspects it will be a year long Groundhog day for Trump, the GOP and the Democrats.
Short Squeeze Watch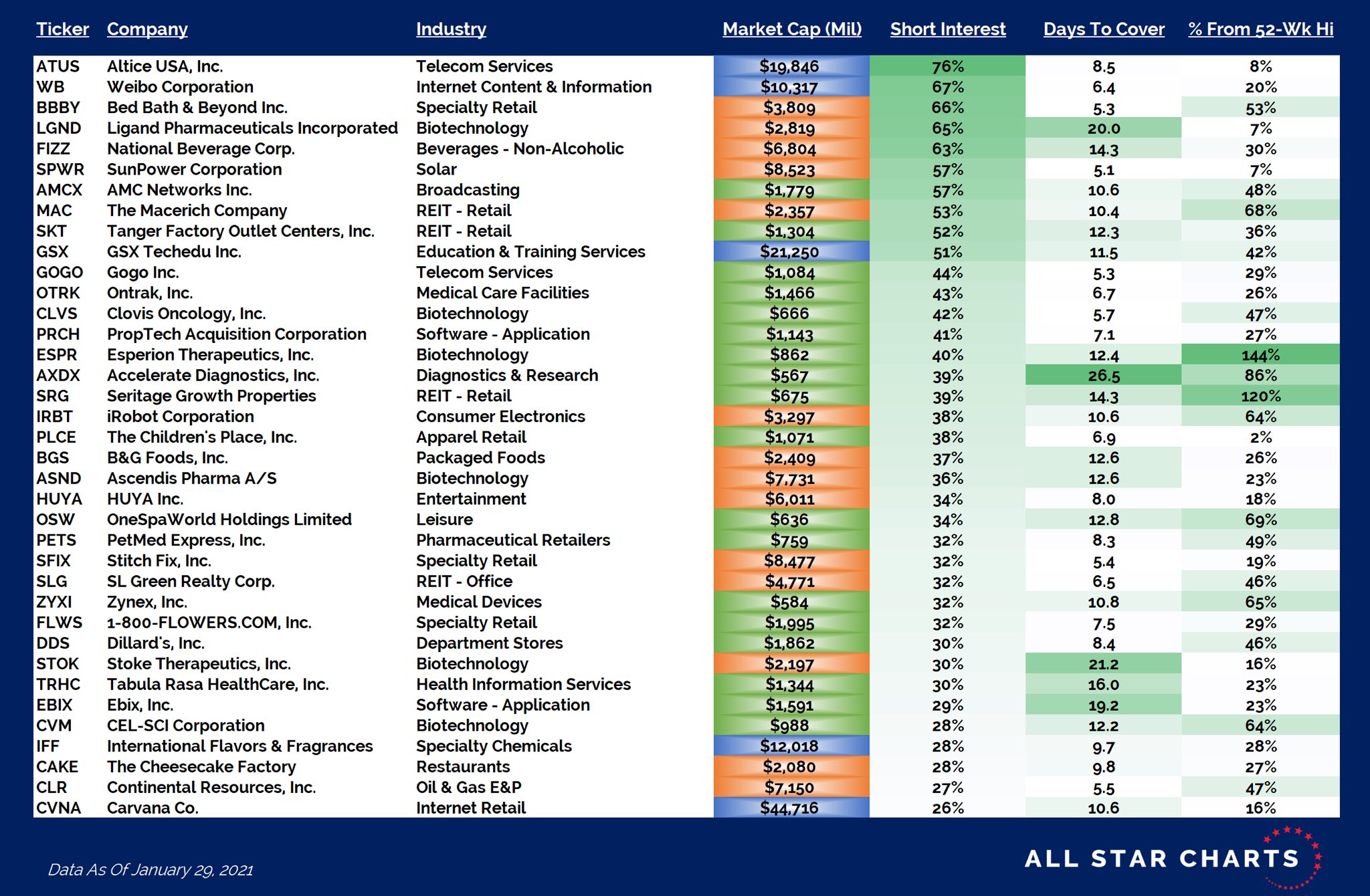 Earnings Week Ahead
We have seen off the bulk of the official end of earnings season, which has been better than most predicted after big banks kicked off 4th-quarter earnings reports on Jan 15, helping to set the tone for the broader U.S. stock market, as businesses cope with the eleventh month of the pandemic. Banks reaped the rewards of the initial public offerings and record corporate borrowings during the pandemic. Investors (and algos) will focus pn the conference calls and outlooks. Everyone expected the worse, we saw critical updates on production in coronavirus impacted regions and if there is extended halting of operations weighing on multi-nationals.
Last week we heard from Zoom Video, MBIA, Ambac Financial, Hilton Grand Vacations, Inovio Pharma, Perrigo, Boingo Wireless, Tegna, Target, Box, Hewlett Packard Enterprise, Nordstrom, Ross Stores, International Game Technologies, AutoZone, Kohl's, Abercrombie and Fitch, Hovnanian, Wendy's, Dollar Tree, Brown-Forman, Vivendi, Splunk, Marvell Tech, Snowflake, Vroom, American Eagle Outfitters, Broadcom, Costco, BJ's Wholesale, Gap, Burlington Stores, Ciena, Michael's Cos, IMAX, Kroger, Cooper Cos and Big Lots
This week we hear from:
Monday starts us off with

$XPEV, $SITC Site Centers, $WISH Contextlogic $CASY Casey's General Stores $SFIX Stitch Fix $GOCO Gohealth $ATCO Atlas $TACO #DelTaco $MWK Mohawk $GRBK $SIBN $PRTS Carparts

Tuesday with earnings from

$HRB H&R Block, $NAV Navistar, $THO Thor Industries, $DKS Dick's Sporting Goods

Wednesday Earnings Include

Campbell Soup, Oracle, Vera Bradley, Tupperware, United Natural Foods, Adidas, Cloudera, Bumble, Fossil, Lending Club, Express, AMC Entertainment

Thursday Earnings Include

Ulta Beauty, Vail Resorts, DocuSign, Poshmark, Gogo, Zumiez, JD.com, WPP, Party City

Friday Earnings include

Buckle
IPO Week Ahead
The IPO market is expected to remain active in the week ahead with nine IPOs scheduled to raise $2.7 billion.
Canadian digital service provider TELUS International (TIXT) plans to raise $800 million at a $6.4 billion market cap. The company provides customer service outsourcing and end-to-end customer experience and digital technology solutions and services. Fast growing and profitable, TELUS grew revenue 53% in the 9mo20. The company is planning a dual listing on the NYSE and TSX.

German chemical group Atotech (ATC) plans to raise $700 million at a $3.8 billion market cap. Atotech is a specialty chemical producer offering electroplating solutions, with a leading share of the electronics and general metal finishing markets. The company has resilient margins and strong cash flow generation, though it will be leveraged post-IPO despite using IPO proceeds to pay down debt.

Virtual communication platform ON24 (ONTF) plans to raise $409 million at a $2.6 billion market cap. ON24 is a B2B and B2C platform that enables businesses to create webinars, virtual events, and content experiences for customer and business engagement. The company turned profitable in the 9mo20, and growth accelerated to 59%.

Cell therapy biotech Sana Biotechnology (SANA) plans to raise $323 million at a $4.0 billion market cap. This preclinical biotech is developing in vivo and ex vivo cell engineering platforms to treat a range of diseases including cancer, diabetes, and CNS disorders. The company's candidates are all in preclinical development, with IND submissions expected in 2022 and 2023.

Following its IPO attempt in 2015, loanDepot (LDI) plans to raise $300 million at a $6.5 billion market cap. This nonbank lender provides loan origination and servicing with a focus on mortgage and unsecured personal loans. Fast growing and profitable, the company saw revenue triple and gross margin expand 23 percentage points in the 9mo20.

Autoimmune biotech Landos Biopharma (LABP) plans to raise $100 million at a $650 million market cap. This Phase 2 biotech uses its AI-driven platform, LANCE, to discover and develop oral small molecule therapeutics for the treatment of autoimmune diseases. The company's lead candidate is currently in a Phase 2 trial for mild to moderate ulcerative colitis. Holdover urban-gro (UGRO) plans to raise $45 million at a $97 million market cap. The company provides engineering and design services for the integration of environmental equipment systems in indoor facilities. The company is unprofitable and saw revenue decline in the 9mo20.

Chinese fertilizer producer Muliang Viagoo Technology (MULG) plans to raise $40 million at a $194 million market cap. This company manufactures and sells organic fertilizer under the brand names "Zongbao," "Fukang," and "Muliang". While the company is profitable, it saw a 26% decrease in revenue in the 9mo20.

Danish biotech Evaxion Biotech (EVAX) plans to raise $30 million at a $233 million market cap. This Phase 1/2 biotech uses their proprietary AI-driven platforms to develop novel immunotherapies for the treatment of cancers, bacterial diseases, and viral infections. Its lead candidates, EVX-01 and EVX-02, are currently in Phase 1/2a trials for various cancer indications.

IPO data via Renaissance Capital

-comment section below data-

Last Week's Big Stories

The Week That Was – Last Weeks Recap

Into The Vortex – EIA Reports Draw of -134 Bcf in Natural Gas Inventories
Around The Barrel – Crude Oil Draws As Product Stocks Rise Strongly
OPEC Monthly Oil Market Report January 2020
EIA Expects Natural Gas Prices To Rise On Rising Domestic Demand, LNG Exports and Reduced Production
EIA Says New Oil Drilling Activity Production Will Not Offset Existing Wells Declines
US Employment Continues To Recover From Coronavirus Lockdown
U.S. New Auto Sales Fell For First Time Since April in Uncertain Times
Mexico Business Confidence Improves With Peso and Easing Covid Restrictions
RBA Cuts Australian Rates To Record Low 0.25%, Targets Yield Curve
US Manufacturing Continues Recovery, New Orders Highest Since January 2004

Stocks

Subscribe and Follow

Find us at www.traderscommunity.com

Follow our contributors on Twitter @traderscom @thepitboss16 @knovawave @ClemsnideClem

—-

Note these charts, opinons news and estimates and times are subject to change and for indication only. Trade and invest at your own risk.

Trade Smart!