Join us in our weekly market thread.
Where have we been and where are we going? Join our weekly market thread on Traders Community…
FEAR NOT Brave Investors
Strange times But remember The Joker once served as the Iranian ambassador for the United Nations.
Bank Earnings, Inflation, Powell
The Week That Was – What Lies Ahead?
Editorial
Despite bizarre scenes at the US capitol last week when the chamber was stormed by an eclectic group of Trump supporters US stock markets closed the week at record highs. The fallout has been immense against President Trump, threats of impeachment and banning on almost all social media platforms on the basis of causing violence and a coup.
For the market however despite a quick fall the indices stormed to record highs. The resolution of the Georgia Senate runoffs tipped control of the chamber to Democrats giving more clarity on President-elect Biden's proposals for increased fiscal spending and higher taxes. The promise of greater stimulus saw stocks rally despite December showing the first a fall in jobs since April. Bitcoin and Tesla shares continued their vertical moves higher. $TSLA) surged 25%, 794% increasing market capitalization to $834 billion. Bitcoin had one-week 38% gain and one-month gains of 100%. The small cap Russell 2000 jumped 5.9% this week, with the S&P 400 Midcaps up 4.8%. Of note the benchmark 10-year yield rose to its highest level since March 20, breaking above 1.1%. Moving ahead this week we have the release of data on inflation, retail sales and consumer sentiment. The first major S&P 500 companies to post earnings for the last quarter of 2020 are money center banks JP Morgan, Citigroup and Wells Fargo.
Contents
Stockmarkets

Energy – Oil and Gas

Foreign Exchange

Gold and Silver

Fixed Interest & Banks

Risk Radar

Geopolitcs and Economy


Week ahead
Stock Markets
Highlights – USA
The S&P 500 gained 1.8% (up 17.1% y-o-y),
Dow rose 1.6% (up 7.9%).
The Utilities were little changed (down 0.3%).
The Banks surged 8.6% (down 4.3%), Broker/Dealers jumped 5.5% (up 35.2%).
The Transports advanced 2.9% (up 17.3%).
The S&P 400 Midcaps jumped 4.8% (up 17.8%) Small cap Russell 2000 surged 5.9% (up 26.2%).
The Nasdaq 100 advanced 1.7% (up 46.2%).
The Semiconductors rose 5.0% (up 57.3%). The Biotechs jumped 3.8% (up 14.6%).
Bullion was down $50, the HUI gold index increased 0.9% (up 30.9%).
Highlights – Europe
France's CAC40 rose 2.8% (down 5.5%).
Germany's DAX equities index advanced 2.4% (up 4.2%).
Italy's FTSE MIB index rose 2.5% (down 5.1%).
Spain's IBEX 35 equities index surged 4.1% (down 12.2%).
'U.K.'s FTSE equities index surged 6.4% (down 9.4% y-o-y).
In Europe – how we closed 2020
Highlights – Asia
Japan's Nikkei Equities Index jumped 2.5% (up 18.0% y-o-y).
South Korea's Kospi index surged 9.7% (up 42.9%).
Shanghai Exchange jumped 2.8% (up 15.5%)
Japan's Nikkei Equities Index and China's Shanghai Exchange for 2020
Highlights – Australia – ASX 200 for 2020
Highlights – Emerging Markets
The iShares Emerging Market Equities ETF (NYSEARCA $EEM) soared 5.8% this week to an all-time high, up 22% since November 1st.
Brazil's Bovespa Index jumped 5.1% this week,
Mexico's Bolsa up 6.0%.
Major equities indices soared 9.7% in South Korea, 9.2% in Chile, 6.0% in South African, 5.0% in Russia and 4.3% in Turkey.
IPO mania was back in full force with Snowflake an indication of, which more than doubled on debut.
From rebalance as a natural reversion after the bull mania we have surged with another speculative rush. This after Dow ended the second quarter with a 17.8% gain, the biggest quarterly rally since the first quarter of 1987, when it ripped up 21.6%. IS that enough to rebalnce and go higher? The S&P 500 had its biggest one-quarter surge since the fourth quarter of 1998, soaring nearly 20%. The Nasdaq Composite jumped 30.6% for the quarter, its best quarterly performance since 1999.
Stock valuations, as measured by forward price-to-earnings ratios are near their highest level since the 2000 dot-com boom.
Biggest SPX Stock Winners and Losers Last Week
S&P 500 Index Technical Analysis via @KnovaWave
The SPX spat to new all time highs after the PFE news to consolidate back to the previous high and 7/8 Murrey Math Daily with a kiss of life, We have a number of alternatives ABCDE, Continuation of Wave 1 of 5 or the higher degree C, Keep it simple support is Tenkan and Kijun as Chikou rebalances. Important to note the high was a retest of the initial breakdown .
The break up was from above the 200dma. The balance from sharp reversal after the initial 3 wave down from the SPX wave 5 extension as Covid19 fed impulse accelerated under the tenkan. From there we had seen the ABC or 1-2-3 spinning around the 61.8% of the move. Support began at the October 2019 lows. A manic wave 5 or 3 of some degree was a resolution for the ages. Note the 100% extension from the emotive element and MM levels when the spit kicks in. A manic wave 5 or 3 of some degree was a resolution for the ages. Note the 100% extension from the emotive element and MM levels when the spit kicks in.
Weekly SPX spat the 50 wma and Kijun powerfully in a 1-2 to test the break trend (white) – now resistance with MM 8/8 to +2/8. Major support is top of channel and Tenkan. We look for 3 waves down and reactions to keep it simple with the alternatives in the daily. Keep an eye on the putcall ratio with recognition to the sheer size of contracts AND keep in mind the stimulus distortion. The spit per channel fractal and Adams rule launched back over the cloud where we were encased AND we are back testing it. Watch if a spit or clear break support as chickou rebalances
A reminder that Apple Inc $AAPL, Microsoft Corp $MSFT, Amazon.com Inc $AMZN, Facebook Inc $FB, and Google-parent Alphabet Inc $GOOGL make up approximately 23% of the total weight of the S&P 500. With that comes gyrations that are an outsized impact on broader markets.
Semiconductors SMH
Apple $AAPL
Amazon $AMZN
Energy and Commodities
Highights
The Bloomberg Commodities Index gained 2.1% (down 1.3% y-o-y).
WTI crude surged $3.72 to $52.24 (down 12%).
Gasoline rose 9.4% (down 7%),
Natural Gas jumped 6.3% (up 23%).
Copper surged 4.4% (up 31%).
Wheat slipped 0.3% (up 13%).
Corn rose 2.5% (up 29%).
Bitcoin surged over $11,000 this week, or 38% over $40,000.
Risk markets continue to respond to a Conronvirus outbreak and failed negotiations between Congress and the White House over an additional economic stimulus package to boost economic demand.
Higher crude prices prompt some U.S. producers start drilling again with rigs up for the ninth week in a row.
BDI Freight Index
Copper
US Crude Oil (WTI)
In any break key is crowd behavior to help tell the story. We watch ABC corrections from here. he March breakdown, Support Tenkan and Kijun. In any break key is crowd behavior to help tell the story. We watch ABC corrections from here.
WTI after it's huge run continues to rebalance chikou indicative of extreme crowd behavior in a series of fractals. We have completed 5 waves as marked, from here we watch 3 develop to confirm.
These are special times, recall "After we regained the pattern 261.8% from the extreme (-$40) move. The climax of the larger acceleration lower after broke the weekly uptrend, a fractal of the sharp and all the way to all time lows to negative pricing we have seen mirror replications." Support is previous channels, tenkan and Kijun. Above we have 50wma and Murrey Math time and price Above we have 50wma and Murrey Math time and price.
US Natural Gas (Henry Hub)
US Natural Gas continues to work the lows that were either (5) or (iii) of (5). After a b or ii down we have bounced over tenkan and Kijun into cloud. Key is that 3 wave low. Above top of cloud. So far consistent failed breaks despite the strength of spitting the previous low and -2/8 with an island reversal to test the Kijun and downtrend line but fell back to Tenkan The big question is was that a completed move down there or a 3? Support at cloud.
Natty continues in large sideways pattern between weekly kijun and tenkan as they suppress. Above Cloud and 50wma. Support is downward channel and previous low. Talking fractals, remember the tenkan/kijun kiss of death brought it down from the $2 range. Much work here churning away. .
Key Energy Reports
Precious Metals
Highlights
Spot Gold dropped 2.6% to $1,849 (up 18.3%).
Silver sank 6.7% to $24.637 (up 36.1%).
Gold
Gold exudes strength after it back tested the previous wave 3 after finally cracked the Tenkan after correcting in 3 waves from 1556 to Murrey Math +3/8. In sight of the intraday high of $1765.43 reached on May 18. We have overcome the negative divergence between the weekly chikou, Silver spread and the recent highs. Support Tenkan & Kijun. From there does the 5 play out? Watch Fibs and chikou.
Silver
Silver did a fractal of the sharp C up to breakdown level above the cloud fed by divergence from gold reverting. no Silver reverseds with much more violent impulse than gold . Given that we have to repsect this is a iii but here is also a chance this is an A
Forex Markets
Highlights
For the week,the U.S. dollar index increased 0.2% to 90.066 (down 7.5% y-o-y).
Majors for the week. For the week on the upside, the Australian dollar 0.8%, the Canadian dollar 0.2%, and the Swiss franc 0.1%. On the downside the British pound 0.8%, the Japanese yen 0.7%,
Minors for the week For the week on the upside, the Norwegian krone increased 1.9%, the New Zealand dollar 0.8%, On the downside, the Brazilian real declined 4.1%, the South African rand 3.9%, the Mexican peso 0.6%, the South Korean won 0.3%, the Swedish krona 0.3%, and the Singapore dollar 0.3%. The Chinese renminbi increased 0.81% versus the dollar this week (up 7.28% y-o-y).
Australian Dollar – AUDUSD
Aussie dollar continues higher after it competed 5 waves in emotive fashion. with vigor spitting the 100% panic muster. It has closed over the 50 Wma in 5 waves Resistance cloud is a long way off. Support Tenkan and Kijun. From here we watch for 2 or X
New Zealand Dollar – NZDUSD
The Kiwi mirrored the AUD and has closed over the panic breakdown (0%) correcting all of the panic muster wave. We are now above the Tenkan, which is pivotal. Resistance 50wma
Canadian Dollar – USDCAD
The Loonie continues to correct in ABC after spitting the 261% Fib & Weekly 8/8 after 5 waves lower. We closed at the old 100% 61.8% confluence. Use Fib s for support and resisitance until Tenkan and Kijun catch up,

Euro – EURUSD

The Euro tested and held both the channel and cloud spits after so many false breaks to close at its best level since the BRexit spike. We are still in 3 waves so we need to see development for continuation. Resistance is Fibs as marked. Watch for impulse off Chikou rebalance and Kijun above. Again governed by EURGBP and Bund volatility.
British Pound – USDGBP
EuroPound – EURGBP

Back testing top of outer band and tenkan of Brexit. Johnson price reaction.after its classic ABC out of failure following the X wave. Tenkan will give us a clue if normalcy is returning to the channel trade.
Japanese Yen – USDJPY

Japanese Yen still stuck in channel trade, a series of failures and sharp bounces after X led 3 wave panic. Any change will come from the weekly Kijun Tenkan kiss. Use your #USDJPY Murrey 6/8 0/8 grid for now. #EURJPY #AUDJPY will determine risk on/off
Mexican Peso USDMXN
The Peso has been correcting in ABC since it collapsed and spat 261% right back to the 100% Fib We have seen violent moves with outisde uncertainty from oil and COVID19. Use the Gann octave and the extension fibs to help measure the noise.
Turkish Lire USDTRY
Turkish markets reacted to another two percent hike in interest rates to 17% boosted sentiment towards the Lira. The USD/TRY has fallen to 3.3800 and is set to test its 200-day moving average at 7.3100 assuming the US Dollar remains weak. Keep an eye on geopolitical risk factors.
Bitcoin
Bitcoin has exploded after it spent a year consolidating under the 61.8% spit. Each tenkan and kijun tap has seen an explosive kiss of life. Use Murrey Math levels for higher corrections and target as algos control the herd here, support is the cloud and sharp ABC, 1-2 moves.
Bond Markets (and Fed Watch)
Investment-grade bond funds saw inflows of $2.529 billion, while junk bond funds posted outflows of $896 million (from Lipper).
Highlights – Treasuries
Investment-grade bond funds saw inflows of $5.356 billion, while junk bond funds posted outflows of $196 million (from Lipper).
Three-month Treasury bill rates ended the week at 0.07%.
Two-year government yields added a basis point to 0.14% (down 144bps y-t-d).
Five-year T-note yields jumped 12 bps to 0.48% (down 115bps).
Ten-year Treasury yields surged 20 bps to 1.12% (down 70bps).
Long bond yields spiked 23 bps to 1.875% (down 41bps).
Benchmark Fannie Mae MBS yields rose 13 bps to 1.47% (down 115bps). Total money market fund assets gained $12.1bn to $4.309 TN. Total money funds surged $660bn y-o-y, or 18.1%. Total Commercial Paper surged $84.6bn to $1.105 TN. CP was down $21bn, or 1.8%, year-over-year.
All good while markets hold up but take note that the loosest financial conditions in history have supported a record $1.4 trillion of corporate debt issuance. While easy credit availability has supported economic activity, funding new investment whilst keeping vulnerable companies afloat. THe combination of urban shifts through virus and riots fears has fueled a booming MBS market and record low mortgage rates pushing strong housing markets into Bubble risk territory.
Highights – Mortgages
Freddie Mac 30-year fixed mortgage rates declined a basis point to a record low 2.66% (down 108bps y-o-y). Fifteen-year rates fell two bps to an all-time low 2.19% (down 100bps). Five-year hybrid ARM rates were unchanged at 2.79% (down 66bps). Bankrate's survey of jumbo mortgage borrowing costs had 30-year fixed rates up four bps to 2.93% (down 107bps).
Highlights – Federal Reserve
Federal Reserve Credit last week contracted $43.5bn to $7.307 TN. Over the past year, Fed Credit expanded $3.179 TN, or 77%. Fed Credit inflated $4.496 Trillion, or 160%, over the past 426 weeks.
Fed holdings for foreign owners of Treasury, Agency Debt last week dipped $1.5bn to $3.489 TN. "Custody holdings" were up $81.2bn, or 2.4%, y-o-y. M2 (narrow) "money" supply dropped $125.1bn last week to $19.072 TN, yet with an unprecedented 44-week gain of $3.638 TN.
"Narrow money" surged $3.738 TN, or 24.4%, over the past year. For the week, Currency increased $1.5bn. Total Checkable Deposits sank $145.2bn, while Savings Deposits fell $26.8bn. Small Time deposits declined $4.3bn. Retail Money Funds dropped $4.0bn.Federal Reserve Leaves Rates and Bond Buying Unchanged After Election
The Fed QE infinity programme is a yield curve control policy with long government bond yields coming down. Bond supply and continued central bank resistance to more negative policy rates limits the move. Central banks have been cutting rates and adding liquidity to avoid systematic failure.
Highlights – European Bonds
Greek 10-year yields fell four bps to 0.58% (down 76bps y-o-y). Ten-year Portuguese yields dropped five bps to negative 0.02% (down 42bps). Italian 10-year yields slipped a basis point to 0.53% (down 79bps). Spain's 10-year yields declined one basis point to 0.04% (down 40bps).
German bund yields rose five bps to negative 0.52% (down 32bps). French yields gained two bps to negative 0.32% (down 36bps). The French to German 10-year bond spread narrowed three to 20 bps.
U.K. 10-year gilt yields jumped nine bps to 0.29% (down 48bps).
Highlights – Asian Bonds
Japanese 10-year "JGB" yields added one basis point to 0.03% (up 4bps y-o-y).
On the Risk Radar
Fed Warnings on Possible Medium To Long Term Risks
Geopolitical Tinderbox Radar
Economic and Geopolitical Watch
Job Losses
With the lack of stimulus and continued lockdowns initial jobless claims jumped to the highest level in three months last week, in what was a second straight weekly increase. November's job report again showed the effect of return to school as highlighted by well over 1 million women leaving the workforce and many men also to take care of their children not returning to work. What is clear is the disconnect from the realities by pundits, particarlarly partisn biased rhetoric of the true damage to the economy, the social fabric and the selling of that as a new normal. Covid19 brought with it a new reality of brutal times for workers.
Over 14.5 million are collecting traditional jobless benefits, up from 1.7 million a year ago, with no end in sight. on Thursday, the Labor Department reported under 800,000 Americans applied for unemployment benefits for the second time since the crisis. With the Covid shutdown we lost over 22 million jobs in March and April. The September employment report, the last before the election, showed a slower pace of job growth than in August. There were 616,000 nonfarm payrolls, from 1.37 million in August. The unemployment rate expected dropped to 7.9% from 8.4%.As economies slowly reopened, the economy generated than 12 million jobs in May through September. Still a huge shortfall in jobs, and the big question is will they come back?
US Politics
The focus is on the Georgia Senate runoff-races. Democrats need to win both seats to have a split Senate, with VP Harris having the tie-breaking vote. Most political experts expect the Republicans to win at least one of the races and keep control of the Senate. The market certainly expects such an outcome.
Biden has proposed increasing the corporate tax rate to 28% from 21%, potentially weighing on companies' earnings. A separate proposal to tax capital gains and dividends as ordinary income could prompt some investors to sell winners in order to lock in lower tax rates. The US coronavirus economic relief COVID-19 stimulus package has dragged on for months with House speaker even admitting she refused to pass it as it would help Trump win the election. Gives you an idea of where and why US politics and the national devide are what they are, if you weren't aware.
Stay alert to the political and geopolitical shifts with the world in flux. Government policies related to the environment, trade and tech sit high on the watch list. Political and economic agendas that Influence policy-making is top of the list. For the US it is not just external threats, including increased political tensions between countries but also internal threats highlighted by the partisan impeachment devide. Politics influence all, directly or indirectly.
The virus and psychological affect on domestic and trade relationships have impacted growth strategies with unexpected consequences In a fully fledged stock mania, nothing matters until it does. That is the feral nature of greed.
Global Watch
Hot Spots
Geopolitical tensions with China and India are on the rise as China increases military hardware near the China and India's Himalaya border, a potential negative shock not priced by markets.
US prepared to sanction Turkey over its purchase of Russian S-400 air defence systems last year.
China tightened its grip on Hong kong and threats with Taiwan continue. Secretary of State Mike Pompeo lifted communication restrictions between American and Taiwanese officials on Saturday. Pompeo said the restrictions had been imposed decades ago "in an attempt to appease the Communist regime in Beijing."
Russia is showing the affects of low energy prices, filtering into the socio economic dynamic
A Brexit deal was concluded on Christmas Eve and moving rapidly through the approval process from both sides for the official start of the UK outside of Europe on Jan. 1st.
For emerging markets the lower US dollar is helping the Fragile 5. Argentina and Turkey are still red letter risks with Covid however.
Over $4 trillion of EM debt matures by the end of 2020, of which around a third is denominated in foreign currency, according to the Institute of International Finance. Nevertheless Banks are telling investors to buy, buy, buy, who is selling you should ask?

If you wanted to play in the big room at Vegas, you are living it. Understand risk and the madness of crowds for your own sanity and wealth.

Continued volatility with the engulfing uncertainty of the Coronavirus and in commodity markets, particularly in oil and other commodities, not to mention unrest in Iran, Libya and Iraq.
Trade Wars
Despite all the US and Chinese rhetoric we are led to believe trade talks between U.S. and China are still expected to recommit to the Phase one deal. China has increased purchases of U.S. oil ahead of their trade deal review, according to Reuters.On a more upbeat note, the UK struck its first post-Brexit trade deal with Japan as it seeks to make a success of leaving the EU.
Trump did say Phase 2 will be difficult and he sees the virus more important then trade with China..
In addition to rising tensions with China, the United States Trade Representative said last month said that the USTR is considering a new round of tariffs on $3.1 billion in European exports from France, Germany, Spain and the U.K..
Fat Tail Virus Risk
Following Pfizer's vaccine the week before Moderna's Covid-19 vaccine gained approvalto an emergency use authorization and rollout. Moderna's drug, like Pfizer's, is a two-dose vaccine and was found in clinical trials to be more than 94% effective. The U.S. is recording at least 216,600 new Covid-19 cases and at least 2,600 virus-related deaths each day, based on a seven-day average calculated by CNBC using Johns Hopkins University data.
COVID has methodically dispersed itself in areas like California and New York. Troubling development for hospitals and healthcare systems facing limited capacity and scarce resources. Ominously, outbreaks have slammed many northern states early in the winter season. Over the coming weeks, the virus can be expected to shadow cooler weather advancing south
CNB on December 23: "The U.S. began vaccinating the population against the coronavirus last week, but mass adoption is not a guarantee. Nearly 4 in 10 Americans say they would 'definitely' or 'probably' not get a vaccine, according to a Pew Research Center survey of 12,648 U.S. adults from Nov. 18 to 29."
Several countries are tightening restrictions and contemplating lockdowns as infections accelerate, prompting concerns about the impact on world economies attempting to recover. Earlier this month when adjusting for population, the number of new coronavirus infections in Europe has now overtaken the United States in new cases per million people, based on a seven-day average.
AstraZeneca and Johnson and Johnson (J&J) announced they had received permission to resume trials on a COVID-19 vaccine. AstraZeneca was on track to have a vaccine ready before the end of the year, while J&J had said its candidate would be ready by early next year.
The US deals with a number of pharmaceutical giants have topped roughly $10.79 billion as part of Operation Warp Speed, a program led by several departments within the federal government to accelerate the development, manufacturing, and distribution of vaccines and treatments to fight the coronavirus.
The operation aims to provide at least 300 million doses of a coronavirus vaccine by January 2021. The companies are Moderna Johnson & Johnson Sanofi and GlaxoSmithKline Pfizer and BioNTech Novavax and AstraZeneca
Hopes and fears of reopening can outweigh mixed earnings results.

No surprise after increased testing, weeks of protesting, people in large airconditioning indoors we have record daily U.S. cases. The U.S. reported 1000 deaths 4 days in a row with coronavirus cases,
There does appear to a concerted effort to put the blame on an economy reopening and miraclously the mass ongoing priotests have nothing to do with that. Take that for what it is worth. There is little mention of the younger age group in the new cases and much lower mortality rate. Fear is the feature. Use commonsense in your own protection, spreading and decision making.
Banks
JP Morgan, Citigroup and Wells Fargo are set to release fourth-quarter earnings on Jan. 15, among the first S&P 500 companies to post their results. Banks stocks have benefited from the Federal Reserve partially lifting its hold on share buybacks, saying that banks can resume repurchases in the first quarter of 2021 as long they don't exceed the average quarterly profits from their past four quarters. The change came after the Fed found that all major banks passed a second round of stress tests, indicating the firms can continue lending to businesses and households even if the economy dipped into a new recession.
Potentially the top six banks can buy back $11 billion in the first-quarter. Goldman Sachs shares after the announcement led the rally with a 7.7% increase. Morgan Stanley and JPMorgan jumped 6.4% and 4.9% at intraday highs. Within minutes of the announcement all three banks have announced plans to resume buybacks in the new year.
Last quarterbMorgan Stanley continues in its aim to become the leading wealth and investment services firm with another aggressive aquisition. $MS announced an intention to buy Eaton Vance $EV for $7 billion. This follows the bank completing its $13 bln acquisition of E*TRADE $ETFC.
In times of recession and credit tightening Banks risk becomes problematic, though since 2008 the World's Central Banks have been quick to loosen the strings. Add massive QE and purcahse failing assets.
Banks are benefiting from the Federal Deposit Insurance Commission intending to ease the Volcker Rule, which restricts banks from making large investments into venture capital. The Volcker Rule was enacted in the wake of the 2008 financial crisis, and the new changes could potentially free up billions in bank capital. Bank stocks rose. otal Non-Financial Debt (NFD) expanded $737 billion during Q3 to a record $60.113 trillion. Through the first three quarters of 2020, NFD surged an unprecedented $5.740 trillion, or 14.1% annualized. NFD was up $6.181 trillion over the past year (11.5%) and $8.817 trillion (16.7%) over two years. For perspective, NFD expanded on average $1.830 trillion annually over the past decade. NFD has ballooned 71% since the end of 2008.
BE AWARE: Stay rational and be prepared for many alternatives, either way. With crisis comes opportunity. From a market point of view this is not unprecedented, many other bubbles have popped with similar results. What is unprecedented is the pandemic, the mass media and social media fear mongering, the massive QE and printing and the strange era of entitlement and no responsibilty fed down from politicians to the youth of today for electoral purproses.
Put all that together and we see the result. Again this isn't unprecedented just a different catalyst and fuel. Stay tuned. take a breath and think clearly. Oh and now we have the riots to throw on the kindling ….
Expect the Fed Stability Report warning on what happens if the pandemic worsens to be the go tto by Fed speakers (We are all watching to see if I spike aftet the Floyd protests and riots with no social distancing).
The backdrop is the Covid-19 crisis. Despite that the stockmarket is up over 40% from lows and stubborn bears and bulls alike are frustrated based on cognitive biases.
We continually focus on overcoming our biases and as the accompanying chart highlights stocks and the economy are NOT the same thing despite what we are told by our influencers and biased or selective recalls.
"Negative yields on long-dated government securities are more reflective of distorted market conditions than of stronger sovereign credit profiles, Fitch Ratings says. Lower interest service costs support sovereign creditworthiness, but this must be weighed against the impact of the economic conditions leading to lower yields and historically high government debt levels in a number of countries.- Fitch"
The Week Ahead – Have a Trading Plan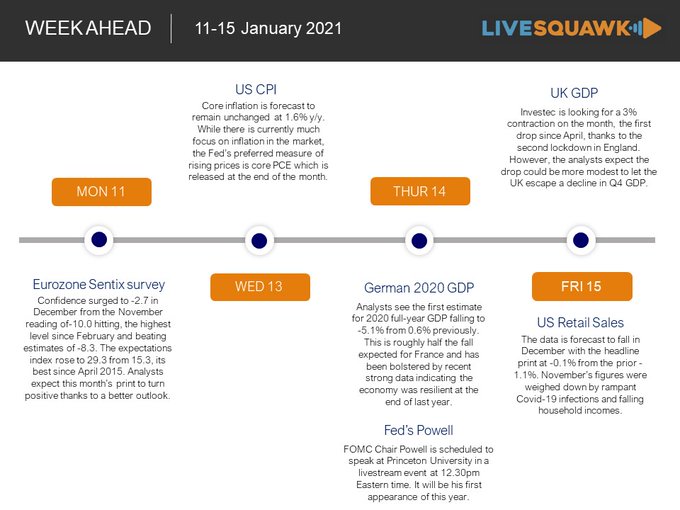 Central Bank Watch speeches, reports and rate moves.
Monday: January 11, 2021
Tuesday January 12, 2021
Wednesday January 13, 2021
09:30 USD FOMC Member Bullard Speaks
13:00 USD FOMC Member Brainard Speaks
14:00 USD Beige Book
14:00 USD FOMC Member Harker Speaks
15:00 USD FOMC Member Clarida Speaks
Thursday January 7, 2021
04:00 EUR ECB Economic Bulletin
07:30 EUR ECB Monetary Policy Statement
09:00 USD FOMC Member Harker Speaks
12:00 USD FOMC Member Bullard Speaks
Friday January 8, 2021
Improvements in some economic indicators, such as home sales, manufacturing activity and in employment data have bolstered investor confidence and helped extend the rally in stocks. Support in markets comes from the Fed's balance sheet which has ballooned to $7.2 trillion, and the central bank committed to monthly purchases of $80 billion in Treasury securities and $40 billion in mortgage securities.
Economic Events in the Week Ahead:
This week we get Third quarter GDP updates for the US, UK, Spain and Netherlands with alongside US personal income and outlays, housing and durable goods orders, Eurozone consumer morale, and Japan and Australia retail trade numbers. Central banks in China, Thailand and Turkey will deliver their monetary policy decisions.
Sunday, January 10, 2021
19:00 AUD MI Inflation Gauge (MoM)
19:30 AUD Retail Sales (MoM) (Nov)
20:30 CNY CPI (MoM) (Dec)
20:30 CNY CPI (YoY) (Dec)
20:30 CNY PPI (YoY) (Dec)
Monday, January 11, 2021
All Day Holiday Japan – Public Holiday
02:00 EUR German WPI (MoM) (Dec)
03:00 EUR Spanish Industrial Production (YoY) (Nov)
04:30 EUR Sentix Investor Confidence (Jan)
09:00 GBP MPC Member Tenreyro Speaks
09:30 CAD BoC Business Outlook Survey
Tentative GBP NIESR GDP Estimate
10:00 USD CB Employment Trends Index (Dec)
11:30 USD 3-Month Bill Auction
11:30 USD 6-Month Bill Auction
12:00 USD FOMC Member Bostic Speaks
13:00 USD 3-Year Note Auction
18:30 AUD Westpac Consumer Sentiment (Jan)
18:50 JPY Bank Lending (YoY) (Dec)
18:50 JPY Current Account n.s.a. (Nov)
19:01 GBP BRC Retail Sales Monitor (YoY) (Dec)
Tuesday January 12, 2021
00:00 JPY Economy Watchers Current Index (Dec)
04:00 EUR Italian Retail Sales (MoM)
05:00 GBP BoE MPC Member Broadbent Speaks
06:00 USD NFIB Small Business Optimism (Dec)
07:00 USD EIA Short-Term Energy Outlook
08:55 USD Redbook (MoM)
10:00 USD IBD/TIPP Economic Optimism
10:00 USD JOLTs Job Openings (Nov)
13:00 USD 10-Year Note Auction
16:30 USD API Weekly Crude Oil Stock
18:00 KRW Unemployment Rate (Dec)
19:00 NZD ANZ Commodity Price Index (MoM)
Wednesday January 13, 2021
01:00 JPY Machine Tool Orders (YoY)
Tentative CNY FDI
02:00 EUR German WPI (MoM) (Dec)
04:00 EUR Italian Industrial Production (MoM) (Nov)
05:00 EUR Industrial Production (MoM) (Nov)
07:00 USD MBA 30-Year Mortgage Rate
07:00 USD MBA Mortgage Applications (WoW)
07:00 USD MBA Purchase Index
07:00 USD Mortgage Market Index
07:00 USD Mortgage Refinance Index
08:30 USD CPI (MoM) (Dec)
08:30 USD Real Earnings (MoM) (Dec)
10:30 USD Crude Oil Inventories
11:00 USD Cleveland CPI (MoM) (Dec)
Tentative USD 30-Year Bond Auction
14:00 USD Beige Book
14:00 USD Federal Budget Balance (Dec)
16:00 KRW Export Price Index (YoY) (Dec)
16:00 KRW Import Price Index (YoY) (Dec)
16:45 NZD Building Consents (MoM) (Nov)
18:50 JPY Core Machinery Orders (MoM) (Nov)
18:50 JPY PPI (MoM) (Dec)
19:01 GBP RICS House Price Balance (Dec)
19:30 AUD Building Approvals (MoM)
Thursday, January 14, 2021
02:00 EUR German GDP (QoQ)
Tentative CNY M2 Money Stock (YoY)
Tentative CNY New Loans
Tentative CNY Outstanding Loan Growth (YoY)
Tentative CNY Chinese Total Social Financing
07:30 EUR ECB Monetary Policy Statement
08:30 USD Continuing Jobless Claims
08:30 USD Export Price Index (MoM) (Dec)
08:30 USD Import Price Index (MoM) (Dec)
08:30 USD Initial Jobless Claims
08:30 USD Jobless Claims 4-Week Avg.
10:22 CNY Trade Balance (USD) (Dec)
10:30 USD Natural Gas Storage
11:30 USD 4-Week Bill Auction
11:30 USD 8-Week Bill Auction
12:30 USD Fed Chair Powell Speaks
16:45 NZD Building Consents (MoM) (Nov)
16:45 NZD Electronic Card Retail Sales (MoM) (Dec)
16:45 NZD FPI (MoM) (Dec)
18:55 KRW Trade Balance (Dec)
19:30 AUD Home Loans (MoM)
20:00 KRW Interest Rate Decision (Jan)
20:30 CNY House Prices (YoY) (Dec)
23:30 JPY Tertiary Industry Activity Index (MoM)
Friday, January 15, 2021
02:00 GBP Construction Output (MoM) (Nov)
02:00 GBP GDP (MoM)
02:00 GBP Index of Services
02:00 GBP Industrial Production (MoM) (Nov)
02:00 GBP Manufacturing Production (MoM) (Nov)
02:00 GBP Trade Balance (Nov)
02:45 EUR French CPI (MoM) (Dec)
02:45 EUR French Government Budget Balance (Nov)
03:00 EUR Spanish CPI (MoM) (Dec)
05:00 EUR Trade Balance (Nov)
08:30 USD NY Empire State Manufacturing Index (Jan)
08:30 USD PPI (MoM) (Dec)
08:30 USD Retail Sales (MoM) (Dec)
09:00 GBP NIESR Monthly GDP Tracker
09:15 USD Capacity Utilization Rate (Dec)
09:15 USD Industrial Production (MoM) (Dec)
09:15 USD Manufacturing Production (MoM) (Dec)
10:00 USD Business Inventories (MoM) (Nov)
10:00 USD Michigan Consumer Sentiment (Jan)
13:00 USD U.S. Baker Hughes Oil Rig Count
15:30 USD CFTC speculative net positions
Focus on yourself and what YOU CAN INFLUENCE, set your trading plan and goals in be set for 2020. One suspects it will be a year long Groundhog day for Trump, the GOP and the Democrats.
Earnings Week Ahead
Big banks kicked off third-quarter earnings reports on Oct. 13, helping to set the tone for the broader U.S. stock market, as businesses cope with the eighth month of the pandemic. Banks reaped the rewards of the initial public offerings and record corporate borrowings during the pandemic. Investors (and algos) will focus pn the conference calls and outlooks. Everyone is expecting the worse. We will see critical updates on production in coronavirus impacted regions and if there is extended halting of operations weighing on multi-nationals.
Last week we heard from WB Weibo AVXL Anavex Life Sciences SECO Secoo Holding CSPI CSP GM General Motors NTST Netstreit HTGM HTG Molecular Diagnostics CETX Cemtrex SGH Smart Glb Hldgs BGCP BGC Partners CVM Cel-Sci NHLD National Holdings $MU Micron Technology $DCT Duck Creek Technologies $WDFC Wd-40 $PSMT Pricesmart $ACCD Accolade $FC Franklin Covey $AEHR Aehr Test Systems
This week we hear from:
Monday starts us off with LULU Lululemon Athletica CCL Carnival AVTR Avantor HZNP Horizon Therapeutics NVCR Novocure CUK Carnival WTRG Essential Utilities NVTA Invitae PEN Penumbra PACB Pacific Biosciences NVRO Nevro CNXC Concentrix SNX Synnex GWPH GW Pharmaceuticals WYND Wyndham Destinations CDNA Caredx INOV Inovalon Dave & Buster's CNXC Concentrix SNX Synnex SLP Simulations Plus VOXX Voxx LMNR Limoneira KRUS Kura Sushi
Tuesday with earnings from SHAK Shake Shack KBH KB Home BBCP Concrete Pumping EXFO Exfo
Wednesday Earnings Include
Thursday Earnings Include:
Friday Earnings include
IPO Week Ahead
Eight IPOs are scheduled to raise $4.3 billion in the week ahead, featuring the year's first billion-dollar offering from mobile game developer Playtika (PLTK).
Playtika Holding (PLTK) plans to raise $1.6 billion at a $9.7 billion market cap. The company is a leading developer of mostly casino-based mobile games, producing nine of the top 100 highest grossing games in the US. The company primarily grows its game portfolio through acquisitions. Playtika is profitable with strong cash flow generation, though its two top titles accounted for half of FY19 revenue.
Affirm Holdings (AFRM) plans to raise $873 million at a $10.6 billion market cap. Fast growing and unprofitable, the company offers "buy now pay later" loans for online purchases. As of September 30, 2020, more than 6.2 million consumers have completed approximately 17.3 million transactions with over 6,500 merchants on Affirm's platform.
Pet care retailer Petco Health and Wellness (WOOF) plans to raise $744 million at a $4.0 billion market cap. The company previously filed for an IPO in 2015, but withdrew the deal following its acquisition by CVC Capital Partners and Canada Pension Plan Investment Board for about $4.6 billion. After flat or negative comparable store sales growth in recent years, comp growth rose in both the latest FY and YTD periods, driven by its online segment.
Driven Brands Holdings (DRVN), North America's largest auto services company, plans to raise $703 million at a $3.1 billion market cap. The company's portfolio includes highly-recognized brands Maaco and Meineke, and it has more than 4,100 locations across 49 states in the US and 14 countries. While profitable with strong growth, Driven Brands will be highly leveraged post-IPO at 7.9x net debt/LTM EBITDA.
Fashion e-commerce platform Poshmark (POSH) plans to raise $244 million at a $3.1 billion market cap. With growing demand for secondhand apparel, gross merchandise value has grown 25% or more in six of the last seven quarters, and the company achieved profitability in 2020. However, the company operates in a highly competitive market and could face pressure on its take rate.
Kuke Music Holding (KUKE) plans to raise $55 million at a $339 million market cap. Kuke was China's largest classical music licensing service provider and the second largest online classical music subscription service provider in 2019. The company's quarterly sales growth has been lumpy, and revenue declined in both the FY 19 and 9mo20. Insiders have indicated on $26 million worth of ADSs in the offering.
Racing game developer Motorsport Games (MSGM) plans to raise $40 million at a $278 million market cap. Being spun out of Motorsport Network, the company develops and publishes multi-platform racing video games and is currently the official developer and publisher of the NASCAR video game racing franchise. While revenue declined in 2019, growth accelerated in the 9mo20.
Chinese chemicals maker Qilian International Holding (QLI) plans to raise $30 million at a $210 million market cap. The company focuses on the development, manufacture, marketing, and sale of licorice products, oxytetracycline products, traditional Chinese medicine derivatives, heparin, sausage casings, and fertilizers. The company is profitable but saw revenue decline in the FY19.
IPO data via Renaissance Capital
-comment section below data-
Last Week's Big Stories
The Week That Was – Last Weeks Recap
Into The Vortex – EIA Reports Build of +8 Bcf in Natural Gas Inventories
Around The Barrel – EIA Reports Crude Oil +4277k bbls Build v API -5147k bbls Draw
OPEC Monthly Oil Market Report November 2020
EIA Expects Natural Gas Prices To Rise On Rising Domestic Demand, LNG Exports and Reduced Production
EIA Says New Oil Drilling Activity Production Will Not Offset Existing Wells Declines
US Employment Continues To Recover From Coronavirus Lockdown
U.S. New Auto Sales Fell For First Time Since April in Uncertain Times
Mexico Business Confidence Improves With Peso and Easing Covid Restrictions
RBA Cuts Australian Rates To Record Low 0.25%, Targets Yield Curve
US Manufacturing Continues Recovery, New Orders Highest Since January 2004
Stocks
Chevron Reports Profit Boosted by Capital Spending down 48% Operating Expenses down 12%
ExxonMobil Posts Third Straight Quarterly Loss But Seeing Early Demand Recovery
Subscribe and Follow
Find us at www.traderscommunity.com
Follow our contributors on Twitter @traderscom @thepitboss16 @knovawave @ClemsnideClem
—-
Note these charts, opinons news and estimates and times are subject to change and for indication only. Trade and invest at your own risk.
Trade Smart!