Nov 5 -11, 2023
FEAR NOT Brave Investors
Where have we been and where are we going? Join our weekly market thread on Traders Community…
The Week That Was – What Lies Ahead?
Contents
Click on the links below to navigate to the relevant section.
Editorial
This time the herd predicted an almighty crash in markets, what actually happened was completely different. The S&P 500 spat back over its 200-day moving average, trapped all those that were beared up because of the settle 10.3% lower than the July 31 closing high. From there markets unleashed through air pockets of enabled by a repetitive loop of fear and loathing intensified by war, fear and multiple triggers on multiple fronts.
The market seemingly embraced weaker economic data, a less expansive treasury refunding and a less hawkish Fed, BOE and other Central Bankers. The result the S&P 500 finished up 5.9% for the week, its best since Nov 2022. The Dow gained DJIA +5.1%, the Small Cap Russell 2000 surged +7.6% its best week since Feb 2021 and the Nasdaq Comp put on +6.6% for the week.
We harp on about bonds and currency markets running the show and again this week was a glaring example. Another glaring example of being ahead of the curve and the significance of understanding crowd mentality.
U.S. Treasuries had a spectacular week in trapping the late to the party bond bears this week. Friday's post-NFP pop sent yields on 5s and 10s back through their respective 50-day moving averages that grabbed so many bears to board not long ago.
The somewhat smaller-than-expected Treasury quarterly refunding had helped bonds earlier as did the transformation of a "hawkish pause" to "dovish likely done" FOMC.
Ten-year Treasury yields slumped 26 bps this week, the biggest weekly drop since March (-27bps).
Thirty-year Treasury yields fell 25 bps, the largest decline since the first week of the year (-28bps).
This week's outperformance in longer tenors put some renewed pressure on the 2s10s spread, compressing it by 12 bps to -30 bps.
Benchmark MBS yields collapsed 43 bps, the largest drop since last November (64bps).
The move was global, Italian 10-year yields sank 29 bps (to 4.51%), the largest decline since June (-32bps). UK 10-year gilt yields dropped 26 bps (4.29%), the biggest fall since March.
The US dollar was weaker this week due to the thinking that the Fed might be done raising rates. The US Dollar Index fell 1.4% to 105.04.
The NFP revealed slowing payroll growth (to 150,000 from 297,000 in September), below-consensus average hourly earnings growth (0.2% vs. 0.3% consensus), and an uptick in the unemployment rate (to 3.9% from 3.8%).
The combination reinforced the idea that the Fed could have finished raising rates, allowing Treasuries to build on this week's gains. By the end of the week, markets were pricing only a 5% probability of a rate hike at the December 13th FOMC meeting, down from 27% at Tuesday's close.
Crude oil extended this week's loss to $4.75 or 5.6%, ending at a level last seen in late August, while the U.S. Dollar Index fell 1.0% to 105.04, sliding past its 50-day moving average (105.64) to its lowest level in more than six weeks. The DXY lost 1.4% this week.
Inflation is demonstrating unmistakable persistence, with Middle East instability posing a clear and present danger of higher crude prices being allayed for now. Though this appeares to be at the mercy of Mid-East war escalation. Moreover, an increasingly fragmented global economy elevates the risk of supply chain issues and resource scarcities.
US Treasury Issuance Plans
This past week's Treasury announcements on marketable debt issuance and the Quarterly Refunding statements took the heat off some bond market fears. That said the real test comes in this coming week's US Treasury auctions for 3s (Tuesday), 10s (Wednesday) and 30s (Thursday).
A gauge of auction strength we keep our eye on is bid-to-cover ratios. These have recently weakened as bonds sold off). With this swift move in rates, we watch to see if the market chases lower yields with stronger bid-to-cover ratios. That could be more consequential than anything else in an otherwise lighter than usual week for data and news, that said the Fed speakers are back out in force.
This week's response was in contrast to last time these announcements on July 31st and August 2nd contributed to the accelerated rise in US Treasury yields. Just ahead of that on the July 27th, the Bank of Japan tweaked its yield curve control parameters that prompted a selloff in Japanese government bonds with trickle over effects into Treasuries. The BoJ was up again this week also and created a flutter.
At that prior refunding the size of its quarterly bond sales increased for the first time since early 2021 and then Fitch downgraded the US government's credit rating from AAA to AA+. More supply, negative ratings action, and voila yields took off.
On July 31st at 3pmET, the US Treasury announced that it had increased the estimated amount of privately held net marketable borrowing for Q3 to US$1.007 trillion which was well in excess of street estimates that had expected a reading in the high 700s or 800s. Two days later, that was accompanied by the Quarterly Refunding Statement (here) that said "Treasury anticipates incrementally increasing auction sizes across benchmark tenors" and backed that up with higher-than-expected auction sizes along with guidance that "further gradual increases will likely be necessary in future quarters." – Scotiabank
It seems we were at least right about the reaction: Now this time it shouldn't be a surprise, the question this time is how much of that expectation has already been priced in higher Treasury yields given the advance guidance. Logic suggests It would take even higher than expected issuance to shock markets.
Recall last week we delved deeper into consumer finances. This bears repeating given recent data and market action. "What we see is they indicate an ability to pay. We are at a 22-year low in the debt-to-income ratio, record low debt payments as a share of incomes, locked-in low 30-year mortgage rates (something we harp on about, why would you move or refinance if you don't have to?) and still high cash balances even if saving rates have normalized. Many habits changed after the pandemic and the uncertainty perpetuated by politics of hate has people more reliant on their own development."
What Chair Powell and others have noticed is higher prices are not holding back consumption given that consumer spending was a sizeable driver of the 5% Q3 GDP growth rate. Consumers are paying higher prices, just being more selective. This was borne out in this muttering post FOMC.
Benchmark MBS yields collapsed 43 bps, the largest drop since last November (64bps). The move was global, Italian 10-year yields sank 29 bps (to 4.51%), the largest decline since June (-32bps). UK 10-year gilt yields dropped 26 bps (4.29%), the biggest fall since March.
Short Squeeze 0f De-risking and Deleveraging
With weaker data and Powell presser we saw another everything short squeeze this week. Powell's Wednesday press conference got several questions specific to financial conditions.
"Tighter financial conditions we're seeing from higher long-term rates but also from other sources like the stronger dollar and lower equity prices could matter for future rate decisions, as long as two conditions are satisfied."
"So, I think what we can say is that financial conditions have clearly tightened, and you can see that in the rates that consumers, households and businesses are paying now."
The reversal was swift in an illiquid market flush with leveraged products. The global bond rout had seen de-risking and deleveraging gain further momentum. With that comes mounting liquidity and market function concerns. The size of basis trades, derivative hedging, and levered speculation overhangs with unexpected consequences and surprise risk.
What was that about leverage?
"Options trading on the S&P 500 has surged in recent months, driven by the explosion in trading of zero-days-to-expiry options, or 0DTE, which now account for about half of the volume as traders zip in and out of contracts to capture or hedge the day's gyrations. Average daily volume on the SPDR S&P 500 ETF Trust (SPY) and SPX Index jumped 15.1% and 14.8% from September to October, respectively. The zero-day options account for 46.7% of SPY and 49.4% of SPX trading." Friday from Bloomberg Intelligence (Jackson Gutenplan and Larry R Tabb)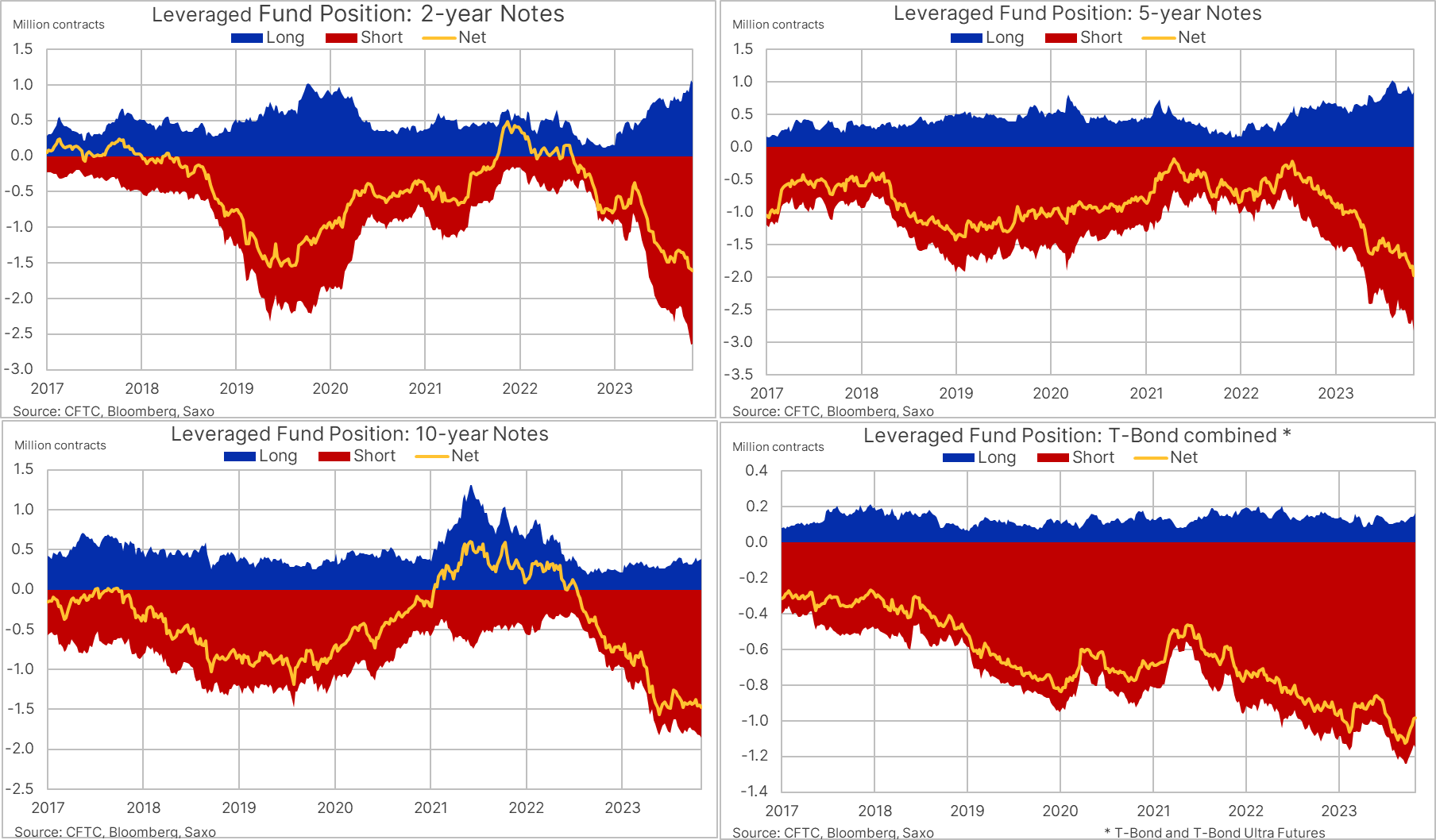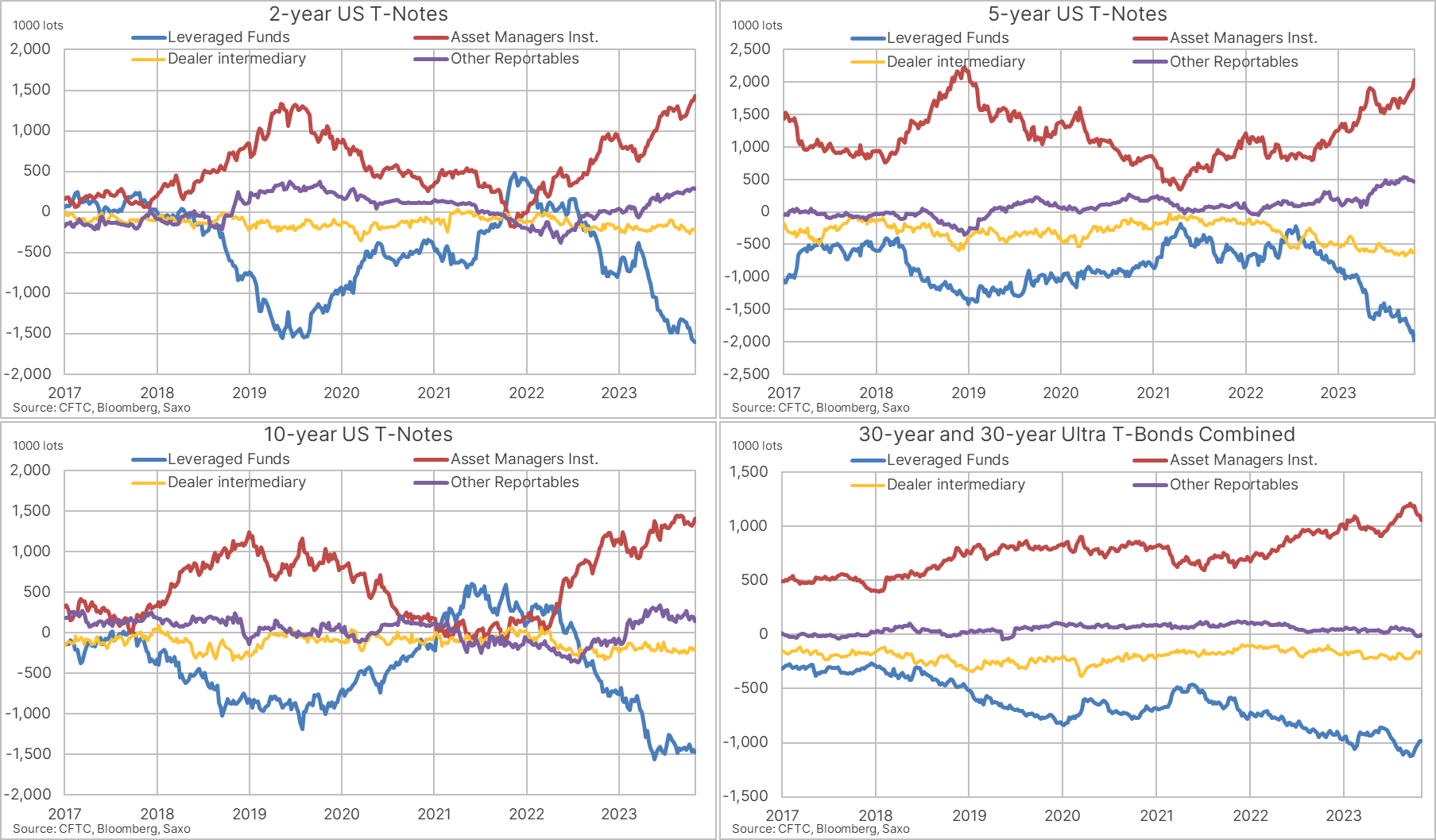 When we discuss yields and Treasuries Keep in Mind US Banks Holdings:
A reminder that US banks are showing a preference toward maintaining reserves over US$3T and in order to achieve this the banks are being forced to liquidate their Treasury holdings and hence drive yields higher.
Still treasury yields continued to move higher despite a growing sense that the bond and stock market are oversold in the short-term and due for a bounce. The 10-yr note yield jumped another 20 basis points this week to 4.78% and the 2-yr note yield rose two basis points to 5.06%. The 10-year term premium has climbed by around130bps since summer and back to highs last seen in 2021 in the early days of the pandemic recovery.
We still have the deepening of the autoworkers' strike after contract negotiations between the United Auto Workers (UAW) and the three largest U.S. automakers fell through is a huge headwind rattling investor and the economy. This a significant risk but one that has seemingly missed by most. The U.S. lost 4.1 million days in August, before the UAW strike. The highest in over twenty years.
Global central banks are facing pressure after a protracted period of policy tightening and amid uncertainty over their next steps. Oil continued its rise further hampers their future path. More geopolitical influences, Saudi Arabia and Russia are planning to extend their voluntary oil production cuts of 1 million barrels per day and 300,000 barrels per day, respectively, through the end of 2023.
Global bond market liquidity appears increasingly under the grips of deleveraging.
Some of This Week's Main Stories We Covered
Risks Being Ignored or Opportunity Being Repriced?
With the swings of psychology and dominance of unemotional algorithm models dominating markets more than ever it is critical to stay unemotional and devoid of bias where best you can. For the next six months, we stick to our technical outlook via KnovaWave, watch the curve and EURUSD and USDJPY.
A reminder in these markets don't get married to a view, leave biased partisan opinions at the door and find a leader. Right now, NVDA and TSLA continue to give us give good insights into crowd behavior. Note the divergence and convergence with it and other instruments. Be proactive.
These markets are constantly evolving, the important things is why we are here and it isn't a surprise.
Where is the fear?
We got some movement these past weeks out of the tight range in markets but as we can see from the VIX chart it quickly reverted back after the initial breaks. We are aware of built-up energy ahead of key central bank decisions and potential fundamentals to set-up rate hikes or not. There is discontent globally with central banks and politician.
With optionality dominating markets along with quant funds, algorithms, systematic trading and automated trading volatility has collapsed as has been focused on at KnovaWave. Driving quant funds is a self-reinforcing dynamic, when market volatility drops, they add which causes those funds that have paid higher volatility to cover and hence we get the churn. At the end of March, quant-focused hedge funds held about $1.13 trillion in assets, according to research firm HFR, hovering just below last year's record high. That represents about 29% of all hedge-fund assets.
To break out of this requires a continuing break in a major down, or up move to ignite delta chasing or covering.
So-called vol-control and risk-parity funds, which tend to automatically load up on riskier assets during calmer periods, ramped up equity exposure, according to the Deutsche Bank data, available through May 18. Other quants, such as trend-following CTAs, or commodity trading advisers, have similarly piled in.

The dominance of quants has helped explain previous periods of calm trading, including long stretches in 2017 and 2018. Those periods were punctured by rapid selloffs, including the 2018 selloff dubbed "Volmageddon" when the dynamics exerting calm on the market suddenly went away. Some warn a repeat could be ahead.

Caitlin McCabe WSJ
Cboe Daily Market Statistics
Talking about manic behavior it is not hard to argue the punter is overwhelming and influencing markets like no other time, well until the next time. Swirling greed and know it all came home to roost. FOMO (fear of missing out) and TINA (there is no alternative) ended how they always do.
When the VIX is highly reactive, VIX related products can serve as potentially effective hedging tools, when the VIX is not very reactive, traditional hedging techniques may be a better choice.
The VOLX`s underlying instrument is the Mini VIX™ Future. The CBOE Volatility Index (VIX) is an up-to-the-minute market estimate of expected volatility. The VIX is calculated using a formula to derive expected volatility by averaging the weighted prices of out-of-the-money puts and calls (options) on the S&P 500.
Worth repeating again in the low VIX environment.
Well, 2008 redux didn't happen in the last few months, so the Fed moves have worked for now, much to Xi and Putin's chagrin.
The doomsayers may be right, but we are seeing constant surprises to that theory. For example, early signs that the US housing market slump is finding a base are emerging, pending home sales having risen for a third month and to a 6-month high. we will keep an eye on consumer sentiment and business activity. We are far from being out of the woods, remember the market is not the economy. Saying that we got quite the distorted job picture per our main job stories which we reprise below. Are we simply taking some air out or is the beginning of the great meltdown?
What we continue to notice is how this market is still being treated by 'experts' as those in the past, hence the volatility and extreme in bulls/bears. Understanding crowd behavior is essential in these markets. The moves have caught analysts and strategists by surprise with the uber bear running amok in the past few weeks. Typical thinking is this from Morgan Stanley strategists a month ago; "Given the events of the past few weeks, we think … equity markets are at greater risk of pricing in much lower estimates", noting that earnings estimates were 15-20% too high even "before the recent banking events."
What non-traders are failing to grasp is this market with so many variables is not trading as they expect and they are constantly wrong. S&P 500 earnings for the first quarter are estimated to have fallen 5% from 2022, followed by an expected 3.9% drop in the second quarter, Refinitiv data shows. During recessions, however, earnings tumble at a 24% annual rate on average, according to Ned Davis Research. However how important is that in such a chaotic market? There is the answer structure your thinking around game theory or even chaos theory.
---
Week Ahead: Bond Auctions, RBA, Powell, Fed & Earnings
Eyes will be on top macroeconomic reports that will emphasize the health of the US and global economies. Eyes and ears will be on central bankers given the market turmoil and the hiking of rates.
Inflation updates will be a significant focus across a number of markets with updates to the following readings.
China updates CPI and producer price index gauges for October
ECB measures of inflation expectations will be updated for September over 1- and 3-year horizons.
Reserve Bank of New Zealand's measure of two-year ahead inflation expectations will be updated with Q4 figures.
Chile, Colombia, Mexico and Brazil release updated CPI estimates for October.
Norway will update CPI for October
Philippines' October CPI
Taiwan updates CPI for October
How Hot is the American Economy?
More Macro and Micro data points, some highlights include.
US releases will be very light. Tuesday, the overall US trade deficit is expected to be little changed at about -US$60 billion. Weekly jobless claims (Thursday) and the University of Michigan's consumer sentiment reading for November (Friday) are also due out. Additionally, remarks from US policymakers, including Fed Chair Powell.
Earnings season is in full flight, Berkshire Hathaway, Activision Blizzard, Viatris, Gilead Sciences, Lucid Group, Uber, Twilio, Unity Software, The Walt Disney Co, Take-Two Interactive Software, AMC Entertainment, Fiverr International, and Illumina are some of the names.
How is the Consumer Hanging?
The US relies on services for up to 90% of GDP. it relies on the consumer who is being battered by the California and New York regional bank debacle. On top of that is cumbersome if not ignorant politicians, with no clear regard for main street the evidence suggests in their behavior. Key retailers all gave a cautionary note with tightened household budgets continue to hit demand for big-ticket items and curb discretionary spending.
We get more data to help us gage the consumer: Weekly MBA Mortgage, Weekly Initial and Continuing jobless claims and housing and retail sales and consumer sentiment reports.
Earnings season gives us an insight into how the consumer is coping.
Click here to see the Full Week Ahead List Below
Some things never change, when you think Greed is Good
So how Screwed are We?
Fed Z.1 for June with the release of Q2 Credit and flow data shows seasonally adjusted and annualized Credit growth of about $4.5 TN. One-year Treasury debt expansion of about $1.7 TN. Non-Financial Debt-to-GDP exceeding previous cycle peak levels. The ratio of Total Debt Securities-to-GDP is significantly higher than prior peaks.
Household holdings of Financial Assets above previous peak levels. Household Net Worth inflating $5.5 TN in three months. Household Equities holdings as a percentage of GDP higher than previous cycle peaks.
The value of Household Real Estate holdings jumped $2.480 TN to a record $48.870 TN, lagging only Q1 2022's $3.561 TN increase. It's worth noting that the largest quarterly Real Estate gain during the mortgage finance Bubble period was Q3 2005's $864 billion. Over the past 15 quarters, Household Real Estate holdings inflated $15.809 TN, or 47.8%.
The banking system is on much greater Credit risk than mortgage risks were offloaded during the 2008 mortgage finance Bubble. At $25.6 TN, Banking System Assets ended 2022 almost double the 2007 level.
In nominal dollars, system Credit expanded $795 billion during Q2 to a record $96.327 TN, with NFD expanding $1.111 TN (to $71.248 TN), while financial borrowings contracted $329 billion (to $20.350 TN) (Foreign borrowings were little changed).
System Credit posted one-year growth of $4.193 TN, or 4.6%. Over the 14 quarters since the onset of the pandemic, System Credit has surged $21.457 TN, or 28.7%. NFD has inflated $16.722 TN, or 30.7%, since the pandemic – and has doubled (plus $35.675 TN) since 2008.
If it doesn't burst well, we circle back to the popular view that Financial Sector debt included in analysis would be "double counting" borrowings already included elsewhere (i.e. mortgage and business). The swift end to backs, the shocking management out there and geopolitical cold war out there has us ready to expect the unexpected and aware of moves to mitigate by central banks as we saw a few weeks ago.
GSE Assets declined $131 billion during Q2 to $9.409 TN. FHLB Loans fell $187 billion during Q2 to $855 billion. Still, FHLB Loans posted one-year growth of $335 billion, or 64.3%.
Over six quarters, FHLB Loans expanded $520 billion, or 155%. GSE Assets expanded $1.117 TN, or 13.5%, over six quarters, and $2.279 TN, or 32.0%, over 14 quarters.
FHLB plays a pivotal role, last year prolonging the lending boom and stabilizing bank liquidity.
The Credit cycle downturn is coming to the surface.
We have the reflective destabilizing Monetary Disorder. Take a peek at China and the markets collective cognitive dissonance to the property market there, the shadow banking as just one example. Have a look around the world. The hope is the collective mass continues to evolve and survive, while each time the destruction is evident in massive disproportion shifts of wealth and attempts of mind, if not physical control of the masses. Dial that back and try and get in the minds of those trying to right the ship and the market components that matter, not what the dribblers think matter.
Here's a thought, knowing about the power of cognitive dissonance does not necessarily protect you from its effects. Traders are only too aware of this eureka moment when you grasp it. Why some of the best trades you ever do, are the ones you don't. In option parlance, being delta neutral sometimes is the best trade.
Key this coming week will be the commencement of the next round of such indicators that will test whether these gains were one-offs or something that is sustainable. The key will be the extent to which downside risks to the US economy have been reduced enough to influence global central banks, and how markets react.
The Fed's aggressive tightening cycle has had little effect on loose financial conditions.
Where to from here? It's also okay to acknowledge and process any difficult emotions or experiences that you may have had during the past year. Looking back on the past year with perspective can help you to gain a greater understanding of what you have been through and how you have coped. I hope that you are able to find ways to manage any challenges that come your way and that you continue to feel fine moving forward. Embrace the chaos that is headed your way in 2023!
China; Behind the Iron Curtain
A big shift in 2022, China's population is now falling and below that of India. China's population fell for the first time since 1961 as births have steadily fallen in recent years despite the removal of the "one child policy". The stalling working age population and its likely decline ahead means that potential growth in China is down from around 10% or so in the 2000s to around 4-5% now.
Growth in China's metric of system Credit growth, Aggregate Financing, dropped to $175 billion, down significantly from March's $773 billion and only 61% of estimates. It was also the weakest monthly growth since last October.
"China is warning domestic brokerages not to spread information that compromises national security, reinforcing a campaign that has roiled consulting firms and providers of financial data."
October 31 – Financial Times (Cheng Leng): "China has signalled a further tightening of centralised Communist party control over its $61tn financial sector at a closely watched quinquennial policy conference that featured warnings of widespread weak governance and deep-rooted risks in the industry… The gathering, which is intended to set the agenda for financial sector reform over the next five years, emphatically backed Xi and his allies' drive to deleverage China's huge real estate sector, shore up the finances of indebted local governments and clamp down on speculation and corruption. 'Finance is the blood and veins of the national economy and an important part of the country's core competitiveness,' state broadcaster CCTV quoted the conference report as saying… 'We must adhere to the centralised and unified leadership of the Communist party in financial work… adhere to the fundamental purpose of finance as serving the real economy, and adhere to risk prevention and control as the eternal theme of financial work,' it said."
October 31 – Bloomberg: "China vowed to set up a long-term mechanism to resolve debt risks tied to local authorities and signaled willingness to expand central government borrowing as it concluded a twice-a-decade policy meeting. The two-day Central Financial Work Conference, attended by President Xi Jinping, also stressed the need to consolidate Communist Party control over the financial system and provide more funds for innovation, hi-tech manufacturing, green technology and small-to-medium sized companies. A summary of the conference… also contained a pledge to 'optimize the debt structure of central and local governments.'"
The Market Tripod of Destruction.
Firstly, financial asset overvaluation has swung way past any sound underlying economic wealth structure.
Secondly over-leverage in crowded bets.
Thirdly we have greed enthused, as always in these cycles, risk engineering, transfer and management that ignores or understands bifurcation and contagion outcomes.
Leverage has become toxic, a development that if not addressed will have deep and with far-reaching sequels. It's not too farfetched to suggest that the markets are on the verge of a rupture that would be difficult to contain. Should the crisis of confidence dynamics that hit Britain feed into other markets a powerful global contagion could be unleashed. The markets are dislocated, and financial stability is at risk. A sobering thought is the UK is just the initial first world pension system in this cycle facing the harsh reality of a steep devaluation of assets and the prospect of widespread insolvencies and debilitating negative sentiment.
Inflation Matters
Inflation with Henry Kaufman
Kaufman is the legendary chief economist and head of bond market research at Salomon Brothers is someone who knows Inflation. Henry Kaufman in an interview with Bloomberg's Erik Schatzker Jan 14, 2022:
"I don't think this Federal Reserve and this leadership has the stamina to act decisively. They'll act incrementally. In order to turn the market around to a more non-inflationary attitude, you have to shock the market. You can't raise interest rates bit-by-bit."

"The longer the Fed takes to tackle a high rate of inflation, the more inflationary psychology is embedded in the private sector — and the more it will have to shock the system."

"'It's dangerous to use the word transitory,' Kaufman said. 'The minute you say transitory, it means you're willing to tolerate some inflation.' That, he said, undermines the Fed's role of maintaining economic and financial stability to achieve 'reasonable non-inflationary growth.'"
---
Independence – Never Take It for Granted Traders
"In aggregate, the market goes from order to disorder, and on that journey little pockets of order can form, including in commodities, bonds, stocks, currencies that circle back and reorder disorder. Then there is us the market player that reflects through order and disorder in an ever-evolving loop towards independence. It all starts with gravity and ends with equilibrium and back we go." KnovaWave "The rules of market flux"
The Fed has kicked off its first real tightening campaign since 1994, with securities markets already at the brink of illiquidity and dislocation. Markets could soon be screaming for assurances of the Fed's "buyer of last resort" liquidity backstop, while the Fed is prepared to begin withdrawing liquidity by selling Treasuries and MBS.
Another important aspect is the Fed doesn't Control corporate pricing or wage decisions. Let us be clear geopolitical, climate change developments and what an out of depth, politically motivated administration are outside the Fed's sphere of influence. There has been over $5.1 Trillion new "money" in 126 weeks, it's a reasonable conclusion the Fed has lost control of Inflation.
We need to grasp all the risks to be wary off and received plenty of flak from it. We always talk here about expect the unexpected and now that is front and center, gage the market's reaction, the market is always right and that's why we focused on the crowd psychology aspect over the past few weeks.
"We have a market trying to interpret the Fed who is trying to find out how they can interpret their long-only portfolio at a risk parity where rates cannot rise."

– MoneyNeverSleeps
This move has crept up on many, to the extent the S&P 500's is over the traditional measurement of a new bull market typically measured as a 20% gain from a significant low. The index above 4292.438 got that 20% move. That ended the longest bear market since 1948. The DAX and CAC40 have seen all-time highs recently also.
Our weekly reminder for risk. The downside is clear with the absence of moral hazard from repeated Federal Reserve market bailouts in an environment of some would say obscene liquidity pumps. Pure greed is the other part, not wanting to miss out on fees. The obvious question is, how deeply ingrained is this attitude through the markets? How do we ween the markets off this continuous dip feed? At this point the Central Banks have kicked that answer down the road.
---
Part A – Stock Markets
Weekly Highlights – USA
Indices
S&P500 surged 5.9% (up 13.5% y-t-d),
Dow rose 5.1% (up 2.8%).
S&P 400 Midcaps rose 6.5% (up 2.0%),
Small cap Russell 2000 surged 7.6% (unchanged).
Nasdaq100 jumped 6.5% (up 38.0%).
YTD Report Card for the S&P Sectors
Sectors
Just about everything participated in the rally.
The rate-sensitive real estate sector was the best performer, up 8.6%, followed by the financial (+7.4%), consumer discretionary (+7.2%), and information technology (+6.8%) sectors. The "worst" performing sector was energy, which still climbed 2.3% this week.
The Invesco S&P 500 Equal Weight ETF (RSP) rose 5.9%; the Vanguard Mega Cap Growth ETF (MGK) rose 6.6%; the Russell 3000 Value Index rose 5.8%; and the Russell 3000 Growth Index rose 6.3%.
A breakdown of the performance of the S&P 500 sectors this week:
Utilities jumped 5.3% (down 14.1%).
Banks spike 11.1% higher (down 21.0%),
Broker/Dealers jumped 6.2% (up 7.6%).
Transports advanced 7.1% (up 8.4%).
Semiconductors surged 7.0% (up 36.4%).
Biotechs jumped 5.6% (down 9.1%).
While bullion declined $14, the HUI gold equities index increased 0.7% (down 1.0%).
Biggest SPX Stock Winners and Losers Last Week
---
Global Stock Market Highlights
Highlights – Europe Stocks
Week/YTD
U.K.'s FTSE equities index gained 1.7% (down 0.5% y-t-d).
France's CAC40 recovered 3.7% (up 8.9%).
German DAX equities index rose 3.4% (up 9.1%).
Spain's IBEX 35 equities index jumped 4.2% (up 12.9%).
Italy's FTSE MIB index surged 5.1% (up 21.0%).
Germany's benchmark Blue Chip DAX 30 index (Deutscher Aktienindex) expanded to 40 companies on 20 September 2021 adding 10 new members to the German stock index from the MDAX which will be reduced from 60 to 50 members.
Highlights – Asia Stocks
Week/YTD
Japan's Nikkei Equities Index rallied 3.1% (up 22.4% y-t-d).
South Korea's Kospi index rallied 2.8% (up 5.9%).
India's Sensex equities index increased 0.9% (up 5.8%).
China's Shanghai Exchange Index increased 0.4% (down 1.9%).
Highlights – Australian Stocks
Australia's S&P/ASX 200: +1.1% on Friday to 6978.2 (+2.2% for the week)
Friday: The interest-rate-sensitive real estate sector jumped 2%. Goodman rose 1.7% Westfield owner Scentre 4.5% and Charter Hall 3.7%
Afterpay parent Block soared 25.2% to $81.18 after it boosted its profit forecast.
Highlights – Emerging Markets Stocks
Week/YTD
Brazil's Bovespa index jumped 4.3% (up 7.7%),
Mexico's Bolsa index surged 4.7% (up 5.8%).
Turkey's Borsa Istanbul National 100 index was little changed (up 39.9%).
Russia's MICEX equities index slipped 0.5% (up 49.0%).
---
Technical Analysis
S&P 500
Daily: The daily SPX closed above the previous roof (Key Spits) which were also at 7/8 and clustered around the 50% & August breakdown. With energy and with a very low VIX it has mirrored the get cloud to get through overhead. The bullish take is that we completed the correction off last year's high at the low and this is a larger 1-2 to go higher with support at the previous resistance and cloud. The bearish outlook is this move becomes a rising wedge and we are working out the uber bears before new lows.
When we talk about crowd psychology this is a great example. The market after spitting the 4100 and 38.2% retracement broke to capture the Tenkan. This underscores the power from the SPX spat of June & October lows with impulse through the tenkan and Kijun energized by the daily cloud twist that fueled this rally. The completive wave came off extreme fear and bear that ended with relief. Now we have sated much of the greed phase and short fear phase. We have completed that cycle and from here we measure the alternatives.
It is worth looking back at the completive highs (all-time highs) and how we played out so far. Tracing back from highs the fuel from the top of the channel after completing 3 waves off ATH, accelerated after broke the Tenkan through to the 4600 OI where it reversed with impulse back to Tenkan. Bulls, this is likely a (ii) of a 5. Bears this is 1-2 of (i) completive V of degree. We watch if this low was a (iii), (a) or C. We have to respect the number of alternatives of degree of 5. With such trends keep it simple. From no fear to panic is the driving element.
On the downside the Kijun and those June lows now critical and is our trading Bear/Bull pivot in a high vol scenario. Watch each measured 3 wave move on the 240 & Murrey Math highlighted in the podcast. The prices pulled through the downward cloud pulled by the twist 'helium contusion' on the completive. For fractal purposes, SPX completed 5 waves up where it reversed with impulse. Energy fueled from the power impulse down from +1/8 ATH spit of a spit fail. On the way down (just like up) it accelerated after it broke the Tenkan through the rejected Kijun and then through the median after tapping 8/8.
Weekly: The SPX has a clear channel off the lows on the weekly timeframe off the sphere of influence and has ground higher since it closed over the cloud above the Tenkan. Key support is the Tenkan, channel and +1/8. Power initially came from launching out of the sphere of influence as one would expect in a 3 or C. We had the Kijun spit also. Above is the channel and +3/8.
In the bigger picture we are playing out S&P 500 energy after it held the sphere of influence from Nov 2020 reversed higher after spitting the 38% and key lows. At the time we opined "We do have a weekly cloud twist; however, the energy is waning without sharp impulse." We got the sharp impulse right to weekly Kijun. For major cycles we watch the S&P 500 over 4,231, the 50% retracement of losses from the Jan. 3 & June 16 close. Since 1950 there has never been a bear market rally that exceeded the 50% retracement then gone on to make new cycle lows. Is this time different, as we tested and spat those June lows?
On the way up each new high evolved after testing Tenkan key support on the way and we are now getting a retest as resistance. We reiterate this needs to be recovered for a resumption of the uptrend meanwhile the bear market plays out. Watch Tenkan this week and watch for Kijun reaction. Extensions are difficult to time, keep it simple.
THE KEY: Key for the impulse higher was the spit or retest of MM 8/8 and Tenkan San, which held with the previous highs and Tenkan. To repeat "We look for 3 waves down and reactions to keep it simple with the alternatives in the daily." Keep an eye on the put/call ratio with recognition to the sheer size of contracts AND keep in mind the stimulus distortion. The spit per channel fractal and Adams rule launched back over the cloud where we were encased AND we are back testing it. Watch if a spit or clear break support as Chikou rebalances.
A reminder that Apple Inc $AAPL, Microsoft Corp $MSFT, Amazon.com Inc $AMZN, Facebook Inc $FB, and Google-parent Alphabet Inc $GOOGL make up approximately 23% of the total weight of the S&P 500. With that comes gyrations that are an outsized impact on broader markets
NASDAQ 100
The down move saw Nasdaq spit the weekly Kijun and a 1-2 off tenkan we spat MM 5/8 after holding the key 61.8% Fib. We watch the Tenkan & Kijun confluence above, the breakup level and between the 38/50 Fibs. The Nasdaq is well behind the S&P pace with the weekly cloud and 50wma well above. Support the 61.8% retest.
Recall ATH was after it broke and held the weekly Tenkan to see a spit of a spit fail which is completive of 5 of some degree with Chikou rebalancing. Watch Chikou for divergence for continuation or failure. Divergence with Russell also a clue.
Russell 2000
The small cap Russell RUT bounced in double bottom off 1600 5/8 confluence which was the Nov 2020 breakup. Russell 2000 Resistance Tenkan and Kijun, note previous rejections. This is the index showing more of the fast money crowd and is trading like it. Needs to get traction in here for bulls. 7/8 & 8/8 support collapsed on the way down and is now major resistance.
Dow Jones
The Dow led the indices and closed above the weekly Tenkan after closing and testing last week. Prior test after the reaction off the June lows and sphere of influence. Support is the channel and Fibs. Tenkan and Kijun after the reaction empowered. Support is the channel and Fibs.
Semiconductors
NVidia $NVDA
NVidia surged 179.3% in H1 2023. It has been relentless since earnings and is the focus of the AI craze. With all manic moves beware of the pullbacks and topping potential. That said the extensions have played out and so far to +2/8 on the weekly. This was a classic set up as we can see. It has a textbook of KnovaWave methodology and rules from the 61.8% break and reverse through the sphere. NVDA accelerated after it broke the double top spheres at 5/8 giving is a near 4/8 move. A reminder that the dominance was in.
NVDA took off after the breakup retest from May 2021. NVidia is a clear leader of SOX & SMH look for cues there and ABC failures for changes. NVDA never looked back after the Key Break (mauve) and Tenkan to a flat cloud and holding support the recent low at the 61.8% extension.
Apple $AAPL
Apple has consistently driven upwards after it held the sphere of influence after retesting 6/8 & break up. Kijun and Tenkan crossing and then the 50wma with the cloud twist have been magnetic. Apple & other mega-cap names dominant the major indices, and a plethora of funds that hold it as a core position. The Vanguard Mega-Cap Growth ETF (MGK) delta is important to watch.
A firm rejection at $175 at +2/8 triggered a waterfall down for Apple last year. We regathered that and more and broke the weekly bull flag higher. On the way up Apple gently motored up to new ATH over the massive $160 then $170 thru to $180 gamma level on the way down these levels became key energy levels all the way to $132. Support held at the May break (just like NVDA) where from there it spat the cloud pulled by a flat Tenkan and Kijun as it rebalanced Chikou. The old channel break and MM +2/8 is now key. Remember the impact $AAPL has, at least short term on all the major indices.
ExxonMobil XOM
XOM has completed 5 waves from -3/8 to +3/8 on the weekly. with a double top. Alternatives 5 complete of degree. We are in a 1-2 (A-B depending on degree. Support is the cloud which has held 3 times since the high and the 50WMA resistance the tenkan and Kijun. Pattern wise we are in the bull flag until proven otherwise.
---
Part B: Bond Markets
Bond Watch
Treasuries
U.S. Treasuries had a spectacular week in trapping the late to the party bond bears this week. Friday's post-NFP pop sent yields on 5s and 10s back through their respective 50-day moving averages that grabbed so many bears to board not long ago. The somewhat smaller-than-expected Treasury quarterly refunding had helped bonds earlier as did the transformation of a "hawkish pause" to "dovish likely done" FOMC.
Ten-year Treasury yields slumped 26 bps this week, the biggest weekly drop since March (-27bps). Thirty-year Treasury yields fell 25 bps, the largest decline since the first week of the year (-28bps). This week's outperformance in longer tenors put some renewed pressure on the 2s10s spread, compressing it by 12 bps to -30 bps.
Treasury Yield Watch
Friday/Week
2-yr: -12 bps to 4.86% (-17 bps for the week)
3-yr: -16 bps to 4.61% (-24 bps for the week)
5-yr: -15 bps to 4.49% (-28 bps for the week)
10-yr: -11 bps to 4.56% (-29 bps for the week)
30-yr: -7 bps to 4.75% (-27 bps for the week)
Higher for longer is a serious threat. (Reprise)
Surging market yields are a serious issue for a banking system loaded with long duration securities portfolios. This may well be a push over the cliff for troubled commercial real estate (CRE). Leveraged lending and leveraged finance gets more costly. Simply there are trillions of floating rate loans among individuals, speculators, businesses, and nations.
Remember this? There is a reason why we focused on it recurring, you didn't need Fitch to remind you:)
The iShares Investment Grade Corporate ETF (LQD) declined 1.01% Thursday, the largest loss since May 1st. The 2.40% loss for the week was the largest since February.
The iShares High Yield ETF (HYG) declined 0.73% Thursday, also the largest decline since May 1st. The 1.63% loss for the week, the worst weekly performance since early-March.
Friday Bloomberg headlines: "HYG ETF Daily Outflows $1.13 Bln, Biggest Move Since March 28th." and "Two Giant Credit ETFs Hit by $2 Billion Exit on Hawkish Fed Bets."
For our complete Weekly Fixed Interest Analysis and Outlook visit our Bond Traders Weekly Outlook:
Mortgage Market
Freddie Mac 30-year fixed mortgage rates declined seven bps to 7.72% (up 77bps y-o-y).
Fifteen-year rates dipped five bps to 7.07% (up 78bps).
Five-year hybrid ARM rates jumped 15 bps to 7.21% (up 126bps).
Bankrate's survey of jumbo mortgage borrowing costs had 30-year fixed rates down 11 bps to 7.92% (up 69bps).
Global Debt Monitor
Highlights Unprecedented and Ongoing Surge in Global Debt
Last week, the Institute of International Finance (IIF) released their Q1 2023 Global Debt Monitor (GDM), highlighting the unprecedented – and ongoing – surge in global debt.
GDM Highlights:
"The global debt stock grew by $8.3 trillion to a near-record $305 trillion in Q123; the combination of high debt levels and rising interest rates has pushed up debt service costs, prompting concerns about leverage in the financial system."
"Total debt of emerging markets hit a fresh record high of over $100 trillion (or 250% of GDP) – up from $75 trillion in 2019."
"At close to $305 trillion, global debt is now $45 trillion higher than its pre-pandemic level and is expected to continue increasing rapidly."
"Rise of private debt markets: Non-bank financial institutions (NBFLs) continue to gain prominence in global credit intermediation. The so-called 'shadow banks' now account for more than 14% of financial markets, with the majority of growth stemming from a rapid expansion of U.S. investment and private debt markets."
"The Size of Private Debt Markets Surpassed $2.1 Trillion in 2022, Up From Less Than $0.1 Trillion in 2007."
From the end of Q3 2019 through Q1 2023, Total Global Debt jumped $52.3 TN, or 20.7%, to $305 TN.
Over this period, "Mature" economy debt expanded 13.4%, while "Emerging" economy debt surged 38.9%. It's worth nothing that in the "Emerging" category, "Household" debt surged 41.7%, "Non-Financial Corporate" 35.1%, and "Government" 55.7%. Since 2016, total global debt-to-GDP has surged from 210% to 360%. Global financial conditions remain loose. When they inevitably tighten, be prepared for serious dislocation.
---
Part C: Commodities
Highlights
Key Long Term Commodity Charts
Copper
Gold
China added to its gold reserves for an eighth consecutive month. People's Bank of China holdings of bullion rose by 680,000 troy ounces last month, according to official data released Friday. That's equivalent to 23 tons.
Energy
For complete Oil and Natural Gas Coverage please visit our dedicated publications 'Around the Barrel' and 'Into the Vortex.' – Weekly Analysis and Outlook for Energy Traders and Investors
WTI Oil
Natural Gas
BDI Freight Index
For our complete Weekly Commodity Analysis and Outlook visit our Commodity Traders Weekly Outlook:
Charts and commentary via KnovaWave on:
Grains: Wheat, Corn, Soybeans
Metals: Copper, Aluminum
Precious Metals: Gold Silver
Lumber
Oil and Natural gas are covered separately (see below)
---
Part D: Forex Markets
John Maynard Keynes, 1920: "There is no subtler, no surer means of overturning the existing basis of society than to debauch the currency. The process engages all the hidden forces of economic law on the side of destruction and does it in a manner which not one man in a million is able to diagnose."
Highlights
For the week, the U.S. Dollar Index dropped 1.4% to 105.02 (up 1.5% y-t-d). 2022 gains were 8.2%
For the week on the upside, the Mexican peso increased 3.7%, the New Zealand dollar 3.2%, the South African rand 3.2%, the Australian dollar 2.8%, the South Korean won 2.5%, the Swedish krona 2.3%, the Brazilian real 2.3%, the British pound 2.1%, the euro 1.6%, the Canadian dollar 1.6%, the Norwegian krone 1.3%, the Singapore dollar 1.1%, the Swiss franc 0.4% and the Japanese yen 0.2%. The Chinese (onshore) renminbi increased 0.58% versus the dollar (down 5.18%).
On the downside, none seen
For our complete Forex Weekly Analysis and Outlook visit our Forex Traders Weekly Outlook:
Charts and commentary via KnovaWave on the US Dollar, Euro, Japanese Yen, British Pound, Euro Pound, Swiss Franc, Canadian Dollar, Australian Dollar, New Zealand Dollar, Turkish Lira, Mexican Peso. Currency dynamics are complex. There are myriad facets to analyze and contemplate that influence all markets.
Cryptocurrencies
Bitcoin
Bitcoin continues to be plaything of levered speculators; this week we saw the markets turn against those short. Where did this come from? Forced coverage from yield curve punts blowing up. Yen shorts and levered "carry trades" at risk.
It had been a churn following the FTX collapse. BTC had been stuck in the sphere of influence in continuation awaiting a catalyst, and it came. Continues to perform technically to perfection. Impulse begets impulse. To understand panic, understand greed. $BTC tested the top of a rising channel after the preceding sharp downturn which was the downside breakout of an earlier bearish flag, after breaking downside a H&S top and then down it went….
Recall Bitcoin exploded higher following it's correction impulsively upon completing 5 waves up at +2/8. Each Tenkan and Kijun tap saw an explosive kiss of death until we completed 3 waves to around 28,000. From there we have seen extreme volatility.
Looking back Bitcoin put in a high of $63,000 around Coinbase, the largest US crypto exchange successfully went public which signaled profit-taking. The high over $68,000 came after the launch over the Bitcoin ETF. From that high we have 2 main alternatives a V of a 1 of a V. For bears it a completive five with impulse right to the 50wma – an incredible 26% fall in a Friday night session. That's impulse!
On the Risk Radar
Fed Warnings on Possible Medium To Long Term Risks
Geopolitical Tinderbox Radar
Economic and Geopolitical Watch
Banks
Earnings season kicks off with the major Banks this week:
Major US Banks for Q3, 2023
America's big money center banks kicked off third second quarter earnings with a solid start with solid beats by JP Morgan Chase, BlackRock, Wells Fargo, and Citigroup.
Q323 Reports
The Week Ahead – Have a Trading Plan
What Macro and Micro Risks and Opportunities Lie Ahead this week
Global Watch
Next Week's Risk Dashboard via Scotiabank
Are markets getting too aggressive pricing BoC cuts?
US bond auctions will test appetite for the recent drop in yields
RBA could resume hiking
Banxico expected to pause
Peru's central bank expected to cut
BoC's not-minutes probably won't add much
Inflation: China, Mexico, Chile, Colombia, Brazil, Philippines, Taiwan, Norway
Inflation expectations: Eurozone, New Zealand
Global macro readings
Central Bank Watch
Of note in the week ahead will be on the ECB, Bank of Canada, Banco Central de Chile, Central Bank of Turkey, National Bank of Hungary, Central Bank of the Russian Federation and Bank of Israel policy meetings.
Eyes and ears will be on central bankers. We have the backdrop of a more hawkish Fed Chair in the face of escalating systemic risk. How will this affect Fed policy given the massive treasury positions out there and the risk of uninsured funds? In this environment we get pivots daily. How much damage is the Federal Reserve willing to do in the guise of controlling inflation?
This Week's Interest Rate Announcements (Time E.T.)
In the week ahead we get four central banks delivering policy decision.
Monday, November 6, 2023
22:30 RBA Interest Rate Decision (Nov)
Wednesday, November 8, 2023
02:30 Poland Interest Rate Decision
Thursday, November 9, 2023
14:00 Mexico Interest Rate Decision
18:00 Peru Interest Rate Decision
For our complete Central Bank Analysis and Outlook Visit our Central Bank Watch:
U.S. Economic Data Watch
US Data Focus
Monday:  Loan Officer Survey 14:00 ET
Tuesday: September Trade Balance (prior -$58.3 bln) at 8:30 ET; $48 bln 3-yr Treasury note auction results at 13:00 ET; and September Consumer Credit (prior -$15.6 bln)
Wednesday: Weekly MBA Mortgage Index (prior -2.1%) at 7:00 ET; September Wholesale Inventories (prior -0.1%) at 10:00 ET; weekly crude oil inventories (prior +0.774 mln) at 10:30 ET; and $40 bln 10-yr Treasury note auction results at 13:00 ET
Thursday: Weekly Initial Claims (prior 217,000), Continuing Claims (prior 1.818 mln) at 8:30 ET; weekly natural gas inventories (prior +79 bcf) at 10:30 ET; and $24 bln 30-yr Treasury bond auction results at 13:00 ET
Friday: Preliminary November University of Michigan Consumer Sentiment (prior 63.8) at 10:00 ET and October Treasury Budget (prior -$171.0 bln) at 14:00 ET
US Stocks Watch Earnings and Event Watch
Earnings Highlights This Week:
The Q2 2023 reporting season has almost ended, but there are still companies reporting this week.
Monday includes NXP Semiconductors (NXPI), Goodyear Tire & Rubber (GT), and Diamondback Energy (FANG).
Tuesday includes Gilead Sciences (GILD), Uber Technologies (UBER), UBS Group (UBS), GLOBALFOUNDRIES (GFS), Rivian Automotive (RIVN), eBay (EBAY), and Coupang (CPNG).
Wednesday includes Warner Bros. Discovery (WBD), Ralph Lauren (RL), Disney (DIS), Biogen (BIIB), Take-Two Interactive (TTWO), MGM Resorts (MGM), and Roblox (RBLX).
Thursday includes AstraZeneca (AZN), Wynn Resorts (WYNN), News Corp (NWSA), and Li Auto (LI)
Friday includes Soho House (SHCO).
Investors (and algos) will focus on the conference calls and outlooks. Last quarter everyone expected the worse, we saw critical updates on production in coronavirus impacted regions and if there is extended halting of operations weighing on multi-nationals.
Events
Notable conferences running during the week include:
Nielsen 4-week and 12-week retail channel sales, Class 8 truck sales, China auto sales, Costco's (COST) monthly sales report, airline traffic reports, and the Mannheim Used Vehicle Index.
Investor events scheduled include Remark Holdings' (MARK) Smart City Expo World Congress and A.O. Smith Corporation's (AOS) Investor Day.
Monday
The first-ever OpenAI DevDay in San Francisco is expected to offer a preview of new tools and ideas. OpenAI says more than 2 million developers are using GPT-4, GPT-3.5, DALL·E and Whisper for a wide range of use cases—from integrating smart assistants into existing applications to building entirely new applications and services that weren't possible before.
VMWare (VMW) will hold its VMWare Explore event in Barcelona, Spain.
The Baird Global Industrial Conference will include presentations from dozens of companies including Knight-Swift Transportation (KNX), Ryder (R), Gentherm (THRM), Graphic Packaging Holding Company (GPK), and BorgWarner (BWA).
Tuesday
Arcus Biosciences' (RCUS) American Society of Clinical Oncology Monthly Plenary Meeting,
GreenPower Motor's (GP) Fleet Forward Conference,
Extreme Networks' (EXTR) Investor Day,
Moderna's (MRNA) Investor Day – AI Day,
Stryker Corporation's (SYK) Investor Day.
Shareholders with NextGen Healthcare (NXGN) will vote on the buyout offer from Thoma Bravo.
Wednesday
Adobe's (ADBE) Investor Meeting with BMO
Moderna's (MRNA) virtual Digital and AI Investor Event.
The Moderna event has been circled by analysts, with the company due to give presentations discussing digital strategy and the role of AI in accelerating its innovation, scale and value creation.
Hersha Hospitality Trust (HT) shareholders will vote on the deal for the company to be acquired by KSL Capital Partners.
Shareholders with Revolution Medicines (RVMD) and EQRx (EQRX) will vote on the proposed all-stock merger transaction.
Thursday
Arista Networks' (ANET) Investor Day,
Veeva Systems' (VEEV) Investor Day,
HCA Healthcare's (HCA) Investor Day,
Marqeta's (MQ) Investor Day.
8:00 a.m. Tapestry (TPR) will hold an earnings conference call. Investors will be looking to see if there is any regulatory update on the Capri (CPRI) buyout.
Friday
It is the last trading day before the China Singles Day shopping event. Singles' Day is noted to be the largest shopping day in the world, bigger than Amazon's Prime Day and Black Friday combined. Some of the companies that have seen a bounce in the past from strong Singles Day trends include Alibaba (BABA) and JD.com (JD). Analysts will also be watching pricing and demand trends on Apple's (AAPL) iPhones.
American Association for the Study of Liver Diseases Conference will include presentations from Vir Biotechnology (VIR), Arbutus Biopharma (ABUS), ENDRA Life Sciences (NDRA), and other biotech firms.
Shareholders with American Equity Investment (AEL) will vote on the buyout deal from Brookfield Reinsurance (BNRE).
The culinary and bartender unions in Las Vegas could begin to strike at casinos owned by MGM Resorts (MGM), Caesars Entertainment (CZR), and Wynn Resorts (WYNN) unless a new contract is negotiated.
Sovereign Rating Updates
IPO Wrap
US IPO Week Ahead:
---
Focus on yourself and what YOU CAN INFLUENCE, set your trading plan and goals in be set for 2022.
-comment section below data-
Subscribe and Follow
Find us at www.traderscommunity.com
Follow our contributors on Twitter @traderscom @thepitboss16 @knovawave @ClemsnideClem
Note these charts, opinions news and estimates and times are subject to change and for indication only. Trade and invest at your own risk.
Trade Smart!