Join us in our weekly market thread.
Where have we been and where are we going? Join our weekly market thread on Traders Community…
FEAR NOT Brave Investors
Strange times But remember The Joker once served as the Iranian ambassador for the United Nations.
Storms, No Fear and Jobs

The Week That Was – What Lies Ahead?
Editorial
Stock markets rose without fear to record highs this week. Both the S&P 500 and NASDAQ closed at record levels. The S&P 500 closed at a record level for the 52nd time this year with every sector of the index closing higher except healthcare and utilities. The NASDAQ closed at a record level for the 31st time in 2021. Small caps found favor, The Russell 2000 gained 2.85% Friday, higher by over 5% this week.
Longer dated Treasury yields moved lower following Powell's speech and the July Personal Income and Spending report, which included a 0.1% decline in real PCE. Inflation pressures continued to run persistently high, but core-PCE Price Index was unchanged at 3.6% yr/yr, providing some hope that inflation rates are transitory. The 10-yr yield decreased three basis points to 1.31%, the 2-yr yield decreased one basis point to 0.22%. The U.S. Dollar Index decreased 0.4% to 92.68.
Manic rises not unexpected when you have money managers very long. Further to that their shrills at CNBC and others espousing only one way, and that is up. Think back to a week ago and said talking heads were talking about the bottom dropping out.
All eyes were on Fed Chair Powell's Jackson Hole speech and as expected he didn't rock the boat. Chairman J said substantial further progress has been met on inflation but not yet employment, which suggested tapering will start later this year and is data dependant. Powell also differentiates tapering criteria from rate-hike criteria. This week's jobs report gets interesting doesn't it?
Some sage advice from your parents, "Know what's under your hood, not what they tell you, learn to drive a manual first before driving an automatic"
How long you ask? Our friends over at ??????? & ?????? shared the latest data (from last Wednesday ) of the NAAIM member firms. Be prepared AND look through all the noise, expect the unexpected while at the same time recognise that things go much further than expected, where pain is the greatest in markets.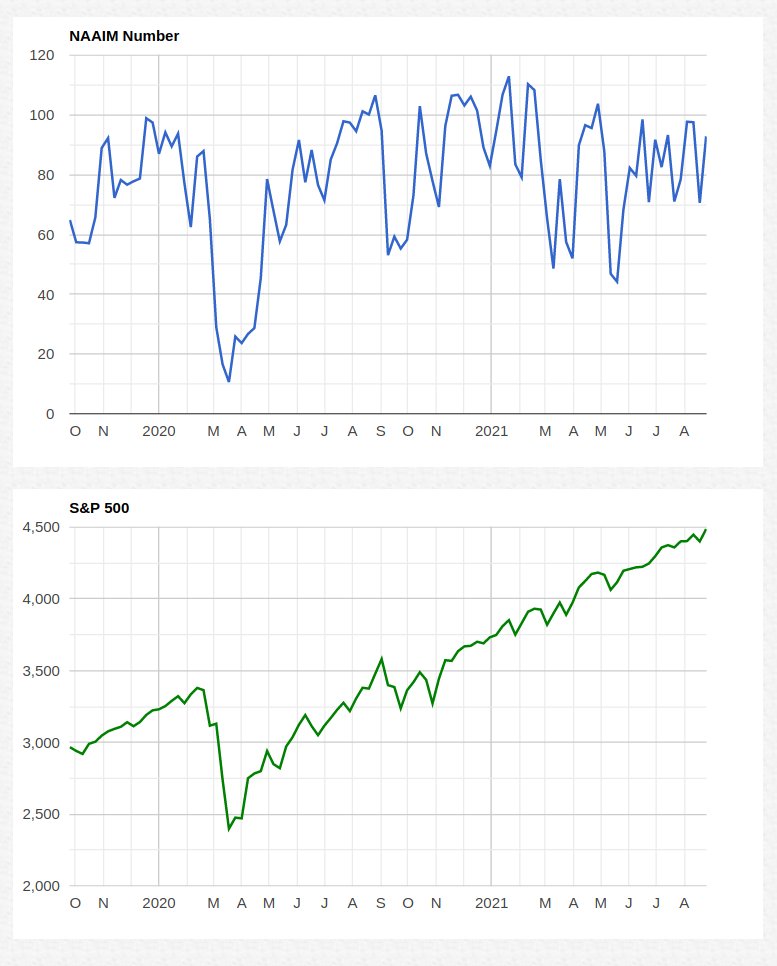 Everything is beautiful, really? The final August reading for the University of Michigan Index of Consumer Sentiment fell to 70.30 (consensus 81.20) from the final reading of 81.20 for July. This is the lowest reading since 2011, Lower than pandemic lows, as consumers' inflation expectations rose. Focus next week will be Friday's August employment report with J Powell emphasizing the need for more strong jobs data before the central bank would start to unwind its bond program, putting heightened focus on that employment report. We also have on the docket consumer confidence on Tuesday and the ISM manufacturing report Wednesday.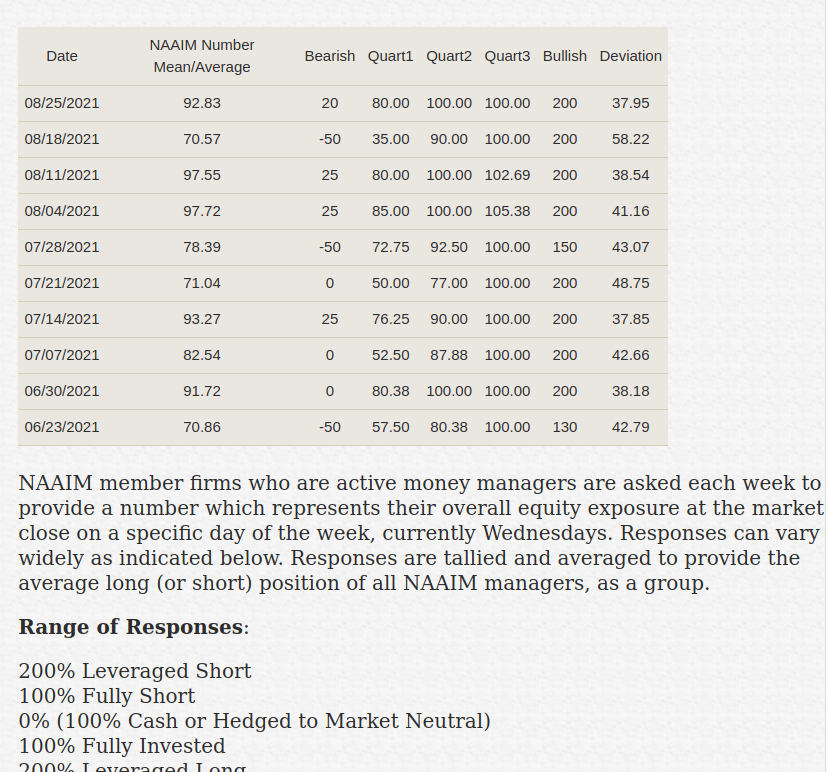 Powell is struggling to justify ongoing historic monetary inflation as transitory with intense inflationary moves abound. Perhaps with so many destroyed economically and living on the breadline the Fed is well away they are surviving at best and aware such lack of demand will become deflationary as supplies normalise.
Public confidence is eroding sharply with the US Administration and the Fed seems to be the last hope for many. What happened if the insular American masses gather what is unfolding globally?
The three credit events that have our attention remain our key watches.
Firstly credit spreads on corporate bonds.
U.S. high-yield spreads (to Treasuries) and CDS have also turned more closely correlated to Chinese Credit developments.
"A boom in US corporate borrowing has laid the foundation for a wave of defaults at financially risky companies according to S&P Global Ratings. Sales of low-rated, 'speculative-grade' debt have already reached $650bn this year, putting them on track to surpass all-time borrowing records with more than four months left to go in 2021.
August 23 – Wall Street Journal (Ben Eisen): "Wall Street is diving back into the business of turning home loans into bonds, injecting new competition into a market long dominated by government-backed mortgage giants Fannie Mae and Freddie Mac. The so-called private-label mortgage market—in which financial firms serve the middleman role of creating giant pools of loans and selling them to investors—had more than $42 billion of issuance in the second quarter. That is the most since the pandemic started and almost the most for any quarter since the last financial crisis, according to Inside Mortgage Finance…"
The second again was the world's most indebted developer, China Evergrande Group shares and bonds.
Evergrande has over $300 billion of debt. It's bond (4-yr) yields traded to almost 45% in Friday August 27 trading. The "AMC" catalyst may have been pushed somewhat out into the future. Evergrande and the faltering apartment Bubble remain a clear danger.
August 26 – Bloomberg: "Under mounting pressure from financial regulators to shore up its finances, China Evergrande Group is poised to dump more of its sprawling empire. The clock is ticking for billionaire Hui Ka Yan and his company, which is laden with $300 billion in liabilities to banks, suppliers and homebuyers. Despite getting temporary relief from some major creditors, the message from policy makers is clear: Evergrande must resolve its debt woes fast enough to avoid roiling the world's second-largest economy."
The third was falling bond yields despite heightened inflationary pressures and further price increases.
Ten-year Treasury yields rose five bps to 1.31% (up 39bps). Long bond yields jumped five bps to 1.92% (up 27bps). Benchmark Fannie Mae MBS yields dipped one basis point to 1.77% (up 43bps). Given the shakey China and global market developments the safe haven argument was sullied. This raises the question of how much support the Treasury market has left to offer in the event of an intensifying "risk off" dynamic. There's always an Ebb and Flow associated with financial instability, and there is a Beijing-directed hiatus in the evolving Credit crisis. With a relatively tranquil week for China (and Asia & EM), Treasuries turned more attentive to U.S. overheating."
After last week's FOMC it's worth reminding ourselves of this insight from the The Economic Affairs Committee of the U.K.'s House of Lords report, "Quantitative Easing: A Dangerous Addiction?"
"No central bank has managed successfully to reverse quantitative easing over the medium to long term. In practice, central banks have engaged in quantitative easing in response to adverse events but have not reversed the policy subsequently. This has had a ratchet effect and it has only served to exacerbate the challenges involved in unwinding the policy. The key issue facing central banks as they look to halt or reverse quantitative easing is whether it will trigger panic in financial markets, with effects that might spill over into the real economy."
In light of recent ECB and FOMC meet and greets an important realisation that the Central Bankers are well of aware of the consequenses here.
"We have a market trying to interpret the Fed who is trying to find out how they can interpret their long-only portfolio at a risk parity where rates cannot rise." – MoneyNeverSleeps
There is the prospect of an overheating U.S. economy, but remember we are coming off a low base and the lockdown has decimated many sectors of the economy and people's lives. The relevaton from the speed of technology adapting and disrupting to a new world with the lockdown is transformative. The shift has enabled and transformed the traditional economy that we measure future outcomes off.
We still need to add almost 20 million jobs in the US alone to get back to par. Europe is in worse shape, so overheating at this point isnt a concern for most policymakers. The unparalleled government monetary inflation has inflated many price levels and distorted asset markets BUT that was intended as to increase confidence in the 'guts' of the economy, homeowners and 401k holders. This point is missed by the uber bear community. From here is the big question. The RBA stability report gives us an insight into central banker thinking, they concluded Australian banks are in strong financial position coming out of pandemic and have abundant liquidity and funding,
The downside is clear with the absence of moral hazard from repeated Federal Reserve market bailouts in an environment of some would say obscene liquidity pumps. Pure greed is the other part, not wanting to miss out on fees. The obvious question is, how deeply ingrained is this attitude through the markets? How do we ween the markets off tis continuos dip feed? At this point the Central Banks have kicked that answer down the road.
After the monthly and weekly employment data the market will be going though whether the recent stimulus rounds are working with in the background of the Federal Reserve Continuing to downplay inflation risk.
Of note during the Arctic Blast with the EV mania and the Biden Admin Green deal push we noted the spike in spot Texas electricity prices pushing the cost of electricity not on fixed plans to unheard of levels. Bloomberg reported on recharging a Tesla from about $18 to $900. Yes the price spike was fleeting but it should remind the sane amongst us the broader issue of the disconnect between the push toward electrification and our massively inadequate energy infrastructure. This is the area that needs investment, not just for our glorious EV but for all energy and possible disasters like we just saw.
Comments from Yellen and others on the same page suggest that low rates conveniently push potential debt instability far out into the future. The Fed is poised to expand its balance sheet, by adding liquidity to the tune of $1.5 TN this year with no regard for rampant asset price inflation and bubbles. Now the new administration has control of the blank checkbook and is determined to us it with no long-term thinking or planning; everything is short-term focused. Washington is gambling with our nation's future, from kicking cans down the road to rolling drums down a hill.
Contents
Part A: Stockmarkets

Part B: Bonds

Fed and Banks

Part C:

Commodities

Energy – Oil and Gas

Gold and Silver

Part D: Foreign Exchange

Geopolitics and Economics


Economy Week ahead
PART A – Stock Markets
Highlights – USA
S&P500 rallied 1.5% to a new record high (up 20.1% y-t-d),
Dow gained 1.0% (up 15.8%).
Nasdaq100 rallied 2.3% to a new record high (up 19.7%).
S&P 400 Midcaps gained 3.4% (up 20.0%)
Small cap Russell 2000 surged 5.1% (up 15.3%).
Utilities dropped 2.3% (up 8.7%).
Transports jumped 2.4% (up 19.2%)
Banks surged 5.2% (up 34.5%), and Broker/Dealers rose 4.5% (up 30.2%).
Semiconductors jumped 5.5% (up 22.9%).
Biotechs rose 2.9% (up 3.5%).
With bullion recovering $36, the HUI gold index rallied 6.0% (down 15.1%).
Highlights – Europe Stocks
U.K.'s FTSE equities index increased 0.8% (up 10.6% y-t-d).
France's CAC40 gained 0.8% (up 20.4%).
German DAX added 0.3% (up 15.5%).
Spain's IBEX 35 little changed (up 10.5%).
Italy's FTSE MIB increased 0.3% (up 17.0%).
Highlights – Asia Stocks
Japan's Nikkei Equities Index rallied 2.3% (up 0.7% y-t-d)
South Korea's Kospi jumped 2.4% (up 9.1%).
India's Sensex gained 1.4% (up 17.5%).
China's Shanghai Exchange rallied 2.8% (up 1.4%).
Australia's S&P/ASX200 eked out a 0.3% weekly gain.
Highlights – Emerging Markets Stocks
EM equities higher.
Brazil's Bovespa recovered 2.2% (up 1.4%)
Mexico's Bolsa rose 2.0% (up 19.0%).
Turkey's Borsa Istanbul National 100 rose 0.9% (down 1.3%)
Russia's MICEX recovered 1.4% (up 18.2%).
IPO and SPAC mania having break but remains in full force.
Stock valuations, as measured by forward price-to-earnings ratios are near their highest level since the 2000 dot-com boom.
Biggest SPX Stock Winners and Losers Last Week
S&P 500 Index Technical Analysis via @KnovaWave
SPX spent the week rebalancing the Chikou after a sharp ABC to 1 month lows back into all time highs remaining in the clear channel as it tries to test +2/8. We have to respect the number of alternatives of degree of 5. With such trends keeps it simple support is Tenkan and Kijun and watch for ABC. No fear is the driving element
The break up was from above the 200dma. The balance from sharp reversal after the initial 3 wave down from the SPX wave 5 extension as Covid19 fed impulse accelerated under the tenkan. From there we had seen the ABC or 1-2-3 spinning around the 61.8% of the move. Support began at the October 2019 lows. A manic wave 5 or 3 of some degree was a resolution for the ages. Note the 100% extension from the emotive element and MM levels when the spit kicks in. A manic wave 5 or 3 of some degree was a resolution for the ages. Note the 100% extension from the emotive element and MM levels when the spit kicks in
SPX has continued to roll higher since spat the weekly channel it had been tracking since the break of v of (III) or (V). Each new high has evolved after testing the Tenkan. look for failure when that doesn't hold. Extensions are difficult to time, keep it simple
Key for the impulse higher was the spit or retest of MM 8/8 and Tenkan San, which held with the previous highs and Tenkan. To repeat "We look for 3 waves down and reactions to keep it simple with the alternatives in the daily." Keep an eye on the putcall ratio with recognition to the sheer size of contracts AND keep in mind the stimulus distortion. The spit per channel fractal and Adams rule launched back over the cloud where we were encased AND we are back testing it. Watch if a spit or clear break support as chickou rebalances
A reminder that Apple Inc $AAPL, Microsoft Corp $MSFT, Amazon.com Inc $AMZN, Facebook Inc $FB, and Google-parent Alphabet Inc $GOOGL make up approximately 23% of the total weight of the S&P 500. With that comes gyrations that are an outsized impact on broader markets.
NASDAQ 100
Nasdaq had been consolidating in a triangle while SPX and Dow caught up, compare the clinical tests of the SPX Tenkan versus Spits of Tenkan to Kijun in NDX which has helped fuel the more extreme moves. Watch Chikou for divergence for continuation or failure. Divergence with Russell also a clue.
Russell 2000
The small cap Russell RUT has been developing a large flag which it spat though last week, only to close above the Tenkan. We need Kijun to close thru to get power to retest highs. Support the cloud should it fail.
Semiconductors SMH
The Semiconductor segment represented by $SMH cleanly with Murray Math levels & Tenkan keys. Previous high above +4/8 and Chikou rebalance patterning. Powered by Kijun spit to as the reaction from above reverted with the retest at triple top patterning. Reaction from above reverted with $TSM $NVDA $ASML $AMD $QCOM $AVGO $TXN $INTC $AMAT $LRCX mainly pushing up

NVidia $NVDA
Following the announcement of NVDA 4/1 split some levels off the energy break. NVidia hasn't looked back since the $NVDA 4/1 split, We saw a power move off the $200 retest (old $800)! It is a clear leader of #SOX #SMH look for cues there and ABC failures for changes.
Apple $AAPL
Amazon $AMZN
Amazon high locked at Kijun seems …MM +3/8 and from there has built a large weekly flag after failing near the previous high. Watch Tenkan through Kijun for a bigger move down. Support is weekly cloud and resistance previous flag and Tenkan.
ARKK ETF
The $ARKK ETF trading clinically, tested triangle breakdown & Tenkan after bouncing off 50 WMA. Support cloud, needs to clear Tenkan to test Kijun for bulls. We saw ATH in Nasdaq and #SPX and a big week for #RUT – needs to flow through to #ARK to break up soon rather than later.
US Stocks Watch
Earnings Week Ahead
This three-month period is the second to be compared to year earlier profits that were affected by the pandemic. According to Refinitiv, earnings for the second quarter are looking to be up 78.1%. With the US stock markets at record highs the downside to increasing profit expectations is the potential for some disappointments and that could cause adverse or stalled markets potentially.
Investors (and algos) will focus on the conference calls and outlooks. Last quarter everyone expected the worse, we saw critical updates on production in coronavirus impacted regions and if there is extended halting of operations weighing on multi-nationals.
Last week we heard from
JD.com, Palo Alto Networks, Madison Square Garden, Best Buy, Bank of Montreal, Nordstrom, Intuit, Urban Outfitters, Toll Brothers, Advanced Auto Parts, Medtronic, Salesforce.com, Royal Bank of Canada, Snowflake, Box, Autodesk, Express, Dick's Sporting Goods, Shoe Carnival, NetApp, Splunk, Pure Storage, HP, Dell, Gap, Abercrombie and Fitch, Dollar General, Dollar Tree, Hain's Celestial, Ulta Beauty, Peloton, Workday, VMWare, Ollie's Bargain, Marvell, Toronto-Dominion, Sanderson Farms Big Lots
This week we hear from:
Monday starts us off with

Cloudera, Zoom Video

Tuesday with Earnings from

Designer Brands, NetEase, PVH, Crowdstrike, Ambarella

Wednesday Earnings Include

Campbell Soup, Chewy, Brown-Forman, Vera Bradley, Nutanix, Smith and Wesson, Asana, ChargePoint

Thursday Earnings Include

Hewlett Packard Enterprise, Broadcom, Lands' End, American Eagle Outfitters, DocuSign, Ciena, John Wiley, Signet Jewelers, Hormel, Cooper Cos

Friday Earnings include
These are the highlighted earnings for the US this week. Please check daily schedules for more reports.
"U.S. companies are rushing to cash in on soaring stock prices. It isn't just the white-hot market for initial public offerings. Companies are returning to the public markets to issue shares and raise cash from investors at the same time that existing shareholders are tapping the public market to unload their stockholdings at a record clip. Companies including Zoom Video Communications Inc. and Norwegian Cruise Line Holdings Ltd. have sold billions of dollars of shares this year… There have been 556 follow-on offerings, or stock sales by companies or existing shareholders, among U.S. companies this year, the most since 1996, according to Dealogic… They have raised a total of $133 billion. Behind the boom in share issuance? An ascendant stock market." August 25 – Wall Street Journal (Gunjan Banerji):
IPO Wrap
US IPO Weekly Recap:
With Fall around the corner the pipeline continues to grow in a 1 IPO week August 27, 202
The August slowdown was still in full effect this week, with just one, micro-cap IPO pricing. Additionally, three SPACs raised a total of $410 million.
Initial filers continued their momentum from last week in preparation for post-Labor Day issuances, with 15 IPOs filing this past week, including high profile names Toast (TOST) and Warby Parker (WRBY). Six SPACs also submitted initial filings.
After lowering its proposed offering price and number of shares, authID.ai (AUID) raised $10 million at a $173 million market cap, uplisting from the OTCQB. The company provides easy-to-integrate, mobile identity verification software products including biometric capture and matching of faces, voices, and fingerprints, as well as remote document collection, multi-factor authentication, and passwordless login. Though still unprofitable, the company aims to expand by gaining partnerships with payment processors, system integrators, and other core banking software providers. auth.ID finished the week up 36%.
Three SPACs raised $410 million, led by Cascadia Capital's Cascadia Acquisition (CCAI.U), which raised $150 million.
US IPO Week Ahead:
Another quiet week before the post-Labor Day rush
As the August lull continues, there are no IPOs currently scheduled for the week ahead.
While the calendar is empty for now, we may again see some SPACs price throughout the week. We also anticipate filing activity to continue steadily ahead of the IPO market's post-Labor Day pickup. At least seven pending SPAC mergers are scheduled to hold their shareholder votes in the week ahead, including SPNV's acquisition of real estate platform Offerpad.
IPO data via Renaissance Capital
Part B : Bond Markets
Highlights – Treasuries
Why the angst in the bond market?
The After the FOMC presented new economic projections including a forecast of 6.5% for gross domestic product this year with PCE inflation going to 2.4% this year, but falling to 2% next year. Powell reiterated that the Fed sees only a temporary pickup in inflation this year because of the base effects against last year's numbers when prices fell. The Fed will target an average range of inflation around 2%, meaning it could exceed that threshold for some time which is a change to the Fed's ground rules. The majority of Fed officials did not see any interest rate hikes through 2023.
What concerns bond holders and impacts stocks over the past weeks is the Fed appears to be too Blaise about inflation. This view got added weight when crude oil hit the highest prices since 2019 after OPEC decided to stay pat on production for April. But since then Crude has fallen over 12% in just a week from those highs. Hence why Powell has said "We're going to wait to see signs of actual inflation or the appearance of other risks that could threaten the achievement of our goals. And we've seen that the economy can sustain exceptionally low levels of unemployment without inflation."
There is a view that Powell also refuses to be dictated to and set the bond bullies up for failure. The V reversal this month suggests that. Air needs to come out of the market, particularly Tech, this is best illustrated by the ARK Funds and Semi-Conductor SMH ET's (see below). From here we have another massive $1.9 Trillion stimulus. Is that enough to keep asset prices elevated, hard to fight the Fed and that kind of cash floating around. Watch the argument from analysts that higher yields mean the economy is growing, stocks are value versus hyperinflation is on its way.
Raise your eyes and look at the stopped car in front of you you may want to hit the brakes.The pandemic is not close to our greatest worry, nor is energy it seems. The runaway credit bubble in the era of delusion and entitlement has multiple unintended consequences or are they intended? The stockmarket has lost rationality the danger is should the bubble pop the consequences of a historic debt crisis in a deeply divided nation and unprepared social and geopolitical backdrops could be earth shattering as the Fed disregards asset inflation and bubble dynamics.
Investment-grade bond funds saw inflows of $3.362 billion, and junk bond funds posted positive flows of $532 million (from Lipper).
Three-month Treasury bill rates ended the week at 0.045%.
Two-year government yields slipped a basis point to 0.22% (up 10bps y-t-d).
Five-year T-note yields gained two bps to 0.80% (up 44bps).
Ten-year Treasury yields rose five bps to 1.31% (up 39bps).
Long bond yields jumped five bps to 1.92% (up 27bps).
Benchmark Fannie Mae MBS yields dipped one basis point to 1.77% (up 43bps).
All good while markets hold up but take note that the loosest financial conditions in history have supported a record $1.4 trillion of corporate debt issuance. While easy credit availability has supported economic activity, funding new investment whilst keeping vulnerable companies afloat. THe combination of urban shifts through virus and riots fears has fueled a booming MBS market and record low mortgage rates pushing strong housing markets into Bubble risk territory.
Highlights – Mortgage Market
Unprecedented cash payments by the U.S. government to households, changing consumer preferences and lowest mortgage rates in history have fueled a pandemic boom in housing, the fastest pace of increase on record in data from 1988 and prices surpassing the peak from the last property boom in 2005. The S&P CoreLogic Case-Shiller U.S. National Home Price Index rose 14.6% in the 12 months through April, according to the latest available numbers, marking the fastest pace of increase on record in data from 1988.
Freddie Mac 30-year fixed mortgage rates added a basis point to 2.87% (down 4bps y-o-y).
Fifteen-year rates slipped two bps to 2.14% (down 32bps).
Five-year hybrid ARM rates declined one basis point to 2.42% (down 49bps).
Bankrate's survey of jumbo mortgage borrowing costs had 30-year fixed rates up five bps to 3.08% (down 3bps).
Highlights – Federal Reserve
Federal Reserve Credit last week rose $25.8bn to a record $8.323 TN. Over the past 102 weeks, Fed Credit expanded $4.597 TN, or 123%. Fed Credit inflated $5.513 Trillion, or 196%, over the past 459 weeks.
Fed holdings for foreign owners of Treasury, Agency Debt last week slipped $0.6bn to $3.502 TN.
"Custody holdings" were up $88.3bn, or 2.6%, y-o-y.
Total money market fund assets increased $4.3bn to $4.527 TN. Total money funds declined $13bn y-o-y, or 0.3%.
Total Commercial Paper rose $11.3bn to $1.150 TN. CP was up $138bn, or 13.6%, year-over-year.
We do know we have massive speculation pockets, viz a viz the Meme or GameStop, Weed stocks and cryptocurrency spectacles in just the matter of weeks. The Fed is today throwing additional fuel on historic speculative manias.
The Fed QE infinity programme is a yield curve control policy with long government bond yields coming down. Bond supply and continued central bank resistance to more negative policy rates limits the move. Central banks have been cutting rates and adding liquidity to avoid systematic failure.
Highlights – European Bonds
Greek 10-year yields jumped 13 bps to 0.69% (up 7bps y-t-d).
Ten-year Portuguese yields rose seven bps to 0.17% (up 14bps)
Italian 10-year yields jumped nine bps to 0.63% (up 9bps).
Spain's 10-year yields rose eight bps to 0.29% (up 25bps).
German bund yields gained seven bps to negative 0.42% (up 15bps).
French yields rose eight bps to negative 0.07% (up 27bps).
The French to German 10-year bond spread widened one to 35 bps.
U.K. 10-year gilt yields gained five bps to 0.58% (up 38bps).
Highlights – Asian Bonds
Japanese 10-year "JGB" yields rose two bps to 0.03% (up 1 bp y-t-d).
Part C: Commodities
Highights
The Bloomberg Commodities Index surged 5.7% (up 23.4% y-t-d).
WTI crude recovered $6.60 to $68.74 (up 42%).
Gasoline surged 12.4% (up 61%),
Natural Gas 13.9% (up 73%).
Copper rose 5.1% (up 23%).
Wheat increased 0.6% (up 14%).
Corn advanced 3.1% (up 14%).
Bitcoin dipped $309 this week to $48,939 (up 68%).
Risk markets continue to respond to a Conronvirus outbreak and failed negotiations between Congress and the White House over an additional economic stimulus package to boost economic demand.
Higher crude prices prompt some U.S. producers start drilling again with rigs up for the ninth week in a row.
BDI Freight Index
The Baltic Exchange Dry Index rose 1% to 4,235 on Friday, a more than 11-year high as gains in the larger capesize segment countered a retreat in panamaxes. For the week, the Baltic Exchange's main dry bulk sea freight index climbed 3.5%, its sixth straight week of gains buoyed by both the capesize index (2.8%) and the panamax index (6.1%).
The capesize index, which tracks iron ore and coal cargos of 150,000-tonnes added 2% to 6,162
The panamax index which tracks cargoes of about 60,000 to 70,000 tonnes of coal and grains, decreased 0.9% to 3,874.
Among smaller vessels, supramax index went up 33 points to an all-time high of 3,470.
Source: Baltic Exchange
Copper
Copper has been a leader in the risk on movement for commodities but were down to an over 4-month low of $4 per pound amid a stronger dollar, demand concerns from the resurgence in Covid-19 and easing supply disruptions. The weekly channel since the low captured the move and failure fed the fall after the power spits of +8/8 and +2/8 were rebalanced by the Tenkan breaking the Kijun after the H&S break towards the 50wma
Corn
Lumber
US Crude Oil (WTI)
4 Hour::WTI oil violently spat -4/8 on the 240 to rebalance Chikou and tested the late May lows. From exhaustion CL_F accelerated after each break and retest of the Tenkan to 4/8 – note the work at the cloud twist to pulled price up. Continue to watch Kijun reactions and Murrey Math confluence.
Daily: Last week WTI completed its correction of the May breakup in 3 waves (or X) & has rebounded to the daily cloud base to close at the 50dma. Support is Tenkan and Kijun as the market rebalances at the Chikou. We got a repeat as fractals continue with oil.
The key is crowd behavior to help tell the story which in energy is often around geopolitics. A great example of why we watch ABC corrections and from here we get the energy from the break being balanced. This move that was powered by 50 dma Tenkan spit of a spit – hence the fractal energies reverberations. Support is previous lows, Murrey Math levels and Fib cluster. Resistance is the 50dma, kijun, tenkan & prev high confluence. ;
Weekly: The longer Weekly view on oil shows the clear ABC to the 50wma and the acceleration and recapture of the Tenkan. After WTI fell back through the weekly Tenkan correcting previous highs in clinical ABC negating a rebalanced Chikou indicative of crowd behavior and 50% fib failure at 70.29 over 7/8. Reflect on series of fractals at last Dec wave 1 turn after we had completed 5 waves as marked, from here we watched 3 & 5 waves develop. Support below at Kijun and 50 wma It must retain this energy to take out new highs.
These are special times, recall "After we regained the pattern 261.8% from the extreme (-$40) move. The climax of the larger acceleration lower after broke the weekly uptrend, a fractal of the sharp and all the way to all time lows to negative pricing we have seen mirror replications." Support is previous channels, tenkan and Kijun. Above we have Murrey Math time and price
US Natural Gas (Henry Hub)
Daily: US Natural Gas exploded out of the corrective ABC pennant of a (IV) off the 50dma to new highs as expected with impulse through the double top around $4.20 as the Tenkan crossed Kijun depicting power. Notice the fractals of the move after completing the ( C of 4 bullish scenario has played out the consolidation phase since it completed its IV ( Bull Case) last year since then a series of 3 waves. Tenkan, Kijun and 50dma support.
Like the larger wave on the way up it accelerated through previous highs (flat topped triangle energy) and over the resistance at 8/8 and new highs. We successfully tested that break in a pennant ABC. Previous highs (flat topped triangle energy) and 8/8 and new highs underscore the structure that fed the move and is key longer term.
Weekly: Natural gas smoothly continued its move in a series of 3's spitting the Weekly Tenkan for Chikou to rebalance. Recall the impulse wave powered from the spit of 50wma to get over weekly Kijun and Tenkan. Breaking recent highs on its 3rd attempt. A series of fractals between old 38 and 50% channel, as you would expect in a seasonal commodity with weather a prime mover. Resistance is Fib/Murrey confluence.

Key Energy Reports
Precious Metals
Highlights
Spot Gold rallied $36 to $1,818 (down 4.3%). Silver jumped 4.3% to $24.03 (down 9.0%).
Gold
Gold vulnerability remains, hanging on at base of weekly cloud after another rejection of the tenkan, Kihun and 50wma after wave (ii) alt gains favor. Still listless after manic rise to +5/8 weekly rebalance of Chikou in 5 waves. To be bullish we would need to get and stay above the cloud. Murrey Math resistance, watch Fibs & Chikou.
Silver
Silver is back at the cloud spitting 50wma providing support after reversed with a double top. The weekly Tenkan crossing the Kijun signaled downside and is now resistance. Major support is the 50wma
Part D: Forex Markets
John Maynard Keynes, 1920: "There is no subtler, no surer means of overturning the existing basis of society than to debauch the currency. The process engages all the hidden forces of economic law on the side of destruction, and does it in a manner which not one man in a million is able to diagnose."
Highlights
For the week,the U.S.Dollar Index declined 0.9% to 92.69 (up 3.1% y-t-d).
Majors for the week For the week on the upside, Australian dollar 2.5%, the Canadian dollar 1.6%, the British pound 1.0%, the euro 0.8%, and the Swiss franc 0.6%.
Minors for the week for the week on the upside, the South African rand increased 3.9%, the Norwegian krone 3.6%, the Brazilian real 3.4%, the New Zealand dollar 2.6%, the Swedish krona 1.9%, the Singapore dollar 1.2%, the South Korean won 0.9%, the Mexican peso 0.8%. The Chinese renminbi gained 0.46% versus the dollar (up 0.85% y-t-d).
Australian Dollar – AUDUSD
The Aussie dollar has corrected in 3 waves since completing a 5 at the pysch 80 level and it back break retest of wave 1 and the weekly cloud as one would expect after it completed 5 waves in emotive fashion. The Australian dollar fell to its lowest value since December under 73 US cents. Resistance the Tenkan and Kijun like many commodities. The AUDUSD old three year high of 0.7820 from January 6 is a key option energy point playing out.
New Zealand Dollar – NZDUSD
The Kiwi mirrored the AUD in its wave (iii) spit and has corrected at the cloud much of the FOMO muster wave and retested the 50% Fib & 4/8 confluence. Kijun and Tenkan Resistance, which is pivotal. Support previous break spits.
Canadian Dollar – USDCAD
The Loonie is holding the tenkan after a 3 year high in June and corrected that in 3 waves led by the AUD and NZD. #oil price impacting direction. Watch flat Kijun and Tenkan at -1/8. Use Fibs for support and resistance.
Euro – EURUSD

Euro continues to correct in what seems like eternal flags in the channel. We watch if Kijun (pink) testing Tenkan (orange) creates any impulse as #EURUSD consolidates in the cloud. Watch 3 waves to see development for continuation. Watch for impulse off Chikou rebalance. Again governed by EURGBP and Bund volatility.

British Pound – USDGBP
British pound classic retest of daily cloud break with magnet pull of cloud twist after ABC correction – will need Tenkan to break through Kijun for more strength. The upcoming week will be heavy on UK data, which could mean an eventful week for the British pound.
EuroPound – EURGBP

Back testing tenkan in a C or 3 after inconclusive X – symbolic of BREXIT? Kijun, 50wma and clouds resistance.
Japanese Yen – USDJPY

USDJPY continues to test wave i after the recent weakness with Treasury yields. The 108.00 level should remain massive support for dollar-yen. Any change will come from the weekly Kijun as it breaks through the old channel. Use your #USDJPY Murrey 4/8 8/8 grid for now. #EURJPY #AUDJPY will determine risk on/off
Mexican Peso USDMXN
The Peso continues in the long triangle and consolidated despite outside uncertainty from oil and COVID19. Use the Gann octave and the extension fibs to help measure the noise.
Turkish Lire USDTRY
The Turkish Lire after falling in 5 waves closed under the Tenkan with the weekly cloud Kijun and 50wma below. The cloud and gap below offer targets with resistance tankan and USDTRY highs.
Bitcoin
Bitcoin has corrected impulsively since completing 5 waves up at +2/8 Each Tenkan and Kijun tap saw an explosive kiss of death until we completed 3 waves to around 28,000. From there we saw extreme volatility to the top of the cloud which is now key as to what the recent bottom marked. Bitcoin put in a high of $63,000 around Coinbase, the largest US crypto exchange successfully went public which signaled profit-taking . (Recall what happened after the CME and CBOE futures starts)
We have seen what you would expect from a 5 wave impulse peak, a violent correction or completion. Use Murrey Math levels for corrections and targets as algos control the herd here, support is the cloud and sharp ABC, 1-2 moves.
On the Risk Radar
Fed Warnings on Possible Medium To Long Term Risks
Geopolitical Tinderbox Radar
Economic and Geopolitical Watch
Job Losses
Each Thursday the Labor Department reports high numbers of Americans that applied for unemployment benefits. With the Covid shutdown we lost over 22 million jobs in March and April. Still a huge shortfall in jobs, and the big question is will they come back?
US Politics
August 25 – Associated Press (Lisa Mascaro and Kevin Freking): "Striking a deal with moderates, House Democratic leaders have muscled President Joe Biden's multitrillion-dollar budget blueprint over a key hurdle, ending a risky standoff and putting the party's domestic infrastructure agenda back on track. The 220-212 vote Tuesday was a first move toward drafting Biden's $3.5 trillion rebuilding plan this fall, and the narrow outcome, in the face of unanimous Republican opposition, signaled the power a few voices have to alter the debate and the challenges ahead still threatening to upend the president's agenda."
August 10 – Wall Street Journal (Nick Timiraos): "Members of President Biden's economic team generally support nominating Federal Reserve Chairman Jerome Powell to a second term, but growing resistance from prominent Democrats including Sen. Elizabeth Warren (D., Mass.) could lead to his replacement… Mr. Powell… has received high marks from some Democrats for steering the central bank toward a paradigm shift that has placed greater attention on reducing unemployment. That coincided last year with a forceful response to the coronavirus pandemic. But some progressives are unhappy with his bent toward easing financial regulations that were put in place after the 2008 crisis and think the central bank should have someone more in sync with Democratic politics in charge."
The virus and psychological affect on domestic and trade relationships have impacted growth strategies with unexpected consequences In a fully fledged stock mania, nothing matters until it does. That is the feral nature of greed.
Drought Watch
August 24 – Wall Street Journal (Kirk Maltais): "Drought is blistering key U.S. cash crops, further elevating prices for staples including corn and wheat. The punishing dynamics of a torrid summer were evident this month on the Pro Farmer Crop Tour… Driving along state Route 14 outside of Verdigre, Neb., Randy Wiese turned to see a farmer harvesting hay. The piles were small. 'That farmer is sick to his stomach,' said Mr. Wiese, who farms 800 acres of soybeans and corn… Extreme heat is baking most of the U.S. North Dakota, South Dakota, Minnesota, Iowa and Nebraska all contain areas of extreme drought… North Dakota and Minnesota, in particular, are experiencing near-record lows in soil moisture… As a result, many crops planted this spring are wilting. Some 63% of the U.S. spring wheat crop is in poor or very poor condition, versus 6% at this time last year…"
August 23 – Bloomberg (Lauren Coleman-Lochner): "The extreme drought that has gripped much of the western United States has shriveled crops, stoked wildfires, and drained reservoirs across several states. According the U.S. Drought Monitor, more than 60 million people are currently living under drought conditions in the region. For some cities, lack of water could be a fiscal as well as an environmental disaster: Prolonged droughts are threatening the creditworthiness of local governments, utilities and irrigation districts. According to a new report from S&P Global Ratings…, drought-struck municipalities may generate less income from their water systems because there's less to sell or they may have higher costs to provide adequate supplies."
August 8 – Axios (Rebecca Falconer): "More than 100 large wildfires are burning across nearly 2.3 million acres of the U.S. West, as forecasters warn Americans to brace for another extreme heat wave this week. Driving the news: 'Widespread air quality alerts and scattered Red Flag Warnings stretch from the Northwest and Northern Rockies to the High Plains, as well as throughout parts of central California,' the National Weather Service said…"
August 11 – Associated Press (Nicholas K. Geranios): "The wheat harvest on Marci Green's farm doesn't usually begin until late August, but a severe drought stunted this year's crop and her crews finished harvesting last week because she didn't want what had grown so far to shrivel and die in the heat. It's the same story across the wheat country of eastern Washington state, a vast expanse of seemingly endless stretches of flatlands with rolling hills along its edges that produces the nation's fourth largest wheat crop. It's been devastated by a drought the National Weather Service has classified as 'exceptional' and the worst since 1977. 'This is definitely the worst crop year we have had since we started farming 35 years ago,' said Green, whose family is the sixth generation on the same farming land just south of the city of Spokane."
July 24 – Bloomberg: "Extreme weather is slamming crops across the globe, bringing with it the threat of further food inflation at a time costs are already hovering near the highest in a decade and hunger is on the rise. Brazil's worst frost in two decades brought a deadly blow to young coffee trees in the world's biggest grower. Flooding in China's key pork region inundated farms and raised the threat of animal disease. Scorching heat and drought crushed crops on both sides of the U.S.-Canada border. And in Europe, torrential rains sparked the risk of fungal diseases for grains and stalled tractors in soaked fields."
June 4 – CNBC (Emma Newburger): "Nearly three-fourths of the U.S. West is grappling with the most severe drought in the recorded history of the U.S. Drought Monitor, as hot and arid conditions are set to exacerbate the threat of wildfires and water supply shortages this summer. Parts of California, Nevada and Washington experienced sweltering triple-digit temperatures over the past week amid the drought… Conditions this spring are much worse than a year ago. In fact, nearly half of the continental U.S. is in a moderate to exceptional drought, marking the most significant spring drought in the country since 2013, according to… the National Oceanic and Atmospheric Administration."
June 10 – Reuters (Andrea Januta and Daniel Trotta): "The reservoir created by Hoover Dam… has sunk to its lowest level ever, underscoring the gravity of the extreme drought across the U.S. West. Lake Mead, formed in the 1930s from the damming of the Colorado River at the Nevada-Arizona border about 30 miles (50 km) east of Las Vegas, is the largest reservoir in the United States. It is crucial to the water supply of 25 million people including in the cities of Los Angeles, San Diego, Phoenix, Tucson and Las Vegas. As of 11 p.m. PDT Wednesday, the lake surface fell to 1,071.56 feet above sea level, dipping below the previous record low set on July 1, 2016."
June 18 – Wall Street Journal (Katherine Blunt and Jim Carlton): "States across the West are at risk of electricity shortages this summer as a crippling drought reduces the amount of water available to generate hydroelectric power. Some of the region's largest reservoirs are at historically low levels after a dry winter and spring reduced the amount of snowpack and precipitation feeding rivers and streams. The conditions are especially dire in drought-stricken California, where officials say the reservoir system has seen an unprecedented loss of runoff this spring—800,000 acre-feet, or enough to supply more than a million households for a year."
June 16 – CNBC (Emma Newburger): "An extreme heat wave gripping the western United States will intensify and spread this week, creating dangerous conditions amid the worst drought in the last two decades and raising concerns about severe wildfires and electrical grid failures. More than 40 million people in the country are forecast to experience triple-digit temperatures this week, and roughly 200 million people are projected to see temperatures over 90 degrees Fahrenheit. More than three-fourths of the West is in severe drought… Temperatures in some areas could surpass 120 degrees, and excessive-heat warnings are in place for several states. Nevada and Arizona are forecast to see record temperatures of 125 and 128 degrees, respectively."
Global Watch
Hot Spots
August 24 – Reuters: "President Joe Biden said on Tuesday the United States is on pace to finish evacuations from Afghanistan by Aug. 31, but left open the chance of extending the deadline, saying reaching that goal depends on cooperation from the country's new Taliban rulers. The Taliban said earlier on Tuesday that all foreign evacuations from the country must be completed by Aug. 31, and asked Washington to stop urging highly skilled Afghans to leave the country."
August 25 – Wall Street Journal (Benoit Faucon and Ian Talley): "Iran this week restarted fuel exports to Afghanistan that had been disrupted by fighting between the Taliban and forces under the now deposed Afghan government, traders in Tehran and former U.S. officials say, with the Taliban now providing critical dollars to the sanctions-crushed Iranian economy from its lucrative narcotics operations. The burgeoning trade relationship between Tehran and the Taliban threatens to undermine key U.S. pressure campaigns against both."
August 25 – Reuters (William Schomberg and Ludwig Burger): "China will incorporate 'Xi Jinping Thought' into its national curriculum to help 'establish Marxist belief' in the country's youth, the education ministry said in new guidelines… The Ministry of Education said Chinese President Xi Jinping's 'thought on socialism with Chinese characteristics in the new era' would be taught from primary school level all the way to university. The move is aimed at strengthening 'resolve to listen to and follow the Party' and new teaching materials must 'cultivate patriotic feelings', the guidelines said. Since coming to power in 2012, the Chinese President has sought to strengthen the ruling Chinese Communist Party's role in all areas of society, including its businesses, schools and cultural institutions."
August 26 – Bloomberg (Isabel Reynolds, Emi Nobuhiro, and Cindy Wang): "Lawmakers from Japan's ruling party backed Taiwan's entry into a Pacific trade pact meant to counter China's influence, in the latest effort by Tokyo to bolster the democratically ruled island. Liberal Democratic Party lawmakers pledged to support Taiwan's addition to the Comprehensive and Progressive Agreement for Trans-Pacific Partnership during first-of-their-kind security talks with Taiwanese counterparts Friday."
Trade Wars
Trade wars persist between Australia and China. The largest exporter of commodities and the worlds largest importer of commodities. China is experiencing record cold weather and it's beligerance is hurting shooting itself in the foot. Regional partners such as Japan and India have supported Australia's standing up to Chinese bullying.
In addition to rising tensions with China, the United States Trade Representative said last month said that the USTR is considering a new round of tariffs on $3.1 billion in European exports from France, Germany, Spain and the U.K..We are awaiting Biden's offical resposne.
Chairman Chi and President Biden had a phone hook last month week with the US saying they will review all policies but tariffs to stand in the meantime. China continued it's theats on the matter.
Coronavirus Fat Tail Virus Risk
August 25 – Wall Street Journal (Talal Ansari): "U.S. Covid-19 hospitalizations have surpassed 100,000 for the first time since January, nearly doubling since the start of August. While the figure remains below the country's winter peak, hospitals in some parts of the U.S. are straining under the load, and officials in states including Georgia, Kentucky, Tennessee and Idaho have requested extra personnel and resources. The number of patients in hospital beds with confirmed and suspected Covid-19 cases hit 100,517 on Tuesday… That is up from 53,529 on Aug. 1."
August 25 – CNBC (Berkeley Lovelace Jr. and Nate Rattner): "Children are now being hospitalized in record numbers across the United States, and doctors are warning that it could get worse as schools begin to reopen and the swift-moving coronavirus delta variant drives cases higher. New Covid hospital admissions for kids have reached their highest levels since the U.S. started tracking pediatric cases about a year ago, peaking at an average of 303 new admissions per day… Kids still account for a very small number of hospitalizations, doctors note, making up roughly 1.8% of all Covid hospitalizations in the U.S."
Fauci believes 70%-85% of the population must be vaccinated to reach herd immunity.
Banks
The major money cents banks released earnings with many record results for Q1. Mainly from trading and fees from IPO's and SPAC's. Rising interest rates also help the bottom line.
Banks stocks have benefited from the Federal Reserve partially lifting its hold on share buybacks, saying that banks can resume repurchases in the first quarter of 2021 as long they don't exceed the average quarterly profits from their past four quarters. The change came after the Fed found that all major banks passed a second round of stress tests, indicating the firms can continue lending to businesses and households even if the economy dipped into a new recession.
Potentially the top six banks can buy back $11 billion in the first-quarter. Goldman Sachs shares after the announcement led the rally with a 7.7% increase. Morgan Stanley and JPMorgan jumped 6.4% and 4.9% at intraday highs. Within minutes of the announcement all three banks have announced plans to resume buybacks in the new year.
Banks are benefiting from the Federal Deposit Insurance Commission intending to ease the Volcker Rule, which restricts banks from making large investments into venture capital. The Volcker Rule was enacted in the wake of the 2008 financial crisis, and the new changes could potentially free up billions in bank capital. Bank stocks rose. otal Non-Financial Debt (NFD) expanded $737 billion during Q3 to a record $60.113 trillion.
Through the first three quarters of 2020, NFD surged an unprecedented $5.740 trillion, or 14.1% annualized. NFD was up $6.181 trillion over the past year (11.5%) and $8.817 trillion (16.7%) over two years. For perspective, NFD expanded on average $1.830 trillion annually over the past decade. NFD has ballooned 71% since the end of 2008.
"Negative yields on long-dated government securities are more reflective of distorted market conditions than of stronger sovereign credit profiles, Fitch Ratings says. Lower interest service costs support sovereign creditworthiness, but this must be weighed against the impact of the economic conditions leading to lower yields and historically high government debt levels in a number of countries.- Fitch"
The Week Ahead – Have a Trading Plan
With the focus on employment by Federal Reserve Chairman Powell at the Fed's annual Jackson Hole conference all eyes are on the US employment report for August next week. Globally we have manufacturing and services PMI surveys and Q2 GDP updates for Canada, Brazil, Australia, India, Turkey and Switzerland. Next level will be US jobless claims, housing data, factory orders and construction spending; Eurozone inflation and business morale; Germany retail sales; Japan industrial production and consumer confidence; and Australia and India foreign trade figures. Earnings are also expected from companies including NetEase, Crowdstrike,Chewy, Smith and Wesson, Hewlett Packard Enterprise, Broadcom, Ciena and Hormel. Investors will also be listening for any update on consumer behavior with the spread of the delta variant of Covid
The expectation is that the Fed will announce in September or later in the fall that it will taper back its $120 billion a month bond program, starting at the end of the year or early next year. The tapering is expected to be gradual and continue for 10 months or more. The Fed's own forecasts show its first rate hikes happening in 2023. No new information came from the Fed when officials gathered virtually for their annual symposium in Jackson Hole, Wyoming. But action was not expected to be taken until the September meeting or later.
Central Banker and Geopolitics Watch speeches, reports and rate moves.
Monday: August 30 2021
Tuesday August 31 2021
Wednesday September 1 2021
08:00 German Buba President Weidmann Speaks 12:00 Atlanta Fed President Raphael Bostic
Thursday September 2 2021
13:00 Atlanta Fed President Raphael Bostic
Friday September 3 2021
Improvements in some economic indicators, such as home sales, manufacturing activity and in employment data have bolstered investor confidence and helped extend the rally in stocks. Support in markets comes from the Fed's balance sheet which has ballooned to $7.2 trillion, and the central bank committed to monthly purchases of $80 billion in Treasury securities and $40 billion in mortgage securities.
Economic Events in the Week Ahead:
Sunday, August 29, 2021
19:50 JPY Retail Sales (YoY) (Jul)
21:30 AUD Business inventories (MoM) (Q2)
21:30 AUD Company Gross Operating Profits (QoQ) (Q2)
21:30 AUD Company Profits Pre-Tax (QoQ) (Q2)
Monday, August 22, 2021
All Day Holiday United Kingdom – Bank Holiday
02:00 GBP Nationwide HPI (YoY)
03:00 CHF KOF Leading Indicators (Aug)
03:00 EUR Spanish CPI (MoM)
03:00 EUR Spanish HICP (MoM)
03:00 EUR Spanish Retail Sales (YoY) (Jul)
05:00 EUR Business and Consumer Survey (Aug)
05:00 EUR Business Climate (Aug)
05:00 EUR Consumer Confidence (Aug)
05:00 EUR Consumer Inflation Expectation (Aug)
05:00 EUR Selling Price Expectations (Aug)
05:00 EUR Services Sentiment (Aug)
05:00 EUR Industrial Sentiment (Aug)
05:30 ZAR Gold Production (YoY) (Jun)
05:30 ZAR Mining Production (Jun)
07:00 EUR Spanish Business Confidence
08:00 EUR German CPI (MoM)
08:00 EUR German HICP (MoM)
08:30 CAD Current Account (Q2)
10:00 USD Pending Home Sales (MoM) (Jul)
10:30 USD Dallas Fed Mfg Business Index (Aug)
11:30 USD 3-Month Bill Auction
11:30 USD 6-Month Bill Auction
18:45 NZD Building Consents (MoM) (Jul)
19:00 KRW Industrial Production (MoM) (Jul)
19:00 KRW Retail Sales (MoM)
19:00 KRW Service Sector Output (MoM) (Jul)
19:30 JPY Jobs/applications ratio (Jul)
19:30 JPY Unemployment Rate (Jul)
19:50 JPY Industrial Production (MoM) (Jul)
19:50 JPY Industrial Production forecast 1m ahead (MoM) (Aug)
19:50 JPY Industrial Production forecast 2m ahead (MoM) (Sep)
21:00 AUD MI Inflation Gauge (MoM)
21:00 CNY Chinese Composite PMI (Aug)
21:00 CNY Manufacturing PMI (Aug)
21:00 CNY Non-Manufacturing PMI (Aug)
21:00 NZD ANZ Business Confidence (Aug)
21:00 NZD NBNZ Own Activity (Aug)
21:30 AUD Building Approvals (MoM) (Jul)
21:30 AUD Current Account (Q2)
21:30 AUD Housing Credit (Jul)
21:30 AUD Net Exports Contribution (Q2)
21:30 AUD Private House Approvals (Jul)
21:30 AUD Private Sector Credit (MoM) (Jul)
22:00 SGD Bank Lending (Jul))
Tuesday, August 31, 2021
01:00 JPY Construction Orders (YoY) (Jul)
01:00 JPY Household Confidence (Aug)
01:00 JPY Housing Starts (YoY) (Jul)
02:00 EUR German Import Price Index (MoM) (Jul)
02:35 EUR French HICP (YoY)
02:45 EUR French Consumer Spending (MoM) (Jul)
02:45 EUR French CPI (MoM)
02:45 EUR French GDP (QoQ) (Q2)
02:45 EUR French HICP (MoM)
02:45 EUR French PPI (MoM) (Jul)
03:00 CHF KOF Leading Indicators (Aug)
03:55 EUR German Unemployment Change (Aug)
03:55 EUR German Unemployment Rate (Aug)
04:00 EUR Italian GDP (QoQ) (Q2)
04:00 EUR Spanish Current account (Jun)
04:30 GBP BoE Consumer Credit (Jul)
04:30 GBP Mortgage Approvals (Jul)
05:00 EUR Italian CPI (MoM) (Aug)
05:00 EUR Italian HICP (MoM) (Aug)
05:00 EUR Core CPI (YoY)
06:00 EUR Italian PPI (MoM)
08:30 CAD GDP (MoM) (Jun)
08:55 USD Redbook (YoY)
09:00 USD House Price Index (MoM) (Jun)
09:00 USD S&P/CS HPI Composite – 20 s.a. (MoM) (Jun)
09:45 USD Chicago PMI (Aug)
10:00 USD CB Consumer Confidence (Aug)
10:30 USD Dallas Fed Services Revenues (Aug)
10:30 USD Texas Services Sector Outlook (Aug)
16:30 USD API Weekly Crude Oil Stock
18:30 AUD AIG Manufacturing Index (Aug)
19:00 AUD Manufacturing PMI
19:01 GBP BRC Shop Price Index (YoY)
19:50 JPY Capital Spending (YoY) (Q2)
20:00 KRW Trade Balance (Aug)
20:30 KRW Nikkei Manufacturing PMI (Aug)
20:30 JPY Manufacturing PMI (Aug)
21:30 AUD GDP (QoQ) (Q2)
21:30 AUD GDP Capital Expenditure (Q2)
21:30 AUD GDP Chain Price Index (Q2)
21:45 CNY Caixin Manufacturing PMI (Aug)
Wednesday, September 1, 2021
02:00 GBP Nationwide HPI (MoM) (Aug)
02:00 EUR German Retail Sales (MoM) (Jul)
02:00 EUR French Car Registration (MoM)
02:30 AUD Commodity Prices (YoY)
03:15 EUR Spanish Manufacturing PMI (Aug)
03:30 CHF procure.ch PMI (Aug)
03:45 EUR Italian Manufacturing PMI (Aug)
03:50 EUR French Manufacturing PMI (Aug)
03:55 EUR German Manufacturing PMI (Aug)
04:00 EUR Italian Monthly Unemployment Rate (Jul)
04:00 EUR Manufacturing PMI (Aug)
04:30 GBP Manufacturing PMI (Aug)
05:00 EUR Unemployment Rate (Jul)
07:00 USD MBA 30-Year Mortgage Rate
07:00 USD MBA Delinquency Rates (QoQ)
07:00 USD MBA Mortgage Applications (WoW)
07:00 USD MBA Purchase Index
07:00 USD Mortgage Market Index
07:00 USD Mortgage Refinance Index
08:00 EUR German Buba President Weidmann Speaks
08:15 USD ADP Nonfarm Employment Change (Aug)
09:30 CAD Manufacturing PMI (Aug)
09:30 AUD Home Loans (MoM) 09:45 USD Manufacturing PMI (Aug)
10:00 USD Construction Spending (MoM) (Jul)
10:00 USD ISM Manufacturing PMI (Aug)
10:00 USD ISM Manufacturing Prices (Aug)
10:30 USD Crude Oil Inventories
12:00 USD FOMC Member Bostic Speaks
18:45 NZD Terms of Trade Index (QoQ) (Q2)
19:00 USD Total Vehicle Sales
19:00 KRW CPI (MoM) (Aug) 19:00 KRW GDP (QoQ) (Q2)
19:50 JPY Foreign Bonds Buying
19:50 JPY Foreign Investments in Japanese Stocks
21:30 AUD Trade Balance (Jul)
Thursday, September 2, 2021
02:30 CHF Retail Sales (YoY) (Jul)
02:30 CHF CPI (MoM) (Aug)
03:00 CHF GDP (QoQ) (Q2)
03:00 EUR Spanish Unemployment Change
05:00 EUR PPI (MoM) (Jul)
07:30 USD Challenger Job Cuts (Aug)
08:30 USD Continuing Jobless Claims
08:30 USD Initial Jobless Claims
08:30 USD Jobless Claims 4-Week Avg.
08:30 USD Nonfarm Productivity (QoQ) (Q2)
08:30 USD Trade Balance (Jul)
08:30 USD Unit Labor Costs (QoQ) (Q2)
08:30 CAD Building Permits (MoM) (Jul)
08:30 CAD Trade Balance (Jul)
09:00 SGD Manufacturing PMI (Aug)
10:00 USD Durables Excluding Defense (MoM) (Jul)
10:00 USD Factory Orders (MoM) (Jul)
10:30 USD Natural Gas Storage
11:30 USD 4-Week Bill Auction
11:30 USD 8-Week Bill Auction
18:30 AUD AIG Construction Index (Aug)
19:00 AUD Services PMI
20:30 JPY Services PMI (Aug)
20:30 HKD Manufacturing PMI (Aug)
21:30 AUD Retail Sales (MoM)
21:45 CNY Caixin Services PMI (Aug)
Friday, September 3, 2021
01:00 SGD Retail Sales (MoM) (Jul)
02:45 EUR French Government Budget Balance (Jul)
03:15 EUR Spanish Services PMI (Aug)
03:45 EUR Italian Composite PMI (Aug)
03:45 EUR Italian Services PMI (Aug)
03:50 EUR French Markit Composite PMI (Aug)
03:50 EUR French Services PMI (Aug)
03:55 EUR German Composite PMI (Aug)
03:55 EUR German Services PMI (Aug)
04:00 EUR Markit Composite PMI (Aug)
04:00 EUR Services PMI (Aug)
04:30 GBP Composite PMI (Aug)
04:30 GBP Services PMI (Aug)
05:00 EUR Retail Sales (MoM) (Jul)
08:30 USD Average Hourly Earnings (MoM) (Aug)
08:30 USD Average Weekly Hours (Aug)
08:30 USD Government Payrolls (Aug)
08:30 USD Manufacturing Payrolls (Aug
) 8:30 USD Nonfarm Payrolls (Aug)
08:30 USD Participation Rate (Aug)
08:30 USD Private Nonfarm Payrolls (Aug)
08:30 USD U6 Unemployment Rate (Aug
08:30 USD Unemployment Rate (Aug)
08:30 CAD Labor Productivity (QoQ) (Q2)
09:00 BRL Markit Composite PMI (Aug)
09:00 BRL Markit Services PMI (Aug)
09:45 USD Markit Composite PMI (Aug)
09:45 USD Services PMI (Aug)
10:00 USD ISM Non-Manufacturing PMI (Aug)
10:00 USD ISM Non-Manufacturing Prices (Aug)
13:00 USD U.S. Baker Hughes Oil Rig Count
15:30 USD CFTC speculative net positions
Focus on yourself and what YOU CAN INFLUENCE, set your trading plan and goals in be set for 2020. One suspects it will be a year long Groundhog day for Trump, the GOP and the Democrats.
-comment section below data-
Subscribe and Follow
Find us at www.traderscommunity.com
Follow our contributors on Twitter @traderscom @thepitboss16 @knovawave @ClemsnideClem
Note these charts, opinons news and estimates and times are subject to change and for indication only. Trade and invest at your own risk.
Trade Smart!