Tesla reported record Q3 deliveries Monday. $TSLA rose +19.58 to 794.80 on the news. Tesla has been able circumnavigate the chip shortages that are plaguing the auto industry and appears to be one step ahead compared to OEMs regarding chips
Tesla reported record Q3 deliveries Monday. $TSLA rose +19.58 to 794.80 on the news. Tesla has been able circumnavigate the chip shortages that are plaguing the auto industry and appears to be one step ahead compared to OEMs regarding chips
Tesla is much more than an electric car company these days ….
Tesla announced recorded Q3 deliveries reporting Q3 vehicle deliveries surged by more than 70% yr/yr to 241,300 units. Tesla has been able circumnavigate the chip shortages that are plaguing the auto industry. Just last Friday General Motors $GM announced that its Q3 deliveries plunged by nearly 33%.
Commodity Supply Chain Contracts
Tesla signed a deal with U.S. based lithium miner Piedmont Lithium (PLL) to help secure Tesla's supply of lithium.
BHP Group ( BHP) disclosed an agreement with Tesla July 22 for nickel. "Demand for nickel in batteries is estimated to grow by over 500 per cent over the next decade, in large part to support the world's rising demand for electric vehicles," said BHP Chief Commercial Officer Vandita Pant in the company's news release. "We are delighted to sign this agreement …and to collaborate with them on ways to make the battery supply chain more sustainable through our shared focus on technology and innovation."
Tesla appears to be one step ahead compared to OEMs regarding chips, given that the EV producer designed its own chip to accommodate the needs of its autonomous software. TSLA CEO Elon Musk however has warned of continued challenges in securing microcontrollers and raw materials.
In TSLA's Q2 earnings conference call in late July CEO Elon Musk said that the company was able to substitute the semiconductors that were in short supply with alternative chips and then rewrite the firmware to maintain production. This has turned out to be a very shrewd decision given the global impact of those shortages and supply chain threats. The stock market agreed sending $TSLA higher to $794.80 +19.58 on the day.
China EV automakers appear to be handling the chip shortages better
It is also apparent China based electric vehicle makers aren't being hit as hard from the chip crunch as are other manufacturers.
After only marginally cutting its Q3 delivery guidance in late September, Li Auto $LI reported on Friday deliveries soared by 103% yr/yr to 7,094 units.
Another Chinese car maker XPeng $XPEV posted September delivery growth of 199% for a quarterly record of 25,666 vehicles.
The answer has much to do with location, many of the semiconductors used in auto manufacturing are produced in Malaysia, much closer geographically to China than it is to the U.S. or Europe. With shipping costs verticle logistics are less complicated and cheaper shipping to China.
The Chinese government has made EV production a top priority, with a mandate on automakers calling for 40% of all sales to be EVs by 2030. Tesla's Shanghai factory has seen a successful ramp up of its Model Y SUV providing a boost to its record Q3 deliveries.
TSLA still does have supply chain challenges coupled with an energy crisis gripping China as the country grapples with blackouts and skyrocketing coal and natural gas prices. The Chinese government has implemented strict energy consumption policies, which has forced some factories to halt production. On September 27, Nikkei reported that Eson Precision Engineering, a parts supplier for Apple (AAPL) and TSLA, suspended production at one of its facilities for five days.
Cybertruck Tesla's highly-anticipated Cybertruck launch has been delayed until late 2022, after a late 2021 launch had originally been projected. Volume production isn't anticipated until about a year later, a time in which GM's all-electric Cadillac LYRIQ pickup will also be hitting the market.
Tesla Q2 Earnings Report
Earnings

Tesla Q2 Earnings Adj. EPS $1.45 (est $0.97) Revenue $11.96B (est $11.36B)
Capex $1.51B (est $1.19B)
Sees 50% Average Annual Growth In Deliveries
Have Sufficient Liquidity To Fund Product Roadmap
Noted a $23 million impairment related to bitcoin.
Tesla market share is growing in all markets
Europe to catch up in 2022 with Giga Berlin ramp up
Tesla plans to grow faster than 50% in 2021 planning production start for Giga Berlin & Texas 2021
Average sales price to grow again when Model S and X are in full delivery in Q3 after semiconductor shortage adjustment in Q2 with Model S and X largely stopped production due to equipment retrofit
Records for Tesla Q2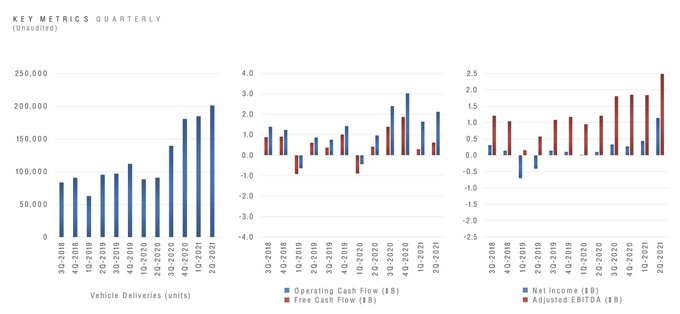 12 months trailing results show the exponentiality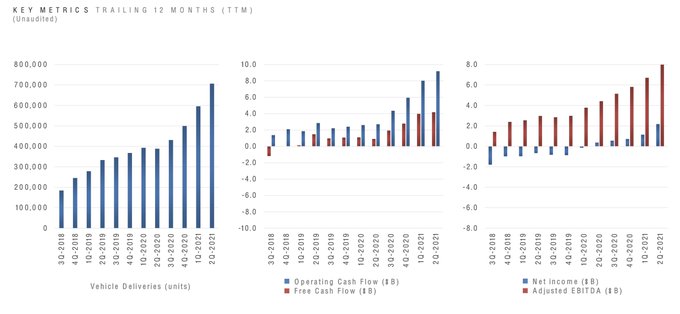 Growth across the globe
About Tesla
Tesla, Inc. designs, develops, manufactures, sells and lease electric vehicles and energy generation and storage systems, and offer services related to its sustainable energy products. The Company's segments include automotive, and energy generation and storage. The automotive segment includes the design, development, manufacturing, sales and leasing of electric vehicles as well as sales of automotive regulatory credits.
The energy generation and storage segment include the design, manufacture, installation, sales and leasing of solar energy systems and energy storage products, services related to its products, and sales of solar energy system incentives. Its automotive products include Model 3, Model Y, Model S and Model X. Model 3 is a four-door sedan. Model Y is a sport utility vehicle (SUV) built on the Model 3 platform. Model S is a four-door sedan. Model X is an SUV. Its energy storage products include Powerwall, Powerpack and Megapack
From The Pit
From The TradersCommunity Research Desk