Russia is set to seal up and mothball both Nord Stream 1 (NS1) and Nord Stream 2 (NS2) pipelines that runs from Russia to Germany sources familiar with the plans have told Reuters. Three of the four pipes (each has two) were ruptured by unexplained blasts in September which have been subject to many different theories of who to blame, one of the Nord Stream 2 pipes remains intact. Russia's invasion of Ukraine had already seen Nord Stream 1 at a standstill before the blast and NS2 never came online. Germany has since dramatically reduced its reliance on Russian gas.
Gazprom has said it is technically possible to repair the ruptured lines, however Reuters have two sources familiar with plans said Moscow saw little prospect of relations with the West improving enough in the foreseeable future for the pipelines to be needed. Another source confirmed stakeholders are considering conservation, that is sealing the ruptured ends and putting a coating into the pipes to prevent further corrosion from seawater.
Europe has drastically cut its energy imports from Russia over the past year, while the state-controlled Gazprom's (GAZP.MM) exports outside the former Soviet Union almost halved in 2022 to reach a post-Soviet low of 100.9 billion cubic metres (bcm). That is down more than 45% from 185.1 bcm in 2021 and includes supplies to China via the Power of Siberia pipeline, through which Gazprom supplied 10.39 bcm last year. Russian gas exports via the Nord Stream 1 pipeline totaled a record-high 59.2 bcm in 2021.
Gazprom said its 2022 gas output is seen at 412.6 bcm, which is down from 514.8 bcm in 2021, when it reached a 13-year high.
Moscow's Energy Ministry referred questions to the pipeline operators, but neither they nor Gazprom replied to requests for comment.
It is also worth remembering prior to the invasion Nord Stream 2 coming online was considered crucial for Europe after gas prices had more than tripled this year with Russia curbing additional deliveries needed to refill its depleted storage sites after a cold winter the prior year.
Since then, prices have come down with storage build, warmer weather, wrecked economy meaning less energy demand.
The scenario when Russia invaded Ukraine was bitterly cold temperatures had sent LNG prices in Asia to a record that January. The big what if is a very cold winter in Asia and Europe would likely see even more spikes in gas prices. Russian leader Putin by his own admission was using energy as a weapon.
Demand switching and destruction across Europe, overall gas demand down more than 15% on 5-yr avg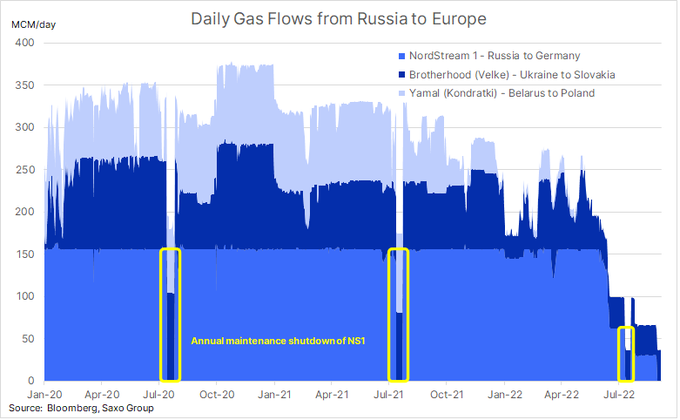 Looking back Europe had competed with Asia for liquefied natural gas (LNG) imports throughout the year. Asia has been taking record loads of liquefied natural gas to meet rising demand there and in China shortfalls from the trade war threats from China over Australia. The US has also been exporting record LNG overseas and natural gas to Mexico.
The fact was also it was unclear when the pipeline might actually enter commercial service as significant regulatory hurdles remained. Compliance with European Union rules requiring ownership of transmission assets and natural gas supplies to be separate. The rule could prove to be complicated for Gazprom's integrated structure.
Source: Gazprom, Reuters
Live From The Pit
From The TradersCommunity News Desk