The EIA releases it's weekly natural gas storage report each Thursday at 10.30 ET, the key data point for natural gas traders outside of weather modelling. This week another build is expected.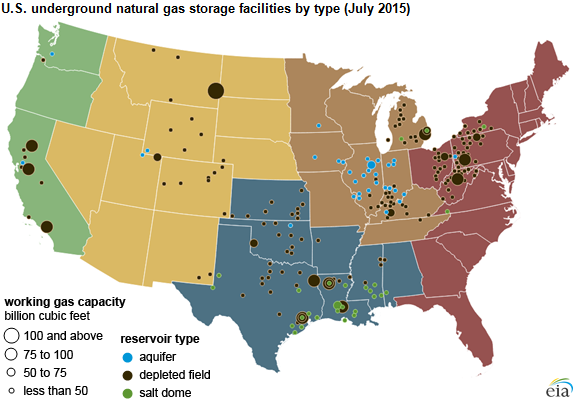 EIA's Weekly Gas Storage Report Report Date: 7/21/17
Release Time: Thursday July 27 2017 10:30 ET
Natural gas futures have spent all week south of $3 in a very tight range. Again the risk is South Central in forecasts. Deliveries to Sabine Pass set another new record with deliveries reaching 2.47 Bcf/d.
Weather wise models continue with volatility. Forecasts look normal for next week but nothing constructive.
Market Expectations
Market Expectations
Actual + 17 Bcf Prior  +28 Bcf
Consensus Forecast  +24 Bcf
Cons. Range: +18 to +36 Bcf
EIA swap: +23 to +24 @ CT 15.13
Last Week's Report +57 Bcf #TCNG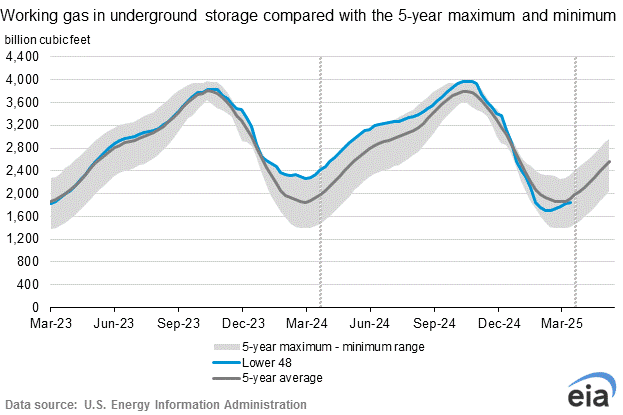 Bentek
Bentek 20-Bcf build for Flow Model, S/D Model at 21 Bcf. Week on week, the south-central region is expected to account for the largest change in storage activity at a forecast net withdrawal of 13 Bcf compared to an EIA-announced 8-Bcf withdrawal the week prior. Elsewhere, the East region is estimated to have injected 3 Bcf less than the previous week's 21 Bcf announced injection as sample activity in the region fell by 1.7 Bcf. In the Midwest, Bentek says that sample injection activity fell by 2.5 Bcf compared to the previous week. 
Analysts Forecasts
Kilduff Report: 36 Bcf
Raymond James: 32 Bcf
Tim Evans, CITI Futures: 30 Bcf
Norse Gas Marketing: 30 Bcf
PointLogic Energy: 28 Bcf
SNL Survey: 27 Bcf
Reuters: 24 Bcf
Bloomberg Energy: 20 Bcf
Bentek Flow Model: 20 Bcf
Wells Fargo: 19 Bcf
Gabe Harris, WoodMac: 19 Bcf
Jared Hunter: 19 Bcf
Criterion +18 Bcf
The Fundamental Edge with Brynne Kelly @BrynneKKelly
Natural Gas Storage Futures weekly EIA storage futures 7/25 (EIA Swap)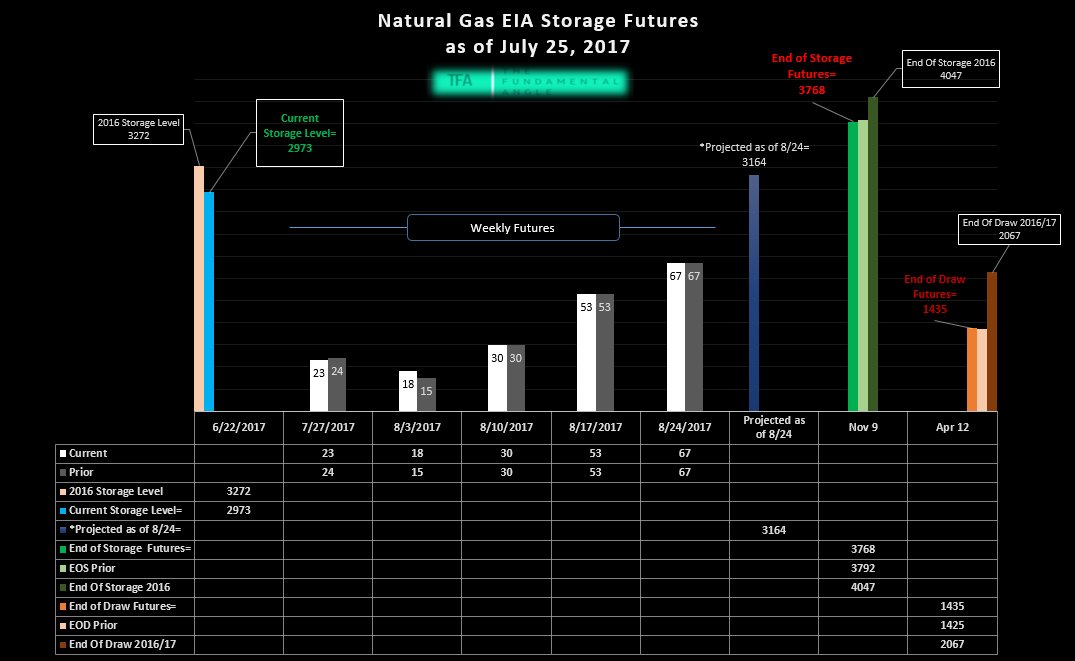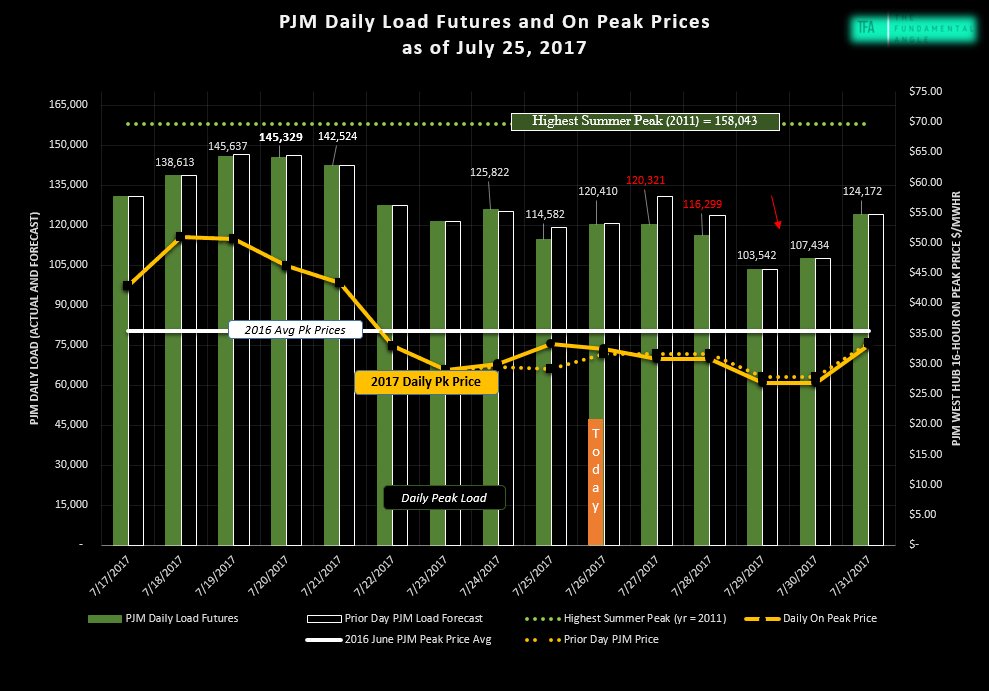 Current Storage Level vs. Last Year & 5-Yr
Current Storage Level: 2,973 Bcf
Storage 2016/Same Week: 3,272 Bcf/Delta -299 Bcf (9.1%)
5Yr Avg/Same Week: 2,832 Bcf/Delta +141 Bcf (5.0%)
Further Energy Analysis http://www.oottnews.com/index.html
From the Traders Community News Desk