Houston based oil refiner Phillips 66 on Friday reported better than expected first quarter earnings. PSX Generated $1.1 billion of operating cash flow and repaid $1.45 billion of debt in April. The refiner announced plan to restart share repurchases and increasing the dividend.
$PSX is diversifed from refining in both its chemical and pipeline sectors.
Phillips 66 Inc. (NYSE: $PSX) Earnings Beat Before Open Friday
$1.32 beat $1.14 EPS and $36.72B Beat $29.79 forecast in revenue

Earnings
Phillips 66 (PSX) reported first quarter earnings of $1.32 per share, beating the Consensus Estimate of $1.14 per share. This compares to loss of $1.16 per share a year ago. These figures are adjusted for non-recurring items. Revenues were $36.72 billion for the quarter surpassing consensus estimates of $29.79 billion. This compares to year-ago revenues of $21.93 billion.
Highlights
First-quarter earnings of $582 million or $1.29 per share; adjusted earnings of $595 million or $1.32 per share
Generated $1.1 billion of operating cash flow; $1.3 billion excluding working capital
Repaid $1.45 billion of debt in April
Announced plan to restart share repurchases
Received industry recognition for exemplary safety performance in Chemicals and Refining
Recently announced CEO transition plan. Mark Lashier will become President and CEO of Phillips 66 effective July 1.
"In the first quarter, we generated strong cash flow in a volatile market environment with seasonally lower margins across our businesses," said Greg Garland, Chairman and CEO of Phillips 66. "While first-quarter results were lower quarter-on-quarter, we saw substantially improved financial results from our operations in March and expect continued strong performance in the second quarter. We believe current market conditions will allow us to increase shareholder returns by restarting share repurchases and increasing the dividend. In April, we repaid $1.45 billion of debt and plan to repay additional debt this year.
Refinery margins hitting fresh highs in April 2022
Note this report from PSX is up until March 31, 2022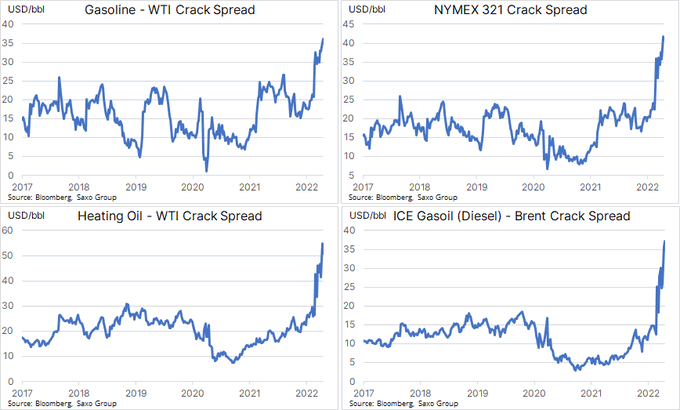 Phillips 66 has an edge over its peers as it is running light sweet crude at two of its three refineries in the Gulf Coast, which is short heavy sour barrels. Refiners in the United States have been struggling to find low-cost heavy crude due to factors including Alberta's output cuts, sanctions on Venezuela and Iran.
About Phillips 66
Phillips 66 (NYSE: PSX) manufactures, transports and markets products that drive the global economy. The diversified energy company's portfolio includes Midstream, Chemicals, Refining, and Marketing and Specialties businesses. Headquartered in Houston, Phillips 66 has employees around the globe who are committed to safely and reliably providing energy and improving lives while pursuing a lower-carbon future. For more information, visit phillips66.com or follow @Phillips66Co on LinkedIn or Twitter.
Source: Phillips 66, Alpha Street
Live From The Pit