Solaris Oilfield Infrastructure $SOI reported its first earnings after its IPO debut in May 2017 with Q2 revenue above expectations. The company sells fracking proppant systems.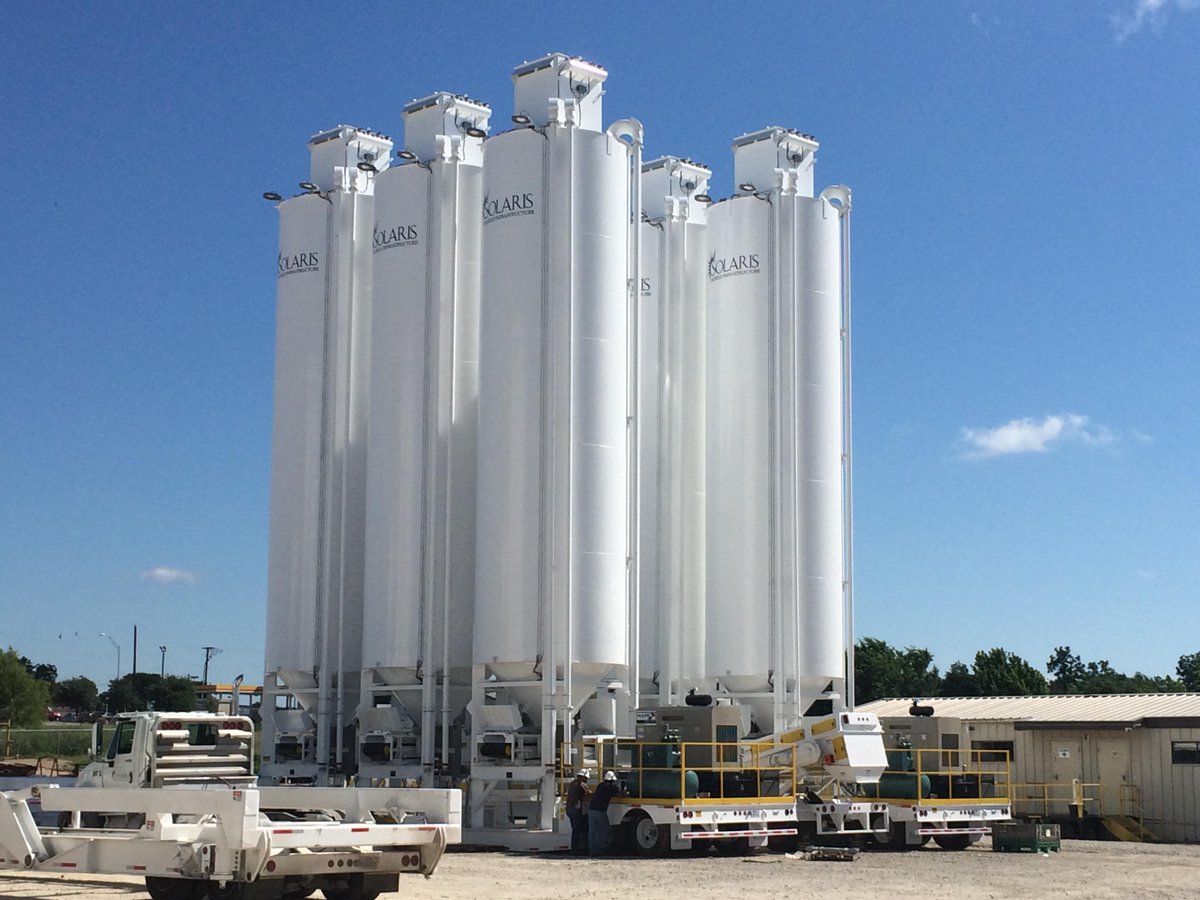 Solaris Oilfield Infrastructure $SOI reported its first earnings after its IPO debut in May 2017 with Q2 revenue above expectations. The company sells and makes mobile proppant management systems that unload, store and deliver proppant at oil & gas well sites. The company also raised guidance.
Customers include oil & gas exploration companies EOG Resources, Devon Energy and Apache operating in the Permian Basin, the Eagle Ford Shale and the SCOOP/STACK formation. Oilfield service customers include ProPetro Services. Their
Earnings: GAAP EPS of $0.01, including one-time items. Revenue rose 350% YoY to $13.4 mln beating market expectations.
Reaction: Solaris Oilfield Infrastructure NYSE SOI Open 12.36 +0.53 +4.48%. Its IPO priced at $12, which was below its expected range of $15-18.
Guidance
Since beginning operations in April 2014 $SOI has grown its fleet from two systems to 49 systems and expects to end 2017 with 68-72 systems, raised from 60-64 in August 2017). Solaris current 49 systems in its rental fleet are all deployed with customers. Over 90% of its systems are deployed to customers with multiple systems.
SOI expects to deliver 14 systems to the rental fleet in Q3, for a total of 58 systems in place by the end of September. On August 2, Solaris had upped its year-end guidance to 68-72 systems from 60-64 and the company is reiterating that guidance today.
SOI says it's working hard to meet market demand for next generation proppant handling systems. SOI is building a new high-capacity transload facility in Kingfisher, Oklahoma. It will be located central to the STACK/SCOOP plays and will be the first independent, unit-train capable, high speed transload facility in Oklahoma. The Kingfisher Facility will help operators and service companies reduce logistics costs by virtue of its high-volume capacity and proximity to well sites.
About Solaris
Frac sand (proppant) is used by drillers to help extract oil & gas from the well. Frac sand is mixed with high volumes of water and chemicals and forced into the shale, where it holds open fissures allowing the oil or gas to be extracted.
Its mobile proppant system is designed to address the challenges associated with transferring large quantities of proppant to the well site. Today's horizontal well completion designs require between 400 and 1,000 truckloads of proppant delivered to the well site per well which creates bottlenecks in the storage, handling and delivery of proppant.
SOI's system allows up to 24 frac sand trucks to simultaneously unload proppant into six silos. Greater unloading capacity means customers never have to shut down operations to wait on sand. Increased storage capacity enables customers to pump more proppant per stage and complete approximately 50% more frac stages per day. SOI' system was designed to be highly mobile and easy to rig up and down on site. Silos are erected and lowered using patented transport trailers. The standard system includes six sand silos, two base units and a central conveyor.
From Their Site:
Our patented oilfield technologies include the Solaris Mobile Sand Silo System, which we designed to lower completion times and costs by increasing proppant storage capacity and decreasing truck demurrage on well sites. The Mobile Sand Silo System also reflects our commitment to safety and responsible citizenship. We tailor all of our products and services to improve safety during operations. Our sand storage systems feature a closed-loop delivery system, which significantly reduces the presence of free-floating silica dust at well sites and transload facilities, improving air quality during operations.
We manufacture all Solaris equipment at our 100,000 square foot manufacturing facility in Early, Texas. The Solaris team is focused on providing high quality and reliable infrastructure for our customers with the goal of delivering innovative solutions to the oilfield. We operate our Mobile Sand Silo Systems across all major U.S. shale plays, including the Marcellus, Haynesville, Permian, Eagle Ford, Utica, Eaglebine, Rockies and Delaware basins.
"We have increased our total system revenue days, defined as the combined number of days our systems earned revenues, in nine of the last ten quarters, and we have increased our system revenue days by more than 1,200% from the second quarter of 2014 to the fourth quarter of 2016, representing a 172% compound annual growth rate. The increase in total system revenue days is attributable to both an increase in the number of systems available for rental and an increase in the rate at which our systems are utilized. From the S-1 Filing"
Source: TradersCommunity, Solaris
Live From The Pit