The technology heavy Nasdaq Composite crashed to its worst monthly performance in more than a decade Friday. April was historically the best month for stocks from a seasonality perspective, the ongoing market volatility and headwinds put paid to that. Trillions of dollars in market value have been wiped off. The Nasdaq fell 4.2% Friday, its losses for the month over 13%, its worst effort since October 2008. The index is down 21% in 2022, its worst start to a year on record and is now down 23% from its high and trading at levels not seen since 2020.
With inflation soaring as commodity prices hitting 40-year highs the yield on the benchmark 10-year Treasury note rose to 2.885% to end April, notching its biggest monthly gain since December 2009. These higher yields have hurt tech and growth stocks, making shares of firms whose profits may lie further out in time less attractive.
They realization of risk and overvalued stocks took a while as the market has lived in denial but the Federal Reserve raising interest rates, soaring inflation and the slovenly economy has brought stocks sharply lower from the record levels they started the year. The latest gross domestic product data showed that the economy recently contracted for the first time since early in the pandemic. The most recent earnings season has been dotted with some high-profile casualties, delivering head-spinning one-day crashes following the reports.
April was brutal for many tech heavies, Netflix dropped 49%, last week, Netflix shares tumbled more than 30% after the earnings report showed the company lost subscribers. Nvidia fell 32%, PayPal Holdings declined 24%.
When Risk Explodes:
Nasdaq 100 Worse Performing Future in April, VIX The Best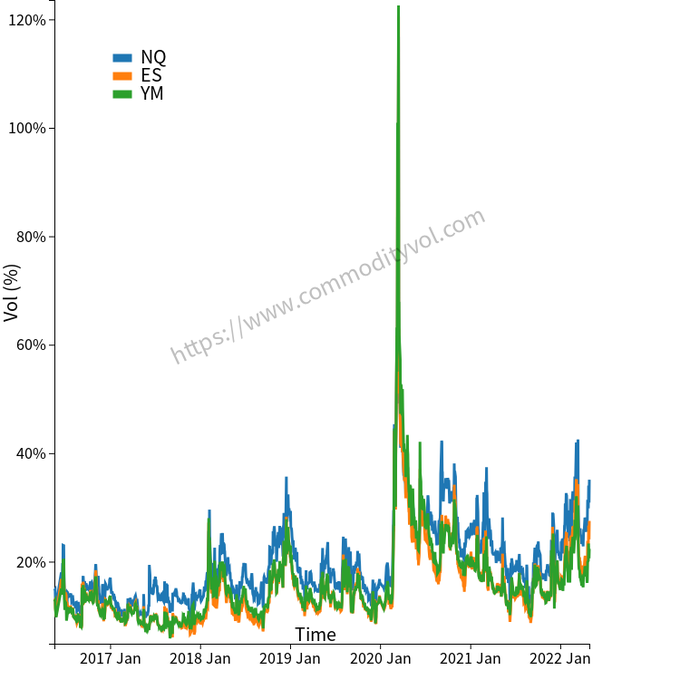 Amazon shares fell 14% on Friday after $AMZN posted first quarterly loss in seven years. The move was the stock's biggest one-day fall since 2006, bringing their losses for the year to 26%.
Apple shares fell 3.7% Friday and have dropped 11% for the year. In their earnings wrap they cautioned Thursday that the resurgence of Covid-19 in China threatens to hinder sales by as much as $8 billion in the current quarter.
The Tech Wreck Has Been Travelling Down Fast
Twitter shares jumped 27% in April to lead the S&P 500, after Tesla Chief Executive Elon Musk took a stake in the social-media company and then reached a deal to buy it. Tesla shares lost 19% in the process.
The FAANG stocks, consisting of the popular quintet of Facebook parent Meta Platforms, Apple, Amazon.com, Netflix and Google parent Alphabet, have lost over $1 trillion combined in market value this month, the most since Facebook started trading in May 2012.
From The Traders Community Research Desk