Mexican business confidence improved to its best level in seven months in October. Confidence grew as the peso improved, easing of coronavirus lockdown restrictions and ahead of the US Presidential elections, Mexico's largest trading partner.
Seasonally adjusted manufacturing confidence index in Mexico rose to 41.5 in October of 2020 from an upwardly revised 40.7 in September. It was the highest reading in seven months.
Data Breakdown
Sentiment improved regarding the country's situation to 32.6 vs 32.3 in September
Company's situation (43.1 vs 41.4);
Company investment (25.1 vs 23.8).
Expectations over Mexicos future economic situation (50.3 vs 50.1);
Company's future situation (57.5 vs 56.7) strengthened.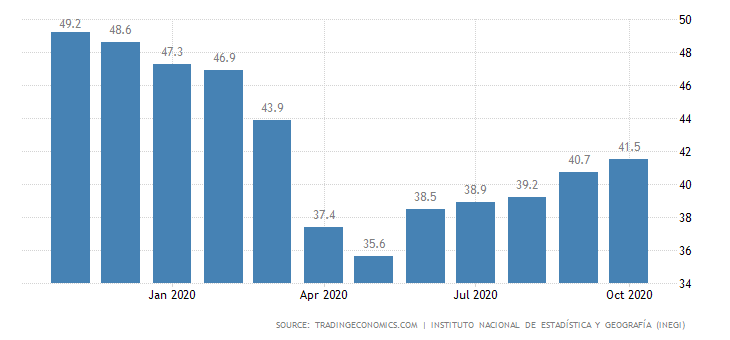 The Peso has steadily improved since falling over 25 in May to 21 in November against the US Dollar
Source: Instituto Nacional de Estadística y Geografía (INEGI)
From The TradersCommunity Research Desk