Social media beast Metal Platforms (nee. Facebook) reported dismal fourth quarter earnings after the close Wednesday. $FB missed EPS estimates and issued downside 1Q22 revenue. It wasn't lost on the market the negative divergence versus that of GOOG and raised a red flag for Twitter (TWTR) Snap (SNAP) and Pinterest (PINS). The uncertainty from Apple IOS changes are still weighing heavily on FB's advertising. Full functionality of the metaverse may be years away, if ever. It is essential for FB to turn its advertising business around.
Meta Platforms (NASDAQ: $FB) Reported Earnings After Close Wednesday
$3.67 Missed $3.85 EPS AND $33.67 Bil Matched $33.67 billion Revenue Forecast
Earnings release: after market; conference call: 5 p.m.
Meta Platforms fourth-quarter net profit decreased to $10.3 billion or $3.67 per share from $11.2 billion or $3.88 per share in the same quarter of 2020. The earnings per share missed the consensus estimate of $3.85. Revenue of $33.67 billion rose 20% year-over-year and matched Street views. Most of the growth coming from the core advertising segment.
The top-line benefited from a 5% increase in daily active users. At the end of the quarter, the company had 2.91 billion monthly active users.
The company now reports results in two business units: Family of Apps, including Facebook, Instagram, Messenger and WhatsApp; and Facebook Reality Labs.
Meta Platforms Inc Common Stock NASDAQ: $FB
Market Reaction > $243.78 -24.53% -$79.22
Shares of Meta Platforms Inc. fell over 25% Thursday in what may be the biggest drop in market history Bloomberg reported. The fall erased more than $200 billion from Meta's market cap after it opened trading on Thursday. That tops a $195 billion drop suffered by Apple Inc. (AAPL) in September 2020 and a $178 billion drop by Microsoft Corp. (MSFT) in March 2020.
Social Media Knock on Affect
Social media stocks were particularly hard-hit following Meta's big earnings miss: Shares of Snap, formerly known as Snapchat, plunged 20%, while image sharing platform Pinterest lost over 8% and social media platform Twitter fell 7%.
Shares of other Big Tech companies moved lower as well, including Amazon (down 5%), Apple (down 1%) and Microsoft (down nearly 2%).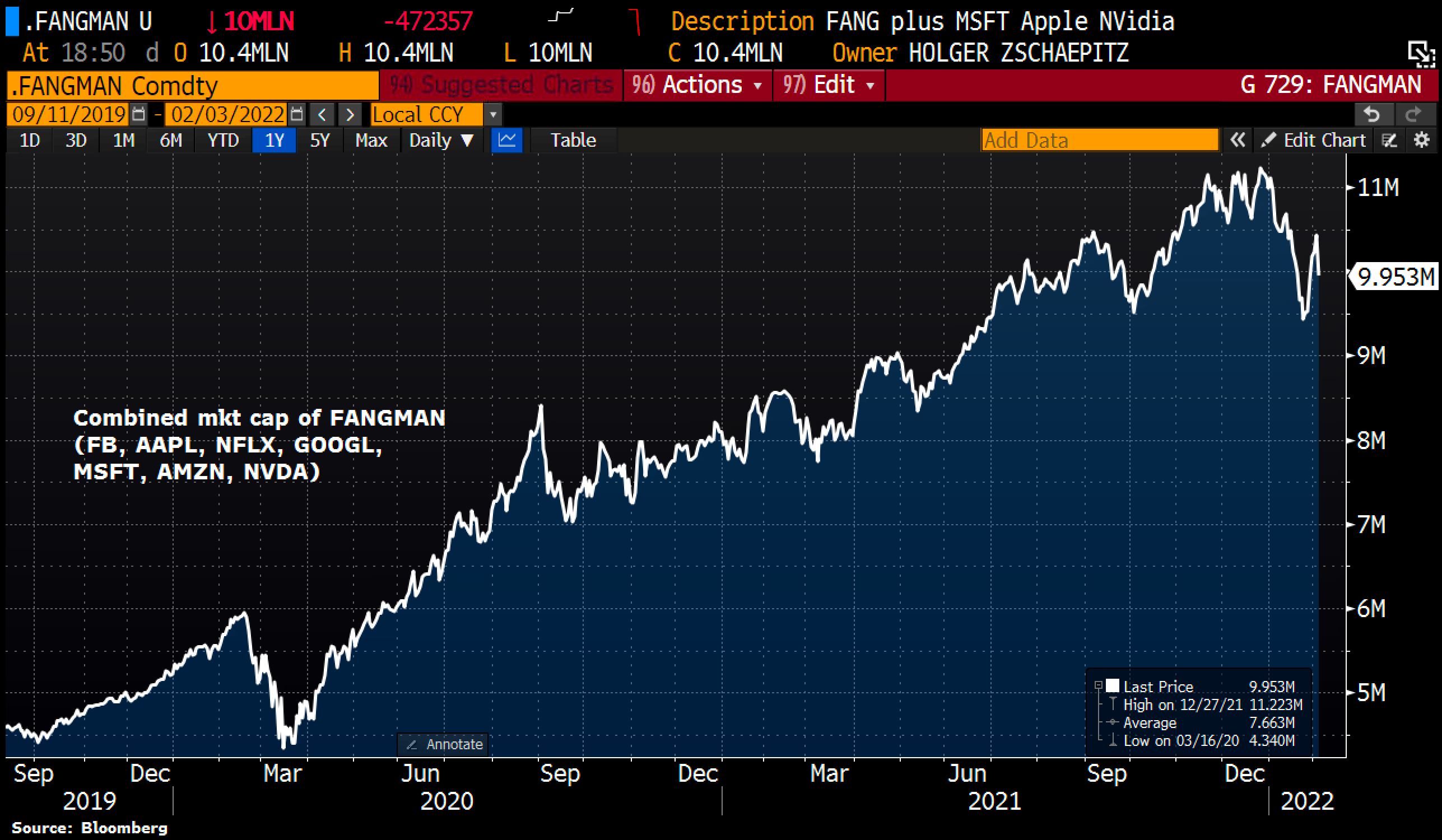 Combined mkt cap of FANGMAN dropped under $10tn after a $2bn miss at $FB wiped out its stock market value by $200bn.
The average number of people using one of the company's apps, among them Facebook, Instagram, WhatsApp and Messenger gained 8% from the year-ago frame to 2.82 billion. Facebook's daily active user base on its own averaged 1.93 billion in December 2021, an increase of 5%.
Family daily active people (DAP) – DAP was 2.82 billion on average for December 2021, an increase of 8% year-over-year.
Family monthly active people (MAP) – MAP was 3.59 billion as of December 31, 2021, an increase of 9% year-over-year.
Facebook daily active users (DAUs) – DAUs were 1.93 billion on average for December 2021, an increase of 5% year-over-year.
Facebook monthly active users (MAUs) – MAUs were 2.91 billion as of December 31, 2021, an increase of 4% year-over-year.
Ad impressions and price per ad – In the fourth quarter of 2021, ad impressions delivered across our Family of Apps increased by 13% year-over-year and the average price per ad increased by 6% year-over-year. For the full year 2021, ad impressions increased by 10% year-over-year and the average price per ad increased by 24% year-over-year.
Capital expenditures – Capital expenditures, including principal payments on finance leases, were $5.54 billion and $19.24 billion for the fourth quarter and full year 2021, respectively.
Share repurchases – We repurchased $19.18 billion and $44.81 billion of our Class A common stock in the fourth quarter and full year 2021, respectively. As of December 31, 2021, we had $38.79 billion available and authorized for repurchases.
Cash and cash equivalents and marketable securities – Cash and cash equivalents and marketable securities were $48.0 billion as of December 31, 2021.
Headcount – Headcount was 71,970 as of December 31, 2021, an increase of 23% year-over-year.
Facebook announced new efforts to invest in areas outside of its core advertising business, including augmented and virtual reality.
Buybacks
Facebook spent $14.37B on stock buybacks during the quarter.
With just $8B left on its buyback authorization at the end of Q3, the company says it has added another $50B to the authorization.
Apple IOS Concerns
Meta again highlighted privacy-related changes from Apple which the company implied may not be impacting all digital-ad players equally. The changes require that apps obtain users' permission before tracking their activity across apps and sites, Apple doesn't require such prompts for its Safari browser, on which Alphabet Inc.'s Google pays to be the default search engine.
"What that means is that search ads could have access to far more third-party data for measurement and optimization purposes than app-based ad platforms like ours," Chief Financial Officer David Wehner said on the earnings call.
A main concern again among investors came to fruition was that Apple's (AAPL) privacy changes would negatively alter FB's outlook. Since the iOS 14.5 update allows users to block apps like FB from tracking user activity, creating a major hurdle for companies that rely on targeted ads to drive revenue.
FB estimates that its reduced ability to provide targeted advertising will cost it $10 bln in revenue this year. Compare this to GOOG's upside report who specifically noted that strength in both brand and direct response advertising fueled YouTube's 25% growth. GOOG is taking market share away from social media companies. Unlike FB, TWTR and SNAP, the company doesn't rely upon third parties to accumulate tracking data since it stores a massive amount of user data in its own data centers.
Outlook
Meta guidance for the current first quarter was softer than what Wall Street expected. Revenue will reach $27 billion to $29 billion, significantly short of analysts' prediction for $30.15 billion.
Starting this quarter, Facebook began breaking out its VR/AR unit called Facebook Reality Labs (FRL) separately. The company said that investments in Facebook Reality Labs will reduce its overall operating profit by roughly $10 billion in 2021.
Revenue and operating profit for the company's family of apps, including Facebook, Instagram, Messenger, WhatsApp and other services, will be reported separately from FRL, which includes AR and VR-reality related hardware, software and content.
Investments outside of advertising are proving critical to Facebook's long-term growth.
Reports suggest that the tech giant is grappling with ways to retain younger users, which are a critical advertising demographic.
FB is facing intensifying competition, particularly from TikTok. We can see this in FB's metrics, Facebook monthly average users (MAUs) were flat on a sequential basis at 2.91 bln.
FB's answer to TikTok's highly popular short-form video platform is Reels, but the company is still working on monetizing that product. Explaining the revenue shortfall, the company cited an ongoing share-shift to short-form video platform Reels, which generates less revenue than platforms like Feed or Stories but is strategically important as an answer to TikTok.
The Reality Labs segment brought in $877 million during the quarter, up from $717 million in the year-ago period. It was the first specific breakout of the company's emerging business, which it hopes will become the new centerpiece of the company as the decade unfolds.
On the expense side, Meta said it was earmarking $10 billion for investment in metaverse projects. In the earnings report, the company said infrastructure capacity may need to be improved for the Reality Labs segment, though at present it does not see the need for more capacity as a "significant driver" of expenses in 2022.
Analyst Comments
Barclay's analyst Ross Sandler.
Rates Meta's stock at overweight but cut his price target to $335 from $420.
"It's not a major surprise that core blue is maturing and TikTok is gaining traction among the younger demographic – but following what was one of the roughest Meta conference calls in years, we think investors may start to question whether team Zuckerberg can salvage any growth out of FB, or whether the asset that represents ~2/3rds of revenue is in secular decline mode," Barclays analyst Ross Sandler wrote.
BMO Capital Markets analyst Daniel Salmon
Downgraded Meta's stock to market perform from outperform following the report while lowering his price target to $290 from $425.
Apple's ownership of its platform and partnership with Google are "definitely true, but 'saying the quiet part out loud' likely also piles onto to investors' competitive anxieties near-term," Salmon wrote.
"The silver lining: Meta put a lot onto the public record tonight that pushes back against the antitrust narrative, with comments on TikTok directly addressing the FTC's argument that FB has a dominant position in social networking," he said in his note to clients.
J.P. Morgan's Doug Anmuth
"Through 4Q, we were optimistic that FB was making tangible progress in recovering lost signal stemming from the iOS ad changes," Anmuth wrote. "However, we believe management's tone around iOS impact has deteriorated, and what was once described as 'manageable' now appears to be a $10B revenue headwind in 2022."
Anmuth noted that Meta faced a similar dynamic years back as "stories" gained popularity.
"But that took at least a few quarters to work through, & FB was also growing faster then w/lower overall penetration," he wrote. "Beyond 1Q, we expect growth to decelerate further in 2Q against tougher comps, before re-accelerating in 2H22."
Elsewhere, many bullish analysts were willing to keep the faith following the report.
Wells Fargo analyst Steven Cahall
Price target cut to $350 from $415 but kept an overweight rating on Meta shares.
"While we anticipate a multi-quarter path to recovery amid what we view as one of the more challenging operating environments FB has encountered since its IPO, we view FB's challenges as ultimately surmountable—tactical mitigations, social commerce, regulatory intervention, and the Metaverse should blunt upstream platform risk," wrote Wells Fargo analyst Steven Cahall.
Bernstein's Mark Shmulik
He has an outperform rating on the stock but reduced his price target to $350 from $400.
Highlighted that Meta was set to lose $200 billion in value on a $2 billion guidance first-quarter revenue guidance miss at the midpoint.
"Whether you like the company or not, Meta built a reputation of continuous execution and was expected to follow the strong prints of Apple, Microsoft and Google," he noted, but the company instead delivered an outlook that "feels like a hangover from the digital ad party of the past 18 months."
Shmulik still saw value in Meta shares.
"We get that the story may be too hard for investors to get behind given the lack of buying at these depressed prices, and fixes/answers to these questions take time," he wrote. "But we continue to believe in the company, and the value investor in us can't help but look at this price and believe that the risk/reward remains one-sided and we would be buying the stock here."
About Meta
Meta builds technologies that help people connect, find communities, and grow businesses. When Facebook launched in 2004, it changed the way people connect. Apps like Messenger, Instagram and WhatsApp further empowered billions around the world. Now, Meta is moving beyond 2D screens toward immersive experiences like augmented and virtual reality to help build the next evolution in social technology.
The company formally changed its name from Facebook to Meta late 2021, signaling a strategic shift from social media to the metaverse. The change also provided a welcome distraction from intensifying government scrutiny and customer backlash in the wake of whistleblower revelations. In the quarterly report, the company its ticker symbol on the Nasdaq will change to "META" from "FB" at some point during the first half of 2022. The FB symbol has been in use since the company's initial public offering in 2012.
Source: Traderscommunity, Metaverse
From The Traders Community News Desk