Join us in our weekly market thread.
Where have we been and where are we going? Join our weekly market thread on Traders Community…
FEAR NOT Brave Investors

Strange times But remember The Joker once served as the Iranian ambassador for the United Nations.
Fed – China – Riots

The Week That Was:
The week saw equity indexes finish higher with the S&P 500 ending the week at 3,193, a gain of 4.9% and above the move watched 200 dma. The Dow closed Friday at 27,110, up 6.8% for the week, and the Nasdaq Composite was up 3.4%, at 9,814 after reaching an intraday record high of 9,845 Friday.
The last push was after a surprise gain in jobs after another expected large job loss. Many professionals have been caught badly short and wrong on thois move totally understimating the sheer weight of money. Couple that with stay at home self directed traders who they mocked at their own peril also the large sports betting market we summise is now betting on stocks. Hence the massive rise of airlines, Hertz beyond rational.
The arrogance of analysts, commentators and so called professionals mocking what they call "Robin Hood Traders" reminds us the market is always right, adapt to the market and leave your ego at the door. The same goes with people putting political bias into their investment desisions and commenary. Be rational, forget the hate, the mocking and blind partisan (the key word is blind).

We have had the impeachment, the Covid lockdown and now the protests evolving into riots that broke out in cities across the U.S. after the death of George Floyd in Minneapolis. It is extroardianry for a traditional market analysis that the market is at these lofty levels, but as I mentioned above these times are different with all that liquidity. It's not about being right or wrong to sate your boas or ego.

What we are watching closely is the big change Treasury yields. The 10-year rose to a high of 0.95% Friday, a quarter-point move in just three sessions. The move accelerated Wednesday when ADP jobs data was not nearly as bad as expected. Yields ripped even higher after the May employment report. Bond strategists said the Treasury market was now acknowledging the potential for a recovery, but not in the all in way the stock market has been Since March 23, the S&P 500 has risen more than 45%, but it took the 10-year Treasury until this week to get back the yield level it was at when stocks bottomed.Again much to do witht the flood of liquidity.

President Donald Trump on Friday said he backs more stimulus. So far, the Democrats have put out a wish list for further spending, but there have been no negotiations and the violent devide between Democratic controlled cities such as New York which lurched into lawlessnewss that tsaw the Democrat Governor and Mayor foring barbs back and forth highlights how divided America is with many pondering why has the race issue not been fixed before? Watch this space.

However brewing unrest continues in the nation sparked by a white policeman's murder of a black man, George Floyd. The initial official inertia ignited simmering race tensions. The kindling was there in a country that has been in lockdown, many without jobs and a sharply divided nation, along partisan lines, income lines and racial lines in many areas. Despite the policeman charged with murder the protests have morphed into an organized violent uprising ion some areas. The coming week will be telling for calm, martial law or further distruction. – From LAst Week

The focus for traders remains the S&P 500 200 day moving average which we flirted with clsoed above this week for the second week. As the below chart shows it is a key pivot point.
Oil had another big week and continued to recover with production cuts and hopes of demand creeping back. Another factor is Baker Hughes reported U.S. oil and natural gas rigs operating fell to an all-time low for a fourth consecutive week.OPEC cuts are on the menu Sunday.

Expect the Fed Stability Report warning on what happens if the pandemic worsens to be the got to by Fed speakers (We are all watching to see if I spike aftet the Floyd protests and riots with no social distancing).
Gold came off its nine year highs and silver off it's a sharp rally, signalling risk is real but risk on in stocks is in play. Geopolitically it is heating up between China and other nations not willing to sit back. China has openenly threatened Australia for having dared to ask about the beginnings of Covid-19, reamped up it's Taiwan rhetoric and continues to throw dispararing remarks at the US.
The backdrop of the Covid-19 crisis. Despite that the stockmarket is up over 40% from lows and stubborn bears and bulls alike are frustrated based on cognitive biases. We continually focus on overcoming our biases and as the accompnaying chart highlights stocks and the economy are NOT the same thing despite what we are told by our influencers and biased or selective recalls.
Fed Warnings on Possible Medium To Long Term Risks
In todays sound bite, partisan world achieving full self-awareness has many roadblocks. Constantly we are faced by new biases from everything from the economy, geopolitics and the pandemic. We are trading in a fluid, constantly evolving world. Understand and admit you have biases is step one, with that be aware of mental obstacles that can be triggered. Remember we can't fix what we don't know. We aren't all doctors when it comes to cures, sources and pandemics for one. We know we are living in a brutally divided political world and the upcoming presidential election will trigger biases. For your investing (and mental health) maintaining an open mindset, diversify your influener and media sources so you can not get caught with bias inertia or blindness.
Despite Bankruptcy filings picking up, we have J.C. Penney (NYSE:JCP) and Hertz Global (NYSE:HTZ) on death watch and all the uncertainty that persists regarding the coronavirus, optimism is growing that the virus may be peaking in major global hot spots. Have the Fed and Government delivered enough stimulus to provide a safety-net for corporate America?
The reality is we are experiencing unprecedented levels of unemployment claims. The US Labor Department reported the jobless claims of over 40 million in just eight weeks as the Coronavirus hits the economy. This sends the unemployment rate soaring to near 15%.
With a Fed meeting ahead and after the Fed left rates unchanged as expected last time Fed Chairman Jerome Powell and other Fed Governors are out continuing on low rates and QE forever for struggling businesses and governments to take the edge off the economic damage. The Fed QE infinity programme is a yield curve control policy with long government bond yields coming down. Bond supply and continued central bank resistance to more negative policy rates limits the move.
Central banks have been cutting rates and adding liquidity to avoid systematic failure. Where to from here? The world isolates with added financial, fear and psychological damage escalating. Investors will continue to monitor updates related to COVID-19 in the face of depression. The protests among the virus and unexpected consequences keep "fat tail risk", in both directions alive.
Historically bear market rallies are fast and furious, and we are at the beginning of an economic recession (depression). In 2008 we had a 20% and 25% bounce in the S&P 500 during the total 57% top to bottom price fall. For the virus we have the great unknown with medical expertise not at a consensus how the virus destruction and recovery will play out.
Will virus cases level off in late spring and vanish so things can get back to some sort of normality by late summer? Or will there be a second wave of cases during the autumn/winter, forcing new lockdowns or leading to fear and voluntary social distancing (a W-recession scenario). For how long are you immune after having had the virus, a long time or a couple of months? Will there be a vaccine and when?
Our best advice is stay rational and be prepared for many alternatives, either way. With crisis comes opportunity. From a market point of view this is not unprecedented, many other bubbles have popped with similar results. What is unprecedented is the pandemic, the mass media and social media fear mongering, the massive QE and printing and the strange era of entitlement and no responsibilty fed down from politicians to the youth of today for electoral purproses. Put all that together and we see the result. Again this isn't unprecendented just a different catalyst and fuel. Stay tuned. take a breath and think clearly. Oh and now we have the riots to throw on the kindling ….

I Wonder To Myself
This maybe one of the wizard's greatest moments of redirection. "The same extreme bulls are now extreme bears, what did we tell you about the madness of crowds?"

Remember. nothing is as it seems.
Stay alert to the political and geopolitical shifts with the world in flux. Government policies related to the environment, trade and tech sit high on the watch list. Political and economic agendas that Influence policy-making is top of the list. For the US it is not just external threats, including increased political tensions between countries but also internal threats highlighted by the partisan impeachment devide.
Politics influence all, directly or indirectly. The virus and psychological affect on domestic and trade relationships have the potential to impact growth strategies with unexpected consequences with this markets are also vulnerable. In a fully fledged stock mania, nothing matters until it does. That is the feral nature of greed. Is Coronavirus that dreaded black swan?

Behind it all is world wide low interest rates and QE pump priming by the world's major central banks, the Federal Reserve, Swiss National Bank and ECB all preached more of the same. This has just been ramped up a notch.

Meanwhile tje Fed is committed to about 50 Billion a day in repo, funds into the system to maintain liquidity, in its not QE4 repo program.The consumer has been keeping the economy robust. How will they act to alleviate the panic of the market drop, this is essential given the security of the repos they have out.

The fear of missing out and blind partisan politics creates intertesting bed fellows. Be alert and put your ear plugs in and watch the whole spectrum its all related, geopolitical, debt markets, commodities, stocks, herds, greed and entitlement,
The spectre of Deutschbank overhangs Europe as does the new British PM, Boris Johnson, who was released from ICU after catching the Coronavirus himself. Their are other spectres out their we just don't know it, or want to.
"Negative yields on long-dated government securities are more reflective of distorted market conditions than of stronger sovereign credit profiles, Fitch Ratings says. Lower interest service costs support sovereign creditworthiness, but this must be weighed against the impact of the economic conditions leading to lower yields and historically high government debt levels in a number of countries.- Fitch"
We remind you to stay on your toes, ad nauseum we repeat; In this surreal world that market prices can only go up, with bizzare acceptance that we can't go down and you are a fool if you think otherwise. In saying that the old saying, the trend is your friend rings true.

The Week Ahead
This week will be highlighted by protests, riots, hearings and political maneauvering thereto, what happned to Covid you may ask? The Fed's two-day meeting is the big event for markets. There are a few economic reports, including inflation data with both the consumer price index Wednesday and producer prices Thursday. Again Weekly jobless claims will be important Thursday to see if there's a drop in continuing clams, after May's employment report showed a surprising record gain of 2.5 million jobs.
Geopolitically the US-Sino rhetoric is heating up and spilling over into Hong Kong and beyond. We expect continued volatility with the engulfing uncertainty of the Coronavirus and in commodity markets, particularly in oil and other commodities, not to mention unrest in Iran, Libya and Iraq.
We have major civil unrest in the US with mass protests and riots over the Geoerge Ford murder. Geopolitical risk is on high alert with President Trump under pressure at home and abroad.
Will the markets remain fixated on the COVID-19 news such as the infections count update, vacinations and the like?
Watch for how much the data indicates further economic destruction after the surge in initial claims already means substantially higher unemployment.
There is some important data in the week ahead,

Monday
China foreign trade,Germany Industrial Production US Quarterly Financial Report (Census Bureau)

Tuesday
EU French and German foreign trade data, US FOMC two-day meeting begins NFIB small business survey, JOLTS report, Wholesale trade, API Oil Inventories

Wednesday:
China CPI, US Mortgage Applications, CPI, EIA Crude Oil Invemtories Federal budget FOMC statement Fed Chairman Jerome Powell briefing

Thursday Weekly jobless claims, PPI, EIA Natural Gas Storage

Friday Import prices Consumer sentiment, Baker Hughes Oil Rig Count, Consumer credit and CFTC Speculative net positions

For emerging markets the high US dollar means the Fragile 5 continue to shake. Argentina and Turkey are red letter risks. Voters will also be going to the polls in Poland, Indonesia, the Philippines and Thailand this year.
Over $4 trillion of EM debt matures by the end of 2020, of which around a third is denominated in foreign currency, according to the Institute of International Finance. Nevertheless Banks are telling investors to buy, buy, buy, who is selling you should ask?
If you wanted to play in the big room at Vegas, you are living it. Understand risk and the madness of crowds for your own sanity and wealth.
Focus on yourself and what YOU CAN INFLUENCE, set your trading plan and goals in be set for 2019. One suspects it will be a year long Groundhog day for Trump, the GOP and the Democrats. We still have trade wars.

Earnings
Analysts expect overall S&P 500 profits to drop by 12.8%, according to IBES data from Refinitiv, a far steeper decline than the 4.7% drop projected as of April 1. Given that is a known investors (and algos) will focus pn the conference calls and outlooks. Everyone is expecting the worse. We will see critical updates on production in coronavirus impacted regions and if there is extended halting of operations weighing on multi-nationals.
Last week we heard from Campbell Soup CPB CrowdStrike CRWD Zoom Video ZM, Broadcom Inc AVGO, Gap Inc GPS, J M Smucker Co SJM, DocuSign DOCO MongoDB MDB Slack WORK Okta OKTA Zuora ZUO

We start off on Monday with earnings from: Stitch Fix (SFIX)

Tuesday Earnings Include:
Brown-Forman (BF.A, BF.B) Five Below (FIVE)GameStop (GME) Chewy (CHWY)
Wednesday Earnings Include:

Thursday Earnings Include: PVH Corp (PVH) Adobe (ADBE) Lululemon Athletica (LULU)

Friday Earnings Include:
-comment section below data-
Geopolitical Tinderbox Radar
Last Week's Big Stories
The Week That Was – Last Weeks Recap
Stocks
Occidental Petroleum in Survival Mode Reduces Capital, Operating and Overhead Costs Drastically
Diamondback Energy Earnings Beat, Cuts Capital Expenditure 40 Percent
Chevron Earnings Depressed Until Current Market Conditions Improve
Economic Havoc Fuels ExxonMobil First Quarterly Loss in 32 Years
Alphabet Cloud and YouTube Revenues Boosted By Lockdown
Advanced Micro Devices Ryzen and Epyc Processor Sales Boost From Work From Home Data Centers
Stock Markets
US Major Stock Indices
US Stock Indices Performance
Nasdaq
The Nasdaq Composite gained 198 points, 2.06%, its best daily performance since May 20 when it gained 2.08%
The Nasdaq hit a fresh all-time high in today's session but failed to hit a record close.
This week, the Nasdaq gained 3.42%, its third positive week in a row for the first time since its 6-week streak ending Jan. 17
Nasdaq 100 (.NDX) Impact: Apple (AAPL) has the most positive impact on the NDX, adding 32 points to the index.
The new record high on Friday made it the first of the major averages to make back all of its losses from the coronavirus downturn..
DJIA
The Dow Jones Industrial Average surged 829 points, or 3.15%.
The 30-stock Dow is 5% from the flatline for the year
The Dow had its best daily performance since May 18 when it gained 3.85% Friday marked the Dow's fifth positive session in a row for the first time since its 5-day streak ending Jan. 17
This week, the Dow gained 6.81%, its best weekly performance since April 9 when it gained 12.67% Boeing (BA) has the most positive impact on the Dow, adding 145 points to the index
S&P500
The S&P 500 leaped 2.62%, bringing its week-to-date gain to nearly 5%.
The S&P 500 is 1.1% from being positive for the year.
The S&P 500 had its best daily performance since May 18 when it gained 3.15%
Friday marked the S&P 500′s fifth positive session in 6
The S&P 500 hit its highest level since February 25 in today's session
This week, the S&P 500 gained 4.91%, its best weekly performance since 4/9/2020 when it gained 12.10%
SPY Impact: Apple (AAPL) has the most positive impact on the SPY, adding 0.52 points to the ETF
Biggest Stock Winners and Losers Last Week*
Which Stocks Moved US ETF's Last Week
S&P 500 Index via @KnovaWave
The S&P 500 continued with it's sharp move, as you would expect in a C or 3 off the Tenkan retest and closed at the break retest nd MM +1/8 (yellow) our initial target with a rebalanced Chikou. The 2nd week above the 200dma. The balance from sharp reversal after the initial 3 wave down from the SPX wave 5 extension as Covid19 fed impulse accelerated under the tenkan. From there we had seen the ABC or 1-2-3 spinning around the 61.8% of the move. Support began at the October 2019 lows
A manic wave 5 or 3 of some degree was a resolution for the ages. Note the 100% extension from the emotive element and MM levels when the spit kicks in.
The violent rebalance in the SPX took a breath and took off mellowing from the a scattering flag through the 50wma and weekly channel top. Keep an eye on the putcall ratio BUT keep in mind the stimulus distortion The spit per channel fractal and Adams rule launched back over the cloud where we were encased. Watch Chickou rebalance off the 3 waves post spit. Weekly tenkan key, Kijun and tenkan kisses to be watched. Watch if a spit or clear break support as chickou rebalances

Semiconductors ETF – SMH
( Leading underlying strength of US Indices)
CBOE VIX INDEX – A Reminder of RIsk Ahead of Time

Data via Ole S Hansen @Ole_S_Hansen
VIX caution: Not only did the net-short hit a record but so did the percentage of total open interest which reached 50%. History tells us that positions this elevated could leave the short side very vulnerable to a sudden change in direction $SPX $SVXY $XIV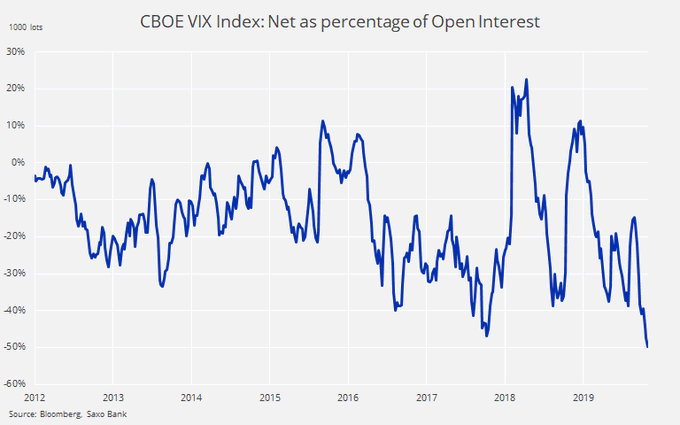 Speculators increased their VIX futures net-short by 17k lots to a RECORD 188k lots in the wk to Oct. 29. During the past month the #SPX rally has helped widen the contango thereby fueling short-selling strategies though futures and inverse ETFs $SVXY and $XIV.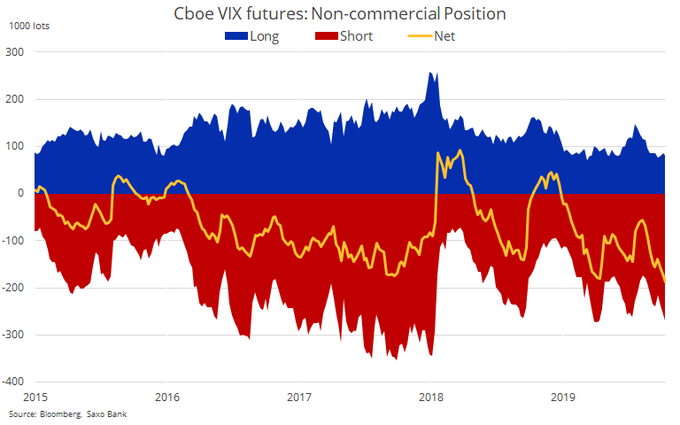 Fixed Interest
10 Year Treasury Note
Energy and Commodities
US Crude Oil (WTI)
WTI continued its move higher after the violent wave 5 down it accelerated through the Tenkan 50 dma cross breaking the recent flag with chikou re-balancing. The reversal has seen sustained impulse off the tenkan which is key. Very completitive for a major 5. Recall the initial collapse where math and crowd behavior tell the story right to the +2/8 and collapsed back to the break up and now through the channel, accelerating when Tenkan and 50 dma crossed. Note 1.618 extension of previous emotive wave. This has fueled witht he reversal Above is a slew of resistance. We watch ABC corrections from here.
WTI has once exhibited extreme crowd behavior, a series of fractals. expected in algorithm dominated price action. We regained the pattern 261.8% from the extreme (-$40) move. The climax of the larger acceleration lower after broke the weekly uptrend, a fractal of the sharp and all the way to all time lows to negative pricing we have seen mirror replications. Support is previous channels, tenkan and Kijun. Above we have 50wma and Murrey Math time and price.
US Natural Gas (Henry Hub)
US Natural Gas closed right under the kijun with rejection of Tenkan/50dma break locked in the flagging formation since the May peak. Consistent failed breaks despite the strength of spitting the previous low and -2/8 with an island reversal to test the Kijun and downtrend line but fell back to Tenkan The big question is was that a completed move down there or a 3? Support at cloud.
Natty ran under the weekly tenkan but failed to run lower Above weekly Kijun and 50wma. Talking fractals, remember the tenkan/kijun kiss of death brought it down from the $2 range. Much work here churning away.

.
Baltic Dry Index (BDI)
Precious Metals
Gold
Gold exuded strength after it back tested the previous wave 3 after finally cracked the Tenkan after correcting in 3 waves from 1556 to Murrey Math +3/8. Concern is the negative divergence between the weekly chikou, Silver spread and the recent highs. Support Tenkan & Kijun. From there does the 5 play out? Watch Fibs and chikou.

Silver
Silver did a fractal of the sharp C up to breakdown level above the cloud fed by divergence from gold reverting. no Silver reverseds with much more violent impulse than gold . Given that we have to repsect this is a iii but here is also a chance this is an A
Currency Markets
Australian Dollar – AUDUSD
Aussie dollar continues higher after it competed 5 waves in emotive fashion. with vigor spitting the 100% panic muster. It has closed over the 50 Wma in 5 waves Resistance cloud is a long way off. Support Tenkan and Kijun. From here we watch for 2 or X
New Zealand Dollar – NZDUSD
The Kiwi mirrored the AUD and has closed over the panic breakdown (0%) correcting all of the panic muster wave. We are now above the Tenkan, which is pivotal. Resistance 50wma
Canadian Dollar – USDCAD
The Loonie continues to correct in ABC after spitting the 261% Fib & Weekly 8/8 after 5 waves lower. We closed at the old 100% 61.8% confluence. Use Fib s for support and resisitance until Tenkan and Kijun catch up,
Euro – EURUSD

The Euro tested and held both the channel and cloud spits after so many false breaks to close at its best level since the BRexit spike. We are still in 3 waves so we need to see development for continuation. Resistance is Fibs as marked. Watch for impulse off Chikou rebalance and Kijun above. Again governed by EURGBP and Bund volatility.
EuroPound – EURGBP

Back testing top of outer band and tenkan of Brexit. Johnson price reaction.after its classic ABC out of failure following the X wave. Tenkan will give us a clue if normalcy is returning to the channel trade.
Japanese Yen – USDJPY

Classic channel trade, has been a series of failures and sharp bounces after X led 3 wave panic. Any change will come from the weekly Kijun Tenkan kiss. Use your Murrey 6/8 0/8 grid for now. #EURJPY #AUDJPY will determine risk on/off
Mexican Peso USDMXN
The Peso has been correcting in ABC since it collapsed and spat 261% right back to the 100% Fib We have seen violent moves with outisde uncertainty from oil and COVID19. Use the Gann octave and the extension fibs to help measure the noise.
Turkish Lire USDTRY
USDTRY after completing the large 5 waves corrected back to the channel acceleration point and finished testing Tenkan. Alternative is we are still in Wave 5 and this is another 1- Kijun support well above cloud Impulse is needed to pull away from here. Keep an eye on geopolitical risk factors.
Bitcoin
Nothing new for Bitcoin, more of the same as it continues to falter after 61.8% spit. Well under the tenkan and kijun. Needs to test downtrend for higher correction. Use your MM rules as algos control the herd here, support is the cloud – we said be wary of sharp ABC, 1-2 moves.
The Week Ahead
Key US Economic and Central Bank Events This Week
Sunday, May 31, 2020
18:30 AUD AIG Manufacturing Index (May)
19:00 AUD Manufacturing PMI
19.45 JPY Capital Spending (YoY) (Q1)
20:00 KRW Exports (YoY) (May)
20:00 KRW Imports (YoY) (May)
20:00 KRW Trade Balance (May)
20:30 KRW Nikkei Manufacturing PMI (May)
20:30 JPY Manufacturing PMI (May)
21:00 AUD MI Inflation Gauge (MoM)
21:45 CNY Caixin Manufacturing PMI (May)
Monday, June 8, 2020
All Day Holiday Australia – Queen's Birthday
01:00 JPY Economy Watchers Current Index (May)
02:00 EUR German Industrial Production (MoM) (Mar)
02:45 EUR French Reserve Assets Total (May)
04:30 EUR Sentix Investor Confidence (Jun)
05:00 SGD Foreign Reserves USD (MoM) (May)
08:15 CAD Housing Starts (May)
08:30 CAD Building Permits (MoM) (Apr)
09:45 EUR ECB President Lagarde Speaks
10:00 USD CB Employment Trends Index (May)
11:30 USD 3-Month Bill Auction
11:30 USD 3-Year Note Auction
11:30 USD 6-Month Bill Auction
11:45 EUR ECB President Lagarde Speaks
19:01 GBP BRC Retail Sales Monitor (YoY) (May)
19:30 JPY Average Cash Earnings (YoY)
19:50 JPY M3 Money Supply (May)
21:00 NZD ANZ Business Confidence
21:30 AUD ANZ Job Advertisements (MoM)
21:30 AUD NAB Business Confidence (May)
21:30 AUD NAB Business Survey (May)
Tuesday, June 9, 2020
01:45 CHF Unemployment Rate (May)
02:00 EUR Gemran Current Account Balance (Apr)
02:00 EUR German Trade Balance (Apr)
02:45 EUR French Current Account (Apr)
02:45 EUR French Trade Balance (Apr)
05:00 EUR Employment Change
05:00 EUR Employment Overall (Q1)
05:00 EUR GDP (QoQ) (Q1)
06:00 USD NFIB Small Business Optimism (May)
Tentative GBP BoE Quarterly Bulletin
08:30 CAD Corporate Profits (QoQ)
08:55 USD Redbook
10:00 USD IBD/TIPP Economic Optimism
10:00 USD JOLTs Job Openings (Apr)
10:00 USD Wholesale Inventories (MoM)
10:30 GBP BoE MPC Member Cunliffe Speaks
13:01 USD 10-Year Note Auction
16:30 USD API Weekly Crude Oil Stock
18:45 NZD Manufacturing Sales Volume (QoQ) (Q1)
19:00 KRW Unemployment Rate (May)
19:50 JPY Core Machinery Orders (MoM)
19:50 JPY PPI (May)
20:30 AUD Westpac Consumer Sentiment (Jun)
21:30 AUD Home Loans (MoM)
21:30 AUD Invest Housing Finance (MoM)
21:30 CNY CPI (May)
21:30 CNY PPI (May)
23:00 KRW M2 Money supply (Apr)
Wednesday, June 10, 2020
02:45 EUR French Industrial Production (MoM) (Apr)
07:00 USD MBA 30-Year Mortgage Rate
07:00 USD MBA Mortgage Applications (WoW)
07:00 USD MBA Purchase Index
07:00 USD Mortgage Market Index
07:00 USD Mortgage Refinance Index
08:30 USD CPI (MoM) (May)
08:30 USD Real Earnings (MoM) (May)
09:30 USD Seevol Cushing Storage Report
09:30 EUR ECB's De Guindos Speaks
10:30 USD Crude Oil Inventories
11:00 USD Cleveland CPI (MoM) (May)
14:00 USD Federal Budget Balance (May)
14:00 USD FOMC Statement
14:00 USD Fed Interest Rate Decision
14:30 USD FOMC Press Conference
18:45 NZD Electronic Card Retail Sales (MoM) (May)
19:01 GBP RICS House Price Balance (May)
19:50 JPY BSI Large Manufacturing Conditions (Q2)
21:00 AUD MI Inflation Expectations
Thursday, June 11, 2020
All Day Holiday Brazil – Corpus Christi Day
01:30 EUR French Non-Farm Payrolls (QoQ) (Q1)
04:00 EUR Italian Industrial Production (MoM) (Apr)
06:00 EUR Eurogroup Meetings
06:24 ZAR Gold Production (YoY) (Apr)
07:00 ZAR Manufacturing Production (MoM) (Mar) 0
8:01 ZAR Mining Production (Apr)
08:30 USD Continuing Jobless Claims
08:30 USD Initial Jobless Claims
08:30 USD Jobless Claims 4-Week Avg.
08:30 USD PPI (MoM) (May)
10:30 USD Natural Gas Storage
11:30 USD 4-Week Bill Auction
11:30 USD 8-Week Bill Auction
12:00 USD WASDE Report
13:01 USD 30-Year Bond Auction
17:00 KRW Export Price Index (YoY) (May)
17:00 KRW Import Price Index (YoY) (May)
17:00 NZD Westpac Consumer Sentiment
18:30 NZD Business NZ PMI (May)
18:45 NZD FPI (MoM) (May)
22:30 SGD Unemployment Rate (Q1)
Friday, June 12, 2020
All Day Holiday Russia – Independence Day
00:30 JPY Capacity Utilization (MoM) (Apr)
00:30 JPY Industrial Production (MoM) (Apr)
02:00 GBP Construction Output (MoM) (Apr)
02:00 GBP GDP (MoM)
02:00 GBP Index of Services
02:00 GBP Industrial Production (MoM) (Apr)
02:00 GBP Manufacturing Production (MoM) (Apr)
02:00 GBP Monthly GDP 3M/3M Change
02:00 GBP Trade Balance (Apr)
02:45 EUR French CPI (MoM) (May)
02:45 EUR French HICP (MoM) (May)
03:00 EUR Spanish CPI (MoM) (May)
03:00 EUR Spanish HICP (MoM) (May)
04:00 EUR Italian Quarterly Unemployment Rate
04:00 EUR ECB's Enria Speaks
04:30 GBP Inflation Expectations
05:00 EUR Industrial Production (MoM) (Apr)
06:00 EUR EU Finance Ministers Meeting
08:00 EUR ECB's Enria Speaks
)8:30 USD Export Price Index (MoM) (May)
08.30 USD Import Price Index (MoM) (May)
08.30 CAD Capacity Utilization Rate (Q1)
Tentative GBP NIESR GDP Estimate
Tentative GBP NIESR Monthly GDP Tracker
10:00 USD FOMC Member Barkin Speaks
10:00 USD Michigan Consumer Sentiment (Jun)
13:00 USD U.S. Baker Hughes Oil Rig Count
13:00 USD FOMC Member Barkin Speaks
15:30 USD CFTC speculative net positions
Saturday, June 6, 2020
Stock Buyback Watch
—-
Note these charts, opinons news and estimates and times are subject to change and for indication only. Trade and invest at your own risk.
Trade Smart!