Join us in our weekly market thread.
Where have we been and where are we going? Join our weekly market thread on Traders Community…
FEAR NOT Brave Investors

Strange times But remember The Joker once served as the Iranian ambassador for the United Nations.
Stock Market Mania, Fed and British Elections

The Week That Was:
The week began with fear which quickly reverted to FOMO, again with all the hallmarks of a mania. While the week ended with a much better than expected jobs report we did have POTUS saying a deal might not happen with China until after the next election. Markets had shrugged off risk by Friday. Greater tension between the US and China over Hong Kong, no trade deal, impeachment, The Repo overhang, OPEC and Iran the fear of missing out remains supreme.,
The put call ratio, Vix and talking heads underscore there is no fear out there. We remain not far off the Dow Jones Industrial Average 28,000. How many times can China and the White House say China and the U.S. are getting close to reaching a trade deal before the market calls their bluff?. (I may be sceptical but these types of accouncements have come out all most daily for a few weeks with no substance, market manipulation at its best knowing the best illiquid times for news algos.)There is a reason why so many experienced fund managers are closing up shop.

Apple remains the best-performing stock in the Dow since July 11, when the index first reached 27,000. Since then the Apple shares are up more than 30%. Intel, J.P. Morgan, United Technologies are some of the stocks that have also rallied more than 10% since July 11. Home depot had been but lost 6% in a day after earnings. There are a mutlitude of stocks with losses of 10 to 25% a day in this market, This is the hallmarks of a casino rather than a rational market place.
After futures expiration oil joined in the fun, jumping over $58.70 despite bearish EIA reports with record production and crude builds of 10 otf 12 weeks. More dovish Fed talk dovish Fed cutting rates as Apple continued to hit all time highs and the highest US index beta stocks dragged the markets up further.
The market has shrugged off Brexit, impeachment and geopolitical powder keg risk and Fed injecting 60 Billion into the system to maintain liquidity, in its not QE4 program.The consumer has been keeping the economy robust, all eyes will be on the Black Friday sales this week.

Poltically we have the growing antagonistic and partisan split of the impeachment of the POTUS, in the UK and Europe we have the daily Brexit No Deal on or off. Enjoy those Thanksgiving conversations!

The U.S. started a 15% tariff on about $110 billion in apparel, footwear and other Chinese imports last month, with same duty on the balance of almost $300 billion in toys, phones and laptops and other products delayed until Dec. 15. The tariffs on $156 billion in Chinese imports could take effect Dec. 15. These are largely on consumer goods, including cellphones, laptop and desktop computers, toys and clothing. UBS economists estimate those tariffs would drag on U.S. gross domestic product by either 0.1% or 0.2% in each of the four quarters next year. The levy was held back from increasing on that already in effect on $250 billion in other Chinese goods to 30% from 25% on Oct. 1, the 70th anniversary of the founding of the People's Republic of China in the phase one trade deal.
Given the history, markets seem overly optimistic about trade, some would say negligently. The market wants to believe the trade war is constructive, we have warned for over a year about the nonsense of the trade war nearing an end. Very simply you have two different cultures two different political systems and shaming doesn't do well in either.

We still have confusion with the whole mess that is Brexit though Italy's political situation improved. Negative rates, as foolish as history will remember them are the theme of the moment.

This is a market full of players that think its different this time, sure its different negative rates all around, trillions of worthless debt, unstable politics and Central Bankers putting their thumb in their mouths and seeing which way the wind blows. The fear of missing out and blind partisan politcs creates intertesting bed fellows. Be alert and put your ear plugs in and watch the whole spectrum its all related, geopolitical, debt markets, commodities, stocks, herds, greed and entitlement,
The spectre of Deutschbank overhangs Europe as does the new British PM, Boris Johnson. Their are other spectres out their we just don't know it, or want to.
"Negative yields on long-dated government securities are more reflective of distorted market conditions than of stronger sovereign credit profiles, Fitch Ratings says. Lower interest service costs support sovereign creditworthiness, but this must be weighed against the impact of the economic conditions leading to lower yields and historically high government debt levels in a number of countries.- Fitch"
The indices are gamed by a few high delta stocks leading the way with massive leverage and a game of chicken on daily. Apple surging to record highs Friday as earnings were greeted with enthusiasm.

We remind you to stay on your toes, ad nauseum we repeat; In this surreal world that market prices can only go up, with bizzare acceptance that we can't go down and you are a fool if you think otherwise. We have had mixed economic data, no concrete decision on the China and EU trade wars and now a fresh election in the U.K. Here we are (see what ya wanna see).
The Week Ahead
This week we could see more volatility ahead of Dec. 15, when the next tranche of U.S. tariffs on Chinese imports is set to take effect. The Federal Reserve holds its last meeting of 2019, with the U.S. central bank expected to keep interest rates steady after three cuts earlier in the year. We also have the ECB, SNB and Central Banks in Russia and Brazil with monetary policy meetings.

From across the pond we have increasing noise from Britain ahead of the next British general elections on 12 December.
The U.S. politically remains combustible, led by Democrat impeachment, Turkey, Iran and Saudi moves, trade wars and repo rates. The market continues to focus on "phase one" of the U.S. China trade talks.
Watch for the MBA mortgage report also it has had huge swings each week and is key to the economy and homebuilders. In the U.S. investors will be watching data that can help us gauge trade war fallout.

U.S. goods are more expensive due to a stronger dollar boosted by geopolitical woes and negative interest rates in Europe. The dollar index hit a 29-month high on Sept. 3. Investors are also transfixed by oil prices in reaction to the Saudi attack and recovery and military respsonses.
Monday
German Balance of Trade and Current Account
Tuesday
EU ZEW Survey Economic Sentiment German ZEW Survey Current Situation nd Economic Sentiment UK Balance of Trade, Gross Domestic Product, Index of Services, Industrial Production and Manufacturing Production
Wednesday EIA US Crude Oil Inventories MBA Mortgage Applications, Consumer Price Index
Thursday Bank of Japan's Tankan business confidence survey, EU ECB Interest Rate,Industrial Production German Consumer Price Index, UK General Election, US Initial Jobless Claims, Producer Price Index, Natural Gas Storage
Friday US Business Inventories, Import and Export Price Indices, Retail Sales, Baker Hughes Oil Rig Count, CFTC Speculative net positions

To repeat AGAIN …With the trade war, most analysts still say a US-China trade deal will remain out of reach regardless for some time. On repeat "Again the issue is the disconnect between the story telling about the China deal and inconclusion between the Tories and Labor in the UK. What could go wrong?"
It is now over six months since the latest trade deal between the United States with China deadline of March 1. The White house said it needs more time, then turned around and slapped more tariffs on and said hey we are still talking. Are we the only one that sees the constant reset to keep markets elevated? If you have half a non partisan brain it should be all pretty clear the great game going on.
For emerging markets the high US dollar means the Fragile 5 continue to shake. Argentina and Turkey are red letter risks. Voters will also be going to the polls in Poland,Indonesia, the Philippines and Thailand this year.
Over $4 trillion of EM debt matures by the end of 2020, of which around a third is denominated in foreign currency, according to the Institute of International Finance. Nevertheless Banks are telling investors to buy, buy, buy, who is selling you should ask?
If you wanted to play in the big room at Vegas, you are living it. Understand risk and the madness of crowds for your own sanity and wealth.
Focus on yourself and what YOU CAN INFLUENCE, set your trading plan and goals in be set for 2019. One suspects it will be a year long Groundhog day for Trump, the GOP and the Democrats. We still have China and the U.S.trade wars.

Earnings The earnings reporting period continued with Workday (WDAY), Salesforce.com (CRM), Zscaler, Inc. (ZS) Slack Technologies (WORK), Campbell Soup Co. (CPB), Lululemon Athletica (LULU), Ulta Beauty (ULTA), Dollar General Corp. (DG), Kroger Co. (KR), Tiffany & Co. (TIF), American Outdoor Brands Corp (AOBC)
We start off on Monday with: Casey's General Stores (NASDAQ:CASY), Chewy (NYSE:CHWY), MongoDB (NASDAQ:MDB), Stitch Fix (NASDAQ:SFIX), Toll Brothers (NYSE:TOL), Vail Resorts (NYSE:MTN) ;

Tuesday Earnings Include: AutoZone (NYSE:AZO), Dave & Buster's (NASDAQ:PLAY) GameStop (GME)
Wednesday Earnings Include: American Eagle Outfitters (NYSE:AEO), Lululemon (LULU) Tailored Brands (NYSE:TLRD)
Thursday Earnings Include: Nio (NYSE:NIO), Adobe (NASDAQ:ADBE), Broadcom (NASDAQ:AVGO), Costco (NASDAQ:COST) Oracle (NYSE:ORCL)
Friday Earnings Include: Nil

-comment section below data-
Geopolitical Tinderbox Radar
Last Week's Big Stories
The Week That Was – Last Weeks Recap
Earnings
Stock Markets
Biggest Stock Winners and Losers Last Week*
Which Stocks Moved US ETF's Last Week
US Stock Indices Performance
There was a reason why we kept harping on about this risk: The performance in shares of small-cap companies which are domestically focused than the large-cap firms is a concern for the optimism in the markets, belies the ATH optimism. The small-cap Russell 2000 index had gained 16.6% for the year, which has underperformed the benchmark S&P 500 index which had risen over 19.5%. Whereas the DJIA, NDX and SPX have marked new records highs, it remained 9.7% below its August 2018 high.
S&P 500

The SPX after ATH corrected back though the daily speed line, Tenkan. MM 8/8 and Kijun only to close back through them in a violent spit. From here we watch if a 1-2.
Note developing pennant (pink) failed. Best alternatives were a (ii) of wave V higher, A of a larger 2 or this is iii of something more powerful. The alternative that the recent low is a C also played out with new highs. Speed and channel lines in tune with algo calibration curve.
Weekly SPX fell hard to test the channel break to reverse all the drop almost back to new all time highs, below we have Kijun and tenkan. Below channel, watch if a spit or clear break support is 50 wma.
(Another ATH Leading underlying strength of US Indices)
CBOE VIX INDEX
Data via Ole S Hansen @Ole_S_Hansen
VIX caution: Not only did the net-short hit a record but so did the percentage of total open interest which reached 50%. History tells us that positions this elevated could leave the short side very vulnerable to a sudden change in direction $SPX $SVXY $XIV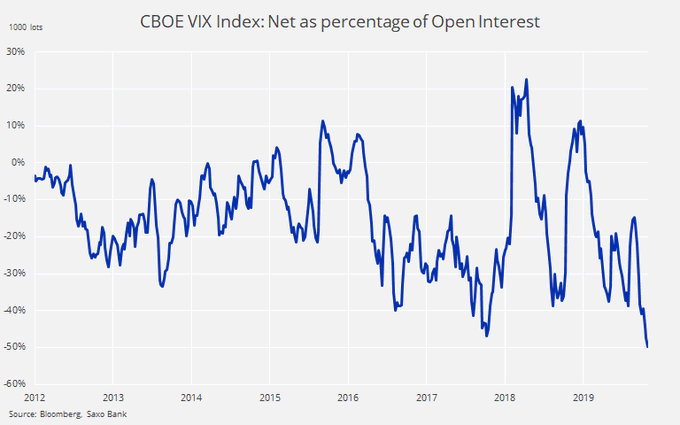 Speculators increased their VIX futures net-short by 17k lots to a RECORD 188k lots in the wk to Oct. 29. During the past month the #SPX rally has helped widen the contango thereby fueling short-selling strategies though futures and inverse ETFs $SVXY and $XIV.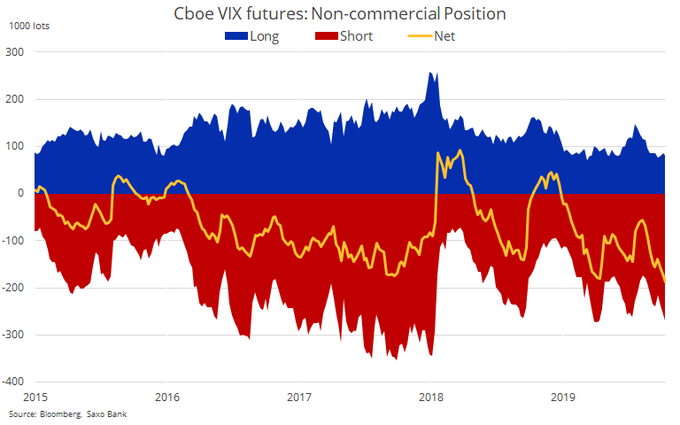 Fixed Interest
10 Year Treasury Note
Energy and Commodities
US Crude Oil (WTI)
WTI held onto last week's gains through tenkan, Kijun and 50 dma zone to close over the cloud after OPEC, we noted this was a rising wedge without any resistance quickly completing a fractal spit per Adam's Theory. Watch the channel. The impulse meant a C or (Y) complete – bullish case would be a developing X
WTI sharp impulse higher through 50 WMA was rejected at the cloud top but stayed over previous near highs. We were still working throught the fall after it spat the weekly 61.8%. We closed over Kijun and 50wma confluence (green), just in the cloud well over the weekly tenkan.,
US Natural Gas (Henry Hub)
Natural Gas accelerated lower after retesting the tenkan as it crossed though 50 dma all the way to October break up . Resistance from cloud down from impulse. on bounce rebalancing with chikou. Gap above. Correcting the Murrey Math 1/8 and Wave iii or Alt C high. Support also near lows and channel from underneath
Impulse down after Natural Gas rally rejected at the 61.8% and the March highs with the tenkan and Kijun now resistance after a retest of the 2.50-52 band gave way all the way to the sharp uptrend support at 2.34. Watch for Kijun/Tenkan cross after retesting the weekly channel break.
Baltic Dry Index (BDI)
Precious Metals
Gold
Gold topside still governed by Tenkan in corrective mode of wave structure after it bounced in 3 waves to 1556 to Murrey Math +2/8. Support is Kijun while market decides. From there a C or 3? Like Silver watch Fibs and Tenkan and Kijun. Watching for corrective 2 waves to tell us what this move is.
Silver
Silver different pattern to gold, a blow off 3 or C rallied off the 50% after it rallied in 3 waves to retest the September 2017 breakdown There is also a chance this is an X. Struggling to get over Kijun with Tenkan above. We watch recent lows if this a 1 down or more .
Currency Markets
Australian Dollar – AUDUSD
The Aussie dollar still working back to Kijun but overr tenkan. Work being done after the move to the first target through the bull flag break pulling and then releasing.
New Zealand Dollar – NZDUSD
The Kiwi bounce against #AUD and #USD continues as reflected in $AUDNZD. Bounced off the Tenkan over Kijun and breakdown (muave). Weekly channel in focus with tenkan now support. The Chikou under series of tops key at week's end.

Canadian Dollar – USDCAD
The USDCAD is playing ping pong between the 50wma and the tenkan. We watch if developing in larger flag (white channel) Resistance now top of cloud and 50 wma. The tenkan remains the pivot aspect. Support is previous lows and channel.

Euro – EURUSD

Euro again flirting with tenkan after firm rejection of Kijun governed by $EURGBP Election volatility. Support pennant break. Unless this is a spit the potential of the measured move comes in around 1.0630 and lower. EUR remains a battle between EURJPY and EURCHF and EURGBP.
EuroPound – EURGBP

EURGBP begets EUR weakness – trying to bounce in a 2 failed after blow off of weekly channel. Needs impulse for confirmation if correcting the July breakup or is a deeper move. The weekly cloud gave way and found support at the May breakup reflecting Brexit politics. Resistance at kijun and Tenkan with support at channel.

Japanese Yen – USDJPY

The dollar yen got over the weekly Kijun and ran into a ceiling at 50 wma and the cloud twist. Still needs to get over cloud to get legs and pull away. Not yet, it was halted by the 38% and Murrey 6/8. Kijun need to turn up for impulse. Yen buying returned on crosses, EURJPY and AUDJPY taking away the cloud twist that drew the dollar up.
Mexican Peso USDMXN
Mexican peso weakened after it broke the pennant back into the channel to the top of the cloud only to recover. Pulled by the Kijun and tenkan in the cloud which is now resistance. Watch if a fractal spit on the trend continues.

Turkish Lire USDTRY
The USD Turkish Lire struggles still under cloud. Watch daily Kijun and Tenkan cross. It is so far playing both sides of the channel Support is the previous break up and tenkan, resistance Kijun.

Bitcoin
Bitcoin found sharp impulse after the sell of this week off 3 waves, back to the tenkan and kijun. Needs higher for anything more than a correction. Use your MM rules as algos control the herd here, support is the cloud – we said be wary of sharp ABC, 1-2 moves.
The Week Ahead
Key US Economic and Central Bank Events This Week
Sun December 8, 2019
16:45 NZD Manufacturing Sales Volume (QoQ) (Q3)
18:50 JPY Bank Lending (YoY) (Nov)
18:50 JPY Current Account n.s.a. (Oct)
18:50 JPY GDP (QoQ) (Q3)
18:50 JPY GDP Capital Expenditure (QoQ) (Q3)
18:50 JPY GDP External Demand (QoQ) (Q3)
18:50 JPY GDP Price Index (YoY)
18:50 JPY GDP Private Consumption (QoQ) (Q3)
Tentative CNY Trade Balance (USD)
Monday, December 9, 2019
00:00 JPY Economy Watchers Current Index (Nov)
01:45 CHF Unemployment Rate n.s.a. (Nov)
02:00 EUR Gemran Current Account Balance n.s.a (Oct)
02:00 EUR German Trade Balance (Oct)
04:00 SGD Foreign Reserves USD (MoM) (Nov)
04:30 EUR Sentix Investor Confidence (Dec)
08:15 CAD Housing Starts (Nov)
08:30 CAD Building Permits (MoM) (Oct)
10:00 USD CB Employment Trends Index (Nov)
11:30 USD 3-Month Bill Auction
11:30 USD 6-Month Bill Auction
13:00 USD 3-Year Note Auction
17:05 AUD RBA Governor Lowe Speaks
18:50 JPY M3 Money Supply (Nov)
19:30 AUD House Price Index (QoQ) (Q3)
19:30 AUD Mid-Year Economic and Fiscal Outlook
19:30 AUD NAB Business Confidence (Nov)
19:30 AUD NAB Business Survey (Nov)
20:30 CNY CPI (MoM) (Nov)
20:30 CNY PPI (YoY) (Nov)
Tuesday December 10, 2019
01:00 JPY Machine Tool Orders (YoY)
01:30 EUR French Non-Farm Payrolls (QoQ) (Q3)
02:45 EUR French Industrial Production (MoM) (Oct)
04:00 EUR Italian Industrial Production (MoM) (Oct)
04:30 GBP Construction Output (MoM) (Oct)
04:30 GBP GDP (MoM)
04:30 GBP Index of Services
04:30 GBP Industrial Production (MoM) (Oct)
04:30 GBP Manufacturing Production (MoM) (Oct)
04:30 GBP Trade Balance (Oct)
05:00 EUR German ZEW Current Conditions (Dec)
05:00 EUR German ZEW Economic Sentiment (Dec)
05:00 EUR ZEW Economic Sentiment (Dec)
05:30 GBP BoE Financial Stability Report
06:00 USD NFIB Small Business Optimism (Nov)
08:30 USD Nonfarm Productivity (QoQ) (Q3)
08:30 USD Unit Labor Costs (QoQ) (Q3)
08:55 USD Redbook (MoM)
Tentative GBP NIESR GDP Estimate
12:00 USD WASDE Report 13:01 USD 10-Year Note Auction
16:30 USD API Weekly Crude Oil Stock
16:45 NZD Electronic Card Retail Sales (MoM) (Nov)
18:00 KRW Unemployment Rate (Nov)
18:30 AUD Westpac Consumer Sentiment (Dec)
18:50 JPY BSI Large Manufacturing Conditions (Q4)
18:50 JPY PPI (MoM) (Nov)
Wednesday, December 11, 2019
06:00 USD OPEC Monthly Report
07:00 USD MBA 30-Year Mortgage Rate
07:00 USD MBA Mortgage Applications (WoW)
07:00 USD MBA Purchase Index
07:00 USD Mortgage Market Index
07:00 USD Mortgage Refinance Index
08:30 USD Core CPI (MoM) (Nov)
08:30 USD CPI (MoM) (Nov)
08:30 USD Real Earnings (MoM) (Nov)
08:30 CAD Capacity Utilization Rate (Q3)
10:30 USD Crude Oil Inventories
11:00 USD Cleveland CPI (MoM) (Nov)
14:00 USD Federal Budget Balance (Nov)
14:00 USD FOMC Economic Projections
14:00 USD FOMC Statement
14:00 USD Fed Interest Rate Decision
14:30 USD FOMC Press Conference
16:00 BRL Interest Rate Decision
16:45 NZD FPI (MoM) (Nov)
18:50 JPY Core Machinery Orders (MoM) (Oct)
19:01 GBP RICS House Price Balance (Nov)
19:30 AUD RBA Bulletin
21:30 SGD Unemployment Rate (Q3)
Thursday, December 12 2019
00:00 SGD Retail Sales (MoM) (Oct)
01:45 CHF SECO Economic Forecasts
02:00 EUR German CPI (MoM) (Nov)
02:00 EUR German HICP (MoM) (Nov)
02:30 CHF PPI (MoM) (Nov)
02:45 EUR French CPI (MoM) (Nov)
02:45 EUR French HICP (MoM) (Nov)
Tentative GBP U.K. General Election
03:30 CHF SNB Interest Rate Decision
03:30 CHF SNB Monetary Policy Assessment
04:00 EUR Italian Quarterly Unemployment Rate
04:00 CHF SNB Press Conference
04:00 ZAR Gold Production (YoY) (Oct)
04:00 ZAR Mining Production (Oct)
04:30 ZAR PPI (MoM) (Nov)
05:00 EUR Industrial Production (MoM) (Oct)
07:45 EUR Deposit Facility Rate (Dec)
07:45 EUR ECB Marginal Lending Facility
07:45 EUR ECB Monetary Policy Statement
07:45 EUR ECB Interest Rate Decision (Dec)
08:30 USD Continuing Jobless Claims
08:30 USD Initial Jobless Claims
08:30 USD Jobless Claims 4-Week Avg.
08:30 USD PPI (MoM) (Nov)
08:30 USD Core PPI (MoM) (Nov)
08:30 CAD New Housing Price Index (MoM) (Oct)
08:30 EUR ECB Press Conference
10:30 USD Natural Gas Storage
12:30 CAD BoC Gov Poloz Speaks
13:01 USD 30-Year Bond Auction
16:00 KRW Export Price Index (YoY) (Nov)
16:00 KRW Import Price Index (YoY) (Nov)
16:30 NZD Business NZ PMI (Nov)
18:30 JPY Reuters Tankan Index (Dec)
23:30 JPY Capacity Utilization (MoM) (Oct)
23:30 JPY Industrial Production (MoM) (Oct)
Friday Dec 13, 2019
02:00 EUR German WPI (MoM) (Nov)
02:00 CNY FDI
03:00 EUR Spanish CPI (MoM) (Nov)
03:00 EUR Spanish HICP (MoM) (Nov)
Tentative ZAR SARB Quarterly Bulletin
04:00 EUR Italian Industrial New Orders (MoM)
04:00 EUR Italian Industrial Sales (MoM) (Oct)
04:00 CNY M2 Money Stock (YoY)
04:00 CNY New Loans 661.3B
04:00 CNY Outstanding Loan Growth (YoY)
04:00 CNY Chinese Total Social Financing
04:30 GBP Inflation Expectations
05:00 EUR Euro Summit
05:30 RUB Interest Rate Decision (Dec)
07:00 RUB CBR Press Conference
08:30 USD Export Price Index (MoM) (Nov)
08:30 USD Import Price Index (MoM) (Nov)
08:30 USD Retail Sales (MoM) (Nov)
10:00 USD Business Inventories (MoM) (Oct)
10:00 USD Retail Inventories Ex Auto (Oct)
13:00 USD U.S. Baker Hughes Oil Rig Count
14:30 USD CFTC Speculative net positions
Saturday, Dec 14, 2019
Stock Buyback Watch
Via Emad Mnati @EmadMnati and MarketBeat
—-
Note these charts, opinons news and estimates and times are subject to change and for indication only. Trade and invest at your own risk.
Trade Smart!