Join us in our weekly market thread.
Where have we been and where are we going? Join our weekly market thread on Traders Community…
FEAR NOT Brave Investors

Strange times But remember The Joker once served as the Iranian ambassador for the United Nations.
Stock Market Melt Up, 2020 and No Fear

The Week That Was:
Here we are closing 2020 the polar opposite to 2019. Recall the end of world calls, and then Mnuchin called the banks in and here we are. Yes we know there was a heck of gaming the algos by 45 no less, and we are overvalued by any stretch of the imagine but alas here we are.
So looking forward where do we head? Political and geopolitical shifts have created big question marks with the world is in flux. Government policies related to the environment, trade and tech sit high on the watch list. Political and economic agendas that Influence policy-making is top of the list. For the US it is not just external threats, including increased political tensions between countries but also internal threats highlighted by the partisan impeachment devide.
Politics influence all, directly or indirectly. The trade war and trade relationships have the potential to impact growth strategies with unexpected consequences with this markets also be vulnerable. There is little doubt political uncertainty has become more widespread. With regard to the trade deal It is all dependant on so many factors, clearly the dealing isn't complete. In a fully fledged stock mania, nothing matters until it does. That is the feral nature of greed.

Again we hit extended all time highs in the S&P 500 in a larger economically depressed global world. Is the market ahead of it's self? Behind it all is world wide low interest rates and QE pump priming by the world's major central banks, the Federal Reserve, Swiss National Bank and ECB all preached more of the same.

The put call ratio, Vix and talking heads underscore there is no fear out there. We remain at new all time highs for the Dow Jones Industrial Average, S&P 500 and Nasdaq. What happens if music for pass the parcel stops playing? What if on China and the U.S. the market calls their bluff?. There is a reason why so many experienced fund managers are closing up shop.

On friday oil again ignored the weight of US rigs and production increasing and weak global industrial demand after an oversized tax influenced US storage draw was released by the EIA, Natural gas again highlighted the futility of weather modeals and forecasts.
The market has shrugged off Brexit, impeachment and geopolitical powder keg risk and Fed injecting 60 Billion into the system to maintain liquidity, in its not QE4 program.The consumer has been keeping the economy robust.

Poltically we have the growing antagonistic and partisan split of the impeachment of the POTUS, in the UK and Europe we have the daily Brexit news cycle. Happy New Year!
Given the history, markets seem overly optimistic about trade, some would say negligently. The market wants to believe the trade war is constructive, we have warned for over a year about the nonsense of the trade war nearing an end BUT economics not being the market. The market has become nothing more than a casino. Very simply you have two different cultures two different political systems and shaming doesn't do well in either. Read the recent reports with open eyes.

This is a market full of players that think its different this time, sure its different negative rates all around, trillions of worthless debt, unstable politics and Central Bankers putting their thumb in their mouths and seeing which way the wind blows. The fear of missing out and blind partisan politcs creates intertesting bed fellows. Be alert and put your ear plugs in and watch the whole spectrum its all related, geopolitical, debt markets, commodities, stocks, herds, greed and entitlement,
The spectre of Deutschbank overhangs Europe as does the new British PM, Boris Johnson. Their are other spectres out their we just don't know it, or want to.
"Negative yields on long-dated government securities are more reflective of distorted market conditions than of stronger sovereign credit profiles, Fitch Ratings says. Lower interest service costs support sovereign creditworthiness, but this must be weighed against the impact of the economic conditions leading to lower yields and historically high government debt levels in a number of countries.- Fitch"
We remind you to stay on your toes, ad nauseum we repeat; In this surreal world that market prices can only go up, with bizzare acceptance that we can't go down and you are a fool if you think otherwise. In saying that the old saying, the trend is your friend rings true.

The Week Ahead
This week we could see more volatility ahead of the New Year in very illiquid markets with stocks at all time highs and President Trump prone to tweets and rash statements.
We have energy reports with PMI the stand out for US data. Eyes on global manufacturing conditions and the US central bank outlook for monetary policy. Caixin's China manufacturing sector Purchasing Managers' Index and the US ISM's factory PMI book end the European and UK PMI reports. For the US Boeing's recent mess is the big hurdle. Also on Friday, the Federal Reserve will publish the minutes of its 11 December policy meeting, look for discussions about both pressures in short-term funding markets and the Fed's long-run policy goals..

The U.S. politically remains combustible, led by Democrat impeachment, Turkey, Iran and Saudi moves, trade wars and repo rates. The market continues to focus on "phase one" of the U.S. China trade talks.
Watch for the MBA mortgage report also it has had huge swings each week and is key to the economy and homebuilders. In the U.S. investors will be watching data that can help us gauge trade war fallout.

U.S. goods are more expensive due to a stronger dollar boosted by geopolitical woes and negative interest rates in Europe. The dollar index hit a 29-month high on Sept. 3. Investors are also transfixed by oil prices in reaction to the Saudi attack and recovery and military respsonses.
Monday
Germany Import Price and Retail Sales; US House Price Index, Chicago PMI and Pending Homes Sales

Tuesday
US Consumer Confidence, API Crude Oil Inventories
Wednesday: New Years Day

Thursday Caixin's China manufacturing sector Purchasing Managers' Index. UK and euro area manufacturing PMIs;US MBA Mortgage Applications, US Initial Jobless Claims,
Friday US ISM's factory PMI, Federal Reserve minutes of its 11 December policy meeting, EIA US Crude Oil Inventories, EIA Natural Gas Storage, Baker Hughes Oil Rig Count, CFTC Speculative net positions

For emerging markets the high US dollar means the Fragile 5 continue to shake. Argentina and Turkey are red letter risks. Voters will also be going to the polls in Poland, Indonesia, the Philippines and Thailand this year.
Over $4 trillion of EM debt matures by the end of 2020, of which around a third is denominated in foreign currency, according to the Institute of International Finance. Nevertheless Banks are telling investors to buy, buy, buy, who is selling you should ask?
If you wanted to play in the big room at Vegas, you are living it. Understand risk and the madness of crowds for your own sanity and wealth.
Focus on yourself and what YOU CAN INFLUENCE, set your trading plan and goals in be set for 2019. One suspects it will be a year long Groundhog day for Trump, the GOP and the Democrats. We still have China and the U.S.trade wars.

Earnings The earnings reporting has dried to a halt with the holidays. IOf note however the S&P 500's "forward earnings yield" at 5.28% is the lowest since 2008. Lowest prior to this is the week of January 26th, 2018, when it closed the week at 5.35%. That week vol spiked dramatically and the S&P 500 corrected 8% in two weeks.

We start off on Monday with:

Tuesday Earnings Include: BAH Booz Allen Hamilton, ZION Zions Bank, TRNO Terreno Realty
Wednesday Earnings Include: no stocks reporting earnings
Thursday Earnings Include: RECN Resources Connection LNDC Landec
Friday Earnings Include: LW Lamb Weston

-comment section below data-
Geopolitical Tinderbox Radar
Last Week's Big Stories
The Week That Was – Last Weeks Recap
Earnings
Stock Markets
Biggest Stock Winners and Losers Last Week*
Which Stocks Moved US ETF's Last Week
US Stock Indices Performance
S&P 500

The SPX carries all the hallmarks of a melt up, +3/8 Daily MM over the chikou in 5 violent waves. The question is this a wave 5 and of what degree? Daily speed line, Tenkan. MM 8/8 and Kijun all fueled this year end manic surge. Best alternatives (v) of wave V or wave iii higher, Speed and channel lines in tune with algo calibration curve. Note Chikou rebalance in order.

More impulse as Weekly SPX tapped the top channel into year end with new all time highs, Below we have Kijun and tenkan. Below channel, watch if a spit or clear break support is 50 wma as chikou rebalances
Semiconductors ETF – SMH
(Another ATH Leading underlying strength of US Indices)
CBOE VIX INDEX
Data via Ole S Hansen @Ole_S_Hansen
VIX caution: Not only did the net-short hit a record but so did the percentage of total open interest which reached 50%. History tells us that positions this elevated could leave the short side very vulnerable to a sudden change in direction $SPX $SVXY $XIV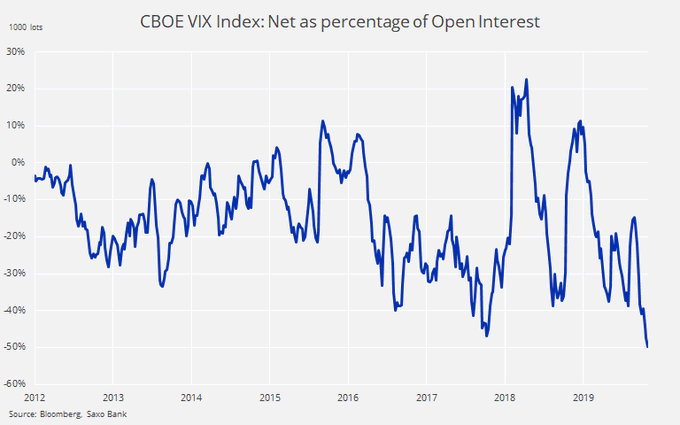 Speculators increased their VIX futures net-short by 17k lots to a RECORD 188k lots in the wk to Oct. 29. During the past month the #SPX rally has helped widen the contango thereby fueling short-selling strategies though futures and inverse ETFs $SVXY and $XIV.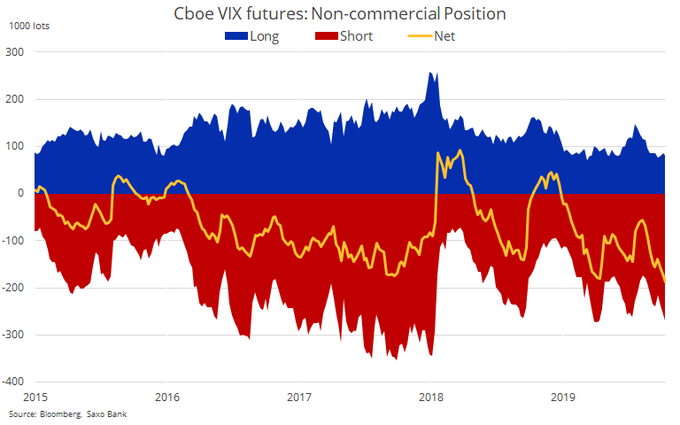 Fixed Interest
10 Year Treasury Note
Energy and Commodities
US Crude Oil (WTI)
WTI continues to roll higher with tenkan at support in the right shouldr/wedge channel with ES_F. A fall through tenkan would suggest failure. Support through tenkan, Kijun and 50 dma zone over the cloud. Rebalancing Chikou and MM 8/8 overbought caution Watch the channel. The impulse meant a C or (Y) complete.
WTI rally shapes correctional shoulder from the May left shoulder after the sharp impulse higher through 50 WMA and the cloud top key supports remain Kijun and 50wma confluence (green), Resuosatnce channel and fib conflageration with MM 4.8
US Natural Gas (Henry Hub)
Natural Gas shaping as a 1-2 inside the babson lines and median channel. Needs to get back through the Tenkan for impulse higher. Recall it was rejected at the weekly tenkan last bounce, downside held October break up . Resistance from cloud down from impulse. On bounce rebalancing with chikou. Gap above. Correcting the Murrey Math 1/8 and Wave iii or Alt C high. Support also near lows and channel from underneath
Natty failed again to get back over old trendline break from impulse down after Natural Gas rally rejected at the 61.8% and the March highs with the tenkan and Kijun now resistance around retest of 2.50-52 band after uptrend support at 2.34. Watch for Kijun/Tenkan cross after retesting the weekly channel break.
Baltic Dry Index (BDI)
Precious Metals
Gold
Gold finally cracked the Tenkan and off it ran correcting in 3 waves from 1556 to Murrey Math +2/8. Support is Kijun while market decides. From there a C or 3? Watch Fibs and chikou. Watching for corrective 2 waves to tell us what this move is.
Silver
Silver sharp reversal higher off 50 wma, a much more violent impulse than gold after correcting the 3 or C rallied off the 50% after it rallied in 3 waves to retest the September 2017 breakdown AfterTenkan and Kijun crossed – boom. There is also a chance this is an X. We watch recent lows if this a 4 down or C complete
Currency Markets
Australian Dollar – AUDUSD
The Aussie dollar finally broke through the 50 wdma and is back over the Kijun and tenkan which is now support. Work being done after the move to MM +1/8 first target of the bull flag break and cloud base.
New Zealand Dollar – NZDUSD
The Kiwi bounce against AUD and USD continued as reflected in $AUDNZD. We are watching as Tenkan and Kijun trying to cross right as powered through doentrend. The Chikou needs to rebalance.
Canadian Dollar – USDCAD
The USDCAD after was rejected hard at the 50wma and cloud, closing the week under the tenkan and Kijun and right at support of channel and break up level. Resistance top of cloud and 50 wma. The tenkan remains the pivot aspect.

Euro – EURUSD

Euro held the tenkan to close back at the Kijun, again governed by $EURGBP and #Bund volatility. Support pennant break. Unless this is a spit the potential of the measured move comes in around 1.0630 and lower. EUR remains a battle between EURJPY and EURCHF.
EuroPound – EURGBP

EURGBP reflects the British Pound surge and collapse after the election – be aware of any fractal spit. The weekly cloud is well above and resistance is the May breakup reflecting Brexit politics. Resistance at kijun after Tenkan with support at Nov 2017 lows

Japanese Yen – USDJPY

Grondhog day with USDJPY over the weekly Kijun and closed at 50 wma and the cloud twist. Still needs to get over cloud to get legs and pull away. It is drawn by 38% and Murrey 6/8. Kijun need to turn up for impulse. Yen profit taking crosses, EURJPY and AUDJPY taking away the cloud twist that drew the dollar up.
Mexican Peso USDMXN
Mexican peso gained again after it held the cloud and the Kijun trading well with the Gann fans to close near highs. Fed by acceleration off the tenkan and back through the channel after the USMC trade deal. Watch if a fractal spit on recent highs.

Turkish Lire USDTRY
USDTRY impulse higher continued after found support at daily Kijun and Tenkan to get back above cloud Impulse is needed to pull away from here. Support is the previous break up and tenkan and Kijun. Keep an eye on geopolitical risk factors.
Bitcoin
Nothi ng new for Bitcoin as it continues to falter after the 61.8% spit. Well under the tenkan and kijun. Needs to test downtrend for higher correction. Use your MM rules as algos control the herd here, support is the cloud – we said be wary of sharp ABC, 1-2 moves.
The Week Ahead
Key US Economic and Central Bank Events This Week
Sun December 29, 2019
18:00 KRW Industrial Production (MoM) (Nov)
18:00 KRW Retail Sales (MoM) 3.0%
18:00 KRW Service Sector Output (MoM) (Nov)
Monday, December 30, 2019
02:00 EUR German Retail Sales (MoM) (Nov)
03:00 CHF KOF Leading Indicators (Dec)
03:00 EUR Spanish CPI (MoM)
03:00 EUR Spanish GDP (QoQ) (Q3)
03:30 HKD Trade Balance
04:00 EUR Spanish Current account (Oct)
04:30 GBP Gross Mortgage Approvals
08:30 USD Goods Trade Balance (Nov)
08:30 USD Retail Inventories Ex Auto (Nov)
08:30 USD Wholesale Inventories (MoM)
09:45 USD Chicago PMI (Dec)
10:00 USD Pending Home Sales (MoM) (Nov)
10:30 USD Dallas Fed Mfg Business Index (Dec)
11:30 USD 3-Month Bill Auction
11:30 USD 6-Month Bill Auction
13:00 USD 52-Week Bill Auction
14:30 USD CFTC Speculative net positions
16:00 KRW Manufacturing BSI Index (Jan)
18:00 KRW CPI (MoM) (Dec)
20:00 KRW Interest Rate Decision (Dec)
20:00 CNY Chinese Composite PMI (Dec)
20:00 CNY Manufacturing PMI (Dec)
20:00 CNY Non-Manufacturing PMI (Dec)
21:00 SGD Bank Lending (Nov)
Tuesday December 31, 2019
All Day Holiday South Korea – End of year
All Day Holiday Brazil – Last day of the year
All Day Holiday Japan – Exchange Holiday
All Day Holiday Italy – New Year's Eve
All Day Holiday Germany – New Year's Eve
Holiday Hong Kong – New Year's Eve – Early close at 12:00
Holiday United Kingdom – New Year's Eve – Early close at 12:30
Holiday Singapore – New Year's Day – Early close at 12:35
Holiday France – New Year's Eve – Early close at 14:05
Holiday Australia – Last day of the year – Early close at 14:10
04:30 GBP Housing Equity Withdrawal (QoQ)
08:55 USD Redbook (MoM)
09:00 USD House Price Index (MoM) (Oct)
09:00 USD S&P/CS HPI Composite – 20 s.a. (MoM) (Oct)
09:45 USD Chicago PMI (Dec)
10:00 USD CB Consumer Confidence (Dec)
10:30 USD Dallas Fed Services Revenues (Dec)
10:30 USD Texas Services Sector Outlook (Dec)
16:30 USD API Weekly Crude Oil Stock
17:00 AUD Manufacturing PMI
19:00 KRW Trade Balance (Dec)
Wednesday, January 1, 2020
All Day Holiday – New Year's Day : Singapore United Kingdom France Germany Switzerland Italy Spain Hong Kong Japan Australia Canada China South Korea New Zealand South Africa United States
19:00 SGD GDP (QoQ) (Q4)
19:30 KRW Nikkei Manufacturing PMI (Dec)
20:45 CNY Caixin Manufacturing PMI (Dec)
Thursday, January 2 2020
All Day Holiday Switzerland – New Year's Day
All Day Holiday Japan – Market Holiday
All Day Holiday Russia – New Year's Day
All Day Holiday New Zealand – New Year's Day
00:30 AUD Commodity Prices (YoY)
02:00 GBP Nationwide HPI (MoM) (Dec)
03:15 EUR Spanish Manufacturing PMI (Dec)
03:30 CHF procure.ch PMI (Dec)
03:45 EUR Italian Manufacturing PMI (Dec)
03:50 EUR French Manufacturing PMI (Dec)
03:55 EUR German Manufacturing PMI (Dec)
04:00 EUR Manufacturing PMI (Dec)
04:00 ZAR Manufacturing PMI
04:30 GBP Manufacturing PMI (Dec)
07:00 USD MBA 30-Year Mortgage Rate
07:00 USD MBA Mortgage Applications (WoW)
07:00 USD MBA Purchase Index
07:00 USD Mortgage Market Index
07:00 USD Mortgage Refinance Index
08:00 BRL Markit Manufacturing PMI (Dec)
08:30 USD Continuing Jobless Claims
08:30 USD Initial Jobless Claims
08:30 USD Jobless Claims 4-Week Avg.
09:30 CAD RBC Manufacturing PMI (Dec)
09:45 USD Manufacturing PMI (Dec)
11:30 USD 4-Week Bill Auction
11:30 USD 8-Week Bill Auction
14:00 USD FOMC Meeting Minutes
16:30 AUD AIG Services Index (Dec)
19:01 GBP BRC Shop Price Index (YoY)
FridayJan 3, 2020
All Day Holiday Japan – Market Holiday
02:45 EUR French CPI (MoM)
02:45 EUR French HICP (MoM)
03:00 EUR Spanish Unemployment Change
03:30 CHF procure.ch PMI (Dec)
03:30 HKD Retail Sales (YoY) (Nov)
03:55 EUR German Unemployment Change (Dec)
03:55 EUR German Unemployment Rate (Dec)
03:55 EUR German Unemployment (Dec)
04:00 EUR M3 Money Supply (YoY) (Nov)
04:00 EUR Loans to Non Financial Corporations (Nov)
04:30 GBP BoE Consumer Credit (Nov)
04:30 GBP Construction PMI (Dec)
04:30 GBP Mortgage Approvals (Nov)
05:00 EUR Italian CPI (MoM) (Dec)
05:00 EUR Italian HICP (MoM) (Dec)
08:00 EUR German CPI (MoM) (Dec)
08:00 EUR German HICP (MoM) (Dec)
08:00 SGD Manufacturing PMI (Dec)
09:45 USD ISM-New York Index (Dec)
10:00 USD Construction Spending (MoM) (Nov)
10:00 USD ISM Manufacturing PMI (Dec)
13:00 USD U.S. Baker Hughes Oil Rig Count
13:15 CAD BoC Gov Council Member Wilkins Speaks
14:30 JPY CFTC Seculative net positions
18:00 USD Total Vehicle Sales
Saturday, Jan 4, 2020
Stock Buyback Watch
Via Emad Mnati @EmadMnati and MarketBeat
—-
Note these charts, opinons news and estimates and times are subject to change and for indication only. Trade and invest at your own risk.
Trade Smart!