US CPI in November shows inflation remains persistently high as Central Bankers keep trying to reassure us that soaring inflation will come under control. Annual CPI was up +6.8% as expected with core CPI +4.9% as expected
The Consumer Price Index for All Urban Consumers (CPI-U) increased 0.8 percent in November on a seasonally adjusted basis after rising 0.9 percent in October, the U.S. Bureau of Labor Statistics reported today.
Over the last 12 months, the all items index increased 6.8 percent before seasonal adjustment.
The monthly all items seasonally adjusted increase was the result of broad increases in most component indexes, similar to last month. The indexes for gasoline, shelter, food, used cars and trucks, and new vehicles were among the larger contributors. The energy index rose 3.5 percent in November as the gasoline index increased 6.1 percent and the other major energy component indexes also rose. The food index increased 0.7 percent as the index for food at home rose 0.8 percent.
US CPI November 2021
CPI in November was up 0.8% month-over-month (consensus +0.7%) following a 0.9% increase in October

CPI in November year-over-year figures was +6.8% y/y versus 6.2% in September
Highlights
US November CPI +6.8% y/y vs +6.8% expected, prior 6.2%
Highest since 1982,
m/m CPI +0.8% vs +0.7% expected, Prior +0.9%
Real weekly earnings -0.2% vs -0.9% prior
Energy costs the biggest gain (33.3% vs 30% in October), namely gasoline (58.1% vs 49.6%).
Inflation also increased for shelter (3.8% vs 3.5%); food (6.1% vs 5.3%, the highest since October of 2008), namely food at home (6.4% vs 5.4%); new vehicles (11.1% vs 9.8%); used cars and trucks (31.4% vs 26.4%); apparel (5% vs 4.3%); and medical care services (2.1% vs 1.7%).
Inflation slowed for transportation services (3.9% vs 4.5%).
Excluding food and energy, inflation went up to 4.9% from 4.6%, the highest since June of 1991.
Food
Housing
Transportation
US Core CPI November 2021
November core CPI, which excludes food and energy, was up Ex food and energy +4.9% vs +4.9% y/y expected
Prior ex food and energy +4.6%
Core m/m 0.5% vs +0.5% exp
Prior core m/m +0.9%
The effects of the coronavirus pandemic are weighing on prices since in last year many businesses closed and lockdowns were imposed, denting economic activity. A jump in commodities and material costs, coupled with supply constraints, are pushing producer prices up and some companies are passing those costs to clients
US Real Earnings November 2021
Real weekly earnings -0.2% vs -0.9% prior
"I'm making more money…But I don't see it because I'm paying more money for stuff now." Low-wage workers are getting sharp raises. Inflation is eating them up. via Greg Ip WSJ
Source: BLS
Across the pond…
Euro area inflation is expected to be 4.9% in November, up from 4.1 % in October, with energy by far the main driver.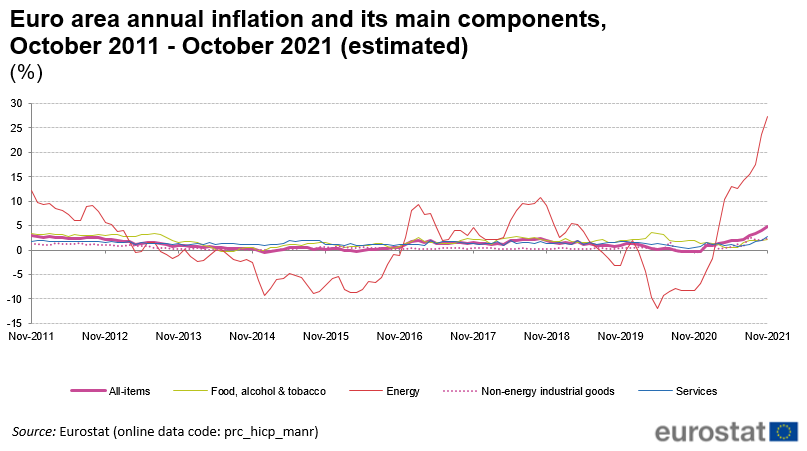 From the Traders Community News Desk