The week of the FANG, internet monsters Alphabet, owner of Google started off on Monday with better than expected second quarter earnings as advertising revenue surged. The huge $5 billion Fine from the European Commission covered it seems.
Alphabet Inc. (NASDAQ: $GOOGL) Q2 Earnings Beat Forecasts After Close Monday
$11.75 EPS beating $9.59 forecast on $32.7 billion revenue beating $32.19 billion forecast*
*After adjustment for a European Commission Fine in Q2
Earnings
Adjusted net income, excluding fines, was $8.27 billion or $11.75 per share from $6.26 billion or $8.90 per share in the same period last year. Earnings, including fines, fell 9% to $4.54 per share. Revenues rose 26% annually to $32.66 billion, Results beat consensus of $9.59 per share on $32.19 billion in revenue.
Net revenue excluding key metric TAC was expected at $25.6 billion. Alphabet came in at above target with $26.28 billion in revenue excluding TAC. Traffic acquisition costs accounted for 23 percent of Google ad revenues.
Alphabet Inc Class A NASDAQ: $GOOGL
Market Reaction > After hours 1,254.80 +43.80 (+3.62%)
Highlights
Other big tech names including $FB, $AMZN and $TWTR also report this week.
Alphabet Second Quarter Earnings Preview
What Analysts Will Be Watching
Google's traffic acquisition costs
Traffic acquistion costs (TAC) have been rising, even more so after the Facebook scandal and $FB CEO hauled before congress Alphabet management's response in the conference call on growing regulatory risk and data privacy issues will be closely analysed. The other factor will be Google and Amazon's competition in voice search and smart home appliances. How will this affect or benefit future advertising ? A moderation an improvement will improve margins.
Alphabet's "Google other" segment
This segment includes revenue from cloud, hardware, and the Android App store. This is a hot sector, not least the cloud factor. Other brought in pnly 14% of first-quarter revenue, however its strong 36% year-over-year growth was a factor to overall growth and a key for momentum to continue. These investments are long term and will likely seef severe margin compression, how much will satisfy investors?
Self-driving unit, Waymo
Where are we with regards to revenue and delivery? The obvious comparison is Tesla, does Waymo have similar issues?
Shares closed Friday at $1,201.47 with a 52-week trading range of $918.60 to $1,221.59.
Alphabet First Quarter Earnings Recap
Earnings
Earnings per share $9.93 beating $9.28 Thomson Reuters consensus estimate. Revenue: $31.15 billion beating the $30.29 billion expected by Thomson Reuters consensus.Operating income for 2018 $7 billion versus $6.6 billion in 2017.
Market Reaction > Alphabet Inc Class A NASDAQ: $GOOGL
After hours 1,073.00 −0.81 (0.075%)

(After intially rising to $1110 after the release)
Expenses
A

lphabet reported that GAAP costs and expenses rose 33% year-over-year to $24.16 billion, outpacing revenue growth of 26%.

CFO

Porat attributed that increase primarily to research and development.

Alphabet's accrued capital expenditures were $7.7 billion, which is triple the expenditures for the same period in 2017.

CFO Porat said the rise included the $2.4 billion purchase of New York City's Chelsea Market building.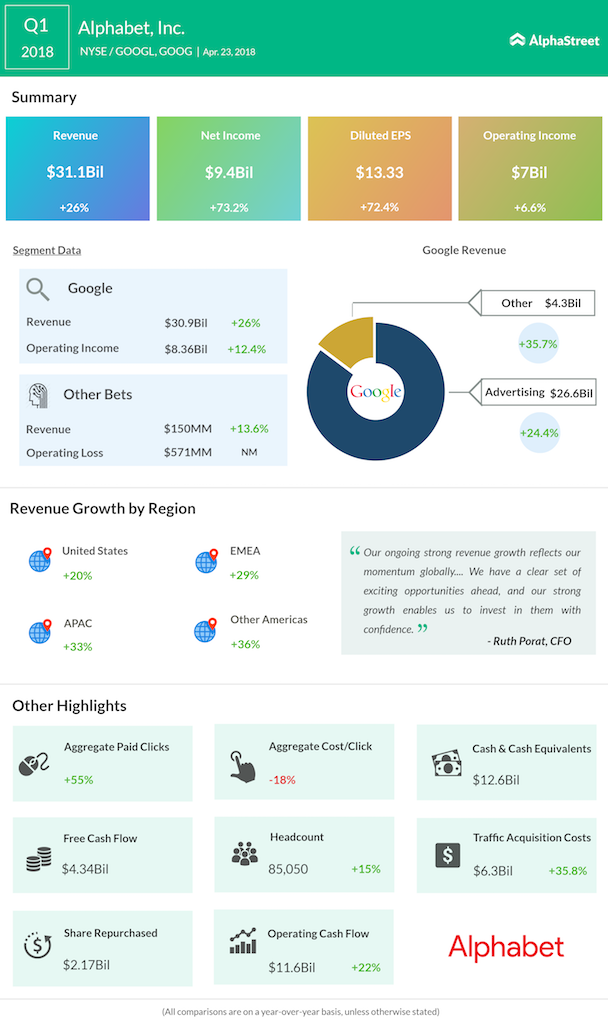 Google Ads
Google's ads business earned $26.642 billion in revenue for the first quarter.

Google properties, including search and YouTube, paid clicks increased 8 percent year-over-year while cost-per-click, or how much it can charge for its ads, decreased 7 percent year-over-year.

Properties revenues were nearly $22 billion. Its Network Members' properties, which includes third-party sites, saw its impressions increase 5 percent year-over-year and its cost-per-impression decrease 10 percent year-over-year. Network revenues were $4.6 billion.

Traffic-acquisition costs (TAC) was $6.28 billion and represented 24% of Google's total ad revenue for the quarter, up from 22% a year ago and flat with Q4, slightly above an analyst consensus of 23.4%.
Concerns about rising TAC costs is what saw Alphabet's stock fall after last quarter results were released in February, and remain a concern this quarter.

On $GOOGL's earnings call, chief financial officer Ruth Porat said the TAC increase reflects the fact that mobile search and programmatic advertising have higher TAC.
Other Revenues - Including Cloud, Play
"Google Other revenues" include its cloud business and hardware sales brought in $4.3 billion for the quarter, up from $3.2 billion year-over-year
Includes revenues from smart-home unit Nest for the first time.
This quarter, Google changed its monetization metrics for Google's Network properties from clicks to impressions.
"Alphabet Other Bets"
Includes healthcare company Verily and internet service provider Fiber.
Other Bets posted Q1 revenue of $150 million on operating losses of $571 million.
Previously, this was where Alphabet posted Nest revenues, which explains why revenue declined from $409 million in Q4.
Source: Google, TradersCommunity, AlphaStreet
Live From The Pit