Goldman Sachs, America's largest investment bank reported better than expected second quarter earnings before the bell Tuesday. $GS equity trading revenue however was weaker than expected, not a positive in a rampant bull market.
Goldman Traders Risk Assets Revenues Jump
Earnings
Goldman reported EPS of $5.98 on revenue of $9.4 billion beating forecasts of $4.67 EPS on revenue of $8.7 billion. Net revenues of $9.40 billion were 19% higher than the second quarter of 2017 and the highest second quarter in nine years.
Reaction: Goldman Sachs Group Inc NYSE: $GS
Pre-market $230.98 −0.46 (-0.20%)
Highlights
Fixed-income, currency and commodities trading revenue jumped 45% to $1.68 billion

Equities trading revenue was flat at $1.89 billion.

Investing and lending revenue rose 23% to $1.94 billion.

Investment management revenue rose 20% to $1.84 billion.

The firm ranked first in worldwide announced mergers and acquisitions for the year-to-date. The firm also ranked first in worldwide equity and equity-related offerings, common stock offerings and initial public offerings for the year-todate.
Investment Banking produced net revenues of $2.05 billion (third highest quarter), reflecting strong net revenues in both Financial Advisory and Underwriting.
Assets under supervision increased to a record $1.51 trillion.
First half diluted EPS increased 42% compared with the first half of 2017 to a record $12.93.
First half annualized ROE (1) of 14.1% was the highest in nine years.
Book value per common share increased by 4.1% during the quarter and 7.4% during the year-to-date to $194.37.
"Solid performance across all of our major businesses drove the strongest first-half returns in nine years. With a healthy economic backdrop and deep client franchises, the firm is well-positioned to invest in attractive opportunities to meet the needs of our clients and continue to generate earnings growth." ~ Lloyd C. Blankfein, Chairman and Chief Executive Office
Last month the Federal Reserve restricted the payout plans of $GS after the bank's numbers they submitted for annual stress tests fell below Fed targets. The Fed opted not to fail the bank regardless, instead giving them a "conditional" pass.
Goldman Sachs First Quarter 2018 Recap
Earnings
EPS of $6.95 on revenue of $10.04 billion. Investment banking revenue rose 5% to $1.79 billion Ahead of expected EPS of $5.67 on revenue of $8.89 billion,
Goldman Sachs Group Inc NYSE: $GS
April 17, 9:48 AM EDT 260.09 ▲ 2.10 (0.81%)
Highlights:
Fixed income, currencies and commodities revenue rose 23% to $2.07 billion
Equities revenue leapt 38% to $2.31 billion,
Investing and lending revenue surged 43% to $2.09 billion.
Investment management revenue rose 17% to $1.77 billion.
Quarterly dividend was raised 6.7% to 80 cents a share.
Annualized ROE (1) of 15.4% was the highest in over five years.
Diluted earnings per common share were $6.95, the third highest quarterly performance.
Book value per common share increased by 3.2% during the quarter to $186.73.
"We are well positioned to serve our clients as the global economy continues to show strength and central banks unwind certain aspects of policy stimulus, We are also broadening our client base and further diversifying our businesses to drive more revenue and earnings growth for the firm." Chairman and CEO Lloyd Blankfein said in a statement.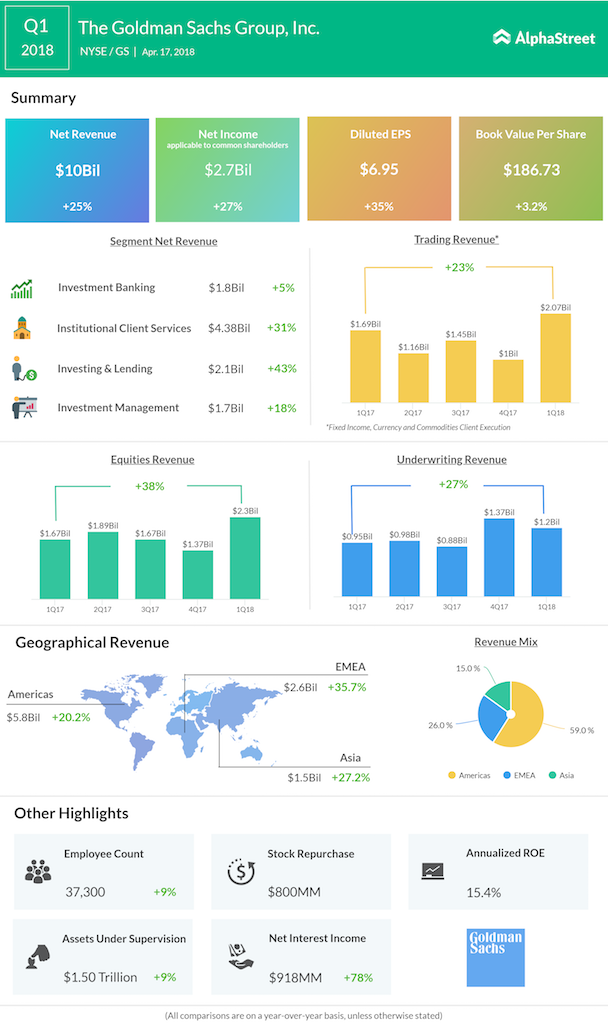 The bank rally had been fueled by expectations for easier regulations including a possible repeal of DoddFrank and infrastructure spending. The Federal Reserve decision to raise rates has also helped banks. The new surge in home prices has also buoyed optimism for the mortgage business and banks profits thereto. Tax cuts, a stronger economy and higher interest rates have helped banks' earnings. Bank of America reported results on Monday.
Goldman's results follow earnings on Friday from following money center banks JPMorgan Chase $JPM. Wells Fargo $WFC, PNC Financial $PNC and $C. Bank of America $BAC reported bouyant results on Monday.
Source: Goldman Sachs, AlphaStreet

Live From The Pit