Advanced Micro Devices reported much better than expected earnings after the close Wednesday. $AMD shares soared over 9% higher. The chip maker had been sold off with concerns about cryptocurrency demand falling.
Earnings
$AMD reported net income of $81 million, or 8 cents a share, on sales of $1.65 billion. This was up around 40% from $1.34 billion a year ago. After adjusting for stock-based compensation and other factors earnings were 11 cents a share beating expectations of 9 cents a share on sales of $1.57 billion, according to FactSet.
Advanced Micro Devices, Inc. NASDAQ: AMD
Market Reaction After hours 10.60 +0.88 (+9.06%)
Highlights
Gross margin was 36 percent, up 4 percentage points year-over-year and 2 percentage points quarter-over-quarter.
Gross margin percentage increase was driven by a greater percentage of revenue from Ryzen™, Radeon™ and EPYC™ products.
Computing and Graphics segment revenue was $1.12 billion, up 95 percent year-over-year and 23 percent quarter-over-quarter, primarily driven by strong sales of Radeon and Ryzen products.
Client processor average selling price (ASP) increased year-over-year and quarter-over-quarter due to a greater percentage of revenue from our Ryzen products.
GPU ASP increased year-over-year and quarter-over-quarter driven by a greater percentage of revenue from our new Radeon products.
Operating income was $138 million, compared to an operating loss of $21 million a year ago and operating income of $33 million in the prior quarter. Operating income improvement was driven by higher revenue.
Enterprise, Embedded and Semi-Custom (EESC) segment revenue was $532 million, down 12 percent year-over-year due to lower semi-custom revenue, partially offset by higher server and embedded revenue.
EESC segment revenue was up 23 percent quarter-over-quarter, driven by semi-custom, embedded and EPYC processor revenue.
Operating income was $14 million, compared to operating income of $55 million a year ago and an operating loss of $13 million in the prior quarter. The year-over-year decrease was primarily due to a licensing gain that occurred in Q1 2017. The quarter-over-quarter increase was primarily due to higher revenue.
Outlook
AMD forecast higher revenue in the current quarter than analysts expected, guiding for revenue of $1.68 billion to $1.78 billion above the forecast $1.58 billion.
$AMD Technical Picture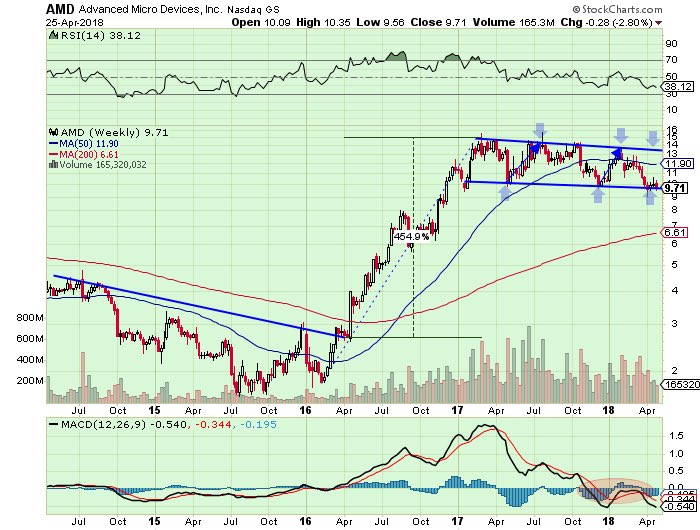 $AMD weekly updated via @AnthonyMaceroni "BIG resistance in the 13s (my tgt) but that doesn't mean a breakout isn't possible above that. Up 8.44% AH at 10.53. "
Tesla AI Chip from AMD
AMD Artifical Intelligence Chips are used in Tesla autonomus driving
Tesla $TSLA has been developing an Articial Intelligance (AI) Chip for self driving car using $AMD intellectual property.Tesla's new chip will likely reduce its reliance on Nvidia $NVDA. $AMD spin-off GlobalFoundries CEO Sanjay Jha said it's working directly with Tesla on the chip. GlobalFoundries has a wafer supply agreement in place with AMD through 2020.
Tesla has over 50 employees involved in the project, including the head of Autopilot hardware and software Jim Keller. Keller joined Tesla in early 2016 following two stints at AMD and one at Apple. Keller is reknowned in the industry and his chips include the design of Apple's A4 and A5 iPhone chips.
In September CNBC reported that sources say $TSLA has received back samples of the first implementation of its processor and is now running tests on it.Tesla CEO Elon Musk has promised that autonomous driving capability will be available to consumers in 2019. The key is a chip that power-efficient and able to harness AI to drive a car autonomusy. Current Tesla autopilot self-driving vehicles use Nvidia graphics processing units and Tesla has used chips from Mobileye (now part of Intel) before. The notorious $TSLA auto pilot accident last year was using Mobileye chips.
Source: AMD
Live From The Pit