Boeing $BA, is the world's largest aerospace company, reported better than expected third quarter earnings beating expectations and raising guidance before the market open Wednesday. Boeing has been the best performing stock in the Dow for 2017, an admirable performance when you consider the rough 2016 it had.
Boeing traditionally is a company that relies on a strong economy and as such is a strong economic indicator. However times have changed somewhat since President's Trump's election and fiscal 2018 budget details. Boeing and Lockheed were two of the first two meetings with Trump, to lower costs of the F-35 and the Air Force One programs.
Earnings: EPS of $272 on revenue of $24.06 billion beating EPS $2.65, on revenue of $24.06 billion expected.
Reaction: Boeing Co NYSE: BA Pre-market: $265.50 -.80 -.30%
Commercial aircraft revenue fell 1% to $14.98 billion.
Defense, space and security revenue fell 5% to $5.47 billion.
Global services revenue grew 2% to $3.57 billion.
Backlog slipped to $474 billion at the end of Q3 from $482 billion at the start of Q3.
+ Note a year ago is when Boeing took $3 billion in pretax charges for it's 787, 747 and KC-46 tanker aircraft programs. Those costs are still an issue, the commercial unit suffered additional costs of $256 million on the Air Force's KC-46 tanker program, which also cost Boeing's defense unit another $73 million during the quarter. Boeing has already booked more than $2 billion in cost overruns on the program.
The U.S.'s decision to ramp up defense spending and to favor American made has helped Boeing. Boeing makes the Super Hornet fighter jet and the maligned KC-46 aerial refueling tanker among others.
Change in Europe has also helped the company, firstly we had Brexit and a new President in France. This uncertainty helped $BA as British Aerospace is Boeing's main competitor. Boeing is also a player in the geopolitical game, this is a factor. We have had Russia, China, Qatar and Saudi Arabia all heat up in this space.
Guidance
Full-year core EPS raised to $9.90-$10.10, up from a prior view of $9.80-$10.00, driven by a lower tax rate, though the midpoint is still below the consensus estimate of $10.06 and implied Q4 EPS is $2.62-$2.82, below views for $2.96.
Cash flow is now seen at $12.5 billion, up from $12.25 billion, led by improved performance.
Boeing Highlights Contracts in Place
Military and Space
Boeing Military Contracts in 2017 Include;
Awarded a contract with U.S. Army for 268 Apache helicopters in 1Q17 (Image Above)
Awarded contract from U.S. Air Force for an additional 15 KC-46 Tanker aircraft in 1Q17
First tanker delivery expected to occur in late 2017 with 18 fully operational aircraft to be delivered in early 2018
Awarded a contract for 17 P-8 Poseidon aircraft from U.S., Australia, and U.K. in 1Q17F
First international delivery of EA-18G to Australia
Boeing Network and Space Contracts in 2017 include;
NASA extended Boeing's international space station contract
NASA awarded Boeing its second commercial contract for a human spaceflight mission as part of the existing Commercial Crew contract
Announced an order in 1Q17 for a 702 satellite with a dual payload from SKY Perfect JSAT and Kacific
Global Services & Support Contracts in 2017 include;
Awarded a contract for full-rate production of QF-16
Awarded a contract from U.S. Air Force for C-32 and C-40 aircraft maintenance and support
Awarded a contract for sustainment of F-15 aircraft from Republic of Korea
Awarded a 10-year engineering services contract by the U.S. Air Force Material Command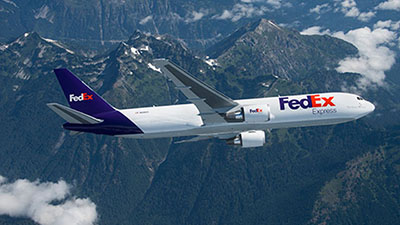 Commercial
Commercial Aircraft Highlights in 2017 include;
737 Plan to increase to 47/mo in 3Q17, Plan to increase to 52/mo in 2018, Plan to increase to 57/mo in 2019
Rolled out first 737 MAX 9 in 1Q17
First delivery of the 737 MAX expected in May 2017
767 Plan to increase to 2.5 / mo in 3Q17
FedEx has placed firm orders for 100 767s (pictured above)
Potential market of up to 400 tanker aircraft worth $80 billion
First tanker delivery expected to occur in late 2017 with 18 fully operational aircraft to be delivered in early 2018
777 Plan to decrease to 5 / mo in August 2017
Nearly 1,400 aircraft in-service
Over 70 customers with over 600 aircraft have been in service more than 10 years
787 Plan to increase to 14/mo by end of the decade
Over 130 new non-stop markets planned or already connected by the 787
Completed first flight of the 787-10 in 1Q17
787-10 first delivery is expected in 2018
Source: Boeing, TradersCommunity
Live From The Pit