Video game publisher Electronic Arts reported better than expected June quarter earnings after the market Thursday. The Covid lockdown saw gamers exceed all forecasts of interactions and purchasers. $EA guided higher for next quarter.
Electronic Arts Inc. NASDAQ: EA) Reported After Close Thursday
$1.42 Beat $0.79 EPS Forecast and $1.39 Beat $1.05 Billion Forecast in Revenue
"Player engagement through the first quarter was exceptionally high, and well above our forecast," Chief Financial Officer Blake Jorgensen said in the EA earnings news release. "Our Stay Home, Play Together initiatives have been a strong tailwind for the business, as players look for safe and social entertainment in these difficult times."
Earnings
Electronic Arts earned an adjusted $1.42 a share on net bookings of $1.39 billion in the quarter ended June 30. Analysts had expected EA earnings of 79 cents a share on sales of $1.05 billion. In the year-earlier period, EA earnings were an adjusted 25 cents a share on sales of $718.9 million.
Electronic Arts bookings up q/q 78% y/y $5.98B T12M bookings, +17% y/y $
Electronic Arts Inc. NASDAQ: EA
Market Reaction: After hours $139.90 +1.31 (+0.95%)
Highlights
$EA $1.39B Q bookings 78%
y/y$5.98B T12M bookings, +17% y/y
$2B CF T12M
140% growth in new Madden players
100% growth in new FIFA players
@PlayApex highest engagement since S1
Launched 30 new titles on @Steam
Outlook
For its full fiscal 2021, EA expects net bookings of $5.95 billion. That topped Wall Street's forecast for $5.61 billion. Net bookings last year were $5.21 billion.
The company expects live services to continue to drive growth in fiscal 2021 and for growth to accelerate in fiscal 2022, led by a new Battlefield. Electronic Arts said its broad-based business model lowers its dependence on individual titles and deliver financial results by providing a constant stream of high-quality entertainment for players.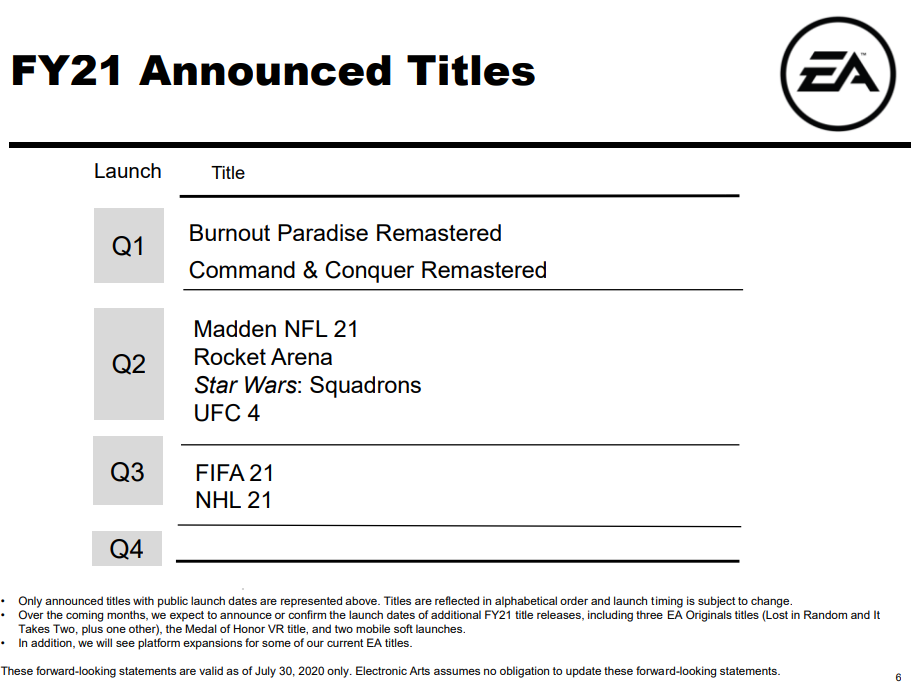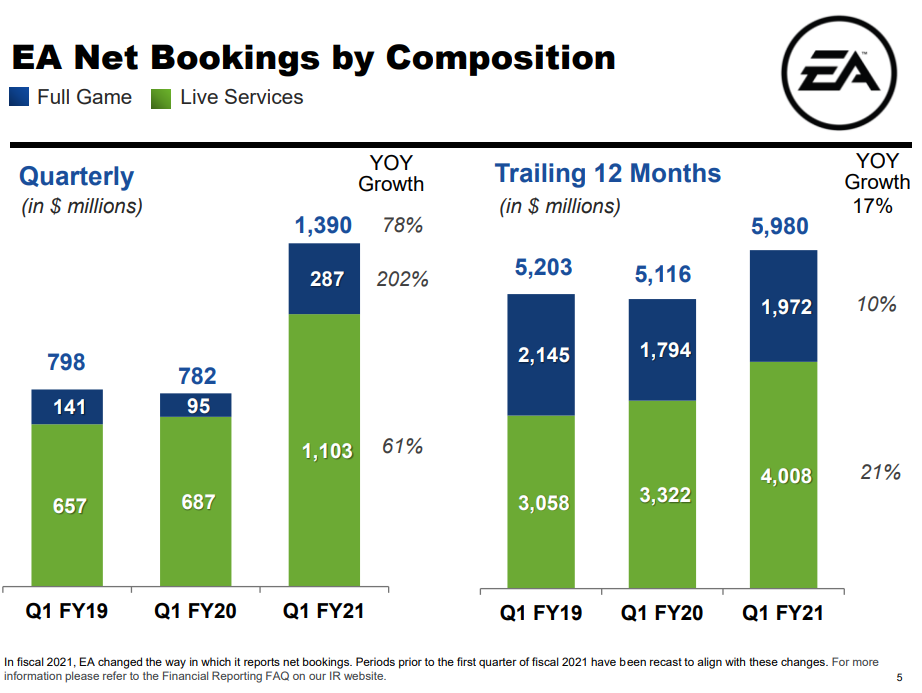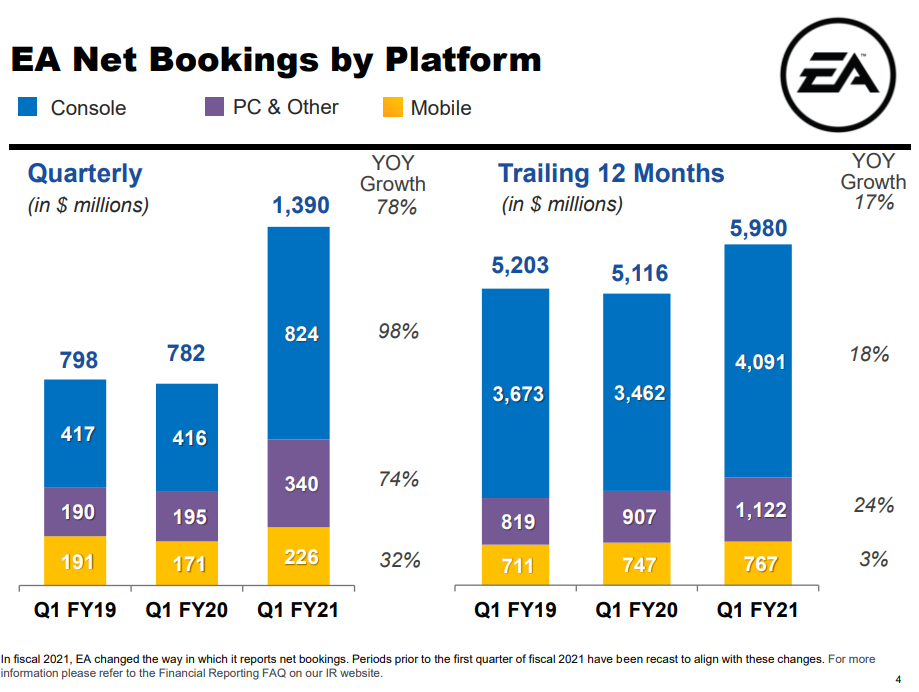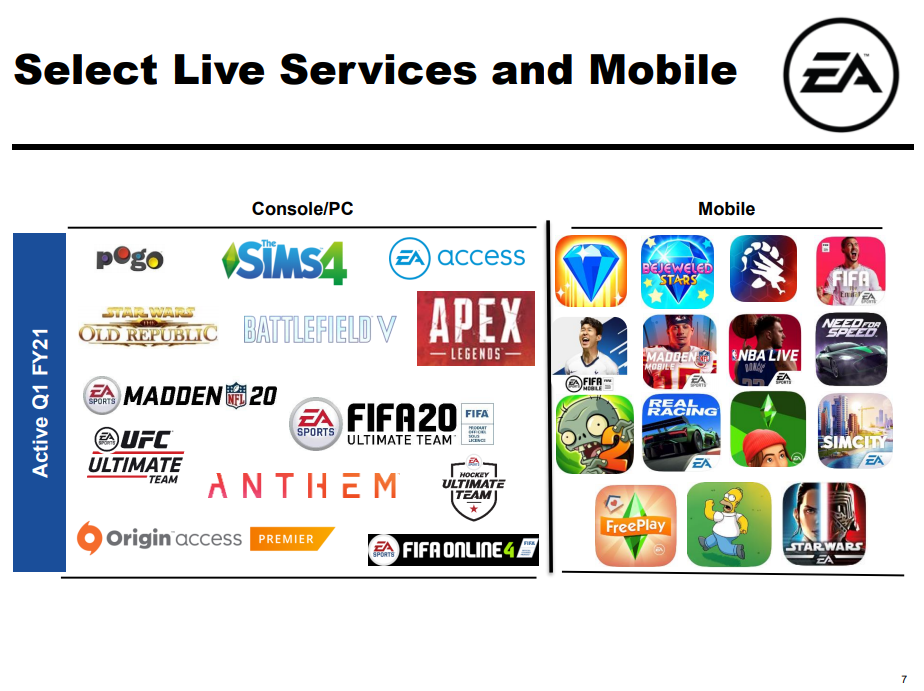 Battlefield V and Fortnite
EA delayed the flagship first shooter game Battlefield V launch by about a month last year sending the stock sharply lower by 10% on the day to its lowest level since January which induced analysts at Bank of America to downgrade the stock. Fortnite has taken gaming by storm and become the great disruptor, EA needed no reason to worry investors of inroads into their staples.
Competition in the gaming industry has gone to another level after the blockbuster that is Fortnite. The success from Epic games sees developers and publishers frantically revising their strategies. EA is eager to not put a foot wrong and puts customer experience of paramount importance. However Electronic Arts by delaying in a hyper bull market caused nervous disappointment for investors.
Battlefield is the most popular game among the company's franchises.
EA at the Electronic Entertainment Expo held in June had announced that Battlefield V would feature a Battle-Royale mode, first introduced by Fortnite parent Epic Games. This had excited gamers and investors alike as it was seen as Battlefield V helping Electronic Arts regain the market share it lost to competitors recently.
It has been a wild year for Electronic Arts stocks, hitting a record high in late July but falling back after the company announced weak quarterly guidance, despite better-than-expected earnings.
Key games for EA during the December quarter included Star Wars Battlefront 2, Madden NFL and FIFA.
EA's gross digital revenues come from Battlefield 1, Ultimate Team and Madden NFL 18 full game downloads. Current EA sports titles include "Madden NFL 19," "FIFA 19," "NBA Live 198," "NHL 19," all built on the 'captures' or existing bases.
Other EA revenues include the 'Packaging goods and Other segment and from Live services increased 29% to $476 million. This segment includes revenues from extra content and subscriptions, advertising, and others. Live services net bookings are driven by Ultimate Team and The Sims 4.
Geographically EA receives around 39% of revenue from North America (39% of total revenue) and internationally around 61% of total revenue. Over the past year "Star Wars Battlefront II, Battlefield," "Mass Effect" and The Sims and Need for Speed franchises all built their bases, strengthening their franchise values.
The video gaming industry's holiday selling season is big driver of EA earnings and it has much ado about competition from "Fortnite."
"Fortnite" continues to expand its user base on a monthly basis, which may negatively affect the large publishers' game sales later this year. Increased competition in the first-person shooter game market, as shown by the "Battlefield V" issues, will likely pressure publishers' high valuation multiples.
Source: Electronic Arts, AlphaStreet
Live From The Pit