Lennar Corporation reported better than expected Q2 earnings Tuesday. However $LEN reversed sharply lower after guiding lower in their conference call and May new home sales showed a big miss in the west.

Lennar is the largest U.S. homebuilder on total revenue
Lennar Corporation NYSE: LEN Reported Earnings Before open Tuesday
$1.30 Beat $1.13 EPS AND $5.56 Beat $5.11 Billion forecast in revenue.
Earnings

Lennar Corporation reported Q2 earnings 18% lower to $1.30 a share as revenue climbed 1.8% to $5.56 billion. The results were ahead of. analyst consensus estimate at $1.13 per share, a decrease of 28.5% from the year-ago earnings of $1.58 per share. Revenues were expected to decrease 6.3% year over year to $5.11 billion. Lower mortgage rates, rebounding western markets and ongoing demand for affordable housing by multiple demographic groups is expected to positively affect guidance.
California home sales had been trending in a positive direction, Lennar was expected to benefit from higher volume and average selling prices. Robust backlog position and increased traffic on the back of improved consumer confidence, wage growth as well as lower mortgage rates are expected to be conducive to the company's revenues.
Lennar Corporation's results come before KB Homes report
Lennar Corporation NYSE: LEN
Market Reaction After CC $49.03 USD −2.36 (-4.59%)
Highlights and Outlook
Lennar deliveries rose 5% vs. a year earlier to 12,729 homes.
New orders rose by 1% to 14,518 homes, ahead of ome estimates.
New orders fell 4% in dollar terms to $5.8 billion.
Outlook
Lennar sees higher gross margins in the next two quarters, led by lumber savings and cost synergies from its CalAtlantic takeover.
However in the company's conference call Lennar guided lower
Guides Q3 $1.25-1.35 v $1.54 previously.
Q3 deliveries 13.0-13.3K homes,
New orders 12.5-12.8K homes
Gross margin 20.3-20.5%
ASP $385-390K,
SG&A 8.3-8.4%.
Management also said that tariffs have a negative cost impact of approximately $500 per home.
The stock fell from bring up 3% to down 5%.
Following the $LEN Conference Call All home builders were hit, already under pressure after following weak US May new home sales were much lower than expected at 626K vs 684K expected. The prior was 673K (revised to 679K).

US May new home sales
May new home sales were much lower than expected at626K vs 684K expected.
The prior was 673K (revised to 679K).
Sales -7.8% m/m vs +1.6% exp with prior -3.7%.
The median price $308K vs $335.1K prior.
This huge miss was a five-month low for new home sales and the second consecutive month of declines.
The 'west' region sales fell to 125K from 195K.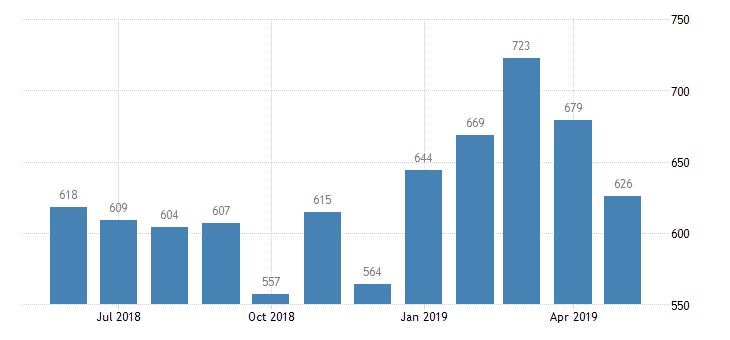 The Conference Call saw homebuilders drop after the release
$DHI - 2.99% D.R. Horton Inc.
$LEN - 4.81% Lennar Corporation Class A
$KBH - 3.96% KB Home
$PHM - 3.02% PulteGroup Inc.
Labor shortages, higher construction costs, limited land availability, and increases in new and existing home sale prices have been hurting the homebuilding industry for quite some time now.
Raymond James analyst Buck Horne downgraded Lennar on June 19 From Market Perform To Underperform
The is ahead of home-builder earnings, he also downgraded KB Homes.
Horne says he's concerned about "above-average cyclical valuations amid declining earnings estimates across the industry, [and] softening macro-economic data points and indicators of a late-cycle shift." He removed his price targets on both stocks.
Horne warns that his research points to elevated inventory into the summer season, "potentially creating more gross margin pressure for builders later this year." and "decidedly neutral across the homebuilding space for the intermediate period,"
Higher construction and land costs have been creating pressure on the company's gross margin over the last few quarters. Nonetheless, Lennar remains focused on continued improvement of margins.
Lennar Corporation Q2 Earnings Recap
$0.74 Missed $0.75 EPS AND $3.9 Billion Missed $4.11 Billion forecast in revenue.

Earnings

Lennar Corporation for the quarter ending in February, the company's fiscal first quarter, was 74 cents a share, up 39.6% from the same period last year but 1 cent lower than consensus forecast. Group revenues rose 31% to $3.9 billion but also missed analysts' forecasts of $4.11 billion.
Lennar Corporation's results came after KB Homes reported yesterday and weak housing data released earlier Tuesday with the House prices ring a seasonally adjusted 0.1% in January the S&P CoreLogic Case-Shiller 20-city index showed. Price gains were 3.6% higher compared to a year ago. However that is the slowest annual growth since 2012 with a monthly decline for the third-straight month.
US February housing starts were also released at1162K vs 1210K expected from the prior 1230K (revised to 1273K). The fall was large at -8.7% vs -1.6% expected. US February building permits were also weaker at 1296K vs 1305K exp from the prior 1345K (revised to 1317K). The fall was -1.6% vs -0.9% expected.
Lennar Corporation NYSE LEN
Market Reaction Pre-market 51.48 +1.77 (+3.56%)
Highlights and Outlook
"We continued to see choppiness in the marketplace during our first quarter, consistent with what we highlighted on our fourth quarter conference call," said CEO Stuart Miller. "However, during the quarter, mortgage interest rates subsided and ultimately pulled back and home prices moderated providing a catalyst for the new home market to correct itself. Accordingly, sequentially throughout the first quarter, we saw increased interest in new home purchases as part of an improving and stabilizing housing market, We continue to believe that the basic underlying housing market fundamentals of low unemployment, higher wages and low inventory levels remain favorable."
New home orders rose 24% to to $4.2 billion,
Deliveries over the three month period jumped 30% from last year to 8,820 units.
The group's backlog, however, slipped 2% to 17.259 units.
New orders soared 24% to 10,463 homes.
Homebuilding gross margin was 20.1%,
SG&A of 9.5% marked an all-time, first-quarter low.
Repurchased an additional one million shares of our stock for $47.0 million during the quarter
Live From The Pit