Energy services company Baker Hughes, a GE Co. reported weaker than expected third quarter earnings on Tuesday before the market open with Parent General Electric $GE . $BHGE peers Schlumberger and Halliburton have already reported.
Baker Hughes A GE Co NYSE: $BHGE Reported Before Open Tuesday
$0.19 Misses Exp $0.21 EPS AND $5.67 Misses $5.89 Billion Revenue Forecast
Earnings
Baker Hughes, a GE Co reported Q3 earnings with a profit of $78 million, or 19 cents per share, from an adjusted loss of $7 million, or 2 cents per share, a year earlier. Analysts had expected profits of 21 cents per share. Total revenue rose to $5.67 billion from $5.30 billion, revenues were expected to be $5.89 billion.
Baker Hughes A GE Co NYSE: $BHGE
Market Reaction 26.48 ▼ 0.090 (0.34%)
Highlights
Oilfield services, which accounts for over half of total sales, rose 12.5 percent from a year earlier to about $3 billion.
U.S. oilfield services firms have seen demand soften as producers cut spending due to transportation bottlenecks in the Permian basin.
Revenue from turbomachinery and process solutions dropped roughly 2 percent to about $1.40 billion.
Outlook
The company projects higher activities in several international markets. Baker Hughes also expects higher growth in the upcoming quarters which will be backed by rising rig count and operating wells in North America. The company is also optimistic about LNG and expects 65 million tons per annum of new capacity to be approved by 2020.
U.S. oil rigs in service hit a new cycle high this week as U.S. oil production remains unchanged at 10.90 million bpd. Bottlenecks remain in the Midland Texas area.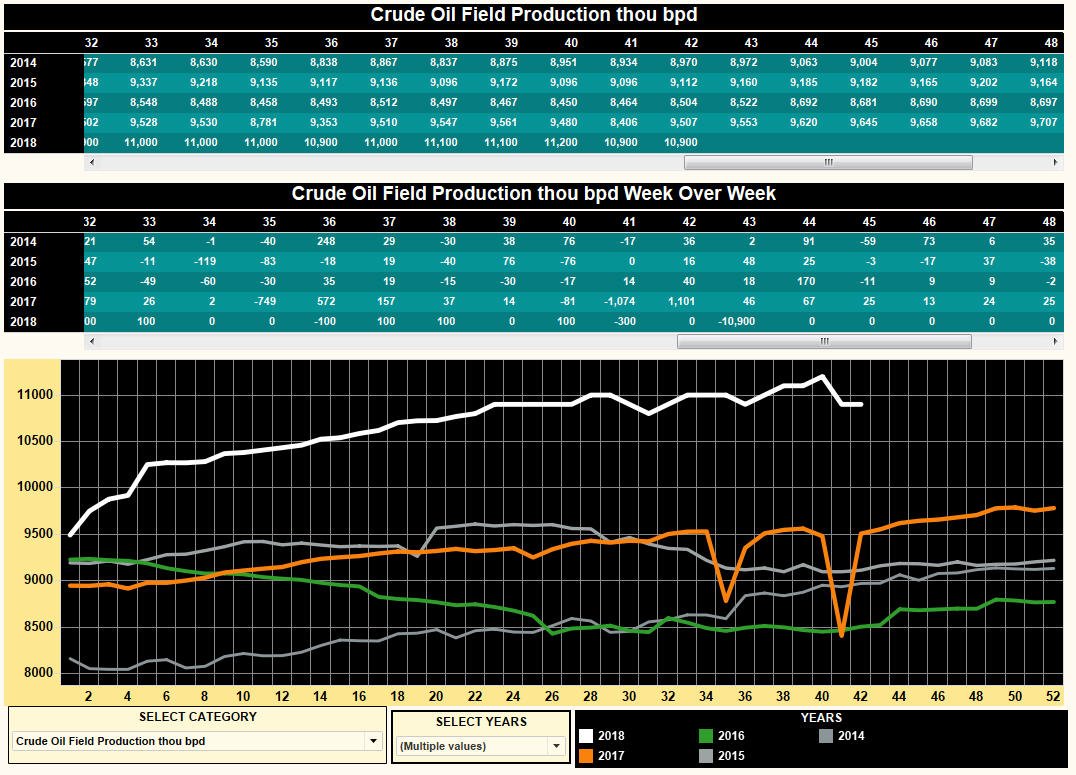 Image via RonH Energy @Ronh999
Baker Hughes A GE Co NYSE: $BHGE Q2 Earnings Recap
$5.75 Beat $3.12 EPS Forecast BUT $56.6 B Missed $57.08 Billion Forecast in Revenue
Earnings:
Adjusted earnings of 13 cents per share, missing estimates by 1 cent, according to Thomson Reuters I/B/E/S. Overall revenue rose 2.4 percent to $5.55 billion, slightly below expectations of $5.57 billion.
Baker Hughes A GE Co NYSE: $BHGE
Market Reaction > $32.00 +0.22 (+0.69%) July 20, 2018
Highlights
Revenue from its oilfield equipment business (includes deepwater drilling) fell 9.4 percent to $617 million missing analysts' estimate of $648.2 million.
Revenue from its oilfield services business, which accounts for more than one-half of overall sales, gained 14 percent year over year to approximately $2.9 billion, driven by stronger activity in North America.
Orders of $6.0 billion for the quarter, up 15% sequentially and up 9% year-over-year on a combined business basis* Cash flows generated from operating activities were $139 million for the quarter.
Free cash flow (a non-GAAP measure) for the quarter was $(22) million. Included in free cash flow is a cash usage of $110 million relating to restructuring and merger-related payments.
Competitor Schlumberger also reported today and announced similar activity in North America, the EIA announced this week that U.S. oil production hit an all time high of 11 million bpd.
Outlook
Baker Hughes expects longer-cycle projects to drive growth in its oilfield equipment and turbomachinery businesses in the second half of 2018 and 2019. The company forecast that demand in LNG markets would double to about 500 million tons per year by 2030.
"North American production is increasing as operators grow rig and well counts, and we are seeing signs of increasing international activity in some geomarkets," Chief Executive Officer Lorenzo Simonelli said.
via: RonH tableau public
General Electric Demerger
On June 26, $GE announced it will divest its 62.5 percent stake in Baker Hughes in the next two or three years in a bid to simplify its structure and boost shareholder returns. GE acquired the Baker Hughes in July 2017, creating the second largest oilfield services provider by revenue.
Baker Hughes today announced will keep technology, capabilities and infrastructure obtained through the merger despite its breakup with GE.
"There are agreements in place to ensure there is a seamless separation. We'll work with GE as they evaluate the timing and structure," Simonelli said..
Source: BHGE
Live From The Pit