Pharmaceutical company KemPharm shares have risen after $KMPH received approval for the AZSTARYS NDA an alternative for Adderall and other ADHD treatments. In there fourth quarter earnings they announced a restructured its balance sheet, extinguished its debt and re-listed on The Nasdaq Capital Market. The stock is also heavily shorted.
Q4 2020 and Full Year Earnings
KemPharm's net loss for Q4 2020 was ($4.9 million), or ($1.07) per basic share and diluted share, compared to net loss of ($6.0 million), or ($2.90) per basic and diluted share for the same period in 2019. KMPH reported Q4 2020 revenue of $2.4 million and FY 2020 revenue of $13.3 million. FY 2020 net loss of ($3.21) per basic and diluted share compared to a net loss of ($13.23) per basic and diluted share for the year ended December 31, 2019
For Q4 2020, KemPharm revenue was primarily derived from service fee revenue, as compared to Q3 2020 revenue of $1.9 million, which was also primarily derived from service fee revenue. Current consulting arrangements are expected to provide service fee revenue through March 2022.
Net loss for Q4 2020 was driven primarily by operating loss of ($3.2 million) and net interest expense and other items of ($1.6 million). The net operating loss of ($3.2 million) for Q4 2020 was a change of $1.2 million compared to net operating loss of ($4.4 million) in the same period in 2019, which was primarily due to a decrease in royalty and direct contract acquisition costs related to the KP415 License Agreement of $1.9 million and an increase is revenue of $1.0 million, partially offset by an increase in research and development expenses of $0.6 million and an increase in general and administrative expenses of $1.2 million.
Financial Highlights
Total cash, cash equivalents and restricted cash was $77.6 million at March 10, 2021
Completed financial restructuring and re-listed on The Nasdaq Capital Market, resulting in no debt and receiving gross proceeds of approximately $94 million
Travis C. Mickle, Ph.D., President and Chief Executive Officer of KemPharm said. "Completing the multi-phased financial restructuring process was critically important during this timeframe, and bringing this together required a series of transactions that had to be orchestrated in a specific sequence. Now, combined with the approval of AZSTARYS, KemPharm is in a position of strength as we look forward to realizing the value from our development investments and the growth that is possible for the Company as a result."
Large Short Interest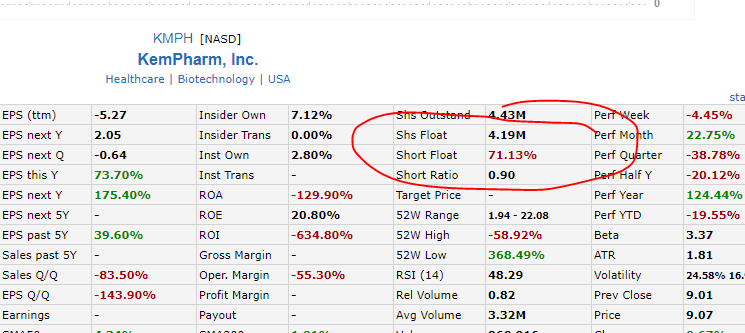 Pipeline Outlook
AZSTARYS™ NDA approved by the FDA on March 2, 2021 Co-hosted "KP415 Market Opportunity and Commercialization Strategy" Investor Event with Corium, Inc. Received FDA clearance to initiate KP879 clinical program for the treatment of Stimulant Use Disorder Dr. Mickle continued, "Now with the AZSTARYS approval behind us, we are working alongside the Corium team on the product's commercial launch which is expected as early as the second half of 2021. As discussed during the December investor event, Corium is enthusiastic about AZSTARYS' potential as a treatment for ADHD with what we believe is a clear strategy for bringing the product to market."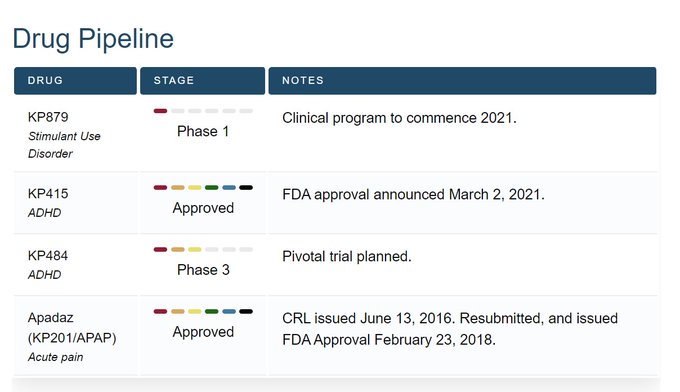 Dr. Mickle concluded, "We are also pleased to have received FDA clearance for the Investigational New Drug (IND) application for KP879, our extended-duration, agonist replacement therapy for the treatment of Stimulant Use Disorder (SUD). KP879 is an important addition to our product candidate portfolio as it provides an opportunity to address a disease indication – SUD – for which there are no FDA-approved medications, as well as to demonstrate the versatility and value potential of serdexmethylphenidate (SDX), our prodrug of d-methylphenidate. SDX is the primary API for KP879, as well as AZSTARYS and KP484, showcasing the potential for our prodrugs a platform technology. We now look forward to initiating the clinical program for KP879 in 2021."
Outlook
As a result of the Company's completion of its multi-phase financial restructure process discussed below, total cash, cash equivalents and restricted cash as of March 10, 2021 was $77.6 million. The Company believes that, based on its current operating forecast, without taking into account expected service fee and reimbursement revenues, royalty revenues or milestone payments, its existing resources are sufficient to continue operations up to at least Q1 2024.
About KemPharm:
KemPharm is a specialty pharmaceutical company focused on the discovery and development of proprietary prodrugs to treat serious medical conditions through its proprietary LAT® (Ligand Activated Therapy) technology. KemPharm utilizes its proprietary LAT® technology to generate improved prodrug versions of FDA-approved drugs as well as to generate prodrug versions of existing compounds that may have applications for new disease indications. KemPharm's prodrug product candidate pipeline is focused on the high need areas of attention deficit hyperactivity disorder, or ADHD, stimulant use disorder (SUD) and CNS rare diseases, including idiopathic hypersomnia (IH). KemPharm's lead clinical development candidate for the treatment of SUD, KP879, is based on its prodrug of d-methylphenidate, known as serdexmethylphnidate (SDX). In addition, KemPharm has received FDA approval for AZSTARYS™, a new once-daily treatment for ADHD in patents age six years and older, and for APADAZ®, an immediate-release combination product containing benzhydrocodone, a prodrug of hydrocodone, and acetaminophen.
Source: KenPharm
From The TradersCommunity Research Desk