U.S. oil rigs in service were unchanged this week with oil production at record highs this week as oil continues over $70 with Iranian tensions. Canadian oil rigs rose 13 with the Synocrude outage. Bottlenecks remain in the Midland Texas area.
Canada took added 13 oil rigs to 139 in the past week General Electric Co's Baker Hughes reported.
General Electric Co's Baker Hughes reported:
United States
oil rigs was unchanged 863
natural gas rigs rose 2 at 189
Canada
oil rigs rose 13 to 139
natural gas rigs rose 2 to 58
Total North America rig count rose 17 to 1251 up 108 year on year.
U.S. oil and gas production continues to rise or sit near all time highs underscoring the efficiency of the drilling rigs. We saw rigs rise per companies plans at their last earnings guidance, with oil prices high based on historical relationship with WTI prices, the move is likely to gain traction in the short term
Shale production has been lifted by the smaller niche producer and majors like ExxonMobil. Last year Exxon CEO Darren Woods said $XOM is diverting about one-third of its drilling budget this year to shale fields that will deliver cash flow in as little as three years. The Texas Permian basin is the epicenter of activity. Since CERAWeek in Houston last year added to the drilling positive tone and appears we haven't looked back after the past few weeks earnings reports for the most part with increased production outlook from Apache, RSP Permian, Cabot oil and gas, EOG Resources and Carrizo Oil and Gas to name a few. Marathon Oil also announced on March 2 that it was fully divesting from Libya to concentrate on it's US assets.
Since a six-year low of 316 in May 2016 drillers have added over 150% with the rise in oil prices and record oil and gas production. The total oil and natural gas rig count ended 2016 at 658, down 6 percent from the 698 at the finish of 2015. Baker Hughes North American Rig Summary
In early May analysts at Simmons & Co, the energy unit at U.S. investment bank Piper Jaffray, raised their forecast for the average total oil and natural gas rig count to 1,020 in 2018 and 1,135 in 2019, up from an earlier projection of 1,015 in 2018 and 1,130 in 2019. The total number of oil and gas rigs active in the United States has averaged 983, up sharply from the average of 876 rigs in 2017. This pace forecasts the highest rig count since 2014 when it averaged 1,862 rigs.
US field oil production at 10.900 mil bpd (All Time High) via RonH @Ronh999 July 11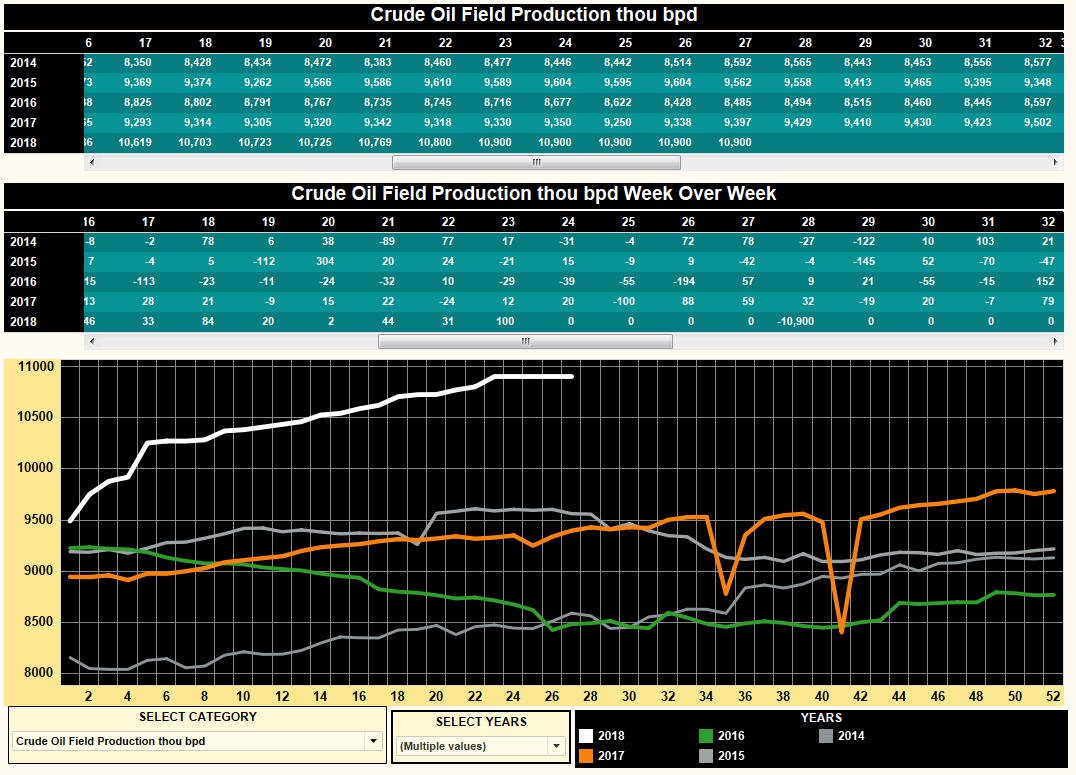 Source: Baker Hughes, TradersCommunity
From The TradersCommunity News Desk