King Salman bin Abdulaziz Al Saud on Saturday received a call from U.S. President Donald Trump and agreed on producing countries to compensate for any potential shortage of supplies. Trump tweeted that Saudi Arabia will add up to 2 million bpd. Oil closed Friday over $74 at a time when there are the least amount of shorts ever on WTI oil futures.

Saudi Arabia Ready To Produce
The offical release from the Kingdom of Saudi Arabia
Custodian of Two Holy Mosques receives phone call from US President
Saturday 1439/10/16 - 2018/06/30
Jeddah, Shawwal 16, 1439, June 30, 2018, SPA --
Custodian of the Two Holy Mosques King Salman bin Abdulaziz Al Saud received today a telephone call from President Donald Trump of the United States of America. During the phone conversation, they discussed the distinguished relations between the two countries, as well as latest developments in the regional and the international arena. The two leaders stressed the need to make efforts to maintain the stability of oil markets, the growth of the global economy, and the efforts of producing countries to compensate for any potential shortage of supplies. --SPA 16:05 LOCAL TIME 13:05 GMT 0009
U.S. President Trump Tweet
Oil prices soared to around $69 leading into the latest OPEC meeting and pulled back to $68 before the U.S. made a statement that all countries importing oil from Iran need to stop or they will face sanctions. For the Saudis this may be a huge opening as they are long declared enemies of Iran and would love nothing more than get their production up at these high dollar levels.
Saudi Arabia is Opec's largest producer and significantly was one of the few nations to support Mr Trump's decision to pull out of the Iran nuclear deal and is the leader of Arab efforts to curb Tehran's influence in the Middle East.
CL DCOT futures only managed money traders have the least amount of shorts in history. Only 19,159.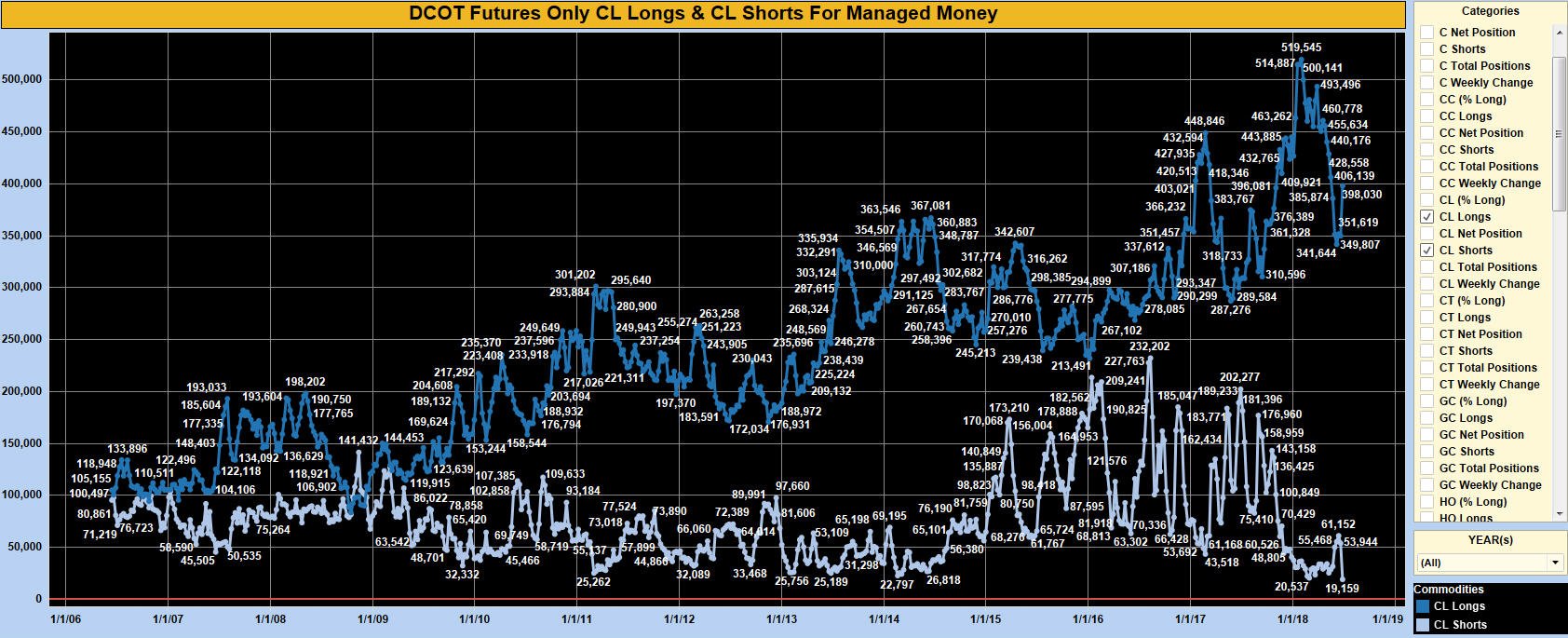 Source: @RonH999
The Saudi economy has recovered but the non-oil component is still squeezed by austerity measures. China is Iran's biggest customer and look likely to ignore America's directive. Here lies another incentive for the Kingdom with Russia now overtaking Saudi Arabia as the leading exporter of crude to China the Saudis have a huge opportunity here and at the same time weaken their sworn enemy.
Saudi Arabia last week announced that the kingdom's domestic output could be increased from nearly 10m b/d in May to 10.6m b/d, and hit record levels of about 11m b/d later this summer. This also flys in the face of the OPEC agreement and on Iran's 'outrage' as these total Saudi increases could be far higher than agreed at the meeting last month.
The Kingdom has the largest spare production capacity with an additional 2m b/d in addition to the May output of 10m b/d pumped in May. Amin Nasser, chief executive of Saudi Aramco in an interview with the Financial Times last month said that the kingdom could ramp up and sustain production at 12m b/d, but then said move could take around six months.
Another incentive is the listing and private allocations of Saudi Aramco shares at the best possible price for the Kingdom. We know from earlier in the year Saudi Arabia received an offer from a Chinese investor interested in acquiring a stake in the oil company, and was considering the offer.
With the trade war entering growing intensity with China the thought around the desk is that Iran is now in play as a bargaining chip with China in trade negotiations. Iran's response has been that if KSA does increase 2 million barrels then OPEC is dead. KSA and Russia have developed new alliances and Iran threatened to even attend the last OPEC meeting. It would seem that Saudi Arabia would not be perturbed at having either no OPEC or an Iran less OPEC or an even more formal agreement with Russia.
Average Gasoline Prices up 27% This Year
With the higher oil prices gasoline prices have soared. AAA shows over the year average regular prices are up 27% or 62c. In some states even more. This is a huge burdon on households, even more with interest rates rising. This is what concerns President Trump the most after his tax cuts and a mis term election ahead.
Interesting times, heading right into July 4 America's busiest driving and flying period, and it's most patriotic. Look for constant counter denials, we have a record long speculative market, trade wars and an ever stressed domestic Iran.
For more on Saudi Arabia Politics Follow Ellen Wald Here
Sources: Saudi Arabia Government Media; AAA
From The TradersCommunity News Desk