DOE Weekly Petroleum Status Report Date: 7/12/17
Release Time: Wednesday 19 July 2017 - 10:30 ET
Market Expectations
 
Actual
Expected
Prior
API
Crude

 -4727k

 

-3700k

-7564k

 +1600k
Cushing

 -23k

 -174k

-1948k

 +608k
Gasoline

 -4445k

 

-1000k

-1647k

 -5400k

Distillate

 -2137k

 +1300k

+3131k

 -2900k

Refinery Use

 -050%

 +.40%

 +.90%

 na
Imports
 

+386k

 
 -132k
 na
 
Actual
Prior
Production

+ 0.032 to 9.429 mbpd

+ 0.935 mbpd YOY.

+ 0.059 to 9.397 mbpd

+ 0.912 mbpd YOY 
Note in bbls *exp = Reuters poll est except Cushing  
Summary of Weekly Petroleum Data for the Week (Live Link)
DOE Estimates via @EnergyBasis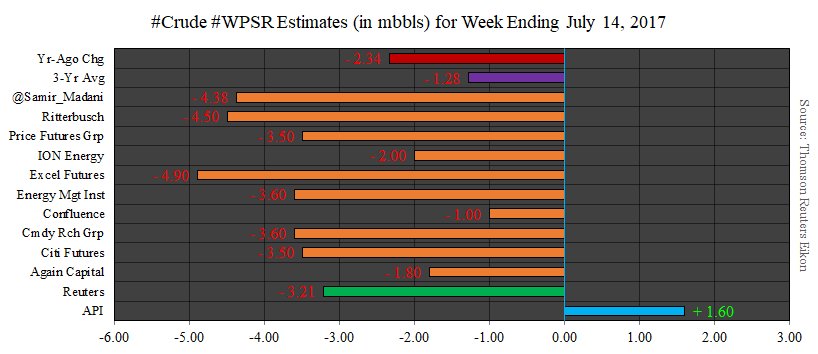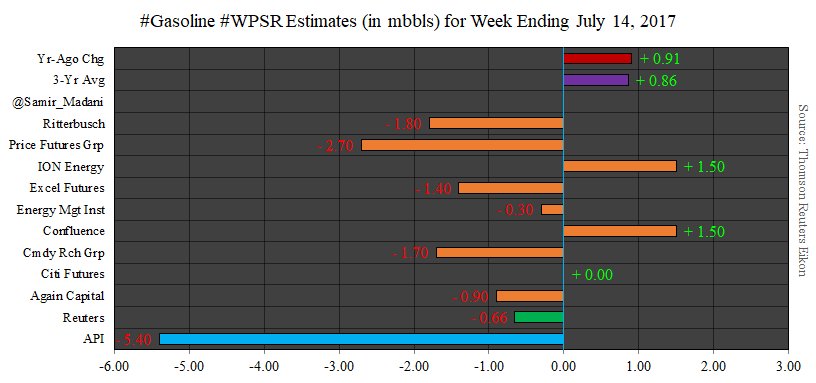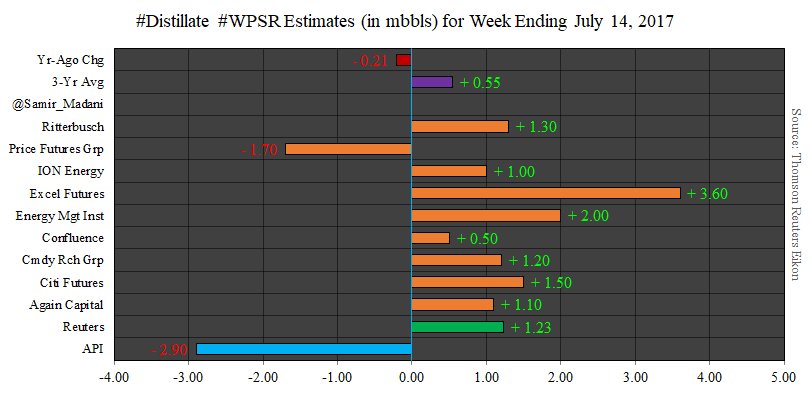 Crude Production - Oil Rigs - Crude Futures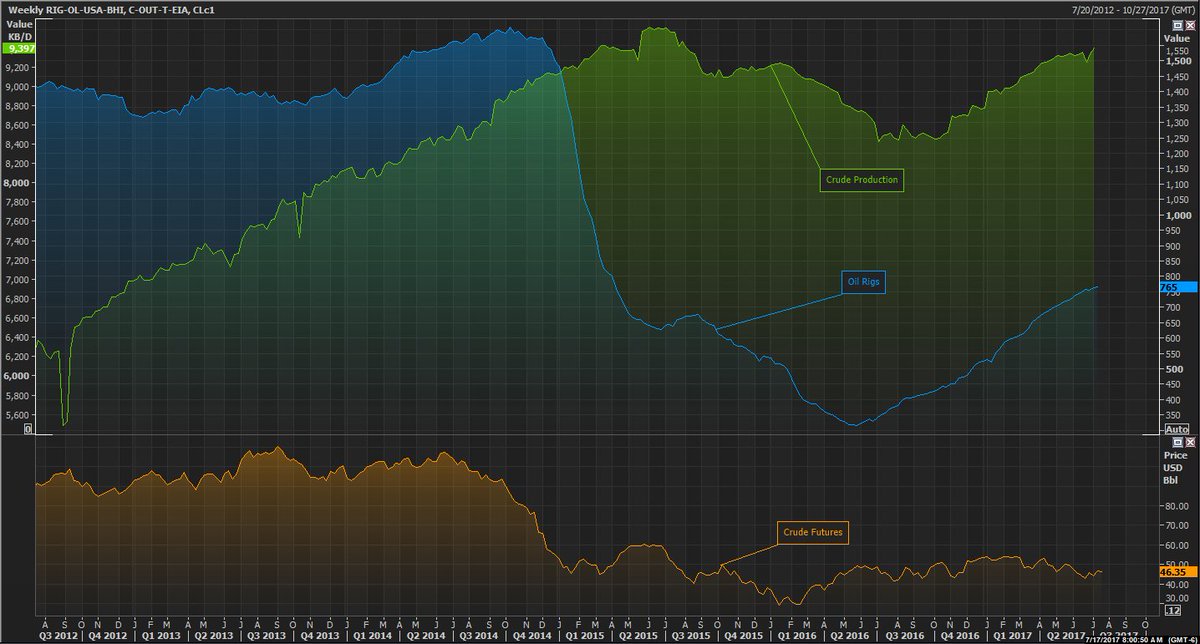 Total US RigCount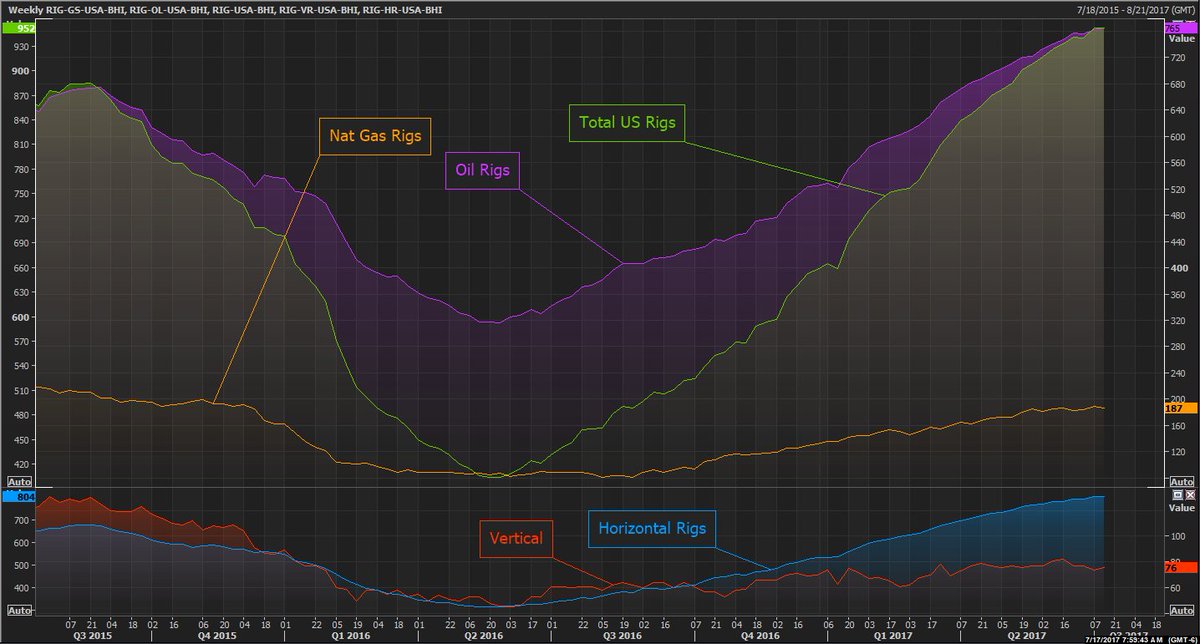 EIA Prep via @DigStic
Cumulative EIA Stock Change over Past 5 Years @DigStic
TankerTackers.com Estimates
For last week's oil deliveries from Saudi to USA, we counted 650,772 barrels per day, our all-time low so far. Compare w last week! @TankerTrackers
RonH‏ @Ronh999 Refinery Runs
NB: We added Ron H as one of our favored analysts this week, check out his great work at Ron H Public Tableau Link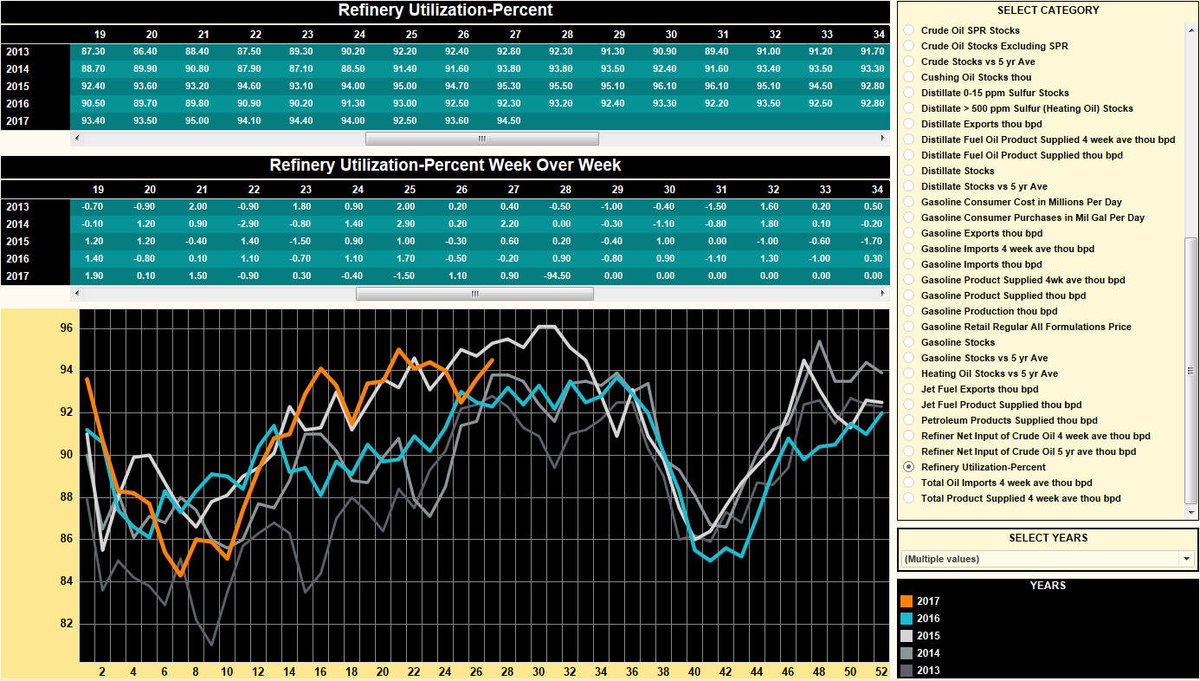 WTI Oil Futures (CL) via‏ @Lee_Saks
Ahead of API WTI crude oil futures settle at $46.59/bbl. +$0.36. +0.78%. $CL_U7


API via Marketwatch 
By Myra P. Saefong @MktwSaefong
Oil falls as sources say API data show unexpected climb in U.S. crude supply
The American Petroleum Institute reported Tuesday an unexpected climb of 1.6 million barrels in U.S. crude supplies for the week ended July 14, according to sources. The API data also showed a drop of 5.4 million barrels in gasoline supplies, while inventories of distillates were down 2.9 million barrels, sources said. Supply data from the Energy Information Administration will be released Wednesday morning. Analysts polled by S&P Global Platts expect the EIA to report a decline of 3 million barrels in crude inventories. August crude CLQ7, -0.17% was at $46.25 a barrel in electronic trading, down from the contract's settlement of $46.40 on the New York Mercantile Exchange.
http://www.marketwatch.com/story/oil-falls-as-sources-say-api-data-show-unexpected-climb-in-us-crude-supply-2017-07-18?mod=mw_share_twitter
 ** Note with the unreliability of the API numbers highlighted by its constant debacles we offer you the bare bones of that report.
REGULAR & HOLIDAY RELEASE SCHEDULE
Further Crude Oil Analysis #OOTTNews
From TradersCommunity Research