US crude exports could take big hit from Hurricane Laura, which is already a Category 4. Argus media reports Laura is set to make landfall near The Port of Beaumont, Texas, later Wednesday. This is the third top port hub for American crude exports.
The US Coast Guard today set Beaumont and Port Arthur to condition Zulu, essentially shutting the ports ahead of the storm's landfall.
Dan Graeber of the GERM report noted this morning "Port authorities have already shut down some inbound traffic from the Gulf of Mexico and a bar-napkin estimate finds at least eight refineries, from Total's Port Arthur, Texas, refinery to Citgo's 425,000 barrel-per-day facility in Lake Charles, La., are in the process of, or have already, shut down. Roughly half of total US refining capacity is in the path of Laura."
In terms of production, the US Bureau of Safety and Environmental Enforcement finds 1.6 million barrels per day in offshore oil production is offline because of the storm. That represents about 84% of total US oil production in the gulf. Hurricane Katrina, the massive category 5 storm, shut in 90% of gulf production 15 years ago. - Dan Graeber
US Crude Exports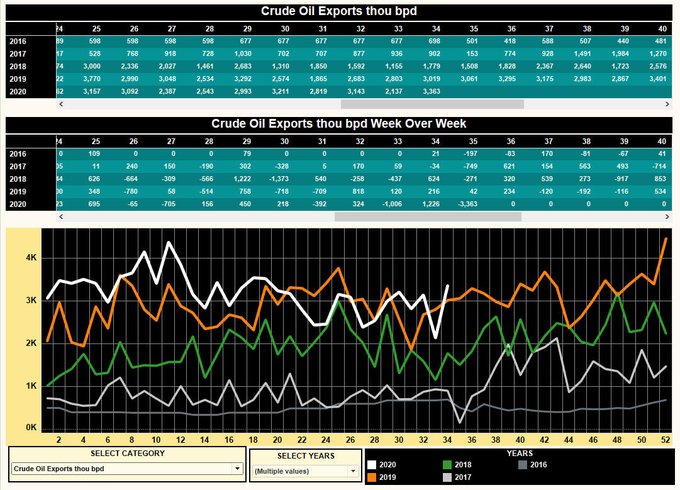 The Port of Beaumont
The Port of Beaumont accounted for about 13pc of the 3.2mn b/d of US crude exports over the first six months of 2020, according to monthly Census trade data. Terminals there are a destination for Bakken crude and other domestic grades Argus notes. In the same area is Port Arthur which accounts for another 2pc of US oil exports.
LOOP
The Louisiana Offshore Oil Port (LOOP) off the coast from Grand Isle, Louisiana, said on 23 August that it suspended operations at its marine terminal ahead of Laura and tropical storm Marco which weakened significantly before making landfall on 24 August. LOOP accounted for about 7pc of US crude exports from January-June 2020. Restarts are obviosuly dependant on storm damage.
Houston Ship Channel
With Laura moving East the Houston Ship Channel is expected to be closed for just a short time Houston accounted for about 21pc of US crude exports in the first half of 2020.
Corpus Christi Port
The top port for US crude exports is down South at Corpus Christi, Texas and well out of the path of Laura. Not to be outdone that port was partially shut for three days from 21 August after a deadly explosion and fire from a ruptured propane pipeline near the port's refinery area last week. The Port of Corpus Christi is open but still has some restrictions from the Chemical basin to the Viola basin.
Corpus Christi handled about 45pc of US crude exports from January to June of this year.
Source: Argus Blog The Germ Report NHCC
From The TraderCommunity Research Desk