The U.S took off 1 oil rigs out of service as U.S.oil production roses 500kbpd to fall to 11100kbpd. US Natural Gas rigs were unchanged. Canadian oil rigs fell 1, natural gas rigs fell 3.
Total North America rig count -5 to 278 down 813 year on year

Canada oil rigs fell 1 to 4 inthe past week General Electric Co's Baker Hughes reported.
General Electric Co's Baker Hughes reported:
United States
Oil rigs -1 to 188 (888 Cycle High)
Natural gas rigs UNCH at 75
Canada
Oil rigs -1 to 4



Natural gas rigs -3 to 9
After U.S. oil and gas production continued to rise to all time highs underscoring the efficiency of the drilling rigs we seen rigs collapse as per their last earnings guidance, with oil prices having collapsed.
Shale production was lifted by the smaller niche producer and majors like ExxonMobil. Two years ago Exxon CEO Darren Woods said $XOM was diverting about one-third of its drilling budget this year to shale fields that will deliver cash flow in as little as three years. The Texas Permian basin is the epicenter of activity.
OPEC June 2020 MOMR on US Rig Counts
US Rig Count Went Under previous Bottomed at 316 May 2016
Since a six-year low of 316 in May 2016 drillers added over 175% with the rise in oil prices and record oil and gas production. This was breached to a new low with the Covid-19 lockdown. The total oil and natural gas rig count ended 2016 at 658, down 6 percent from the 698 at the finish of 2015. From their we continued to cycle highs in 2019/2020. Baker Hughes North American Rig Summary
Plainly stated the shale industry was responsible for 100% of the growth.
There are seven main shale oil producing regions in the US. Two of the biggest are Eagle Ford and the Permian Basin. Both of them are in Texas with the latter stretching over to New Mexico. These two are responsible for two-third of the country's shale output and 45% of the total US production.
Between March 2015 and December 2016 total US shale production fell more than 800,000 bpd as the industry struggled with the aftermath of the 2014-2016 oil price sell-off. In this period output from the Permian Basin kept going higher relentlessly and rose from 1.89 mbd in March 2015 to 2.12 mbpd 21 months later.
Eagle Ford is the rate of growth that is very impressive. The production of 54,000 bpd in 2007 jumped almost twenty-fivefold to 1.34 mbpd this year on average. The first signs of contraction from these two regions will serve us with a warning signal that the shale peak might be approaching. Latest data, however, suggests that this danger is far away from being imminent. - PVM
US Field Oil Production 11.20 mpd ATH via RonH @ronh999 June 24 2020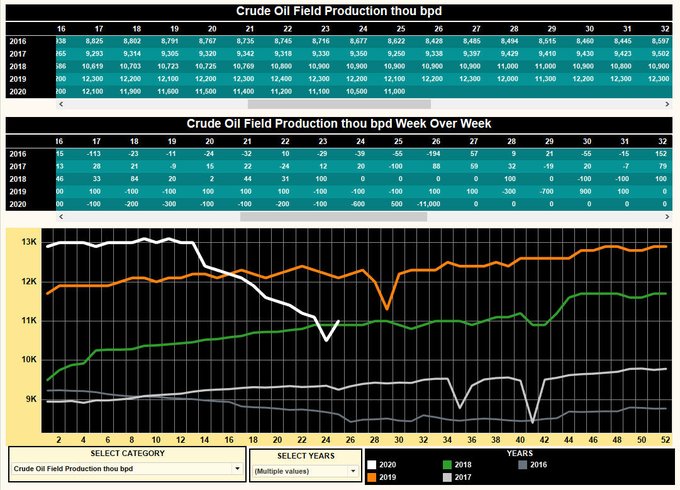 Source: Baker Hughes, TradersCommunity, OPEC
From The TradersCommunity News Desk