Since the US re-established economic sanctions on Iran the country has been weathering the impact sanctions. Iran has maintained oil exports to China, Syria and India. Recent military and social accomplishments have emboldened officials.
China through trade and transport mechanisms that avoid US regulations continues doing business with Iran in the energy, mining and transportation sectors. Other nations also circumvent the US sanctions. In October the UK made a $1.54 billion settlement with a partially state-owned Iranian bank.
Helped by outside investment, including from China, Iran has achieved self-sufficiency in gasoline refining and the oil ministry is constructing a new pipeline for carrying oil to an export terminal east of the Strait of Hormuz. It is expected to be completed by March 2021, Tehran and Beijing are finalizing a 25-year Chinese commitment to invest $280 million into Iran's energy sector.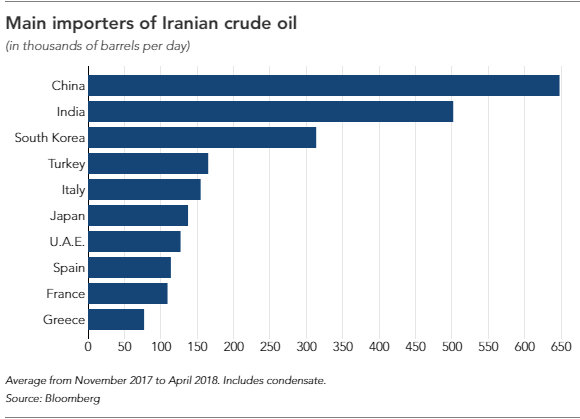 Recent military accomplishments such as the shooting down of a US drown and attack of the Aramaco oil complex in Saudi Arabia, claimed by Houti rebels has emboldened officials of the Iranian Islamic Republic, including IRGC commanders, who vehemently reject any compromise with the US.
Iran's economic endurance has served to even further fuel the IRGC dislike of America already deep since the 1953 reinstallation of the Shah, supplying chemical weapons to Iraq during the 1980s war and to the ongoing sanctions. Ayatollah Ahmad Khatami, speaking after Friday prayers at Tehran in late August stressed that "negotiation under pressure is surrender," adding:
"Given the approach adopted by the US and Trump, they're going to have to take this dream to their grave."
The Majlis (Parliament) National Security and Foreign Policy Committee issued a "firm warning" over President Hassan Rouhani's remarks on readiness to negotiate with "anyone" to resolve Iran's problems. Supreme Leader Ayatollah Ali Khamenei said last month "I had cautioned about [agreeing to] the JCPOA… repeatedly reminded the president and foreign minister."
Khamenei has begun characterizing US sanctions as a "short-term problem" facing the country that could generate "long-term benefits" by reducing dependence on oil and gas revenues. After returning from the UN General Assembly, Rouhani had little choice but to assert at a cabinet meeting that "all the contacts revolved [only] around the issue of reviving the 5+1 group." Zarif held a press conference in Tehran to reassure opponents of reconciliation that there had been "no bilateral talks between Rouhani and Trump."
Despite these calming actions towards the anti-US faction, the president's brother was convicted of corruption and sentenced to five years imprisonment, viewed inside Iran as a warning to the executive branch it must not deviate from the uncompromising rhetoric.
Source: Reuters
From The TradersCommunity News Desk