Australian mining giant $BHP announced it will sell its shale assets after it had determined "are non-core and we are actively pursuing options to exit these assets for value". Activist investor Elliot Associates had been pressuring BHP since they joined BHP's share register in April. The resources giant said it expects to sell part of its acreage in the Hawksville in the September quarter.
BHP entered the shale business at the height of the fracking boom in 2011, they have since taken pre-tax write-downs of about $13 billion on the business.
Shell and Andarko are favored to bid for the acreage along with private equity. Macquarie has valued the shale business between $US8 billion and $US10 billion, mostly on the Permian and Eagle Ford, while valuing the gas-focused Haynesville and Fayetteville plays at $US1.9 billion-$US2.4 billion combined. Credit Suisse has meanwhile said BHP shouldn't accept less than $US11 billion.
"We will be flexible with our plans and commercial in our approach. We are examining multiple alternatives but will only divest for value," BHP said in a statement.
"Execution of these options may take time which we will use to continue to complete our well trials, acreage swaps and investigate mid-stream solutions to increase the value, profitability and marketability of our Onshore US acreage."
BHP announced the decision after delivering a standout profit result where it tripled it's dividend threefold. The huge result was driven by a strong performance by it's iron ore division, where earnings before interest and tax surged to $U7.2 billion from $US3.7 billion in 2016.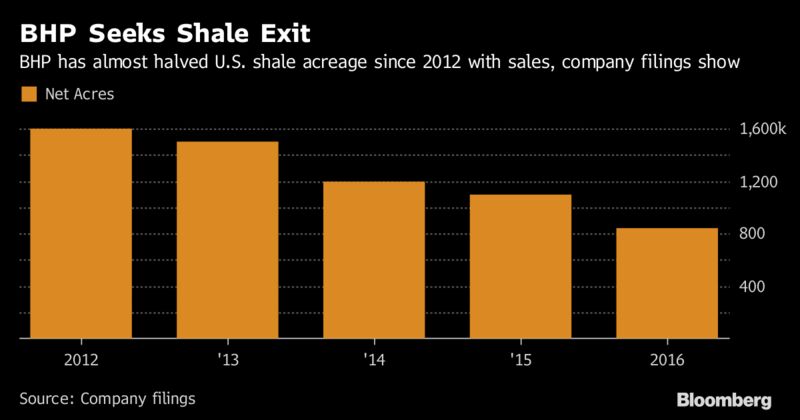 BHP will ramp up investment in its Mag Dog Phase 2 oil project and the >recently confirmed Spence Growth Option project.
Chief executive Andrew Mackenzie described 2017 as a "very strong financial year". The sale of shale was not a forced sale but a straegic sale to concentrate on offshore oil and its mineral amnd mining segments, it's tier one assets. "Free cashflow was $US12.6 billion, our second highest on record. We used this cash to reduce net debt by nearly $US10 billion and return $US4.4 billion to shareholders," he said. "Productivity gains across our simpler portfolio of tier one assets increased our return on capital to 10 per cent.
Activist shareholder and hedge fund Elliott Management holds 4.1 percent of BHP's London-listed shares had been trying to gain support from other shareholders to persuade BHP to sell the shale oil and gas business.
Last month BHP Chairman Nassar was quoted as saying "If you had to turn the clock back, and if we knew what we knew today, we wouldn't do it, of course we wouldn't do it, but go back and put yourself in our position at that time," and "We bought exactly what we thought we were buying, but the timing was way off."
From The Traders Community News