Cold weather continues to envelop the U.S. Last week the EIA reported a draw of - 163 Bcf in natural gas storage with weather models continuing to be confused. Meanwhile Mexican exports near record high as we watch LNG shipments.
Weather models have been horribly inaccurate as the future's price makes clear for 2018/2019. The focus will continue on Sabine Pass and Mexico and perhaps LNG exports given Trade Wars are the overhang du jour.
Keep in mind after the wild price action that natural gas the Marcellus break-even is $2.50 and $3.50 is the Haynesville break-even. Both those levels were also impulse exhaustions.
EIA's Weekly Gas Storage Report. Report Date: 1/17/19
Via TradersCommunity.com

Release Time

: Thurs

day January 24 2018 10:30 ET
Market Expectations
Actual

- 163 Bcf

Prior

-81 Bcf

Consensus Forecast

-157

Bcf
Cons. Range: -151

to -166

Bcf
EIA swap: -160

to - 161

@ CT 15.13
Last Week's Report -81 Bcf #TCNG
Current Storage Level vs. Last Year; 5-Yr
Current Storage Level: 2,533 Bcf
Storage 2018/Same Week: 2610
5Yr Avg/Same Week: 2860
TradersCommunity Natural Gas Outlook Format
EIA Natural Gas Storage Forecast and Analysis
LNG and Export Warch
Natural Gas Import Watch
Natural Gas Demand Watch
Nuke Watch
Natural Gas Futures Technical Analysis
DCOT Report
EIA Natural Gas Storage Watch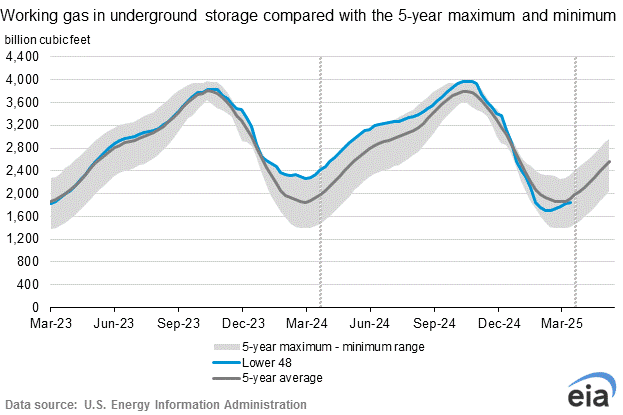 US Natural Gas Weekly Storage Forecasts
Surveys
Bloomberg Survey -151
DJ Survey -152
Reuters Survey -154
Platts Survey -158
Banks and Brokers-
Tim Evans Citigroup -151
Macquarie -158
Raymond James -
TFS -161
Analysts
AgWxMan -
Jacob Meisel -162
Shane Bolling -
Genscape -158
Gabe Harris -159
Kidduff Report -151
CJS Analytics -
Shura Li - Pira -166
Robry825 -158
125WMARION -
NG Junkie -
Norse -157
Andrea Paltry -165
Point Logic -152
RonH -
RBN Energy -159
Schneider Electric -
Donnie Sharp Huntsville -152
Trade Mechanics -158
Andy Wiessman - 157
NB: Forecasts uploaded when provided to TradersCommunity.com - some weeks they may not made available.
Platts Anaylitics Bentek Models
Bentek S/D Model:

-158 Bcf

Bentek Flow Model:

-162 Bcf
" The colder weather and increased heating-load nearly doubled overall sample withdrawals from 49 to 97 Bcf. The tighter sample was mostly split between the Northeast and south-central regions – the only two cell regions that recorded lower-than-normal temperatures this past week. Although the salt dome sample flipped direction this week, the net withdrawal is still more than 13 Bcf lighter than the average withdrawal seen between 45 and 50 degrees over the past five-years. Every sample injection or withdrawal in the salts since November has been around one standard deviation (or higher) than the five-year, weather-adjusted average" - Bentek
EIA Swap Market via Brynne Kelly ‏@BrynneKKelly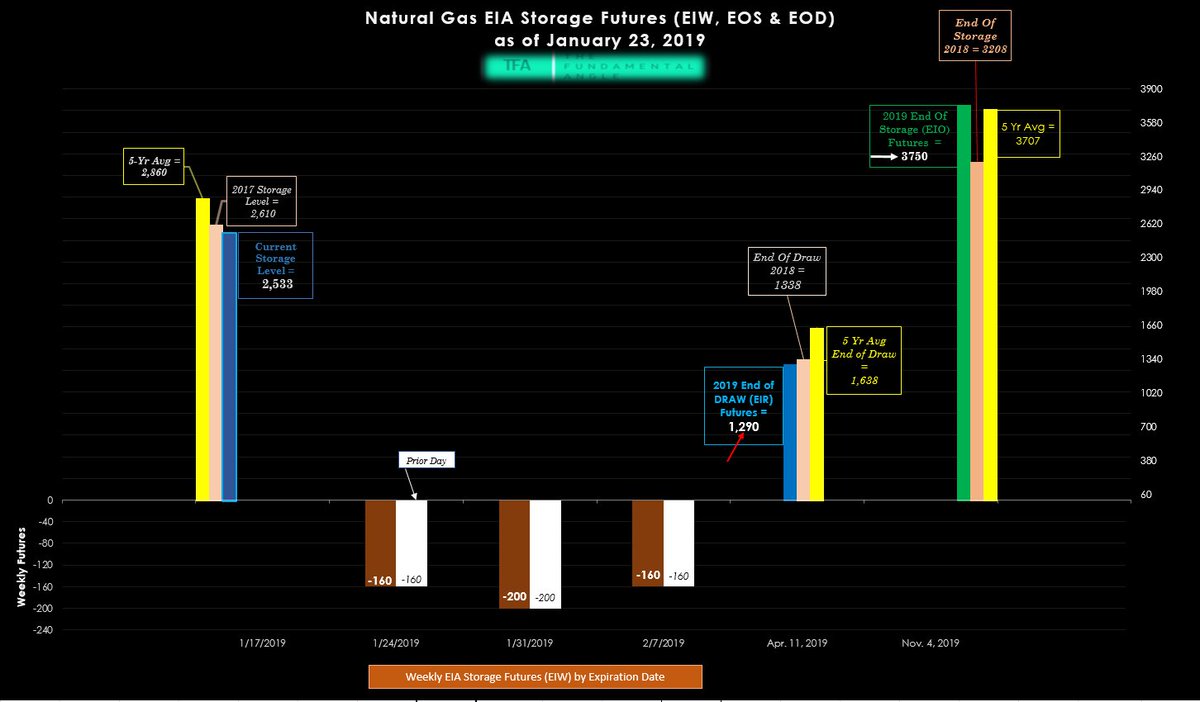 Natural Gas Storage Analysis
via RonH Data ‏@ronh999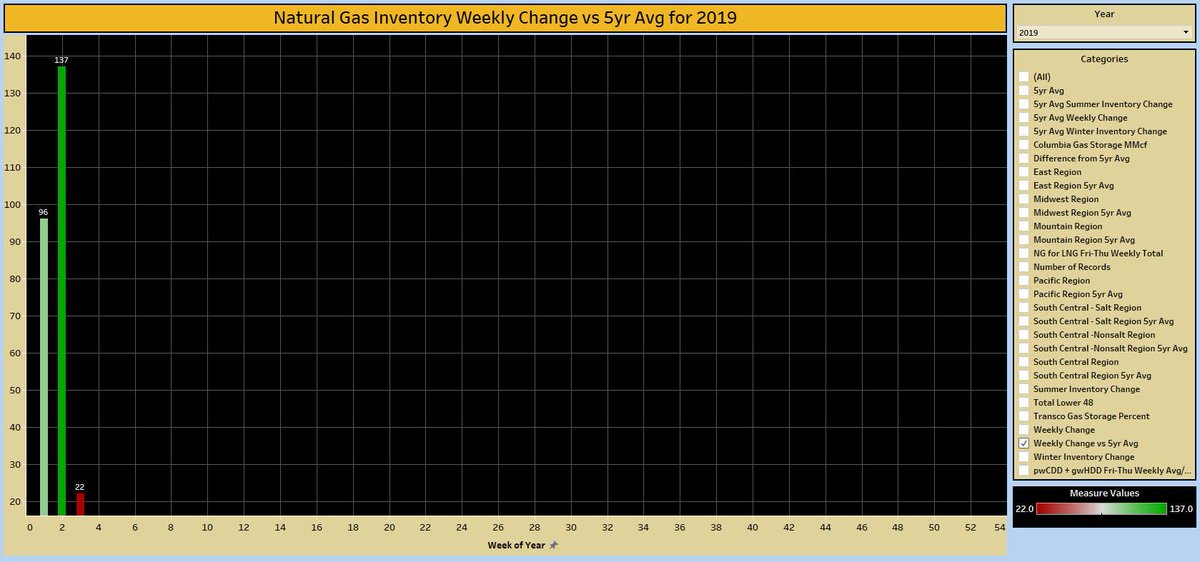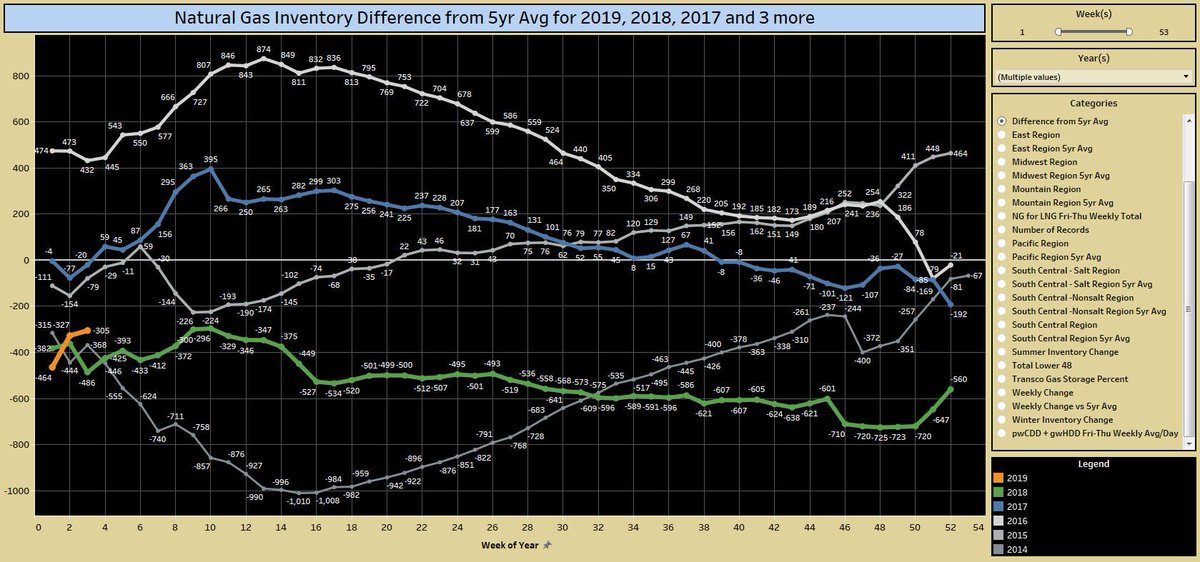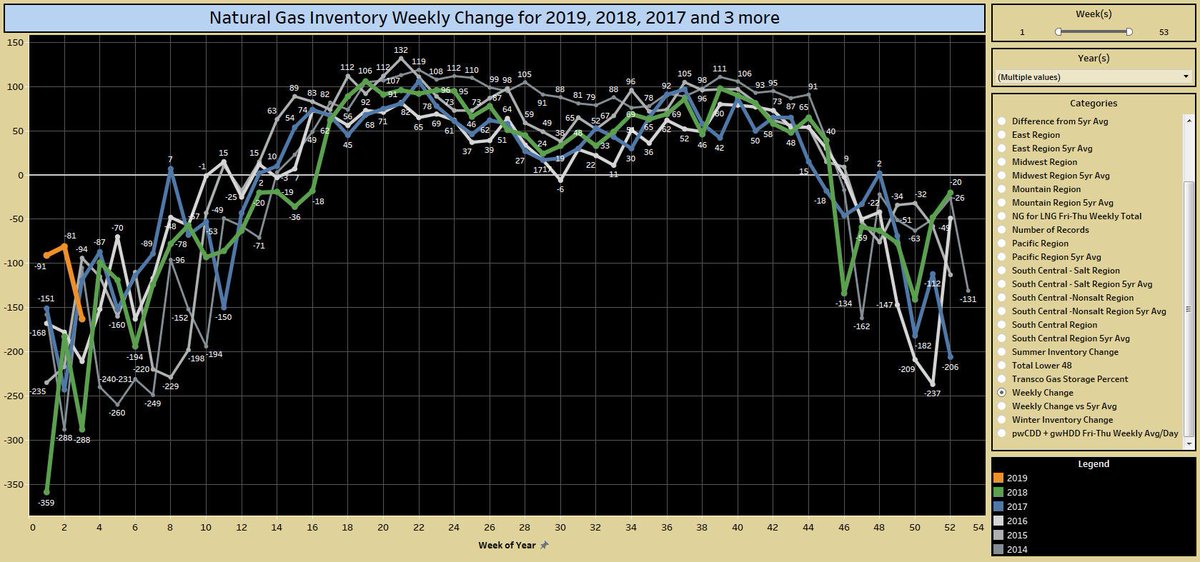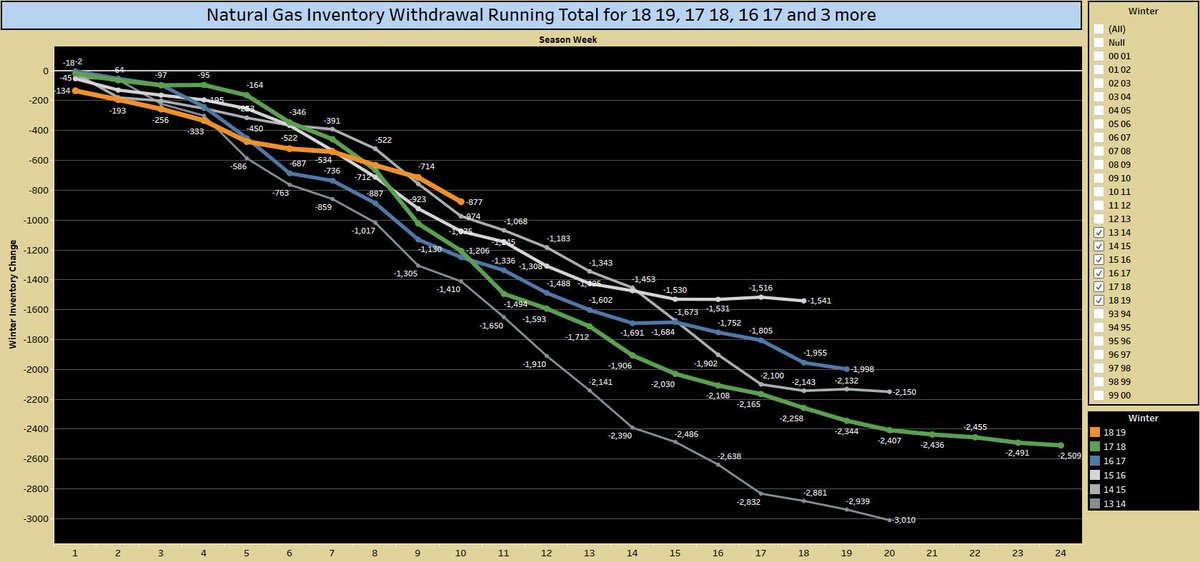 via Brynne Kelly @BrynneKKelly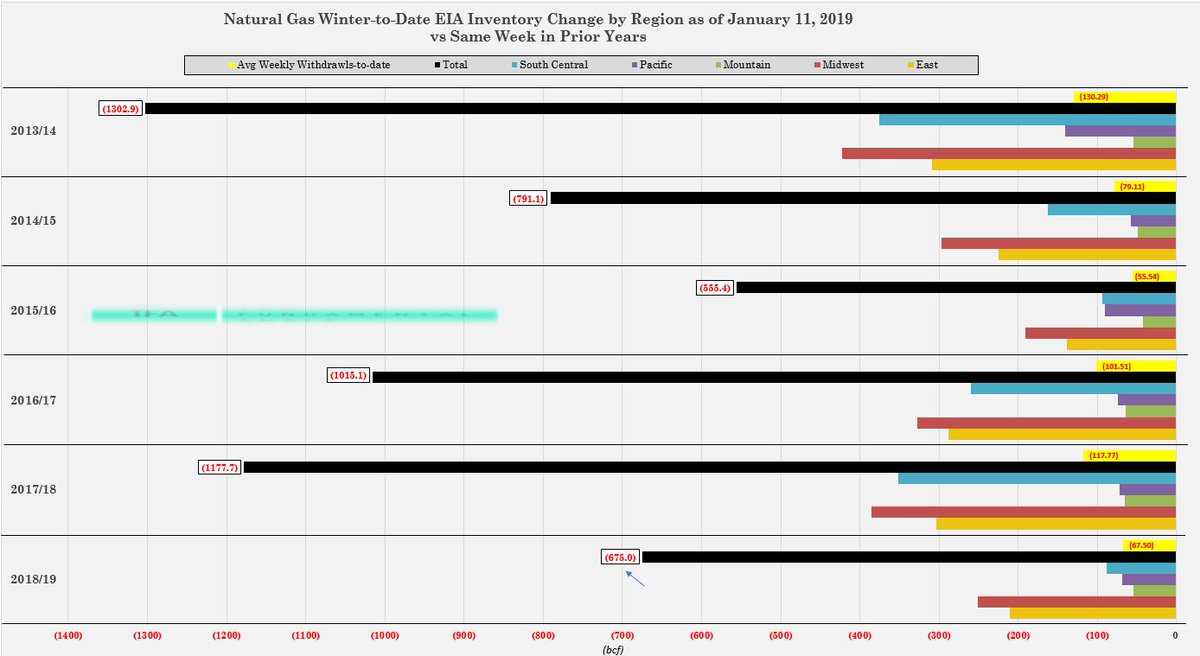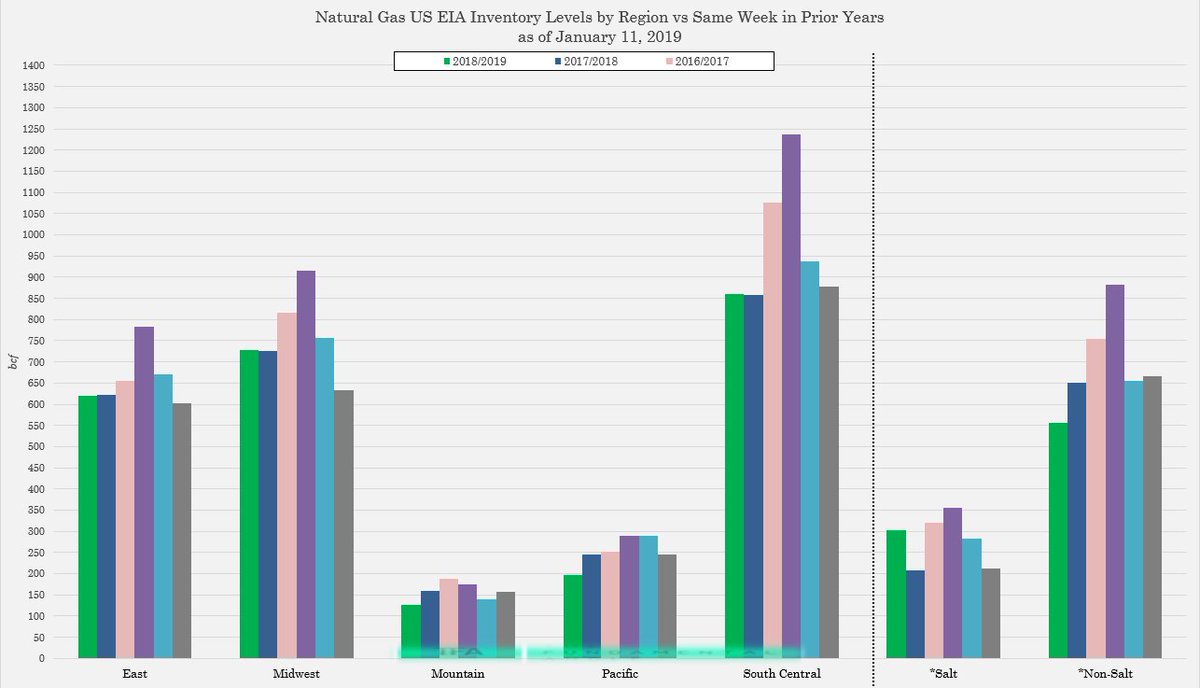 Natural Gas Production Watch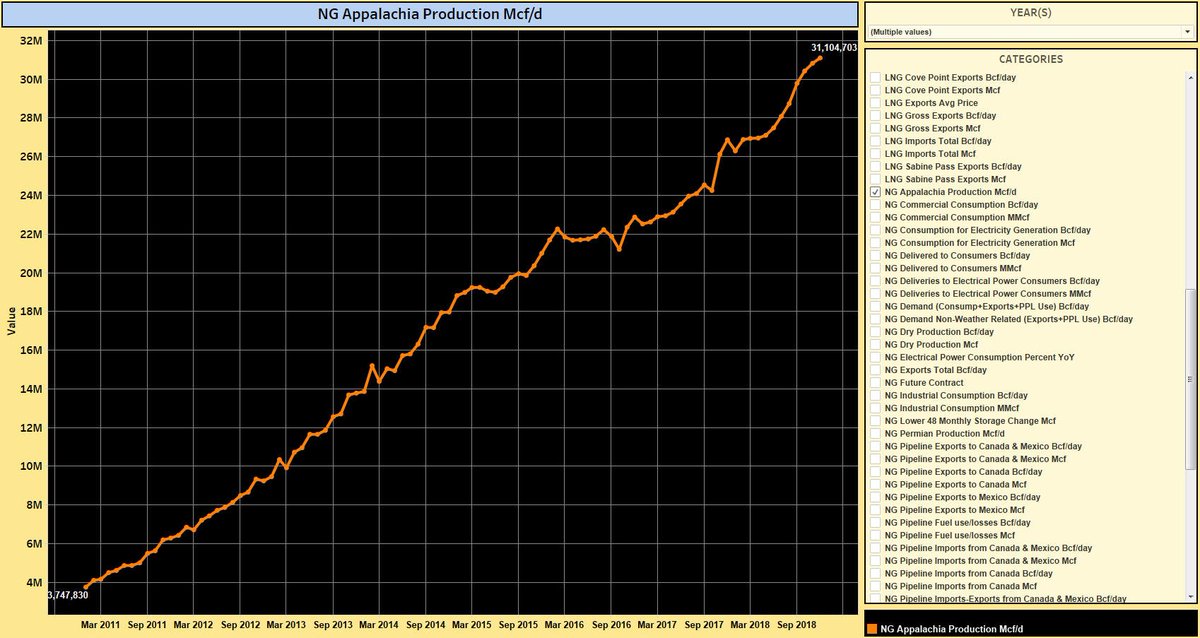 Natural Gas LNG Watch
via RonH Data ‏@ronh999
Natural Gas feed to LNG facilities Sabine Pass, Cameron, Cove Point & Corpus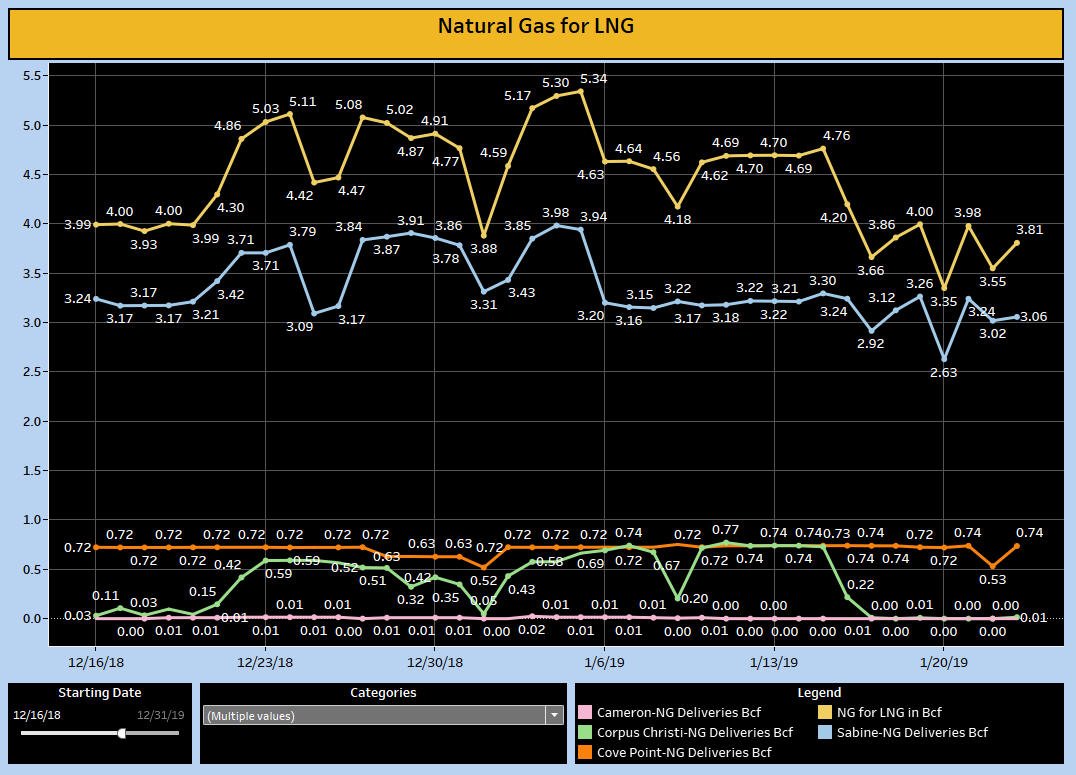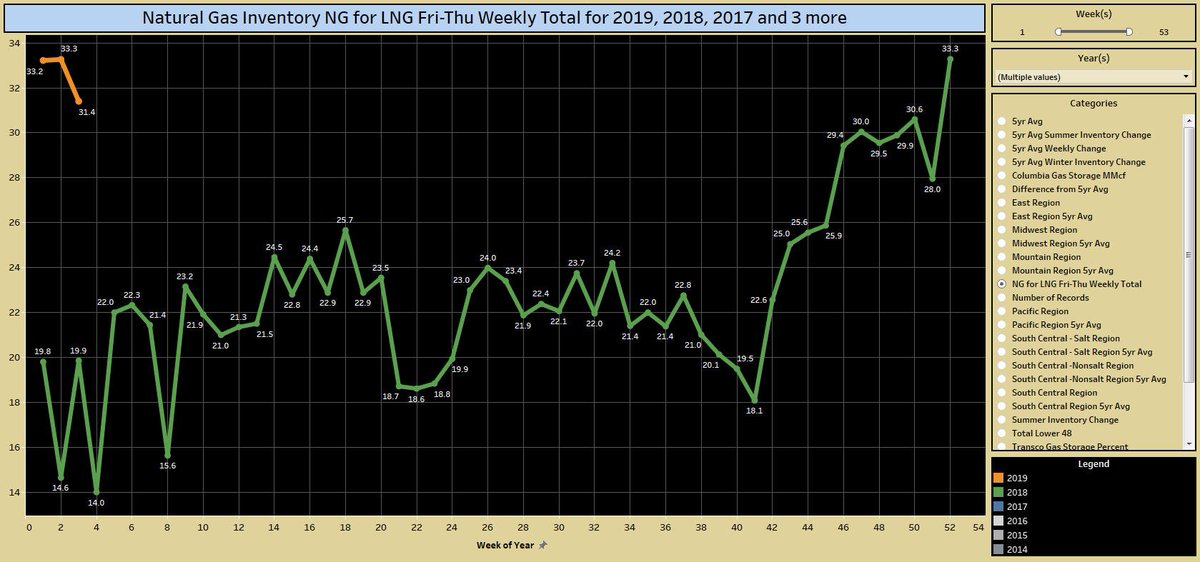 ++Charts via RonH @RonH999 - Visit Ron for daily updates
For Full LNG Outlook Please Visit our LNG Weekly Here
Natural Gas Mexican Exports Watch
via RonH Data ‏@ronh999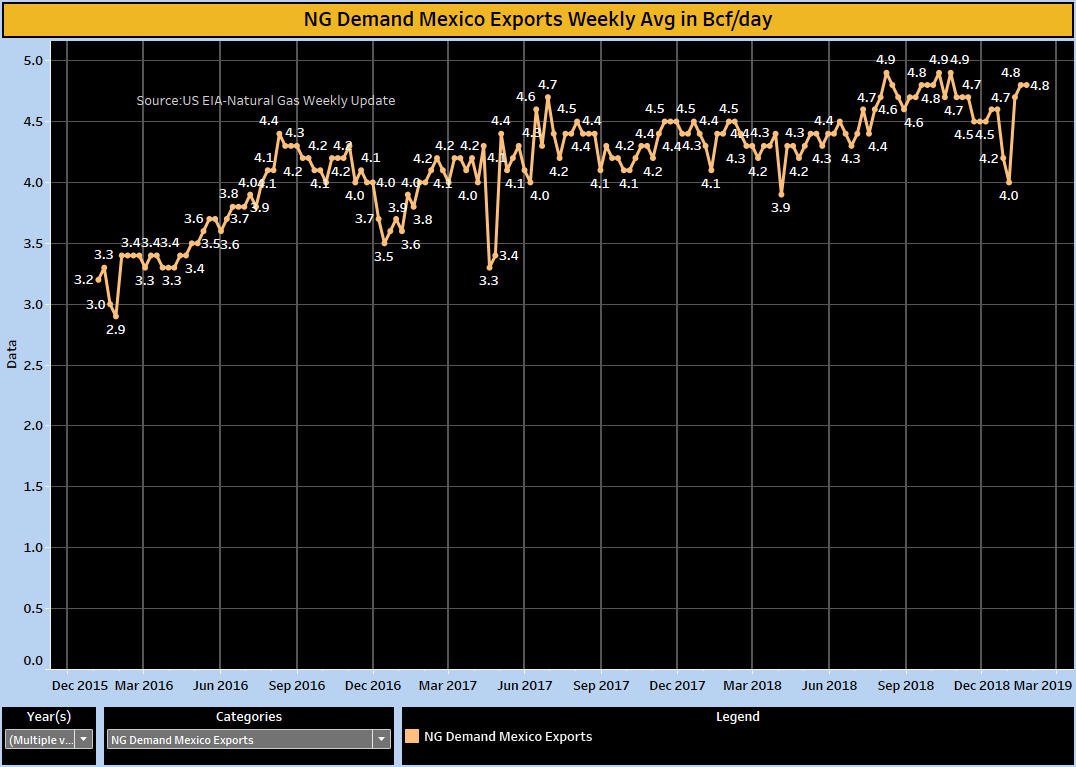 Natural Gas Import Watch
via RonH Data ‏@ronh999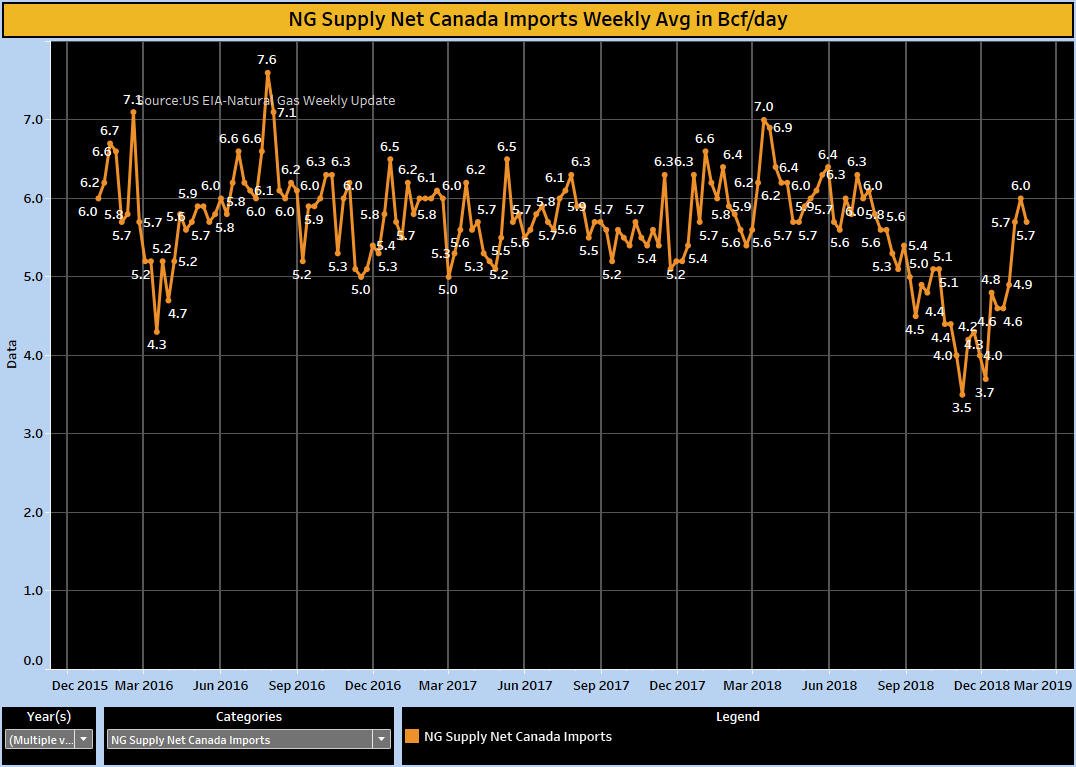 Natural Gas Demand Watch
via RonH Data ‏@ronh999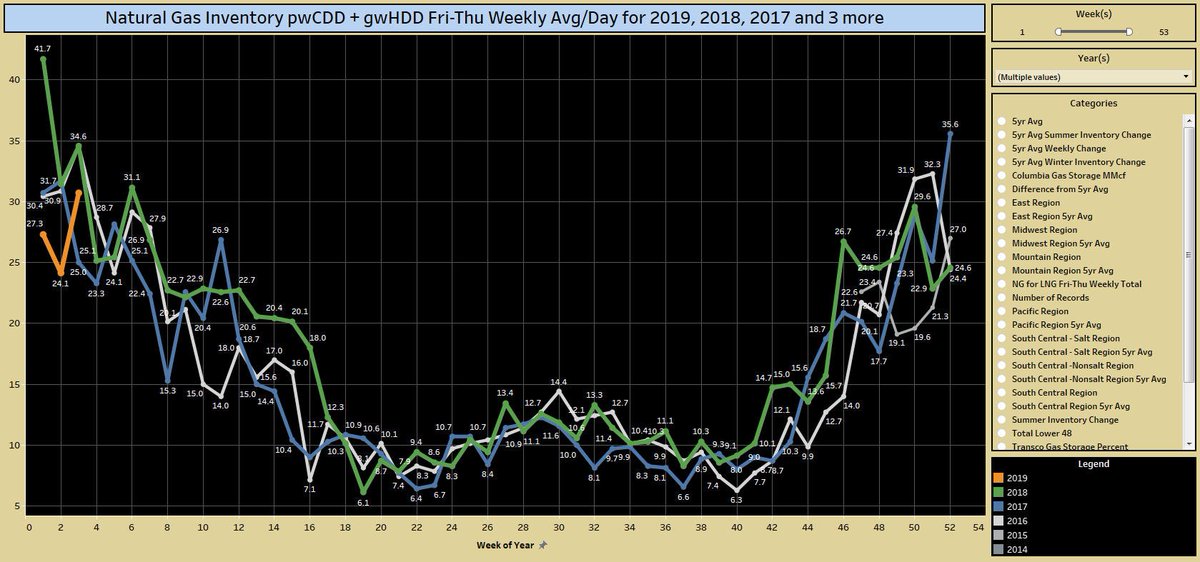 For Greater Depth Visit our Natural Gas Demand Monitor Here
Visit For Daily Updates ++Charts via RonH @RonH999
Natural Gas Nuke Watch
via RonH Data ‏@ronh999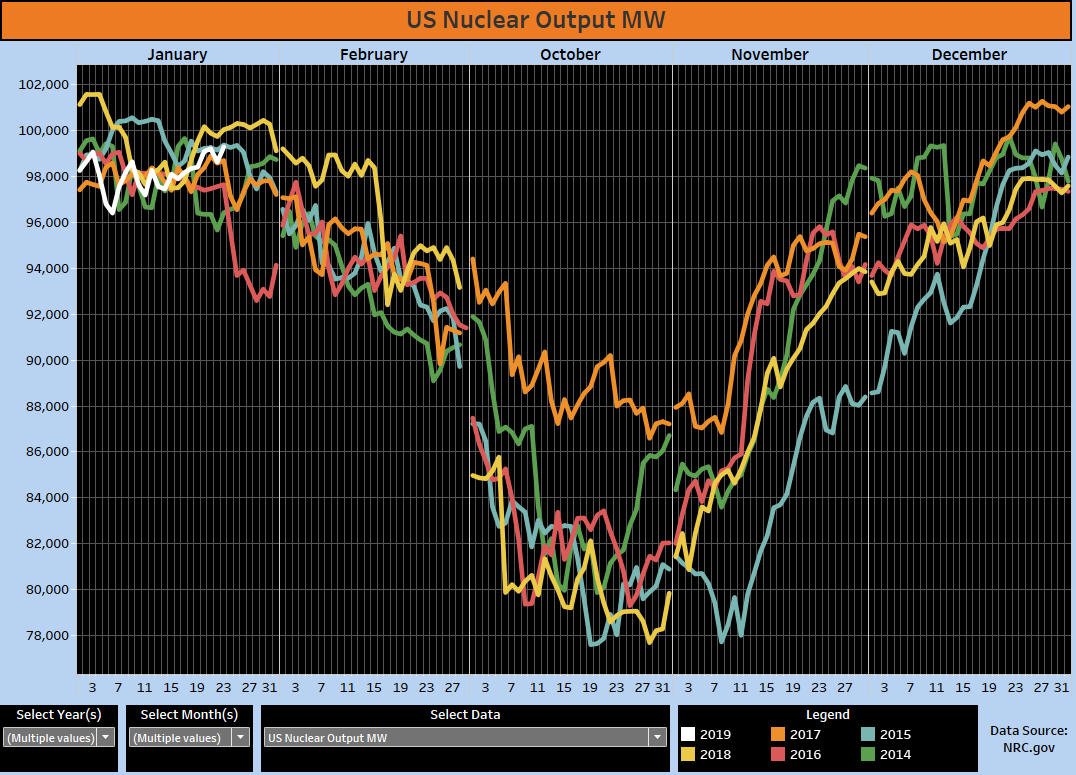 Henry Hub Natural Gas Futures Weekly Chart Outlook via @KnovaWave
Natural Gas Futures Committment of Traders (COT)
Disaggregated Committment of Traders (DCOT) via RonH Data ‏@ronh999
Natural Gas DCOT futures only managed money traders WoW change
(Note at NG peak Highest Longs Ever 87% (since 2006) )
With the Government Shutdown CFTC is not releasing COT
Read Understanding Commitments of Traders Reports - COT, TFF and DCOT to help understand the disaggregated reports (DCOT) and how they break down the reportable open interest positions into four classifications:
1. Producer/Merchant/Processor/User 2. Swap Dealers 3. Managed Money 4. Other Reportables
Sources: TradersCommunity Research, RonH Energy, The Fundamental Edge, Knovawave
From the Traders Community Research Desk