The OPEC+ meeting in Vienna came at a critical time with oil prices down over 30% , a trade war in affect and Iran sanctions on. The POTUS has been brazenly telling Saudi Arabia to not cut, the U.S. has record productions and exports. The cut was promised at 1.2 bpd by OPEC and Non-OPEC.
Saudi Energy Minister Khalid al-Falih
The 5th OPEC and non-OPEC Ministerial Meeting was held in Vienna, Austria, on Friday, 07 December 2018, under the Co-Chairmanship of OPEC's President, HE Suhail Mohamed Al Mazrouei, Minister of Energy & Industry of the United Arab Emirates and Head of its Delegation, and HE Alexander Novak, Minister of Energy of the Russian Federation.
Press Conference Highlights
Non-OPEC will cut 400K bpd
Total cut to be 1.2 mbpd
Cut will be effective from January and last six months
Notes uncertainty about global economic growth
Russia's Novak says production cuts should help oil market rebalance quicker
Novak adds Oil market situation is 'challenging'
Countries given an exemption are Iran, Venezuela and Libya
Sausi Arabia's Al-Falih says Saudi January allocation will be 10.2 mbpd, Dec output will be around 10.7 mbpd
KSA says many customers added inventories on expectations of strict sanctions on Iran and those were loosened
Demand is lower as customers use those inventories
Next meeting will be in Vienna in April
"Accordingly, the 5th OPEC and non-OPEC Ministerial Meeting, following deliberations on the immediate oil market prospects and in view of a growing imbalance between global oil supply and demand in 2019, hereby decided to adjust the overall production by 1.2 mb/d, effective as of January 2019 for an initial period of six months. The contributions from OPEC and the voluntary contributions from non-OPEC participating countries of the 'Declaration of Cooperation' will correspond to 0.8 mb/d (2.5%), and 0.4 mb/d (2.0%), respectively." OPEC Press Staement
The ministerial monitoring committee includes six countries - Russia, Saudi Arabia, Kuwait, Venezuela, Algeria and Oman. Russian Minister of Energy Alexander Novak reaffirmed his countries view on production. Novak repeatedly has made a point of the success of the existing deal and Russia's compliance thereto.
Reaction
Crude prices jumped around 5 percent Friday morning on the news of the deal, The U.S. benchmark WTI rising to nearly $54 a barrel. As fears of a global glut sunk in, oil prices plunged more than 30 percent from $76 a barrel in early October down to just under $50 in November and early December.
U.S. Oil Production and OPEC
To keep it real the latest EIA report had the U.S. producing back at record highs of 11.7 mbpd, and we look at the pattern of U.S. exports with highs there also and also imports from OPEC.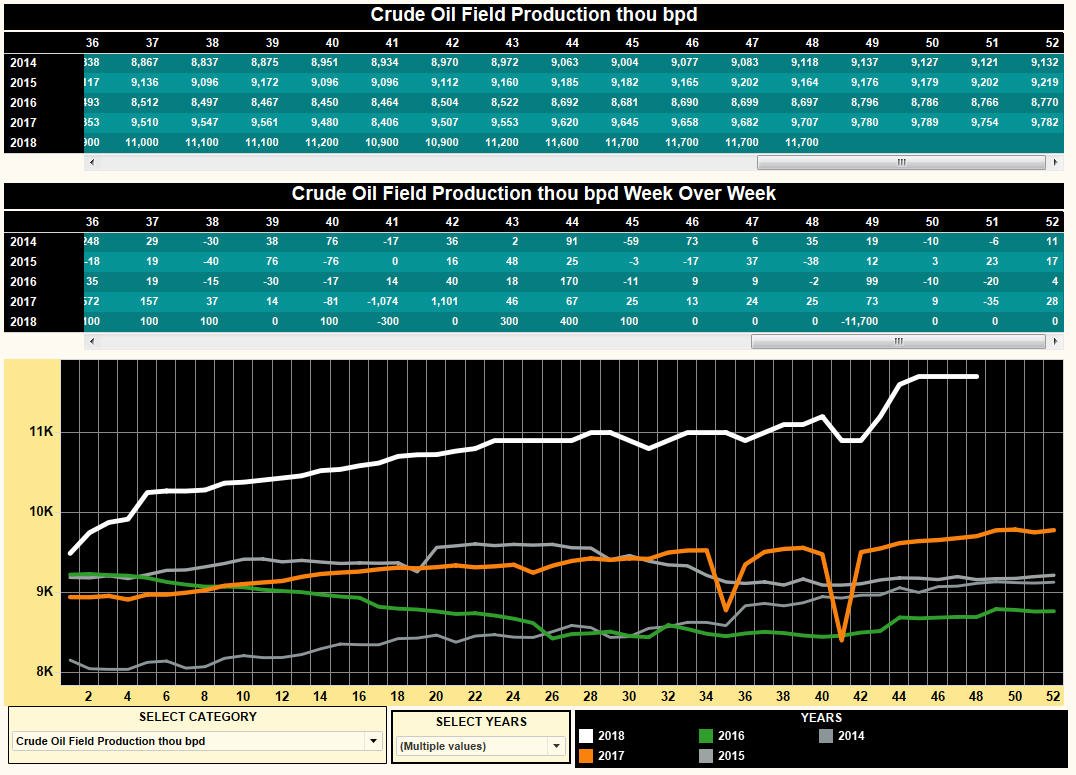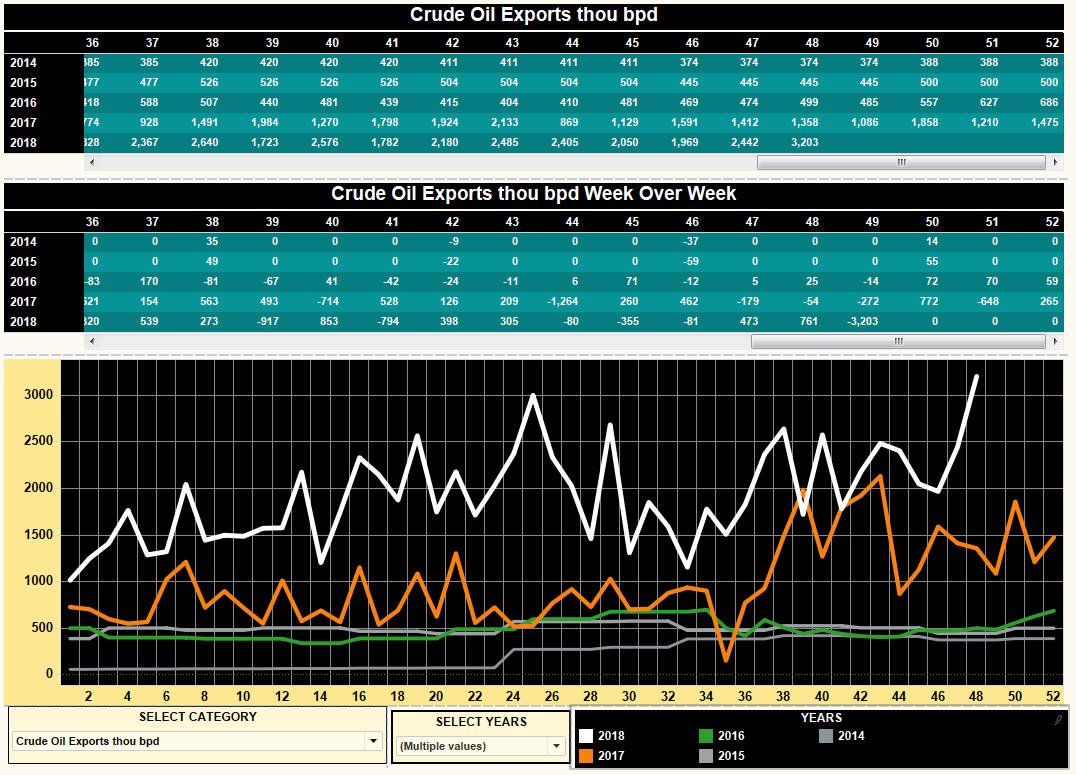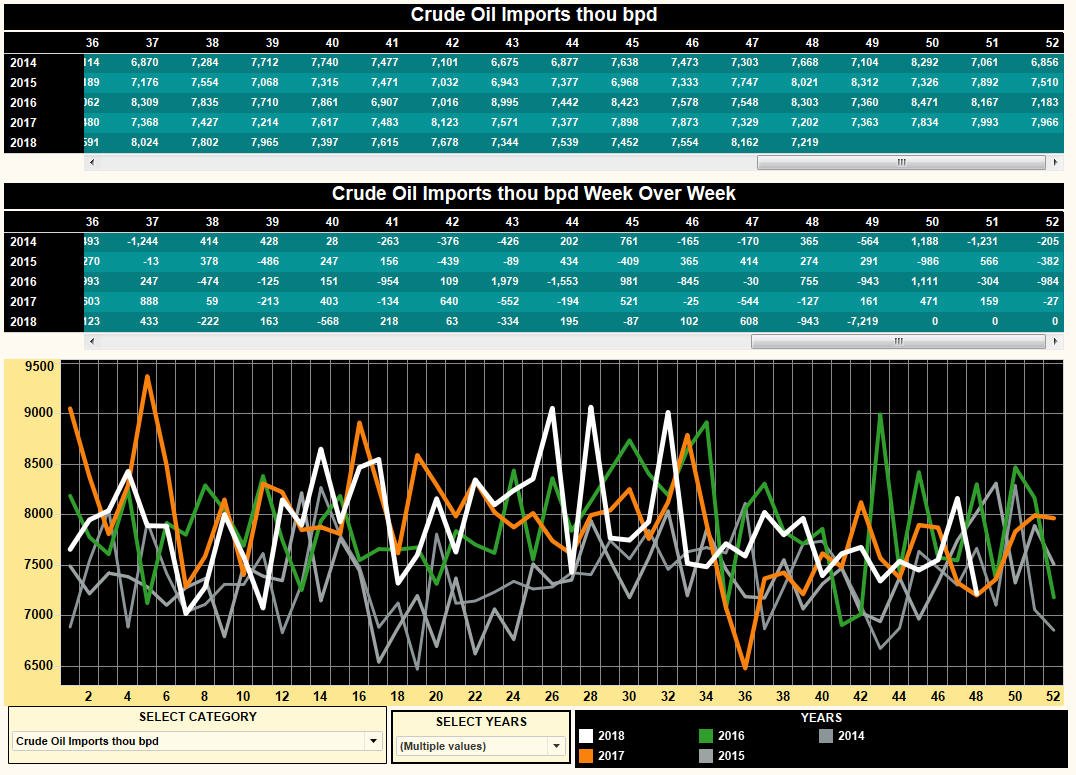 Charts via @ronh999
Source: OPEC. RonH Energy
From The TradersCommunity Research Desk