British Prime Minister Theresa May has resigned from her position after the Brexit calamity reached fever pitch. Who is next for the job, and will that lead to a smoother Brexit or an exit without a deal. Boris Johnson is the big favorite with Dominic Raab next in the betting.
Prime Minister Theresa May's 'soft Brexit' plan failed miserably which Brexiteers feel betrayed the referendum and cowers to the EU. The pound is vunerable to the uncertainty. Does the new leader take charge? Does it mean the chance of a no deal Brexit scenario "just got a lot more likely".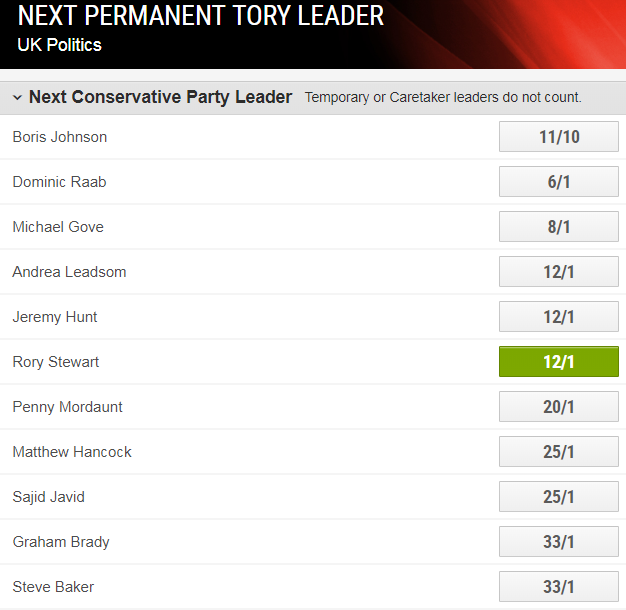 With President Trump visiting the U.K shortly it is essential for free trade negotiations to begin between the two.
Key Dates
June 13 deadline for candidates to put their names forward.

June 18 hustings, which are meetings where candidates meet with voters. With the real possibility of a general election in the U.K and the opportunity to recruit new members, the Conservative Party extend these
End of July expected New PM decided by.
The process is one where MPs have all the power at the start and will hold a vote each Tuesday and Thursday and the candidate with the least amount of support is taken off the roster. Eventually only two candidates remain and those two are put to a vote among Conservative party members.
There are 150,000 members of the party, which is the biggest limitation on time, counting all those votes. Should we get a repeat of the 2016 vote between Thera May and Andrea Leadsom where Leadsom withdrew and was given the post as Leader of the House of Commons in exchange. That entire contest was wrapped up in less than two weeks and on just two ballots of MPs.
Theresa May will continue as Prime Minister until her successor is chosen.
Source: YouGov.UK Ladbrokes
From TradersCommunity News Desk