The Australian dollar continued its upward trajectory against the U.S. dollar since it broke and tested .7500 back in June. It broke the 2016 high of 0.7835 to trade up to o.7943 earlier. Why? and where to?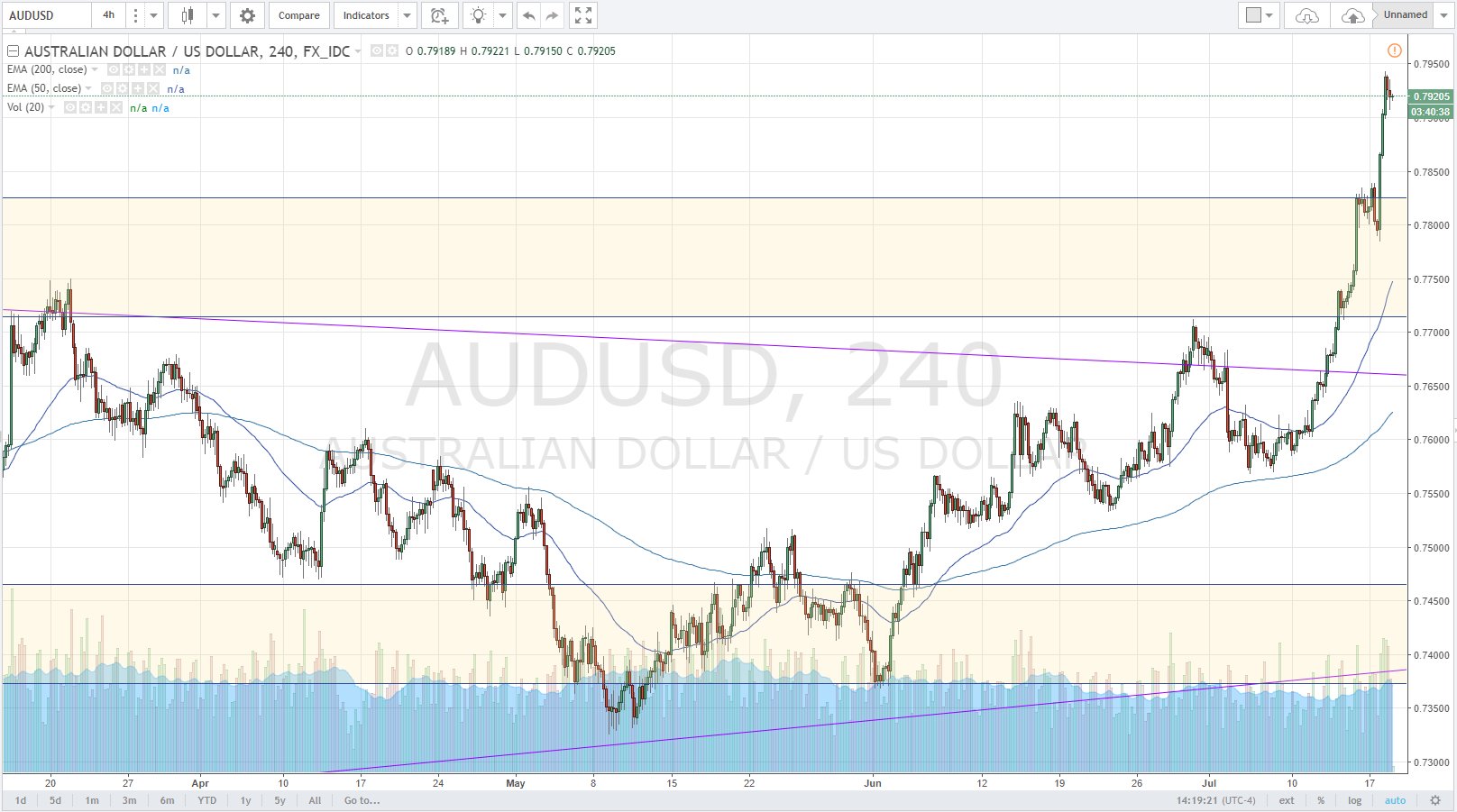 The Australian Dollar continued its rise today against the US Dollar (AUDUSD) trading over a new two year high. The 2016 high of .6835 was blown through with a high of .7943 reached. There are a number of factors at play here.
More Hawkish RBA likely
China demand for Australian Commodities (China steel production hit a record last month)
Softer U.S. Dollar
Carry trade buyers looking for yield
U.S. based hedge funds short AUD volatility after AUD options volume and volatility spiked over the past few weeks.
RBA Minutes:
- The RBA acknowledge recent strength in labor markets and the associated positive effects on household incomes and spending.
- The RBA estimate the neutral cash rate to be around 3.5%.
- Monetary conditions have tightened with the major lenders increasing rates.
Looking ahead Deputy Governor Debelle's will be delivering a speech "Global Influences on Domestic Monetary Policy" at a lunch on Friday (Thursday night in the U.S.). Also Assistant Governor Bullock also speaks on Friday and may discuss conditions in the housing market.
Record China Steel and Aluminium Production
China produced record amounts of steel and aluminum in June. Chinese producers rushed to cash in on rallying prices as Beijing cracks down on the output of low-grade metal.
Chinese steel output in June rose 5.7 percent from the year before to a record 73.23 million tonnes over April's all-time high of 72.78 million tonnes, data from the National Statistics Bureau showed on Monday.
Aluminum output in June rose 7.4 percent year-on-year to a record 2.93 million tonnes, over December's record of 2.89 million tonnes.
This will be watched if it sees a flooding of world markets after the U.S. has already accused China of dumping cheap aluminum and steel. China deny's they have directly dumped steel at the expense of foreign producers.
Carry Trade Buyers & Higher Rates
Two weeks ago former RBA board member John Edwards wrote for the Lowy institute Australia's central bank could raise interest rates eight times in the next two years, Rates have been on hold at 1.5 percent since last August, the lowest ever.
Where does this leave the Reserve Bank of Australia? My guess is that it is already thinking about a program of rate increases that will continue for several years.

As the RBA has been arguing for some months, global growth is picking up. Output in the US, the Euro area and the UK all grew by 2% in the year to the March quarter. China's output expanded by 6.9% over the same period, and East Asia generally was firmer. Output in Japan increased 1.3% - pretty good for an economy in which the workforce is actually shrinking. These outcomes are certainly not hectic but they are more consistent across the global economy than we have seen in most of the years since the 2008 financial crisis. Edward Wrote
Read More: Rising interest rates and the RBA
Technically AUDUSD Price Over Consolidation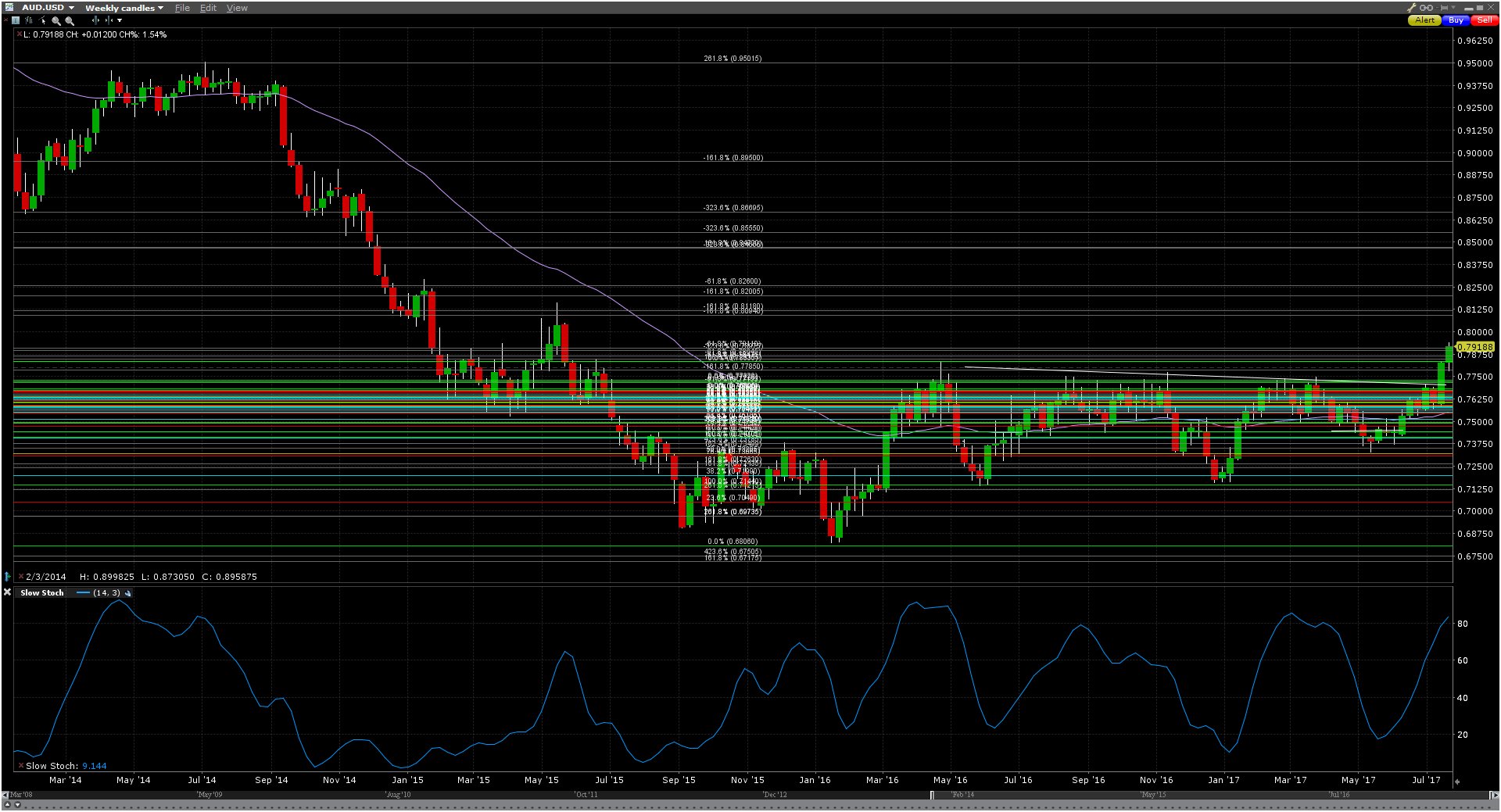 The above chart via @heidstertrades gives a clear indication of ehat has been breached and what lies overhead. Breaking out of a weekly pennant pennant (that bears had bet would break down) has given impetus. Overhead keys are the weekly 200 dma and pyschological .8000 area. Above the .82652 will tell us what degree we are in on this wave cycle.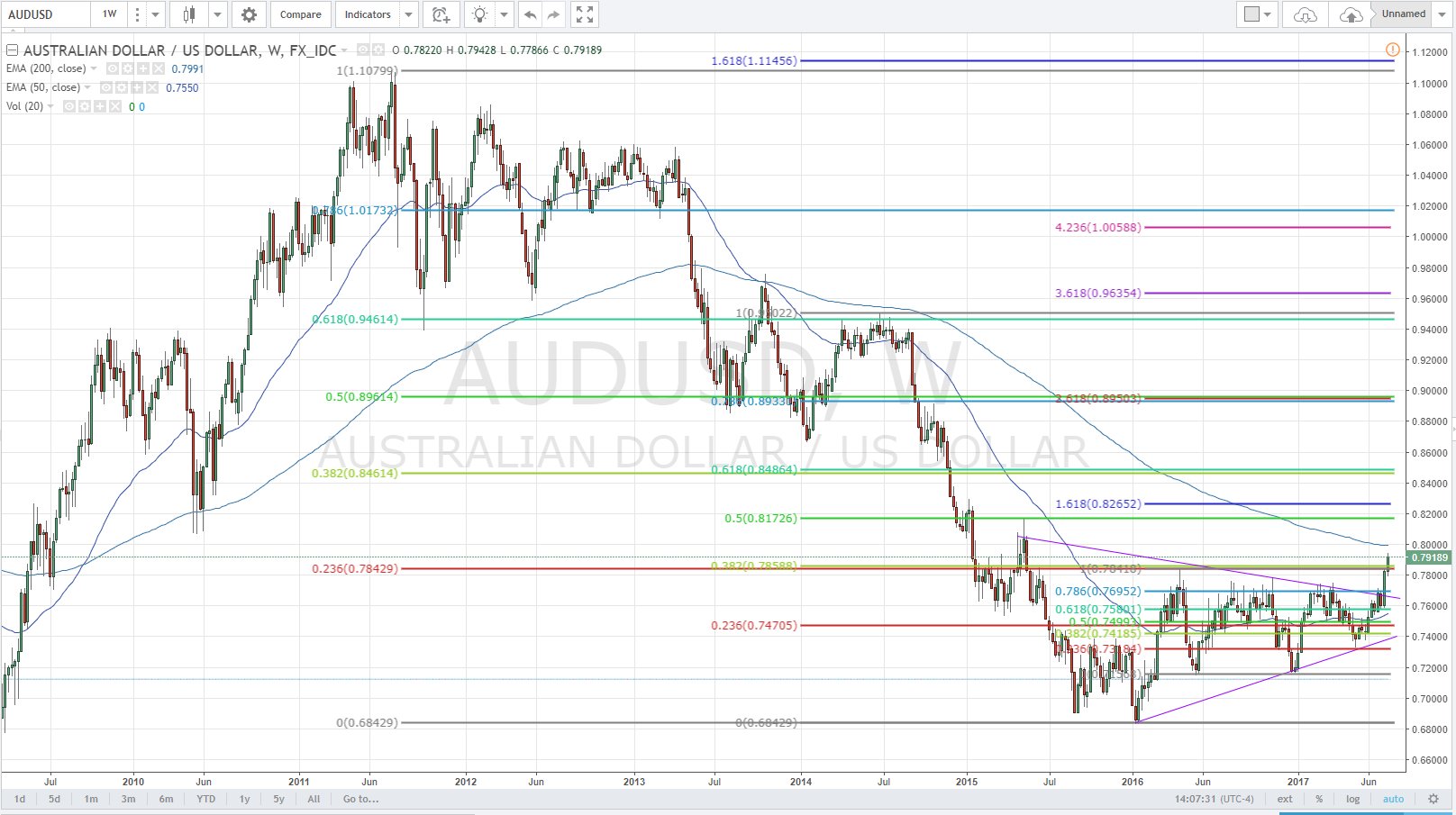 The monthly chart puts this whole move in perspective. Know your levels and we will update the 240, daily sequence.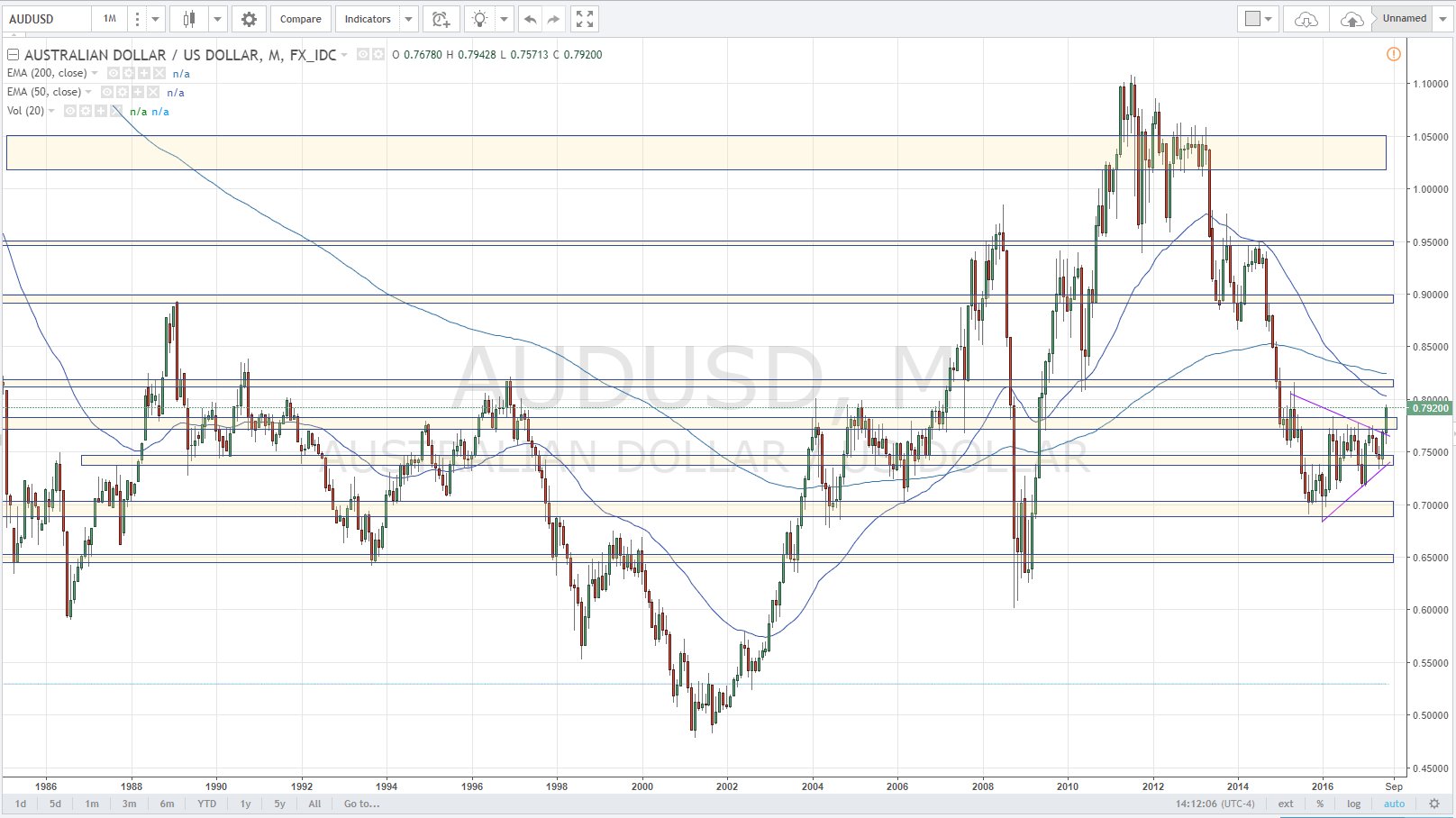 AUD Implied Volatily Surges
This chart from Bloomberg from 2 weeks ago shows us how implied volatilty began to surge, since then we have lept higher as has this chart as short vol players chase their deltas.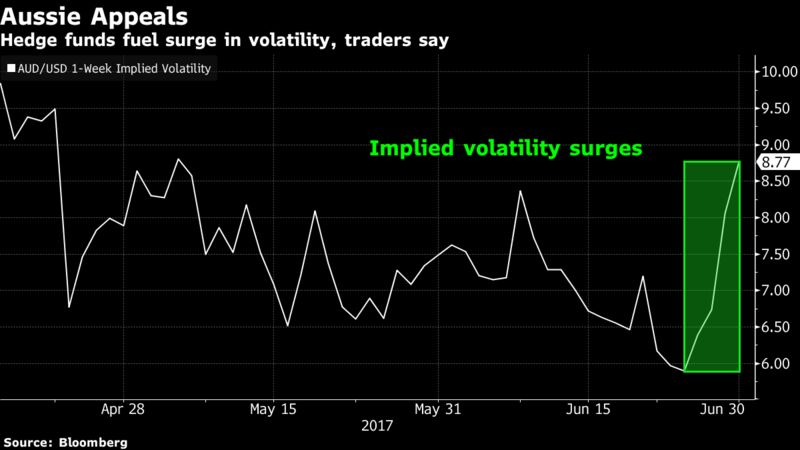 Read More: Hedge Funds Pile Into Aussie Options
Trade Smart!
Charts provided by @heidstertrades at oottnews.com
KnovaWave @knovawave