Centre-left SPD and their candidate, Olaf Scholz, secured a narrow win in the German election which saw Angela Merkel's centre-right CDU party and their candidate, Armin Laschet, plunge to a historic low. Parties will embark on "exploratory talks" to form a government, with a three-way coalition considered the most likely.
A three-way coalition is considered the most likely outcome at this point. Expect long coalition talks. Notte that the strongest party does not have an automatic right to lead the next government. All parties can have exploratory talks in whichever combination they want until they have found a constellation which would have a parliamentarian majority.
Two national elections in the past have seen the largest party not lead the government coalition. Both Scholz and Laschet have insisted they will form the government, with Laschet pointing out that, "It hasn't always been the case that the party in first place provides the chancellor."
The pro-business FDP party, which like the Greens could play a kingmaker role, has said it has a preference for a coalition with the conservatives and the Greens, but a three-way alliance with the SPD and Greens remains on the table too.
With the current results, three coalitions would be possible:
Green-yellow-red "traffic light" coalition,SPD, Greens and FDP coalition
"Jamaican" coalition of the CDU/CSU, Greens and FDP coalition
Revival of the grand coalition but then under the leadership of the SPD.
The option of a left wing coalition of SPD, Greens and Left Party is no longer possible.
Not the final result but well into counting:
The centre-left SPD and their chancellor candidate, Olaf Scholz, have a narrow lead with the latest projections showing them with 25.9% of the vote.
Angela Merkel's centre-right CDU party and their candidate, Armin Laschet, have sunk to a historic low in a federal election, with a projected 24.1 %.
The Greens, led by Annalena Baerbock, have secured their best result in a national poll, with early results putting it at 14.6% – in third place and ahead of the liberal FDP.
The far-right AfD is set to enter parliament for the second time, on 10.5%.
The far-right AfD has officially become the biggest party in Thüringen, in former East Germany, for the first time with 24% after all votes were counted. The SPD came in second on 23.4% and the CDU third on 16.9%:
Older voters have stuck with the centre-left SPD (red) and centre-right CDU (black), while younger voters have tended to vote in greater numbers for the Greens and the more socially liberal, low-tax loving FDP (yellow). Interestingly it also shows those in their middle years are more likely to vote for the far-right AfD (blue) than the over 70s and the 18 to 24-year-olds.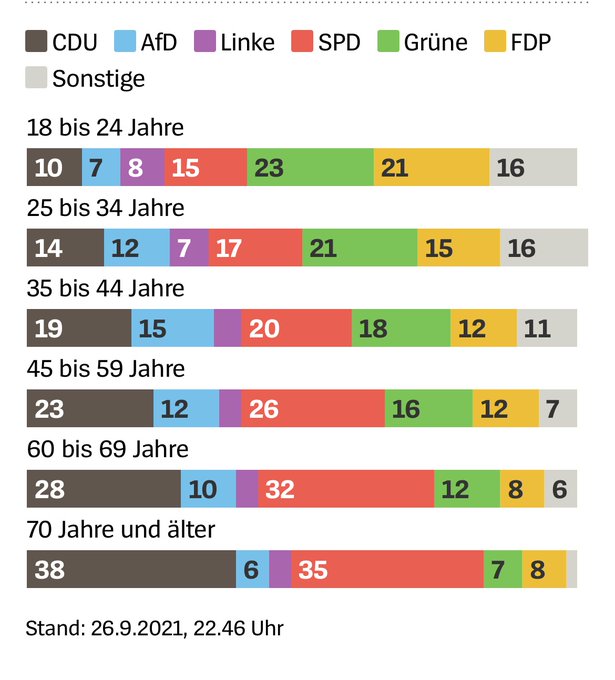 via David Noël 🇪🇺 @David
Source: Guardian
From The TradersCommunity News Desk