President Trump said that Japan and the US have reached a trade agreement in principle at the G-7. The deal could be signed at the UN General Assembly and notably auto tariffs on japan will remain the same.
"It's a very big transaction, and we've agreed in principle. It's billions and billions of dollars. Tremendous for the farmers," Trump told reporters during a joint announcement with Abe at the G7 meeting in France.
Japanese P.M. Abe said "We still have some remaining work that has to be done at the working level, namely finalizing the wording the trade agreement and also finalizing the content of the agreement itself," through an interpreter. From the American side Trade representative Lighthizer says the US and Japan are to open up markets to $7Billion in goods.
"The Japanese private sector listens to the Japanese public sector very strongly … It's a little different than it is in our country perhaps," Trump said. Abe replied "We believe that there is a need for us to implement emergency support measures for the Japanese private sector to have the early purchase of the American corn," he said. "So that's why, against such backdrop, I do think that there is a possibility for us to cooperate to address this issue."
Lighthizer added the deal is on agriculture, industrial tariffs and digital trade.
Yen Positioning
via Ole Hansen @Ole_S_Hansen
Continued buying of JPY lifted the net-long by 26% to 31k lots, the highest since November 2016. The biggest contributor to the reduced $USD long came perhaps a bit surprisingly from the EUR after speculators bought into the weakness below €1.11.

In the week to August 20 and ahead of last week's major risk events speculators opted to cut bullish $USD bets against ten IMM #forex futures by $1.5bn to $10.9bn, a 14-month low.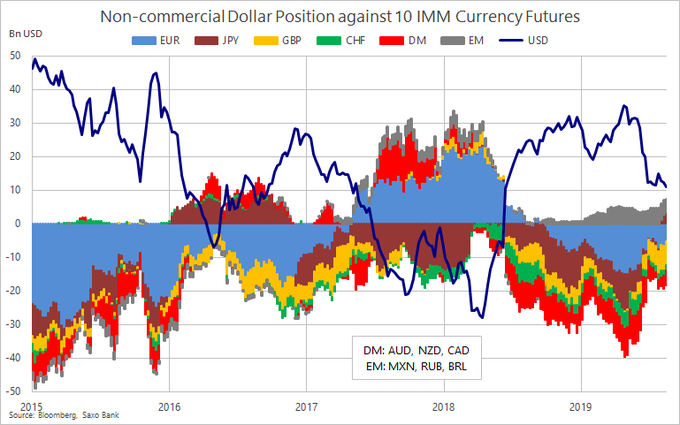 Source: Reuters
From The TradersCommunity News Desk