China roiled markets Friday as it retaliated with new tariffs on US products prior to the G7 and Jackson Hole economic summit. Clearly with intention to inflame the situation in front of world leaders. Electronics, including cellphones and semiconductors, is the biggest category of American imports into China.
China announced Friday it will impose new tariffs on $75 billion worth of U.S. goods in addition to restarting levies on American autos. The Chinese State Council said it decided to impose the tariffs of either 5% to 10% on either Sept. 1 or Dec. 15. China also added a 25% tariff on U.S. cars and a 5% tariff on auto parts and components, which will go into effect Dec.15.
The products that are likely to be the most affected by the new levies.
Electronics, including cellphones and chips, is the category with the biggest value of American imports into China. Apple shares dropped 4.6%. The VanEck Vectors Semiconductor ETF (SMH) slid 3.95% while Nvidia fell 5.3% and Broadcom declined 5.4%.
Machinery is another large category of Chinese imports, which dragged down shares of Caterpillar $CAT to 114.06 −3.83 or 3.25% and Deere & Company $DE to $147.02 −8.35 or 5.37%.
Among automakers, Tesla Inc. and Germany's Daimler AG and BMW AG are the most vulnerable to the additional levies. Shares of the two German companies fell more than 2% in Frankfurt and Tesla fell 2.2% in the U/S session. BMW and Daimler ship large numbers of sport utility vehicles from plants in South Carolina and Alabama to China, while Tesla doesn't yet make its electric cars in the country. Six of the top 10 vehicles exported from the U.S. to the China, whicj is the world's biggest car market are from the two German brands, according to forecaster LMC Automotive.
Find Alternatives
Following China's tariff announcement President Donald Trump ordered in a series tweets that U.S. manufacturers find alternatives to their operations in China, sending markets plunging. The Dow Jones plunged 2.4% on the stock market closing just above its 200-day line. The S&P 500 index tumbled 2.6% and the Nasdaq composite 3%. The 10-year Treasury yield fell to 1.53% following the China tariffs, Fed chief Powell and Trump's trade war escalation threat. The price of copper, a bellwether for the global economy, hit a two-year low.
In a follow-up tweet today he expanded he cited emergency powers:
For all of the Fake News Reporters that don't have a clue as to what the law is relative to Presidential powers, China, etc., try looking at the Emergency Economic Powers Act of 1977. Case closed!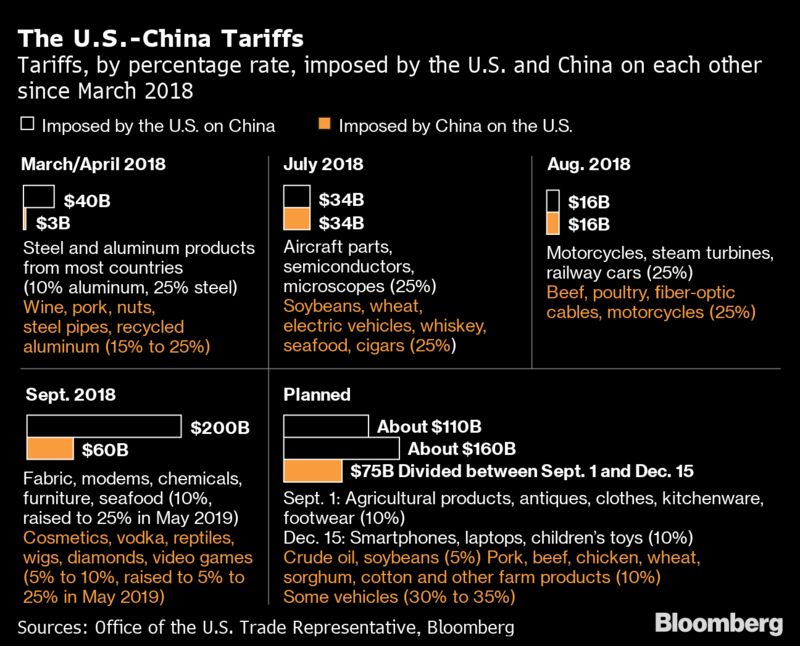 After markets closed POTUS announced fresh tariffs on Chinese products, ramping up rates by 5%. Trump tweeted that the U.S. will hike 25% tariffs to 30% on $250 billion in Chinese goods. New tariffs of 10% set to take effect on the remaining $300 billion in imports as early as Sept. 1, will instead rise to 15%.
For many years China (and many other countries) has been taking advantage of the United States on Trade, Intellectual Property Theft, and much more. Our Country has been losing HUNDREDS OF BILLIONS OF DOLLARS a year to China, with no end in sight Sadly, past Administrations have allowed China to get so far ahead of Fair and Balanced Trade that it has become a great burden to the American Taxpayer. As President, I can no longer allow this to happen! In the spirit of achieving Fair Trade, we must Balance this very unfair Trading Relationship. China should not have put new Tariffs on 75 BILLION DOLLARS of United States product (politically motivated!). Starting on October 1st, the 250 BILLION DOLLARS of goods and products from China, currently being taxed at 25%, will be taxed at 30% Additionally, the remaining 300 BILLION DOLLARS of goods and products from China, that was being taxed from September 1st at 10%, will now be taxed at 15%. Thank you for your attention to this matter!
Source: CNBC, Twitter, Bloomberg
From The TradersCommunity Research Desk