The June trade balance shows a bigger surplus but exports fell more than expected as did imports. Another example of the global trade situation hurting with the ongoing trade wars and macroeconomic deteoriation around the world
Exports declined for a seventh straight month while imports fell for the second month.
Japan June Trade balance: 589.5bn yen expected Y 403.5bn, prior Y -968.3bn,
compared with a JPY 728 billion surplus in the same month a year
Trade balance (adjusted) -14.4bn yen: expected Y -153.2bn, priors Y -609.1bn
Exports -6.7% y/y: expected -5.4%, prior -7.8%
Imports -5.2% y/y: expected -0.2%, prior -1.5%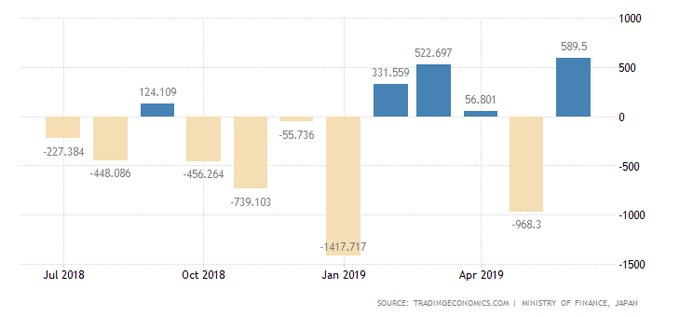 Balance of Trade in Japan averaged 354.67 JPY Billion from 1963 until 2019, reaching an all time high of 1608.67 JPY Billion in September of 2007 and a record low of -2795.12 JPY Billion in January of 2014.
From Traders Community News Desk