U.S. May non farm payrolls were higher at 223,000 than the expected 190,000, following April when NFP added only 164,000 jobs. We are still digesting the robust February gain of 313,0000 jobs, the most since July 2016. Fed rates have doubt after hourly earnings.
The market expected the May employment report released this Friday to see nonfarm payrolls rise in line with longer-run trends in monthly employment growthat a consensus of 190,000 new jobs. Logic suggested a return to the mean after the volatility in the hiring data, with strong February hiring offset by weakness in March and April also disappointing. The wages data makes it more certain the FOMC plan to raise three times into 2019. Unemployment was lower and the two month NFP revision was 15,000.
May U.S. Employment Report



Employment:
Mayl non-farm payrolls +223K vs +190K expected, Prior 164K (revised to 159K)
Unemployment rate 3.8% vs +3.9% expected
Participation rate 62.8% vs 62.8% prior
Underemployment rate 7.6% vs 7.8% prior
Two month net revision +15K
Private payrolls 218K vs 190K expected Prior 168K
Wages:
Average hourly earnings +2.7% y/y vs 2.7% exp,

Prior 2.6% y/y

Average hourly earnings +0.3% m/m vs +0.2% m/m exp
Hours worked 34.5 vs 34.5 expected Prior hours worked 34.5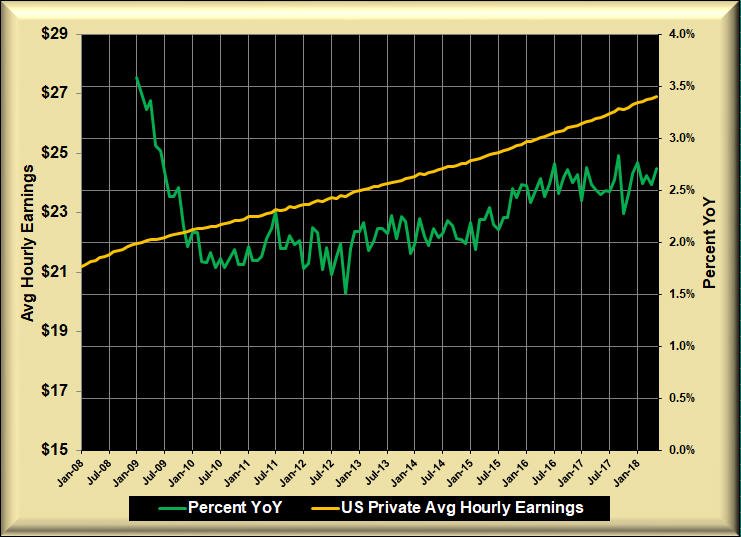 via @RonH
Since January's employment report the economy comfortably added jobs that absorbed new labor market entrants and the unemployment rate remained at 3.9%. Inflation on a 12-month basis continued to run below the FOMC's target of 2% with January's core CPI reading indicated some firming of trend inflation towards the Committee's objective. Since then gorowth and inflation have struggled.
Source: AFP, TradersCommunity Data, BLS
From The TraderCommunity Research Desk