The preliminary August reading for the University of Michigan Index of Consumer Sentiment fell to 70.20 (consensus 81.20) from the final reading of 81.20 for July. This is the lowest reading since 2011, Lower than pandemic lows, as consumers' inflation expectations rose.
University of Michigan's Consumer Sentiment Highlights For July (Prelim)
The preliminary July reading for the University of Michigan Index of Consumer Sentiment slipped to 70.2 vs 81.2 expected from the final reading of 81.2 for July.
The survey's gauge of current economic conditions also fell to a reading 77.9 vs 84.5 prior.
Cconsumer expectations slid to 65.2 vs 79.0 prior.
One-year inflation expectation just off the highest level since August 2008 at 4.6% vs 4.7% prior
Five-year inflation outlook ticked up to 3.0% vs 2.8% prior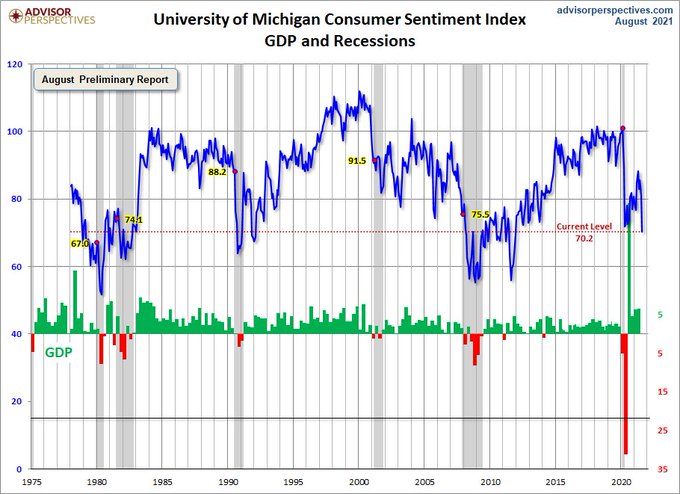 Chart via:The Author of the Future- El Escritor del Futuro - Antonio Pérez-Algás @apanalis
The key factor we get from the report is the understanding that consumer sentiment declined as consumers' inflation expectations rose last month. This month we have worseni ng Delta virus situation and the Biden Administartion repeated misteps causing concerns
Survey chief economist Richard Curtin:
Consumers reported a stunning loss of confidence in the first half of August. The Consumer Sentiment Index fell by 13.5% from July, to a level that was just below the April 2020 low of 71.8. Over the past half century, the Sentiment Index has only recorded larger losses in six other surveys, all connected to sudden negative changes in the economy: the only larger declines in the Sentiment Index occurred during the economy's shutdown in April 2020 (-19.4%) and at the depths of the Great Recession in October 2008 (-18.1%).
"The losses in early August were widespread across income, age, and education subgroups and observed across all regions. Moreover, the loses covered all aspects of the economy, from personal finances to prospects for the economy, including inflation and unemployment. There is little doubt that the pandemic's resurgence due to the Delta variant has been met with a mixture of reason and emotion.
Consumers have correctly reasoned that the economy's performance will be diminished over the next several months, but the extraordinary surge in negative economic assessments also reflects an emotional response, mainly from dashed hopes that the pandemic would soon end. In the months ahead, it is likely that consumers will again voice more reasonable expectations, and with control of the Delta variant, shift toward outright optimism. Consumers' reaction to Delta's modestly higher precautionary measures indicates the difficulty of producing optimal policy responses."
"Inflation has put added pressure on living standards, especially on lower and middle income households, and caused postponement of large discretionary purchases, especially among upper income households," adding "Consumers' complaints about rising prices on homes, vehicles, and household durables has reached an all-time record," Richard Curtin, the survey director, said in a statement from July, that situation is still burdensome.
University of Michigan: Consumer Sentiment reached a record high of 112.00 on January of 2000 and a record low of 51.70 in May of 1980. .
Source: University of Michigan
From The TradersCommunity News Desk